One of the highlights of the year for us is Litmus Live. We love bringing together email geeks from around the world to learn about the latest trends and innovations (and make some new friends!).
Each year, to promote the conference, we work to bring something extra special. And while it's difficult to top background video in email (2014), an award-winning live Twitter feed (2015), and an in-email gaming experience (2016), we knew we had to take it to the next level this year with an interactive quiz for the email announcing when tickets would be on sale…
…and an interactive cart in our tickets on sale email.
(To see the full cart functionality, check out the online version.)
So, how did these emails come to life? It took a lot of advanced planning to organize all the moving pieces needed to make it happen. Take a peek behind the curtain at our email design process and timeline to see everything that's involved in pulling off our epic conference emails.
Brainstorming The Next Big Emails
Time to Email: 3 Months Out
The Tickets "Save the Date" Email
Before we move forward with anything new, we take the time to look back and reflect on the previous year's conference emails. How well did they perform and meet our goals? What did we learn?
One criticism we heard from the email community last year was that the golden ticket challenges—a game where subscribers can play for a chance to win one of five tickets to Litmus Live—were too code-centric, and non-developers couldn't really participate. So this year, we aimed to make our golden ticket email challenges more inclusive so that all email geeks were welcome.
Another thing we learned from last year was that we needed to add another email to our schedule, announcing the date we would put tickets on sale. We wanted to draw attention to the date so that prospective attendees could get approval to go and be ready to buy as soon as tickets were available. Adding the golden ticket challenges to this email helped push it beyond a regular, boring "save the date."
Making a quiz that touched on many different aspects of email marketing and development opened up the contest to more people, and we knew the interactive aspect would be something fun and different for our subscribers.
As part of this inclusivity, we included the Litmus Community. It's already full of amazing email geeks passionate about helping one another through the trials and tribulations about email, and we wanted to encourage more folks to become part of it.
Join the Litmus Community Today

Looking to connect with the best minds in email marketing and design? The Litmus Community is the best place to swap stories, share techniques, and troubleshoot email problems.
The Tickets on Sale Announcement
For the tickets on sale email, we didn't want it to be average, either.
In the past, we've had our early bird discounted tickets sell out quickly—sometimes, before the email is completely sent to our entire list! The interactive cart idea was born out of the need to make it as easy as possible for all our subscribers to grab their tickets before they were gone. Plus, it let us showcase what's possible in email and really push the boundaries—which hopefully inspired a few fellow email geeks to try out some new things in the process.
The Email Build
Time to Email: 1-2 months out
The Tickets "Save the Date" Email
While our email guru extraordinaire Kevin Mandeville started building out the interactive part of the email, the rest of the email team (Email Specialist Jaina Mistry and myself) strategized around the copy and questions. Usually, we go through several rounds of copy editing amongst the email team before opening it up to the larger marketing team for edits.
For the questions, we decided on a "scavenger hunt" approach, and developed the questions so that they weren't too easy for our die-hard fans, but also difficult enough that people would have to do a bit of hunting through our site, blog posts, and the Community to find the answers.
The Tickets on Sale Email
Meanwhile, Kevin had to figure out how to make the interactive cart functionality work. It turned out that integrating everything with our ticket-selling tool, Eventbrite, posed some challenges that required special workarounds.
At the same time, we finalized conference details with our events manager Kristen Luongo, nailing down details on pricing and ticket combinations.
Once the team reviewed and finalized the copy for the tickets on sale email, we handed it off to Kevin, who started working his email magic.
Testing, Testing, Testing
Time to Email: 10 days-1 month out
Both Emails
Once coding on both emails was finished, we ran them through a rigorous testing process, using a combination of the suite of Litmus products and old-fashioned inbox testing.
First, we ran it through Checklist and Spam Testing to see if there were any issues. Checklist helped us discover that some of the links were missing our Google Analytics tracking code—a good catch! With the many fallbacks in place for this email, Checklist was crucial to seeing how they all performed in different email clients.
Here's an example of our Checklist for the tickets on sale email, so you can see for yourself what Checklist can do.
We also added an Email Analytics tracking code to each email so that we could learn more about our subscribers and how they engaged with it. Using Email Analytics to see beyond opens and clicks is an important part of learning how well all our emails perform. For both emails, read time was something we wanted to optimize for.
Since both emails had enhanced functionality beyond an average email, we sent out several test emails to our team so that they could try out the interactivity. As an added precaution, we tested a live send of the tickets on sale email through our Email Service Provider (ESP), Pardot, to determine if the functionality would "break" in any way.
Take A Deep Breath…The Send
Time to Email: Day of
If you've ever been responsible for sending promotional emails, you know that this is the part where "the fear" kicks into high gear. No matter how many times you've reviewed the email, you start hallucinating that things are wrong and wonder if that's really the right way to spell "tickets."
For an email with as much interactivity as these two, take that fear, double it, add 20, and multiply it by 100—you'll almost understand how terrifying it was to press the send button.
The Tickets "Save the Date" Email
About an hour before we were scheduled to send the "save the date" email, we sent a final test email to the marketing team to get one last set of eyes on it, just in case. Finally—we were ready to send! Except…
We started seeing issues in Apple Mail. After much troubleshooting, we learned that while sending an initial test worked just fine, trying to send another test broke the interactive quiz experience.
This meant we would have to do a "blind send," whereby we put the code in our ESP, then would…just hit send. No test send, no way to triple check that everything worked before it went out. For any email marketer, but especially here at Litmus, that's terrifying!
To work around this limitation, I did a live send to a small in-house list a few times to make sure everything was working correctly. Everything was ok, but that didn't make it any easier to send. Palms sweaty, knees weak, arms are heavy…*cue Eminem music*
I took a deep breath, and the email send went off without a hitch.
The Tickets on Sale Email
For the tickets on sale email, I sent one final test email to a few people on the marketing team. We found a few content inconsistencies, so I updated and re-tested the email. The functionality worked great in Gmail and Apple Mail, both tricky clients in the past for us.
Since there were extra moving parts on this one, we held a quick stand-up with Kristen, Kevin, and social media manager Kayla Lewkowicz to make sure that we were all ready for the send.
Once Kristen pushed the tickets live on Eventbrite, we did one final internal test of the email, including a "live test" to make sure our ESP didn't add any code during the send that could break things.
Since it looked like everything was working, I pressed the send button. And off it went!
Every ESP is slightly different, so it's important to understand the quirks of what might impact your send for your ESP. For us, there's a slight delay between pushing send and sending to our entire list, which means there's at least 15 minutes where I'm in the fetal position, jaw clenched, essentially a little ball of nerves just waiting for things to go wrong.
The Results
Post-Send
The Tickets "Save the Date" Email
Here's our engagement data: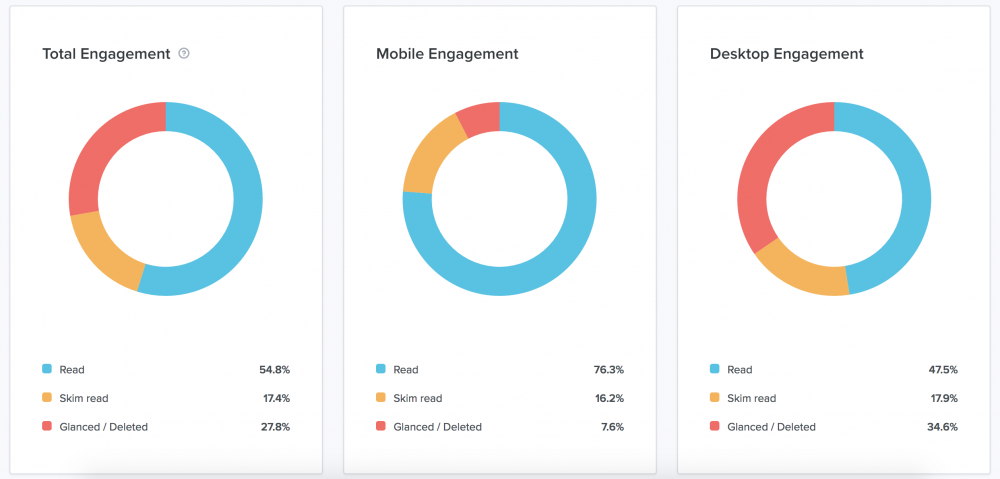 Take a look at our Email Analytics results to see how we did overall.
Our subscribers loved our golden ticket contest, dropping everything to participate. We received an overwhelming amount of entries to win a free ticket to Litmus Live, and chose five winners at random over 24 hours to give everyone time to participate.
Wow #LitmusLive email was a joy to open and it certainly gets those creative juices going! Awesome!!! #emailgeeks gotta be in it to win it! pic.twitter.com/cqWPSsfevk

— Ben Uhlmann (@benuhlmann) March 14, 2017
One thing we didn't think of, even with all of our testing: Once a reply was posted to the Community discussion challenge, the poster was then "subscribed" to that discussion. This is a common practice across online communities and social media, but one that totally backfired once we received over 500 responses! There were so many that we had to shut off notifications for 24 hours, which took a bit of time to take effect—something we never thought of.
The Tickets on Sale Email
Here's our engagement data: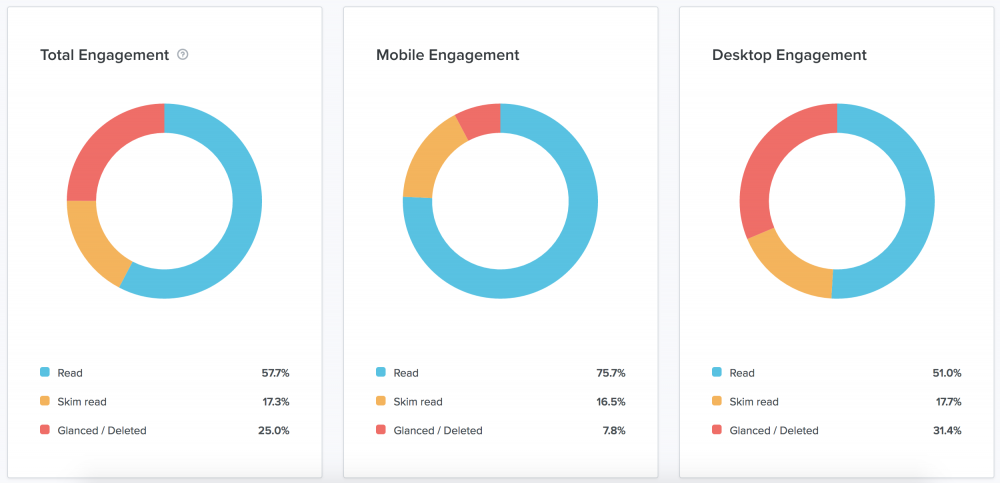 Take a look at our Email Analytics results to see how we did overall.
As we hoped, the interactive cart functionality in the "tickets on sale" email was a big hit with email geeks. The multiple fallbacks in place for different email clients also worked well, giving everyone an opportunity to buy a ticket to Litmus Live in Boston, London, or San Francisco (or all three!). Early bird tickets for Boston sold out in the first three hours, and the majority of buyers also opted in for one of our hands-on, immersive workshops on email troubleshooting, targeted messaging, advanced responsive email layouts, and deliverability.
Just snagged my #LitmusLive early bird ticket 😀 can't wait to see my fellow #emailgeeks in Boston this summer pic.twitter.com/HtmLIRqRs9

— Caitlin Dwyer (@caitcodes) March 27, 2017
Overall, our Litmus Live interactive emails made up a very successful campaign for us, and well worth the effort (and the fear). Stay tuned for a future post from Kevin on how exactly he created that fun interactive quiz, and don't forget to grab a ticket to Litmus Live before they sell out!
Join Us at Litmus Live
Get your Litmus Live tickets!

Tickets sell out fast! Register today to celebrate email with us!