Newsletters featuring a roundup of hand-selected articles from a variety of sources—also known as 'digest' emails—are growing in popularity. You might even be familiar with Litmus' own digest, Email Design Monthly.

Update: Since this article was posted, Litmus acquired Curated.
The team behind Curated have streamlined the process of collecting, curating, and publishing these digest newsletters. In addition to sending digest emails powered by Mandrill, Curated offers the ability to engage with content via Safari push notifications—and offline access to both the digest content and the linked articles via an iOS app is coming soon, too.
Managing subscriptions, reporting, and analytics across these two distinct platforms presents a unique challenge. For a Curated subscriber, having control over their preferred content delivery methods (email or push notifications) is a huge benefit. However, it posed an issue for the reporting inside the tool. Curated founder, Dave Verwer, explained that utilizing standard open tracking and ESP analytics wasn't an option—they'd be missing out on crucial push notification website data.
CREATING A UNIFIED REPORTING SOLUTION
The Curated team was faced with the option of creating their own email tracking platform, or integrating with an existing solution. After looking into the options, our very own Litmus Email Analytics API seemed like the best solution.
Integrating Litmus within their infrastructure was seamless. Dave stated,
Integration was easy and we had open tracking up and running in a few days. Using Litmus took away a the headache of having to implement the feature, but we also don't need to worry about scaling it as we grow.
When a new issue of a Curated publication is created, two Litmus Email Analytics tracking codes are also created via the Litmus API. One tracking code is used for the email, while the second is used for tracking Safari Push Notifications. All of this happens automatically. The process lets Curated users focus on creating great content, knowing that the tracking is taken care of.
Behind the scenes, Curated receives open data for their users' campaigns and subscribes to API callbacks from Litmus to store open, engagement, and other key email analytics.

REPORTING ON EMAIL ENGAGEMENT
The Curated team quickly noticed that digest newsletters have high open, click, and engagement rates—often higher than other types of email communications. Engaged email subscribers are valuable assets, and less likely to unsubscribe or contribute to deliverability problems.
Curated also utilizes engagement data from the Email Analytics API to report on read rates for publications, showing how many subscribers glance, skim, or read messages.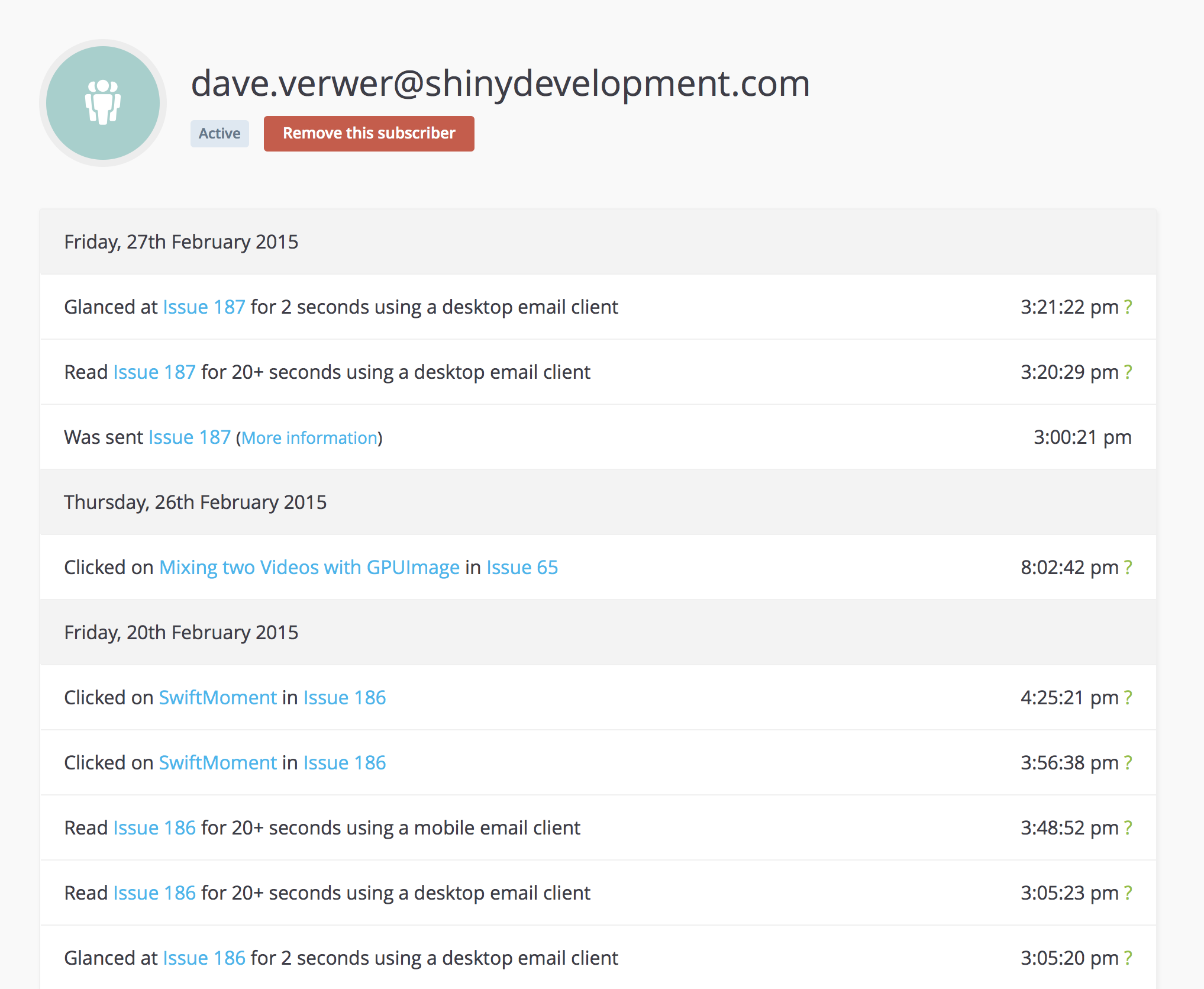 Verwer explained,
The Litmus open data is integrated with our own click data and the other information we have about the subscriber, for example which issues they were sent. This gives us individual level analytics that rivals, or even beats what is available from some of the big ESPs.
This individual-level engagement and click data gives Curated users a clear picture of how truly engaged a subscriber is, leading to opportunities to further optimize their messages based on subscriber behavior.
ACCESS POWERFUL EMAIL MARKETING TOOLS
Robust reporting and analytics tools are key features in any online marketing software. Companies like Curated, HubSpot, and Silverpop offer powerful email engagement, analytics, and preview tools to their customers through the Litmus API.
The Litmus API is optimized for high volume testing and analytics, providing you with a direct connection to our testing grid. Learn how you can seamlessly integrate Litmus tools into your own products, services, and applications to deliver value to your customers.