Our subscribers are inundated with emails—and so are we! As email marketers, we know what goes on behind the scenes. We witness and experience all the complexities that make email so special. So when an email catches our attention, it really leaves a lasting impression.
Whether it was a clever subject line, the perfect timing of a triggered email, or personalization that was actually helpful—read on to see the emails that caught our eyes this month.
Carin Slater, Email Marketing Specialist
Sender: Magic Spoon
Subject line: Coming soon: two new flavors!
Preview text: Get your sweet tooth ready
I loved the idea of teasing the flavors with the pixelated GIF and then texting the answers to get free boxes. I was all for it—until I realized that I had gotten the email a couple of days ago, so I probably wouldn't be in the first five to win anything.
Jess Materna, Senior Product Marketing Manager

Sender: Bombas
Subject line: The Golf-Proof Guarantee
Preview text: BOMBAS Performance golf socks, fully protected.
My entire family, including my grandma, LOVES Bombas socks. While I may not be a golfer, my husband is, so this email caught my eye; it didn't disappoint!
The copy is SO well-crafted; I love the way they worked their value props into relatable use cases and stories that flowed well throughout the email. The creative use of geometric shapes and engaging (but not overwhelming or distracting) animated GIFs was spot on.
Ending the email with their product guarantee is a great way to give the reader just one more reason to take action and grab a great pair of socks for themselves—or a loved one.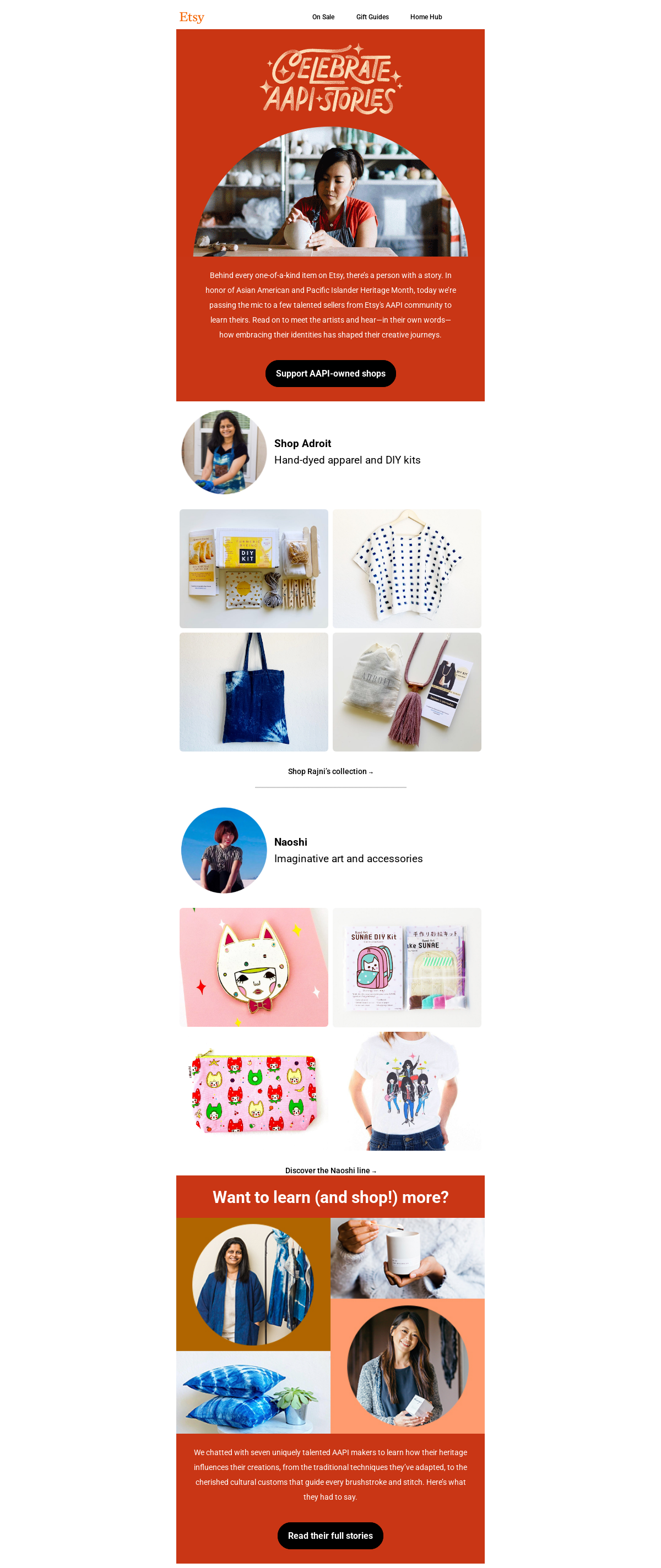 Sender: Etsy
Subject line: AAPI-owned shops we love
I love all of Etsy's emails (and Etsy in general), but I especially love the approach they took with this email celebrating Asian American and Pacific Islander (AAPI) Heritage Month.
They did a great job letting the email take the voice of the artist, not the brand, which was a smart way to ensure the email came across as authentic and genuine. I also really love how they balanced product imagery with the shop owners' stories!
Kimberly Huang, Content Marketing Specialist

Sender: Goldbelly
Subject line: Celebrating Asian Chefs—LA's Shirley Chung + SF's Slanted Door + NYC's Momofuku 🍜❤️
Goldbelly's emails always standout in my inbox, even among all the food-related emails I receive. I can always expect the unexpected when opening their emails—every email has a different look and feel, yet is consistent. One way they achieve this is by alternating background colors with each send. They're also not afraid to change up their graphics—I've even seen them use various font overlays and treatments on their images, keeping it interesting for me as a subscriber.
The colors really pack personality in this email. Same with the iconography on their graphics, which work well to accentuate the subject matter in their photos—whether it's a person, dish, or both. Plus, the pattern breaks keep it visually stimulating as you scroll.
Magan Le, Content Marketing Manager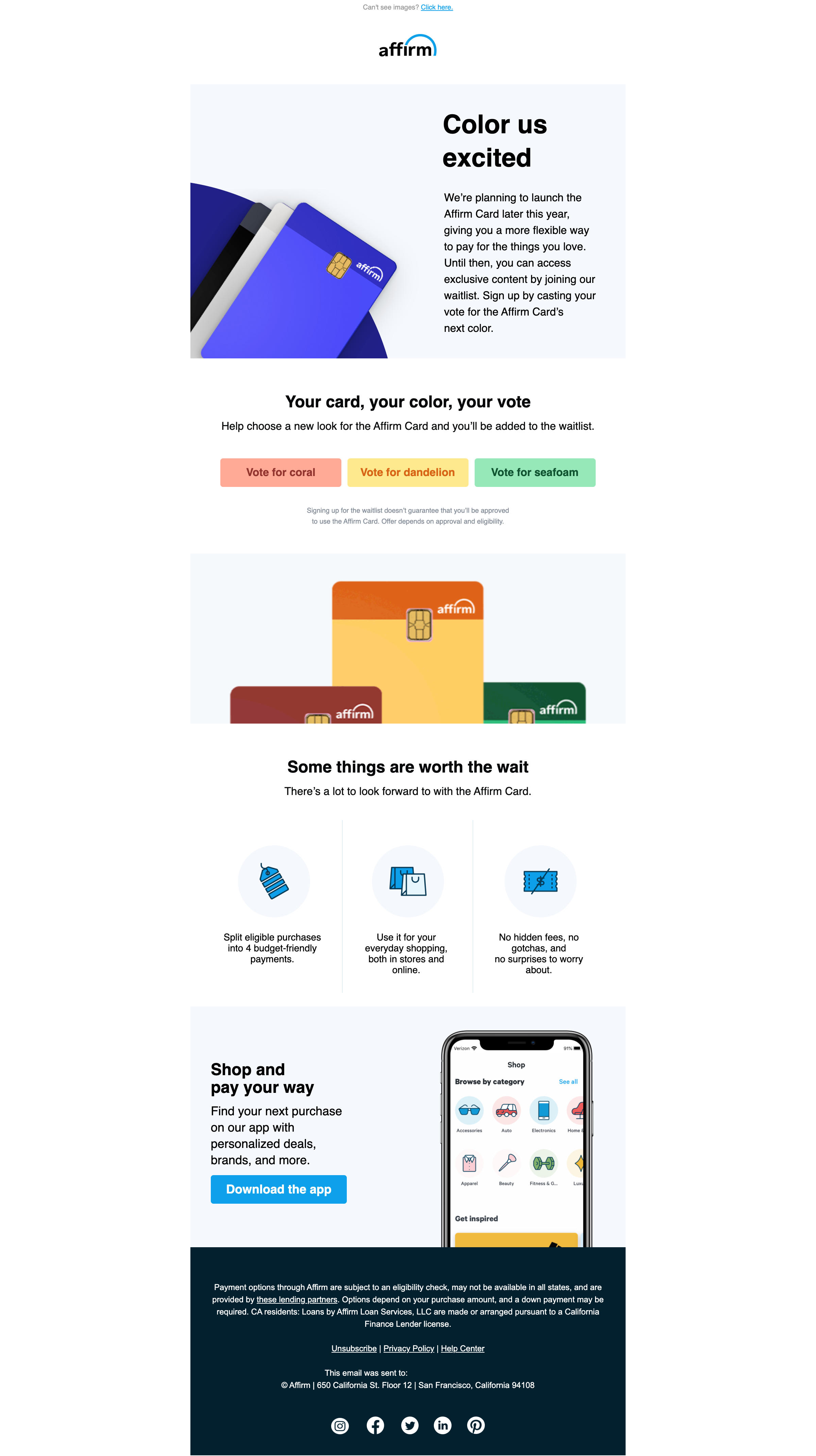 Sender: Affirm
Subject line: There's still time—join the Affirm Card waitlist
I love that this email is sort of interactive in that it asks you not to just join a waitlist but also vote on a color. What a great way to encourage engagement! And the button colors even reflect the colors of the cards.
In case that wasn't obvious enough, they also have an animated GIF showing each different colored card popping up. Then, they use fun iconography and clear copy to highlight the card's benefits.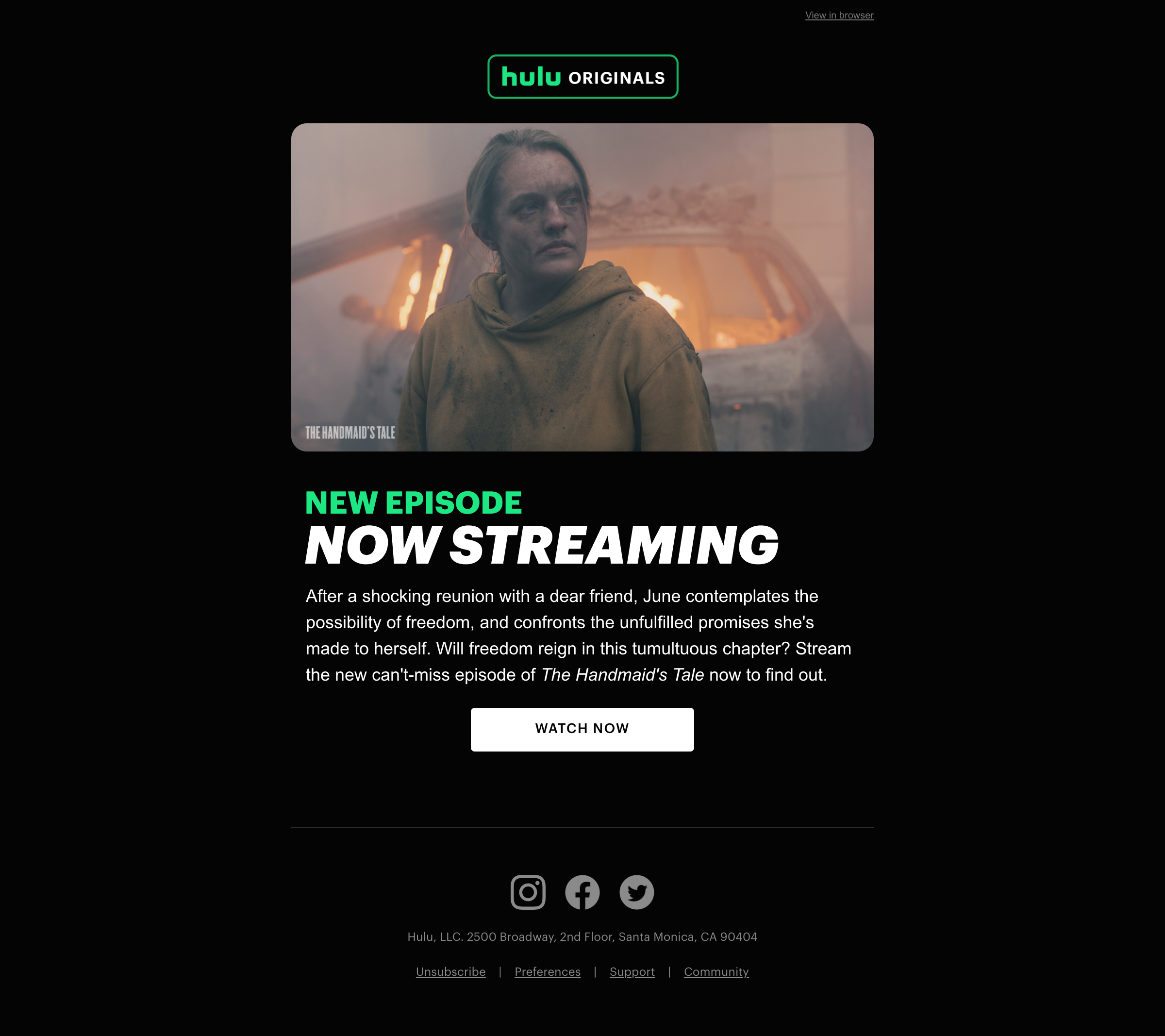 Sender: Hulu
Subject line: 'The Handmaid's Tale': New Episode Just Added
I'm usually quick to watch the latest Handmaid's Tale episode the day it releases, but I was so busy the day episode 6 came out, I totally forgot. Until I got this email in the evening, perfectly timed for after work.
I hadn't received any episode reminders before this either, so I have to think the email team at Hulu are doing smart things with their segmentation and send times. And the email itself is pretty simple and to the point, so I can get straight to streaming.
I also appreciate that the copy is tailored to the episode that I missed versus a generic message to nudge me further toward watching now. And did I? Yep.
Shannon Howard, Customer Marketing Manager
Sender: Appcues
Subject line: X,XXX users saw your flows last week
I love how they show my product usage and how it's trending over time! The format is really easy on the eyes and easy to follow. Ted's dad jokes really make the email—they give me a good chuckle and are something I look forward to each week.
We shared ours—so share yours!
What emails caught your attention in May? We want to know! We love hearing from our email community and want to see the ones that stood out to you.
Increase your chances of becoming a subscriber favorite

Integrating Litmus into your email workflow helps your emails be pixel-perfect with every send—ensuring they're on-brand and error-free, every time.