Marketers can choose from over 400 email marketing tools to send their email. That's a lot of tools to choose from to just send email! But as we all know, there's more to email marketing than the send. There's the arduous process of coding, previewing the email to ensure it looks great in all email clients and apps, and checking to make sure the links and images all work.
The average email marketing tool used to send email doesn't have the ability to help email marketers with these more labor-intensive processes. Litmus can help streamline this process and is easy to use with any email marketing tool.
Here's how you can seamlessly incorporate Litmus into your workflow, regardless of the email marketing tool you're using, to improve your email marketing.
Use Litmus Builder to Code Your Emails
There are countless development tools available to code email, such as Adobe Dreamweaver, Sublime, and Notepad++. Many email marketing tools also have their own email creation or development tools. So, how do you choose the right one?
While these tools are excellent for general web development, none are tailored exclusively for coding email. Litmus Builder includes built-in tools specifically created to help email developers:
See code changes in real time, rather than having to save a file and wait for it to reload to see your changes in a browser
Never miss updating your web analytics tracking code on any link again with Tracking Manager
Speed up your development time by finding the code you need to edit with just a few clicks by using Grid View
Roll back or view earlier versions of the email using Timeline
It's easy to use Builder with your own email marketing tool. Simply create your email from scratch, or use one of Litmus' ready-made templates. When you're happy with your email, copy the code from Builder to your email marketing tool.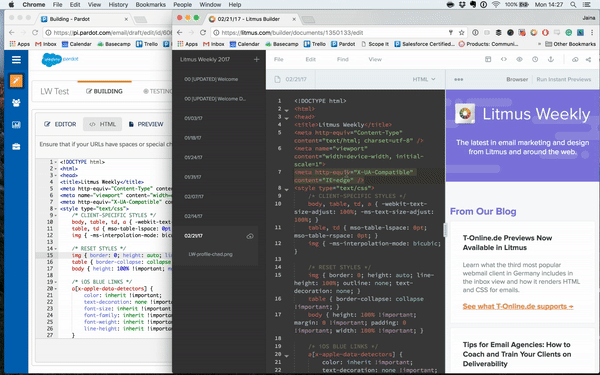 We've introduced ESP Syncing to make it even easier to use Builder with any email marketing tool. ESP Syncing allows you to sync your email in Builder to popular email marketing tools in real time in a single click.
ESP Syncing is currently available for MailChimp and Campaign Monitor on our Plus Plan and above and for Salesforce Marketing Cloud, IBM Watson Campaign Automation, Marketo, and Eloqua on our Enterprise Plan. We'll be adding more compatible tools in the future.
Catch Costly Errors Before You Send
Litmus can help you speed up and improve what's probably the least interesting but most time-consuming part of your email workflow—the quality assurance (QA) process, aka testing your email for accuracy. Ensuring your email looks great in different email clients, apps, and devices, as well as making sure the content is correct, is an important part of every email marketer's workflow.
While it's typical to use your email marketing tool to send a test or proof email, you can enhance and speed up your testing process by incorporating Checklist into your workflow. By sending your email from your email marketing tool to a single test email address, you can:
Preview your email in dozens of popular email clients, apps, and devices
See how your subject line and preview text renders in over 20 email clients and apps
Check for broken links or images at a glance
Confirm that click-throughs are being tracked and your web analytics tracking is consistent
In addition to sending a test email to yourself and your team, send one to your Litmus test email address to quickly generate your Checklist and help ease "the fear" when it comes to hitting the send button.
TIP: Include your Litmus test email address in your testing list in your email marketing tool. That way, you'll never forget to run a final Checklist before you send!
Catch costly errors before they happen

Preview your email in 90+ email clients, check for broken links and images, and confirm your tracking with Litmus Checklist.
Get Visibility into Spam Issues
It can often feel like inbox providers such as Gmail and Outlook are constantly moving the goalposts on what they classify as spam. Rather than pressing send blindly, not knowing whether your email will hit the inbox or spam folder, get your email scanned by major spam filters with Spam Filter Testing before pressing send.
It's easy to use Spam Filter Testing with any email marketing tool. Simply copy and paste the list of test email addresses created for you when you create a new spam test, and paste it into your tool's testing interface.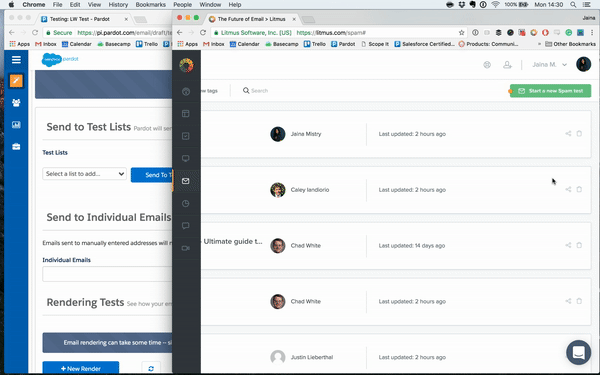 TIP: If your email marketing tool has trouble sending to the entire list of spam test email addresses generated, split the list in two, and send to those two groups separately. Alternatively, for each email, you can create a new test list and populate it with the spam test email addresses.
Go Beyond Opens and Clicks
Email marketing tools usually provide basic email metrics such as open, click-through, and unsubscribe rates, giving you a basic understanding of how your individual emails perform. Dive deeper into the performance of your campaigns by combining your tool's reported metrics with Litmus' Email Analytics.
Email Analytics shows you where your emails are being opened, how long your subscribers are reading them, in which email client or device they open your email, and more. This is the kind of data email marketers should be arming themselves with in order to enhance their email campaigns. For example, use device and email client data to focus your email development on the devices your subscribers use most often.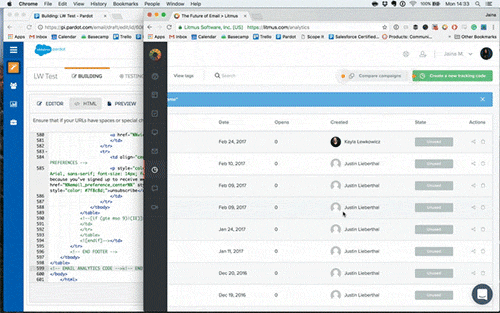 Using Email Analytics doesn't require an integration with your email marketing tool. It generates a small snippet of HTML, which you can copy and paste into your email's code. After your email is sent, the Email Analytics dashboard will show you all the data your tracking code has collected.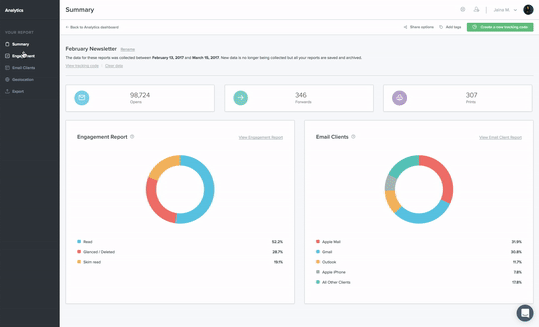 Litmus works alongside your existing email tools
As long as you can send a test email from your email marketing tool, that's all you need to use Litmus.
Ready to take Litmus for a test drive? Try Litmus free and see how it works seamlessly with your email marketing tool.