Clients will often come to you with preconceived notions of what their subscriber base looks like. However, it takes a robust marketing program—complete with plenty of testing and data—is needed to truly pinpoint subscriber engagement.
What content interests their subscribers? Where and how are they viewing your client's messages? Are they forwarding or printing any particular campaigns?
Answering these questions ensures that your team delivers a quality data-driven campaign that truly engages your client's subscribers, thus positioning your team as a true "full service agency" and strategic marketing partner going forward.
The Litmus Agency Plan

Want to offer Litmus features to your teams or clients? Our Agency or Unlimited plan is our flexible, higher volume plan built to meet all the email production needs of agencies and large teams.
Shovi Websites, an email marketing agency and Litmus customer, used Email Analytics data to get a full picture of their clients' subscriber engagement. This data served as a springboard for educated design and optimization decisions, and improved their clients' results.
Let's take a look!!
Deciding not to optimize for mobile (yes, really!)
One of Shovi's clients was marketing an upcoming webinar as part of a sponsored campaign. At first, Shovi mocked up an email that checked all of the typical boxes: it was mobile-friendly, and it had a clear call to action (CTA) and compelling copy.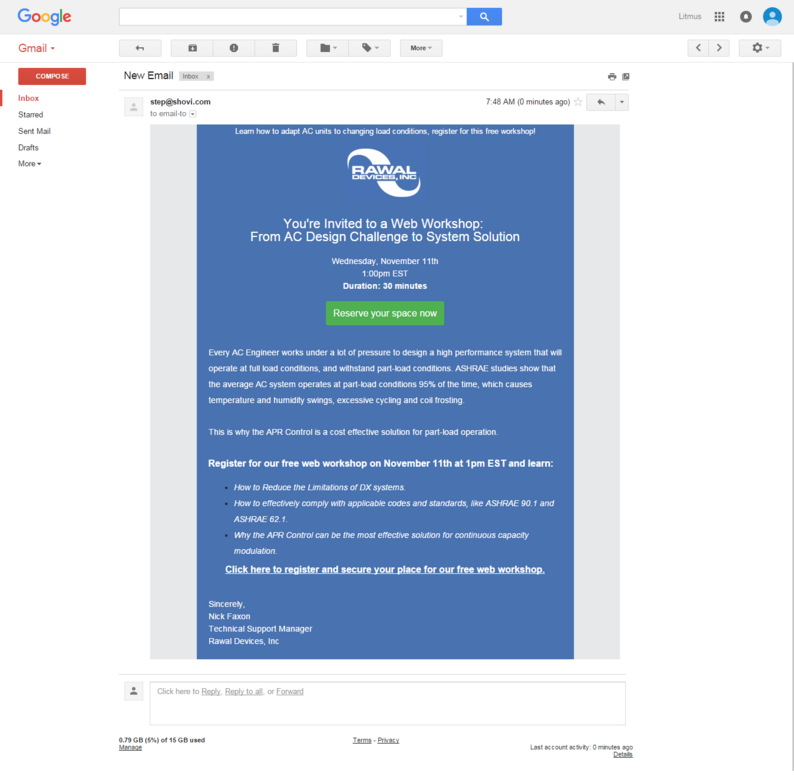 Shovi's first mockup for the campaign. Source: Shovi Websites.
Once they had more data about the campaign, though, they changed their mind about taking a mobile-friendly approach. In fact, they decided to intentionally make a traditional-looking email that was built more for desktop reading than mobile.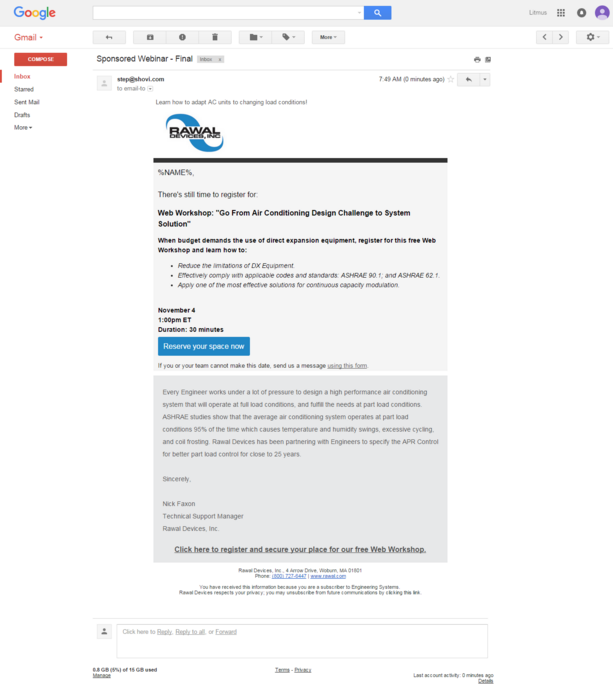 Shovi's final design. Source: Shovi Websites.
Ahhh, what? Isn't that the opposite of the "go-mobile" trend that's been promoted everywhere?
While research has shown that 55% of all email opens occur on mobile, it's all about your (or your client's) subscribers that matter. Where are those subscribers opening?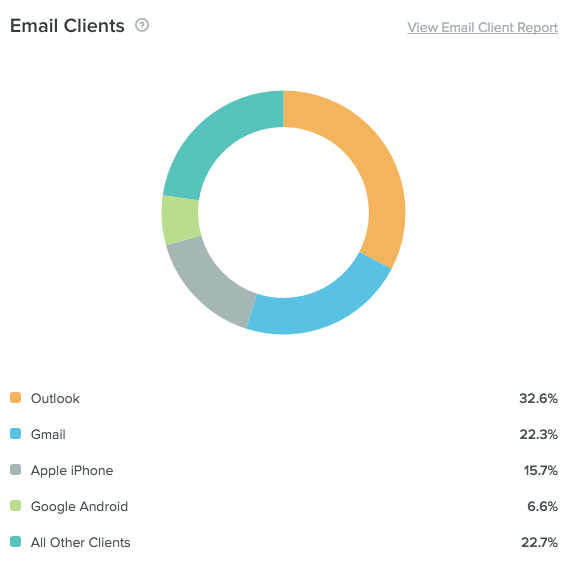 Email client breakdown report in Litmus Email Analytics.
In this case, Shovi discovered that the majority of their client's audience was opening on desktop clients, and the majority of those opens were occurring in Outlook.
With that data in hand, paired with the fact that the landing page and registration page weren't optimized for mobile, Shovi decided to align subscribers' expectations. If the email was mobile-friendly, but the landing page and registration pages weren't, would that cause subscriber frustration?
In addition, this was part of a sponsored campaign, whose audience was used to receiving traditional, desktop-optimized campaigns. As Stephan said, "Sending something too cutting edge had a greater chance of confusing an audience that wasn't familiar with [our client's] brand than sending something more familiar to the audience."
While the ideal scenario would have been an email, landing page, and registration page that all looked great across all environments, that wasn't the reality of this particular campaign.
Shovi wanted to create the most optimal experience for the largest portion of the subscriber list, and set proper expectations at the same time. In addition, they properly set expectations with their clients about why it wasn't necessary to do a mobile-friendly design for this particular campaign.
Rethinking "the ask"
As part of a brand re-introduction, one of Shovi's clients wanted to send an email that had a CTA to watch a video on a dedicated landing page. The goal of the campaign? Remind past, present, and prospective customers about their brand in a way that sparked a conversation.
With the majority of their client's subscribers based in the same time zone, Shovi decided to send an email when they thought their client's subscribers would be at their desk: 3pm on a Wednesday.
The results:
The email had an open rate of over 30%—55% of opens were on desktop, 23% on webmail, and 22% on mobile.
But, there weren't a lot of click throughs to watch the video.
Stephan Hovnanian, Owner of Shovi Websites, said,
It was puzzling, until we looked at the engagement reports and saw double the rate of glances/deletes on desktop (14%) as on mobile (6%). That much disparity doesn't typically happen with well-designed emails. Which led us to realize that our ask (watch the video) was too intrusive for the time of day.

The campaign's engagement data in Litmus Email Analytics.
What they learned:
Stephan said the biggest takeaway from this campaign was to "think about your 'ask' and the investment required by the recipient in time or effort to complete your ask."
That's a crucial lesson for email marketers and agencies handling email for their clients.
While send time may have played a factor, would it have made a difference if they had sent the campaign at night when subscribers were at home and reading email on their phones?
Or, would people not be interested in clicking on the video regardless of when it was being sent?
Was the ask too much for what what subscribers would get in return?
Simplified: Would it be worth it for the subscribers to take time out of their busy day to watch a video on the company's brand? How do the subscribers benefit by taking that action?
Takeaway: Always put content and CTAs in context. Ensure that they matter to your (or your client's) subscribers, and that you're delivering them in the most convenient, beneficial way for them.
OTHER DATA POINTS TO CONSIDER
These are just two of the many ways to analyze and optimize beyond traditional open and click through data. Some other data points to consider:
Geolocation data
Are your client's subscribers mostly in Europe? Are they mostly in Europe opening on Apple devices in the mornings? Looking at these metrics can have a profound influence on your send time, what platforms you tailor your content for, the language of the email, and even the type of content that they see.
Forwards and prints
Use forward and print data to note trends with email sharing and other evangelist behaviors. Consider rewarding frequent forwarders by creating a loyalty program. Print and forward activity can also help identify high-performing or "viral" content in your client's email program, providing another data point outside of opens and clicks.
In addition, this data can also be useful for design. For example, designing emails that lend themselves better to printing, like large coupons or infographics.
Both geolocation and forward and print data can be found in Litmus Email Analytics.