Ally Brown, the CRM Technical Specialist at SmileDirectClub, knows how important efficient email testing is. She works with the email team at SmileDirectClub to send millions of emails to customers, which means they have to use their time wisely. She shared with us that "every minute counts" in the email development process, and that the right tools and workflow mean the difference between sending a campaign out on time or not.
Making sure everything is perfect before you hit send becomes even harder when you're managing multiple emails at once. "We have lots of versions. Sometimes we could have 20 versions of the same email that we need to test." However, sending an email without testing is a gamble, and Ally said that "when things break, they could really break."
"When things break, they could
really
break."
Even seemingly insignificant typos, like forgotten placeholders or copy errors, can add up to a bad experience for customers. At the very least, you'll feel embarrassed for the afternoon. At the very worst, you could spoil a campaign or get marked as spam. When talking about email testing, Ally stated a common dilemma: "How much time do you want to spend on testing, and how much risk do you want to take when not testing?"
Like so many email marketers, Ally can't afford to waste her precious time. "There's just so many devices, so many browsers, and so many email clients," Ally shared. She's not wrong, either. Every email you send has 15,000+ possible renderings. It would be impossible to manually test for all of those renderings and still have time to do anything else. In fact, it's unreasonable to expect you to even manually check a fraction of those renderings while juggling all of your other tasks.
So what's a busy email marketer to do when they want to test their emails and still have time to enjoy other parts of their job? Integrate.
"I really love that Litmus has an integration with Salesforce; it has been super helpful."
Having the right tools helps you perfect parts of your email process. Ally states that "tests on Litmus definitely take away a lot of the fear and a lot of the ambiguity of how your email is going to function."
While having separate tools is helpful, using integrations changes everything. By connecting your most-used tools, you avoid the need to switch back and forth between screens all day. Combining tools saves you time and reduces errors. Updates made on one platform automatically sync on the connected app, which means you can say goodbye to copying and pasting each update.
Ally uses the Litmus + Salesforce Marketing Cloud integration to access her favorite Litmus testing tools within Salesforce's Email Studio and Content Builder. This integration empowers email marketers, designers, and developers to streamline their email production and test both common and edge case personalization scenarios—all without leaving Salesforce.
SmileDirectClub builds their emails within Salesforce, and Ally doesn't have to break away from her work to test how each email will render. She added that the integration "makes QA for the way it looks across platforms really efficient."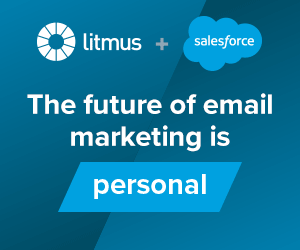 Litmus + Salesforce Marketing Cloud
Combine the power of Litmus and Salesforce Marketing Cloud to maximize your email ROI with personalized, 1-to-1 relationships at scale.
SmileDirectClub uses the Litmus + Salesforce Marketing Cloud integration at various points in their pre-send workflow. It's useful for testing rendering across all major platforms and email clients, but Ally really loves the integration for finding and honing in on errors.
"I love efficiency, and I'm constantly trying to think of ways to make things faster."
"I'll use the integration in Content Builder when I've narrowed down there's an issue with Outlook, probably." After identifying what needs her attention, she can get to work fixing the code for the exact email client. Errors are a natural part of email creation (and you should be worried if you never come across any), but nobody has time to look for a needle in a haystack. By using smart integrations, Ally and the SmileDirectClub can work efficiently to send more emails that deliver the best possible experience to customers.
"Email is such precious communication."
Ally said that SmileDirectClub "sells smiles," but with an email team as dedicated as theirs, they create them, too.
"Email is personal, direct communication to your users, clients, or customers. It's such a precious connection, and the impression that somebody gets from that stays with them."
While there's no denying the ROI opportunities with email, it's important to remember the human element on the other end of the send button. Email communication is more personal and scalable than many other channels, and your subscriber relationship is powerful. Every efficiency and process you invest in today pays off in the future.
Explore powerful integrations to supercharge your email process
SmileDirectClub is one of many customers who use Litmus integrations to help set email campaigns up for success, use email insights to optimize future campaigns, and share insights to improve overall marketing effectiveness.
Want to create better emails faster? Learn more about the Litmus + Salesforce Marketing Cloud integration or explore all the other ESP and productivity integrations available with Litmus.