Support emails…we know, we know, they don't sound very glamorous. Using email beyond the standard promotional or transactional function doesn't always garner a lot of attention. However, often overlooked support emails are one of the best ways to build relationships and engage your customers.
The benefits of using email for support
While we also offer phone, live chat, and Twitter support here at Litmus, email is what works best for us. Yes, we really love email!
When it comes to supporting issues within the app, we find it's the quickest way to gather all of the necessary and relevant information, document the issue, and escalate it to our development team.
Outside of the typical issue and bug reports, we also use support emails to build relationships with our customers, facilitate interactions, gain product suggestions, and build brand personality. It's also an opportunity to showcase features to our users that they may not have been aware of.
For those reasons and more, we recently transitioned our Customer Support team into our Customer Success team. We're more than support—and email plays a huge role in making that clear to our customers. Here's how:
Day-to-day support interactions
Use a consistent voice and style
Numerous members of the Litmus team are customer-facing, so having a cohesive style and voice is crucial. The tone of the Litmus voice is casual because we want you to feel like you're talking to a friend, not a robot.
Keep it timely
Nobody likes receiving an automated response with a ticket number, followed by a stiff, impersonal response weeks later. We answer 86% of all customer emails within 6 hours. We want our customers to know that if something is bugging them, it's on our minds, too!
Use plain text emails
In addition to making sure all of our emails have a "Litmusy" voice, the design of our daily emails is consistent as well. There's nothing fancy to them. In fact, they're not designed at all. We use plain text to ensure that our emails will render across all platforms. This makes us and our message accessible to our customers.
Be helpful, very helpful
Day-to-day support emails also give you an opportunity to introduce your users to all the tools and benefits that your product provides. For example, while reviewing a customer's email, you may notice that they aren't using all of the features available in their account. This is the perfect opportunity to link them to a quick tutorial, or even give them temporary access to a feature that requires an upgrade. Every interaction by email is an opportunity to educate your users, and make them aware of tools they may not be utilizing.
Gain feedback and product ideas
Litmus is not just a product, it's a team of awesome people, too. We're approachable, resourceful, and helpful—and we're able to show that via email. The more we convey that to our customers, the more comfortable they are coming to us with their feedback, ideas, and issues.
Every support email gives us the opportunity to interact with our customers and gain their invaluable feedback.
Your customers are your best resource, and for this reason the support team can really help guide product development. Outside of helping our team to identify issues and bugs, users pass along a variety of feedback every day that motivates us to improve our customer experience.
Specific to Litmus, this includes notifying us of changes in the email marketing industry. Users help us track down changes in email clients as soon as they happen, and rendering issues when a new version is released.
They're also a huge resource for UX/UI improvements. In fact, many of the changes made in our recent app updates came from daily interactions with our customers via email.
Even after the app update launched, our development team was poring over email feedback and making constant tweaks and adjustments to the platform. The result was a clean, efficient, and powerful design that improved workflows and made email better.
Triggered support emails
In addition to our daily support emails, we have several triggered emails that are sent to customers at various stages of their Litmus subscription. One of the emails is sent out if a customer decides not to activate their subscription on Litmus. This helps us to understand why the user decided against upgrading their account.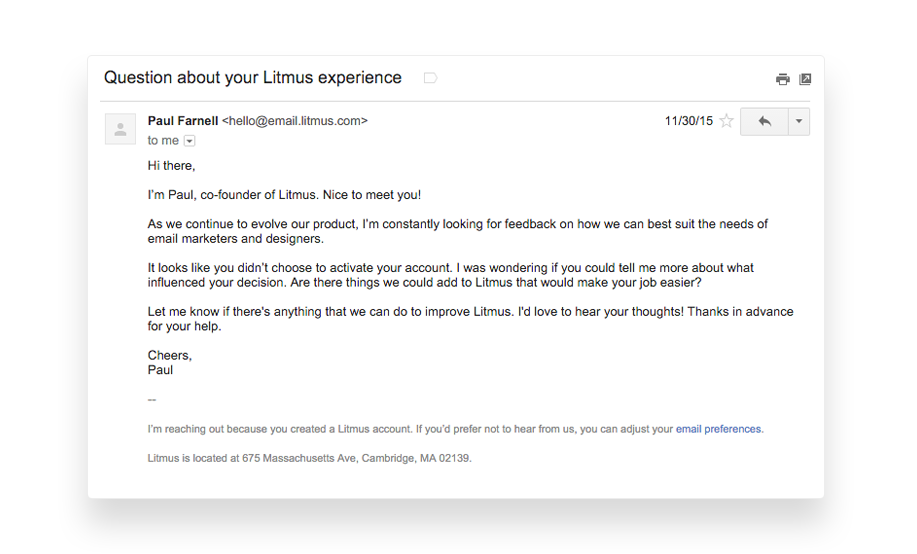 Another triggered support email that we have is a check-in note a few weeks after a customer has signed up. We ask how things are going, and make sure any questions the customer has get answered.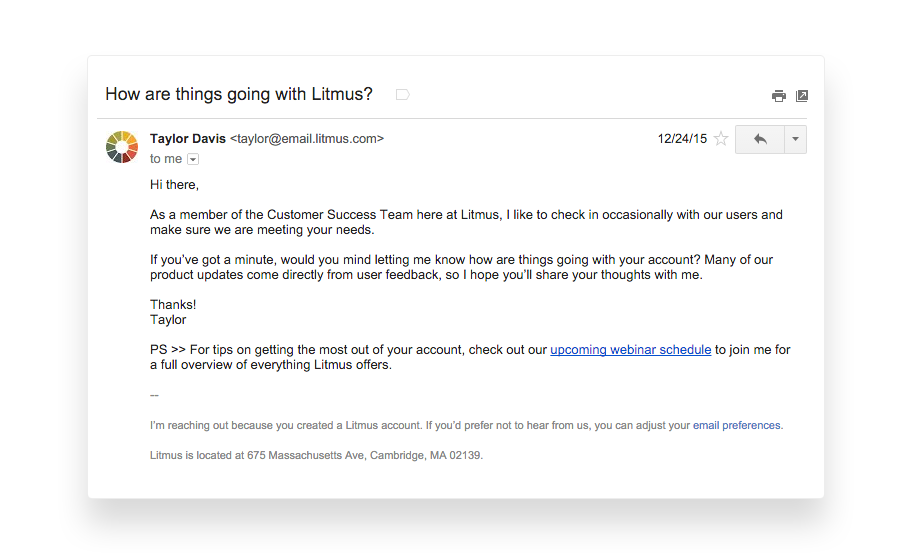 And, like our day-to-day emails, we keep the design of these triggered emails very simple and use plain text. This helps to keep them casual and conversational, and ensure they are accessible regardless of whether our customers are reading on desktop, mobile, or webmail.
Triggered emails give us yet another opportunity to interact with our users. While we have a lot of customers that choose to start a conversation by emailing our support inbox, we also know it's important for us to reach out as well. It's a two-way street and we want to make sure we are doing everything we can to improve our user experience.
Cancellation emails
Whenever a customer decides to cancel their Litmus subscription, we ask them to provide feedback within the app. Users can choose from a few pre-filled reasons for cancelling, or they can opt to write their own. Each response creates an email that is sent into support.
While these emails can be tough to read sometimes (hey, no one likes being broken up with!), they provide us with invaluable feedback. Whether it's an issue with the product, UI/UX, billing, or customer service, they give us advice on where we need to improve.
They also give us a second chance to redeem ourselves. For example, if they cancelled because they thought we were lacking a feature that we actually had—we can make them aware of that tool.
Or, maybe they were on a lower level plan and didn't realize one of our upgraded plans had the feature they were looking for. This is the perfect opportunity to let them try the upgraded feature.
While breakups are never easy, they're a great learning experience—and, hey, if you're lucky, you may just get a second chance!
GET MORE RESOURCES AND TIPS
Want more tips on how to do email right? Our newsletter is chock full of tips for creating great email and building relationships with your subscribers—whether it's promotional, transactional, triggered, or day-to-day support. Get the latest goodies delivered straight to your inbox.