Finding—and keeping—good email professionals is hard.
Email is a niche area, both in terms of the design and development skill set required and the general marketing competencies needed to manage and execute successful campaigns. Plus, let's face it, many designers and developers see the unique challenges of the channel as a limitation to their creative freedom. Candidates that truly love the challenge of working around those limitations are rare, and finding them is tough.
In addition, getting new team members up to speed on a brand's email strategy, creation processes, and the tools needed to get an email out the door is time-consuming and costly. That's why high churn rates are particularly painful for managers of email teams.
Are you a hiring manager struggling to find the right candidate for an email position, or are you looking for ways to reduce churn within your email team?
Inspired by the stories and recommendations from the Community, here's how to find the perfect fit for your next email job opening—and what you can do to make them stay.
Set clear expectations in your job description
Poorly worded job descriptions are one of the key reasons for inaccurate expectations and struggles with finding the right person for your job. Be crystal clear about the responsibilities of the position and the technical skill set needed to fulfill them. Too often, email-specific job descriptions sound like a generic front-end development position that fails to highlight the unique challenges and requirements that come with a job in email.
"An email role is pretty similar to a front-end-developer—but with a million restrictions and changing rules. So if you hire a front-end developer for this job, they are gonna get bored, annoyed, eventually resent it and move on."
Andrew S., Litmus Community Member
Posting your job on email-specific job boards helps you reach audiences that truly understand the email industry. Our very own Litmus Community Job Board is a great place to share your job opening for email designers, marketers, and developers (plus, posting your job is free!) or you can share your position on other job boards like Email Jobs.
Clarify expectations further during the interview process
Make sure you cover anything that doesn't fit into the job description during the interview. Does the role involve strategy work? How much coding is needed for the position, if any? Make sure you're honest and set realistic expectations for the role. Otherwise, you'll end up with frustrated and disappointed employees, who are more likely to move on to a role that better fits their expectations—be it within your organization or somewhere else.
If you can, include a mini project as a part of the interview process that's as close as possible to the daily tasks the role would involve. This can be fixing an email that's broken or creating a new template for an upcoming product launch. This not only helps you better understand whether or not the candidate has the skill set needed to fill your role, but also gives the candidate a chance to see what a typical task for this position could look like, and helps them decide whether or not this is a role they'd enjoy.
Offer a competitive salary
Salary is just one of many factors that influence whether candidates consider a job to be a good one or not. However, it's without a doubt an important consideration for most people, not only because everyone has bills to pay, but also because a fair salary is a sign of respect. If your company pays below average, that not only makes it harder to attract talented individuals—in particular, if you're looking to hire highly qualified and experienced email professionals—but also makes it more likely that they'll leave when a better offer comes up.
Take the time to research average salaries for the type of job, the industry, and the geographic location you're looking to hire for. Our State of Email Jobs and Salaries in the U.S. report is a great place to get started to help make sure that you're offering competitive salaries for your email positions.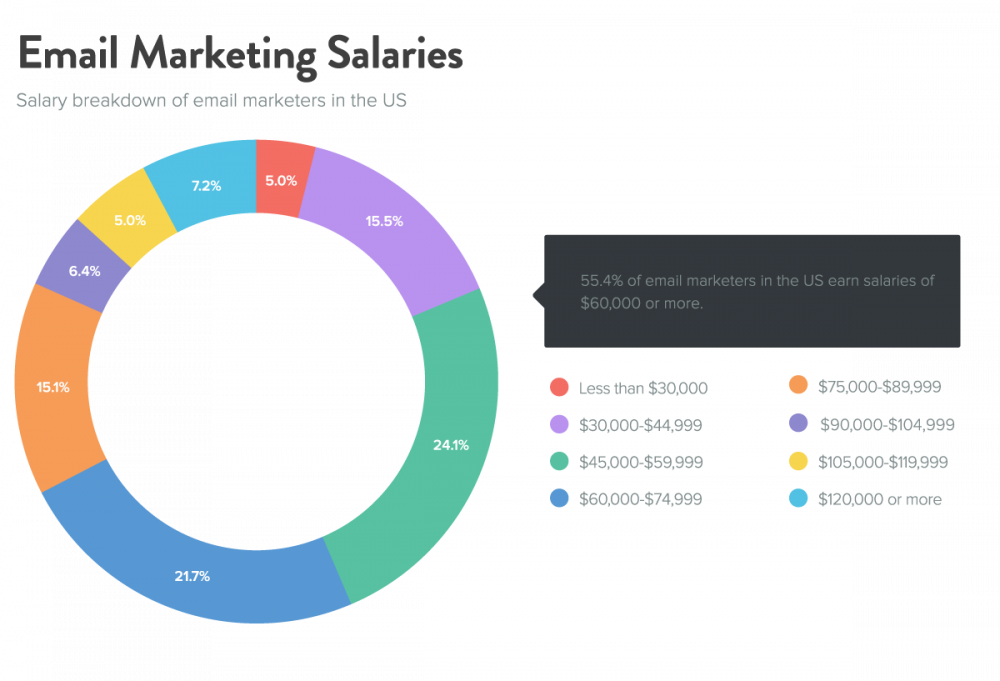 Allow room for experimentation
If you fear trying new things, you're not only missing out on opportunities to improve your emails, but also keeping your team from one of the aspects of email marketing that's most exciting: experimentation.
The restrictions of the channel (we're looking at you, Outlook!) can often make marketers feel like they only have limited tools to turn their ideas into reality. Plus, especially for members of your team who work with a set of pre-designed templates and mainly just swap out content, tasks can quickly become tedious and repetitive.
Provide your team with the room to mix up the day-to-day tasks with projects that break the routine. This can be a set of A/B tests, experiments with new coding or design techniques, or a chance to design a one-off email that's different from your standard template. Every experiment—successful or not—provides an opportunity for your team to be challenged and learn.
Provide opportunities to grow
In addition to providing room for experimentation, think about other ways that can help your email employees grow, both personally and professionally.
"I've seen some email teams with high churn-rate, and it's typically because of these factors: No ownership of their work (strategy, etc.), repetitive tasks, and no opportunity for personal growth."
Jacques Corby-Tuech, Litmus Community Member
Make sure every member of your team can take ownership of their own project or piece of the email process and provide a clear path for them to take on more responsibility over time. Can someone who started as an entry-level email specialist be involved in more strategic projects over time? Do you provide a clear career path? Giving your team clear direction on how they can advance in their careers is a key factor for reducing churn.
Also, consider setting aside a budget for your team to attend conferences and training. It's an investment that will keep your employees happy and allows them to acquire new skills they can put into practice to bring your brand's email program to the next level.
Nearly 78% of marketers say their company is "very supportive" or "somewhat supportive" of their email team attending conferences and webinars, taking online courses, and doing other things to improve their skills, according to a Litmus poll.
Email marketers in small teams—or those that are the lone email marketer in their organization—often struggle with a lack of interaction with peers. Attending conferences, workshops, or meetups helps them stay connected with other email geeks, provides new sources of inspiration, and helps keep them excited about what's possible in email.
Get your Litmus Live tickets!

Litmus Live brings the smartest email professionals in the world together in Boston, London, and San Francisco for workshops, talks, and networking.
Help your email staff get visibility across the broader organization
Even though email is the marketing channel with the highest ROI, many email professionals feel under-supported, underappreciated, and misunderstood by their marketing colleagues and the larger organization—and that can quickly lead to frustration.
Whether you're in charge of a large email team or supervise a single email developer, provide them with room to be vocal and proud of the work they're doing and help your team get visibility across the marketing team and other departments. For example, encourage regular meetings on what's going on in email, provide results of recent campaigns, and foster exchange and collaboration across departments. Increasing visibility across the organization can also be a key tactic for growing your email marketing budget.
Email Marketing Leadership Series

Free one-page, printer-friendly summaries on critical email marketing issues that you can share with the leadership at your company.
What's your secret to finding and retaining great email marketers?
How does your company attract great email talents and what's the secret to reducing churn? We'd love to hear your stories.