Sending great email isn't easy. But sending great email at scale is a whole different challenge. How do you set up your program to handle more—and more complex—campaigns, all while keeping your brand voice and email quality consistent?
Experts from Litmus and Salesforce sat down to discuss the three elements of a scalable email program: people, processes, and tools. You can watch the full webinar on-demand here, but this post marks the first in a series breaking down the best tips for scaling your email team. Today, the focus is on the people within your email program.
What it Takes to Scale Your Email Program

In this on-demand webinar, experts from Litmus and Salesforce share the secrets to growing your email program the right way.
Scaling the human side of your email program
Creating and managing a team of email experts is no small feat, and it can be particularly tricky during times of change or growth. On one end of the spectrum, you may be juggling a lot of projects and responsibilities with a small team. Or, you could be facing inefficient workflows or scattered communication with a large crew.
No matter how many email team members you have or what your current workload is like, knowing how to effectively scale your department is a valuable skill. Auditing your team structure and strategy also helps your existing department work more efficiently, making it easier for them to produce revenue-driving campaigns each day.
People = Team + Skills
The success of your people lies in two elements—your team and their skills. The first component is all about selecting the right people and organizing them effectively, while the second element focuses on their growth within your organization. Let's dive in.
Finding the right people for the job: Generalist vs. specialist vs. leader
A lot goes into creating a single email. So much so that 53% of teams spend two weeks or more to get a single campaign ready to send. Having a smaller email program doesn't magically make the all-important steps of designing, coding, and testing go away, so these teams are usually filled with generalists. Our research found that a majority of an email team's responsibilities are focused on email coding and development, while email strategy and design are also common tasks.
You'll get to a point during team expansion where your attention will likely shift to specialists. Hiring people who can go all-in on a single function, such as design or coding, helps them deepen their skills and knowledge to provide better work, faster. By hiring or training specialists, you relieve email team members of constantly having to switch gears or learn a little about a lot of topics.
Whether you want to add more generalists or specialists to your team, there's one crucial element that successful organizations have: a leader. Leadership sets expectations and defines rules so everyone can focus their attention and efforts on what matters.
How to get it right: If you're trying to decide if you need to train or hire a generalist or specialist, your first step is identifying the areas where your team feels overwhelmed.
Do they feel there's not enough time to work on strategy or analyze post-send results? Are there new designs or coding skills you'd like to implement, but you don't have anyone on your team who can execute those ideas? How do you think your needs will evolve in the coming year? Do you need a strong leader who can help everyone work in the same direction?
All of these questions will help you identify gaps in your team. You can also talk to your team about their current strengths or preferred tasks, and whether or not they'd like to be a specialist in that area in the future. When it's time to hire a new team member, make sure you set clear expectations in your job description.
Organizing your team for success
Even the most talented individuals can't do their best work if they're part of a broken system. That's why a crucial part of scaling your program is finding an organizational structure that sets your team and work up for success. But what does the perfect team structure look like? As it often does, the answer is "it depends." Each company is different, and you may need different answers as you evolve.
Centralized vs. decentralized email organizations
Our 2019 State of Email Survey looked at how different companies organize their email teams, and the good news is you've got options.
Smaller companies tend to choose a centralized team structure, where a single group handles all email strategy, writing, and design. Communication is a bit easier when you're working in a small group. Plus, when all of the strategy, writing, and designing comes from the same group, you end up with more cohesive campaigns across segments. When done right, a centralized email organization can also be a well-oiled machine, creating a repeatable process that utilizes different team members' strengths. When centralized teams become too large, though, there's a risk of slowing down your workflow. That's why, as organizations grow, we tend to see a shift away from centralized structures.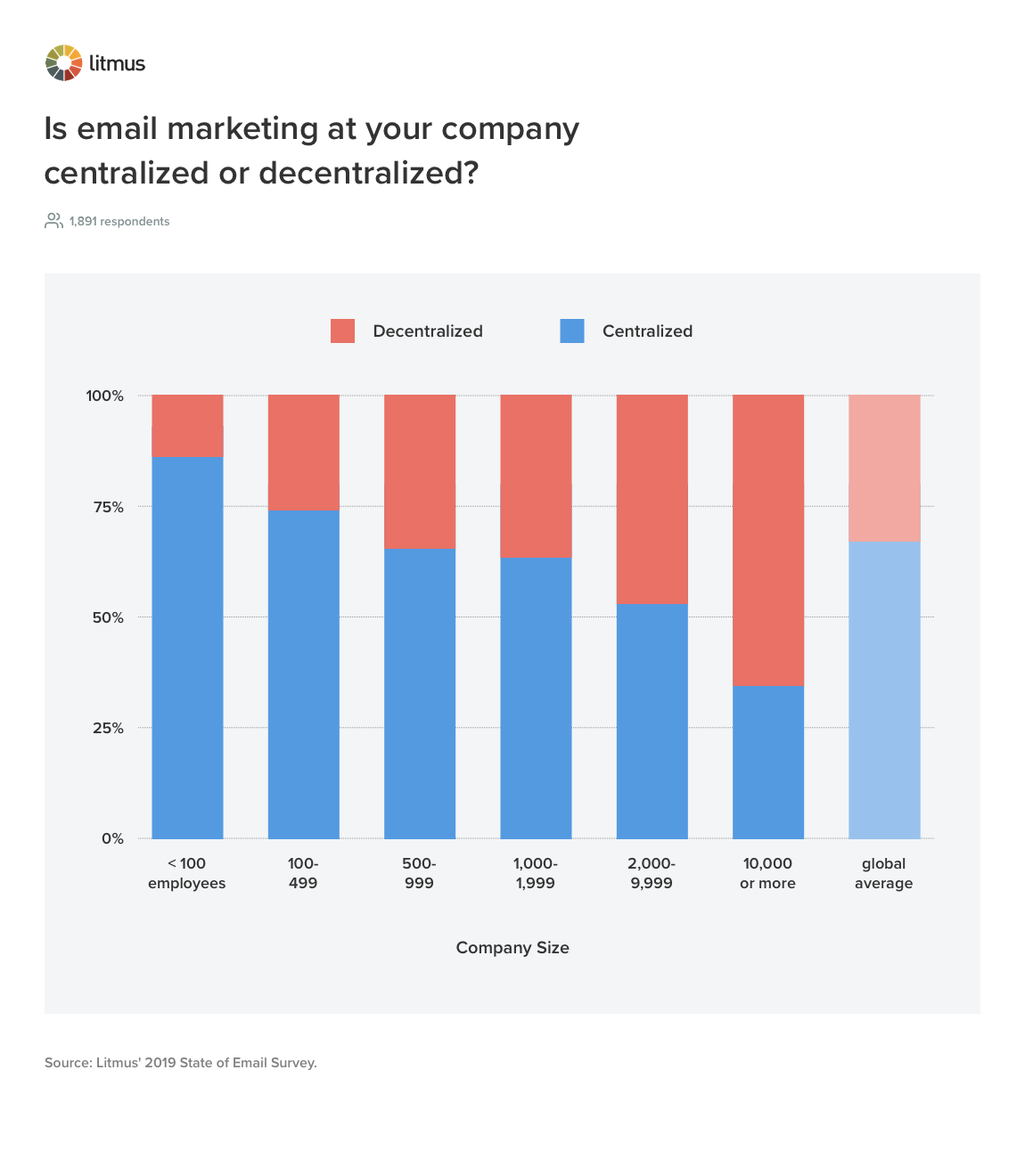 Large or multi-national organizations are more likely to opt for decentralized teams, where entire email units are grouped by location, product line, division, etc. Decentralized teams can be more agile around the needs of their unique customers, but they can also create a fragmented brand experience. Even smaller companies that have traditionally worked as a centralized unit can face some of the decentralized challenges if they enlist the help of freelancers and agencies or have a remote workforce.
How to get it right: There are a few different ways you can organize your team, so what's the best option for you? If your company has less than 100 employees, it might make the most sense to choose a centralized team structure for simpler workflows and communication.
In reality, our research found that centralized teams didn't fall out of the majority until a company hit 10,000 or more employees. If you're in a large company or growing with the help of freelancers, you need to pay even closer attention to your processes. Regular check-ins on goals, user personas, brand guidelines, and insights help disjointed teams work as a cohesive unit.
For a deep-dive into centralized and decentralized email teams—and the pros and cons that come with each set-up—read our blog post on organizing email teams.
Aligning on the customer
Want to start making your team more effective starting today? Schedule time for everyone to review how your email program can align with the customer and overall business strategy.
Who are your target customers, and what are their motivators? What brand touch points will they have across other channels? Are your current campaigns based on customer-centric journeys? Without a clear and shared understanding of the customer and email's role in their journey, it's tough to make emails that hit the target.
How to get it right: First, assess your current email strategy and any documentation about the customer. If you don't have a single source of truth for email marketers to learn from, it's a great time to create one. If you do have a strategy around customer success through email, do all team members know and reference it?
Leveling up with skills and knowledge
Scaling a capable email team isn't just about hiring the right mix of people, it's also about investing to help them grow in their role. By empowering your current team with new skills, you may be able to get more and different work done without having to expand payroll just yet.
Allow room for experimentation
Provide your team with the room to mix up the day-to-day tasks with projects that break the routine. This can be a set of A/B tests, experiments with new coding or design techniques, or a chance to design a one-off email that's different from your standard template. Every experiment—successful or not—provides an opportunity for your team to be challenged and learn.
Invest in training
Email is continually evolving, which means that learning in your email team should never stop. Training can help your current people grow into more specialist roles, or ensure new hires stay on the cutting edge. Here are a few ways you can invest in training:
The people on your email team are the everyday marketing heroes who help deliver great customer experiences, campaign after campaign. The human element of efficiently scaling your email program can also be the trickiest, since there's more to team management than choosing the right integration or tool.
Some of the best things you can do to effectively scale your team is focus on alignment, collaboration, and learning. Getting the foundation of your team right will pay dividends in the long run.
If you feel you've gotten off to a rocky start in your scaling efforts or aren't sure where to start, you're in good hands. In the next post in this series on scaling your email team, we'll look at your processes and tools. Stay tuned!
| | |
| --- | --- |
| | Looking for a deep dive into scaling your email processes? Check out our latest ebook to get all of the details you need to audit and improve your email workflow. |