When an email program is just starting, you can afford to be inefficient. As everyone is finding their footing or growing the team incrementally, you may develop habits that work for your current demand, but simply won't scale.
For example, playing email tag for campaign feedback may work when you're an email party of two, but the practice is unsustainable as you add in more stakeholders and departments. If you want to scale your email program in the future, it's helpful to audit your processes now to prepare for growth. Even if your email team will remain the same or temporarily reduce in size, developing a more efficient campaign process can save you precious time and resources.
| | |
| --- | --- |
| | Looking for a deep dive into scaling your email processes? Check out our latest ebook to get all of the details you need to audit and improve your email workflow. |
What's in an email process, and how can you improve yours?
There are a lot of steps to get an email ready to send, and then you have to analyze results once the campaign has gone live. Let's walk through some of our top tips.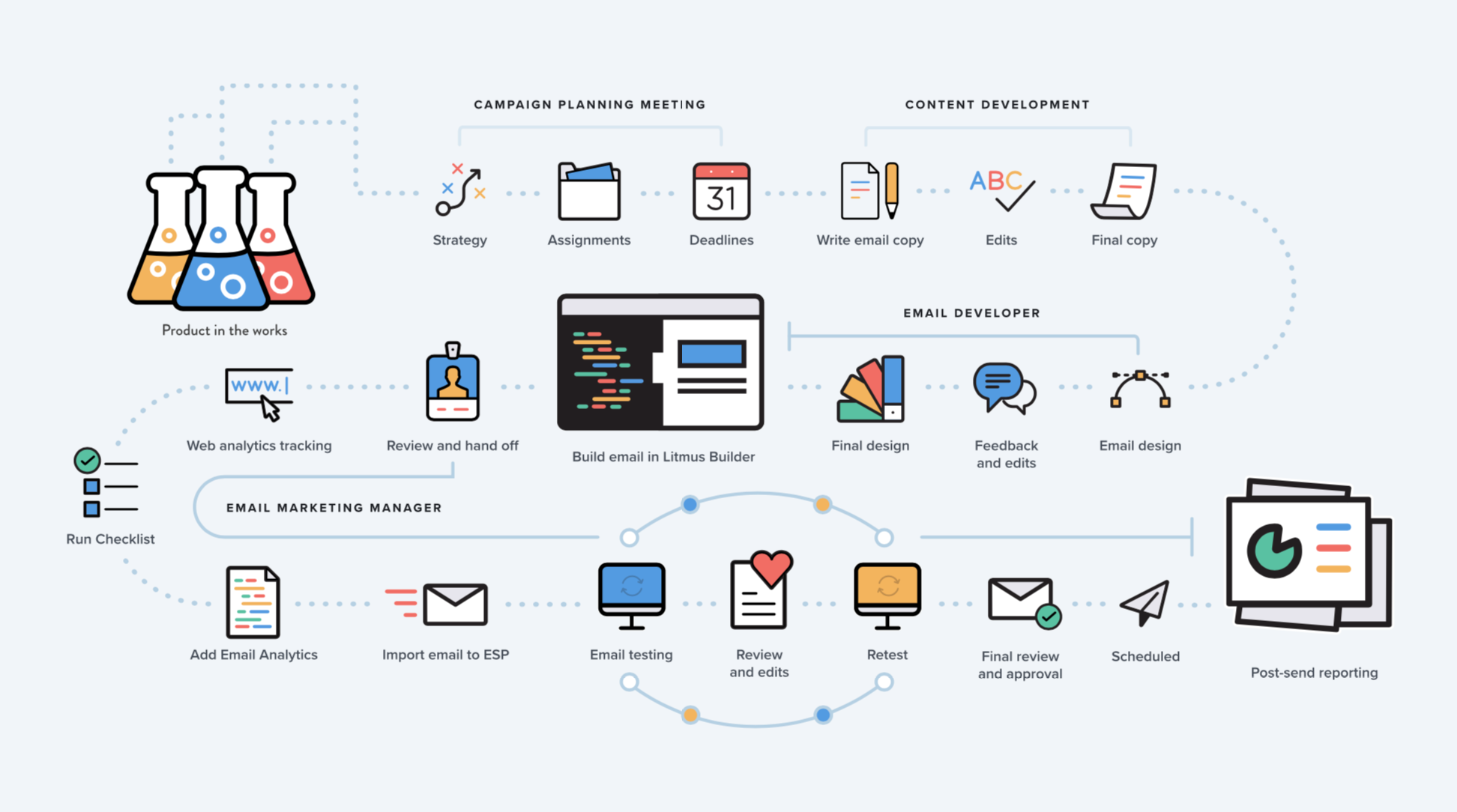 1. Campaign planning
A little planning up front can save a lot of back and forth or scrapped work in the long run. Plus, you won't have (as many) unpleasant surprises or last-minute changes if you can see everything coming.
Choose campaign planning tools that fit your needs. Planning your campaigns ensures that everyone agrees on strategy and goals, which in turn makes creating individual emails easier. Taking time to document your plans also makes it easy to deliver a clear list of your team's efforts to your boss at the end of the year.
Use an email brief for every campaign. Email briefs are useful for getting approvals from stakeholders before you spend hours or days creating an email. Your email brief needs to include the email's purpose and goal, how you plan to earn an open, draft content, and choosing visuals.
2. Campaign development
Developing a campaign takes a long time. On average, teams spend 3.4 hours on copywriting, 4.1 hours on graphics and design, and 3.8 hours on coding and development. Luckily, there are tools that can make your campaign development workflow easier.
Build with well-tested, modular elements. Why reinvent the wheel every time you approach a new campaign? Testing commonly used elements in isolation can reduce edit times during the testing phase. Think of modular designs like LEGO pieces of code that you can use to build emails more efficiently.
Automate wherever possible. Having a heart and remembering the humans on the other end of your email are valuable additions to your email program. However, there's one tricky detail about creating emails by hand—human error. While copy and pasting is a step up from manually transferring information, it still opens up the potential for mistakes.
3. Quality assurance and approvals
After you've put in the hours to create a beautiful campaign, it's time to put the finishing touches and tests in place. Here's how to reduce errors in less time.
Use a pre-send checklist. The simple act of documenting your pre-send review process ensures you don't miss a step, and that you can easily teach new hires. If you want to take even more work off your plate, you can use Litmus Checklist to automatically check for broken links, ALT text, deliverability, and more.
Create clear feedback workflows. Feedback helps you see new perspectives, correct edits, and perfect your message. If not handled correctly, though, it can be a frustratingly complicated process. If you want to make collecting feedback easier, there are a few parameters to have in place—consider limiting the number of stakeholders, agreeing on timelines for the review process, and choose one tool for collecting feedback.
4. Campaign reporting
The pre-send process gets a lot of attention because it's important and involved. However, your work doesn't end when you hit send. Here's how to optimize your post-send analysis to make your email efforts go further.
Review email health. Cleaning up your email list is a good habit to keep engagement and deliverability high. Taking time to review your email health can also help you prioritize your efforts, too. When you get a high-level picture of what's happening and what aligns with your goals, you can avoid taking up work time with low-priority efforts.
Scale what's working, delete what's not. Pick out your top five campaigns and journeys, and then drill down to what makes them successful. Do they have a unique cadence or copy style? Are the contents, send time, or CTAs different? Use campaigns that are already performing well to model future emails.
With so many steps required to prepare and analyze email campaigns, there's plenty of opportunities to audit and improve your process. Not only can reworking your email procedures for scalability help your team work more efficiently, but it can also ensure everyone is on the same page at all times and reduce errors.
Here's the thing about improving your email process—it's good for everybody. Your email team benefits because they can get their work done with less stress and more time to work on strategy, analysis, or learning new skills. Your company also reaps the rewards of a more efficient process, since insights gleaned from effective campaigns can influence other marketing channels. Finally, your email subscribers will enjoy error-free emails that just keep getting better over time. So what are you waiting for?