Google has updated its Inbox by Gmail email app several times since launching it in October 2014. Initially limited to those using @gmail.com addresses in conjunction with iOS or Android apps or the Chrome browser, Inbox is now available for business app email addresses, as well as in all browsers.
Back in January 2016, Google also added better search functionality to Inbox. For example, when searching for a frequent flyer number or shipping status, Inbox will show the item at the top of search results. You no longer have to dig through individual emails to find what you're looking for.
Recently, the Google team has added even more functionality:
Streamlined events
Saved links
Glanceable newsletters
Streamlined events
With streamlined events, Inbox gathers emails from a single event and shows you what's changed at a glance. If you tap onto an event, you'll see a comprehensive overview of the event—including time, date, location, a list of attendees, and all corresponding emails about the event.
Saved links
Rather than email yourself an article you'd like to read later, Inbox has added a "Save to Inbox" feature. On mobile, you can use the OS's built-in sharing dialog to save the links, or share them via email with others.
If using Inbox by Gmail in Chrome, you can use the new Inbox by Gmail Chrome extension to save and share links.
Glanceable newsletters
And, now for the update that most directly affects email marketers: glanceable newsletters. This feature shows a preview of the links in a newsletter, as well as links to previous newsletters, without having to click into the email.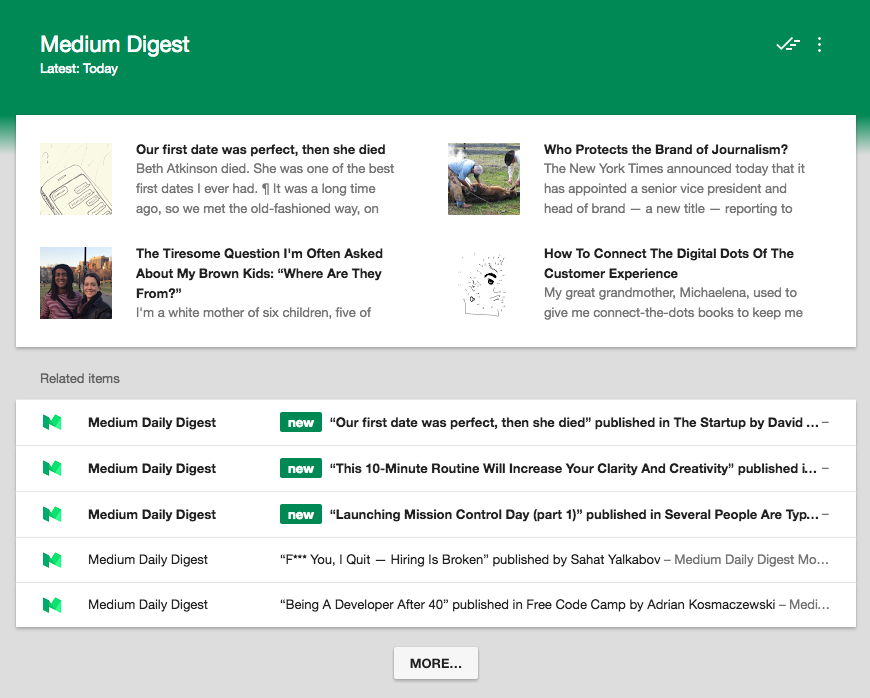 This functionality echoes the Highlights feature that already existed in Inbox by Gmail. With Highlights, you can take actions, such as track an order, modify a hotel reservation, or review a movie, without ever opening the email.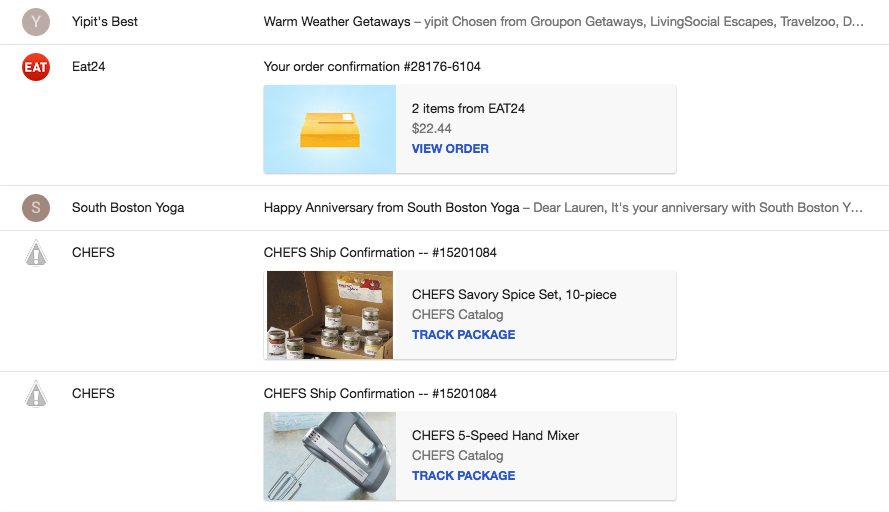 In particular, glanceable newsletters look very similar to Article Highlights. With Article Highlights, you can use markup to select articles, descriptions for the articles, and images to correspond with them to display in the inbox underneath the sender name and subject line, and preview text.

If you click on any of the images or links, you'll be brought directly to the article—there's no need to open the email. This is extremely similar to how glanceable newsletters works.
Glanceable newsletters: What do email marketers need to know?
If a newsletter works with the glanceable newsletter functionality, a bulleted list of three articles will display underneath the subject line. However, it's a limited subject line—it only displays the name of the newsletter, rather than the full subject line.
The preview text is replaced with text that says "Latest: Today" or "Latest: Yesterday." Newsletters older than a day will not be displayed in the inbox—they'll be displayed in the "Related items" section instead (we'll get to this later).

In the example above, Digg's newsletter works with the glanceable newsletter functionality. The email with the subject line, "Digg Election," has not yet been read, so the three articles display in bulleted form. The email with the subject line, "The Daily Digg," has been read, so the articles no longer display. However, the usual preview text is still not being pulled into the inbox.
If you click on any part of the Digg email—sender name or image, subject line, or any of the articles—the email will expand to include a visual representation of the three articles from the inbox view, plus an additional article.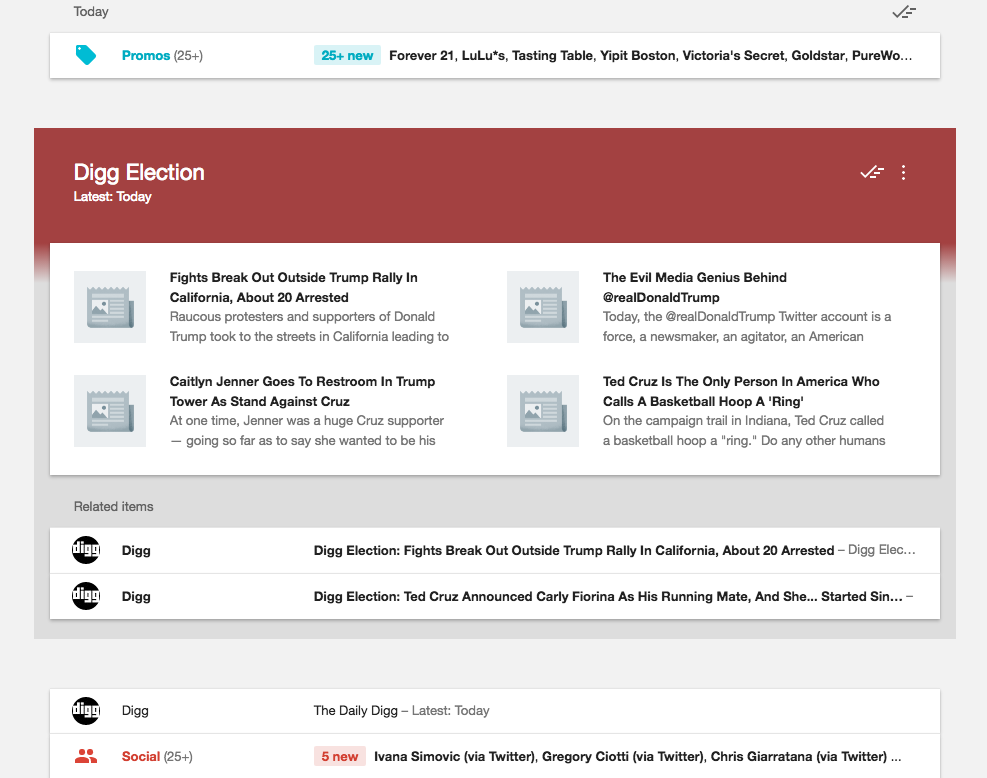 Similar to Article Highlights, clicking these links opens the article in a new tab in the browser. To open the actual newsletter, you have to click the first email under "Related items." The emails in this section are ordered from newest to oldest. Visually highlighted articles are pulled from the most recent email.
Who has access to glanceable newsletters functionality?
This feature is not currently available for all newsletters—we've only seen it for TechCrunch, Medium, Digg, and Quora thus far. It wasn't active in other roundup newsletters, like Daily Skimm, Inbound.org digest, or LinkedIn's Connections in the News.
The folks at TechCrunch have reported that it "currently works with many of the most popular newsletters and the [Google] team will continue to add more…this feature will work best for the kind of daily link digests most news sites now offer their readers."
How does it work?
Google has yet to release any details about how to implement the glanceable newsletter functionality in your own newsletters. However, we reached out to the folks at Medium (who have this functionality present in their newsletters) and they told us it's automated by Google. The Medium team isn't manually selecting which articles are featured—it's all in Google's hands.
It also appears that there is no way to opt out your newsletter out of having the glanceable newsletter functionality.
How is Google selecting with articles to features? It's not immediately discernible. While the description text is directly pulled from the email itself, the articles in the glanceable section aren't always the first four in the newsletter.
In addition, sometimes highlighted articles have images associated with them, and sometimes they do not. For example, in this Medium Digest, the images pulled into the inbox view are correlated with the images that are within the same section as the article in the newsletter.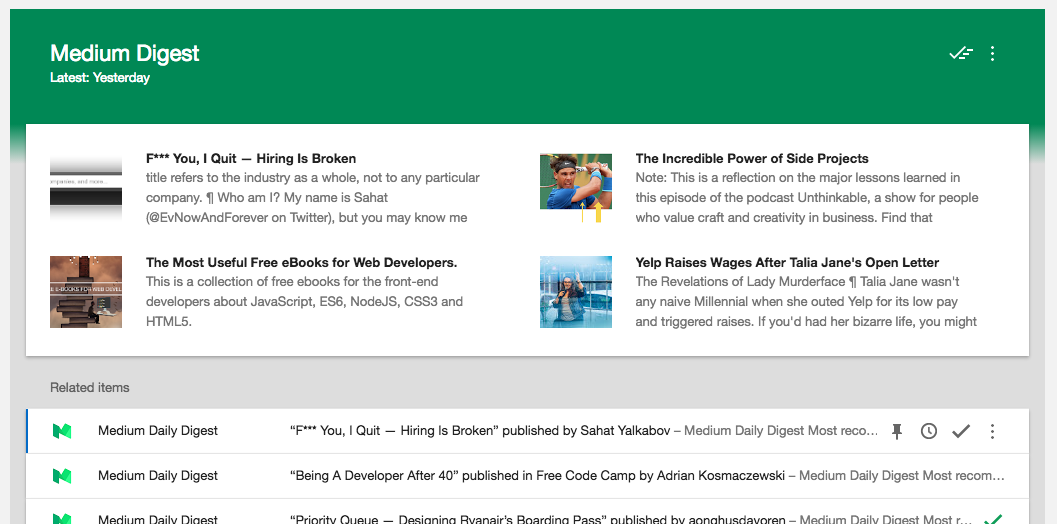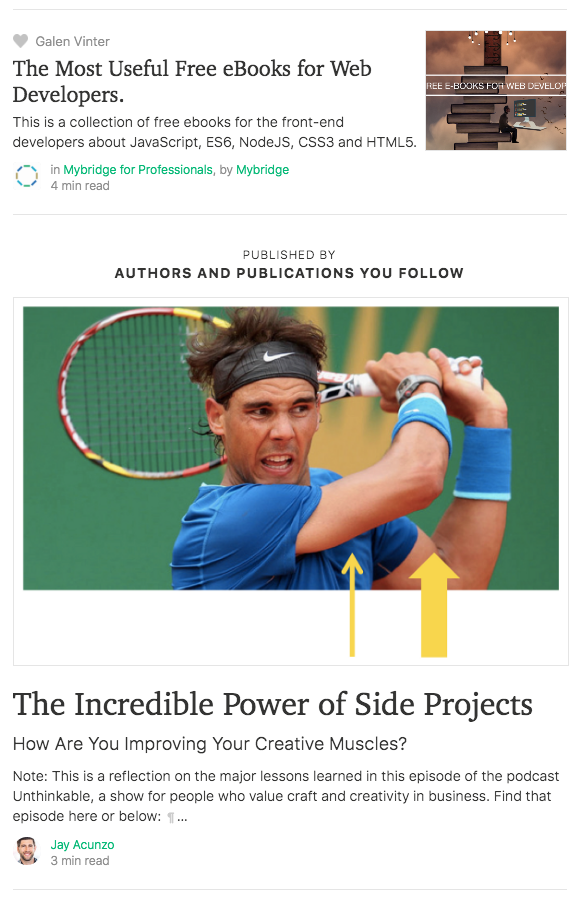 But, in this Digg example, no images are pulled into the inbox view, despite the fact that there is an image within the newsletter that correlates with one of the featured articles.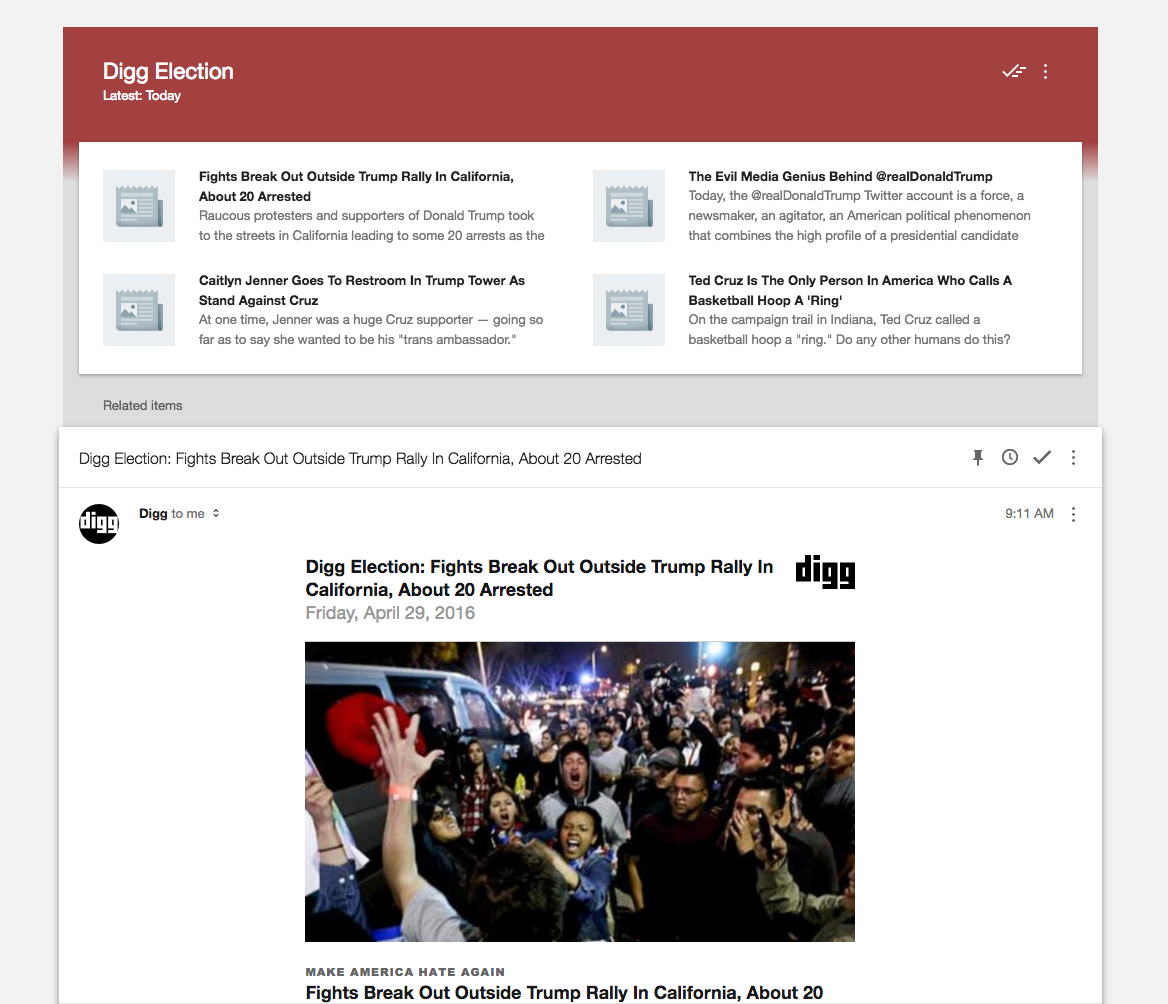 Will brands have control over whether they have glanceable newsletters functionality in the future? And, will they be able to control what displays in the article roundup?
Due to its similarity to Articles Highlights, our guess is yes, brands will eventually have control over what displays in the glanceable sections.
With Article Highlights you're able to define the title of the article, URL, and article description that will display within the inbox with schema. This is extremely similar to what is being pulled into the glanceable newsletter sections, so it's likely that brands will be able to control this as well.
We'll be sure to update this post if Google releases any additional information about how glanceable newsletters work.
How can you optimize your emails for this feature?
If you get access to glanceable newsletters, be sure to optimize your envelope fields. They're more crucial—and limited—than ever.
Use a recognizable from name
You don't have preview text, nor a full subject line, to encourage the open. Ensure that your from name is straightforward and recognizable by your subscribers.
Set a Google+ profile picture
The sender image is pulled from your company's verified Google+ profile. If you haven't created one, now might be a good time to set one up. For senders that don't have a verified Google+ profile, the logo portion of the message is the first letter of your sender name in a serif font.
If this feature works on your newsletters, here are some optimization tips to keep in mind:
Use enticing imagery
In several of the examples that we've seen, images appear broken in the glanceable section.

Be sure to include images alongside articles in your newsletter, so they can be pulled into the glanceable section. In addition, ensure that the images correlate well with the topic of the article they're associated with. Use images to entice your subscribers to click.
Optimize your headline and description
This latest functionality by Gmail gives you more opportunity than ever to get your subscribers to click. You've never had more room in the inbox to encourage your subscribers to take action.
However, it's not unlimited space—be sure to keep character count in mind. The title of the article can span up to two lines, each line with about 50 characters. Depending on how much space the title spans (one or two lines), the description can span between 90 and 150 characters.
Think of the headline as your subject line, and the description as your preview text. Be direct and succinct, and clearly state what your subscriber will learn by clicking into the article.
If you can convince your subscribers that these articles are all worthwhile to click, then you'll increase your chances that they'll actually open your newsletter in the "Related items" section—where they'll be able to see all of the articles and calls-to-action in your email.
Another option to consider is only including four articles in your newsletter. Doing so will give you control over what is being shown in the glanceable section, as well as give your subscribers the opportunity to click all of the links in the newsletter without having to actually open it.
If our assumption about this eventually being controlled by the sender via schema, you'll be able to define these fields yourself. Also note that to use schemas in your emails, you must register with Google.
How will it affect open and click tracking?
An email is considered "opened" when images are displayed. While images are sometimes displayed in the glanceable section, if our assumption about using schema is correct, then those are not counted as opens, since they're being pulled in from an external source—not the email itself.
So, in order for an open to be counted, users would have to open your email under the "Related items" section, rather than just viewing the articles in the glanceable section.
While it may affect open rates, it's a great opportunity for email marketers. Not only will the visual element help your email stand out in the inbox, but it will offer direct access to conversion opportunities without users needing to open an email. While your open rates may decrease, the traffic to your website could increase (that's a win!).
When it comes to click tracking, it looks like that won't be affected. In fact, you may see even more clicks. In the examples that we have looked into, the URLs in the glanceable section were the same as within the actual email. In other words, click tracking or web analytics tracking added by you or your ESP remains intact and will continue to be tracked as usual.
If our schema assumption is correct, then we recommend adding unique tracking on URLs in the glanceable section and within the newsletter to track them separately. Which is getting more clicks? Which is leading to more conversions?
Have you noticed anything quirky with Inbox's latest updates?
Let us know in Community! We'd love to see what we missed. We'll be sure to update the post if Google releases any additional information about how this latest functionality works.
Stay on top of the latest email updates
Get the latest in email—including Inbox by Gmail updates—delivered straight to your inbox. Subscribe to our newsletter.