If you didn't have time to read all of the hundreds of pages worth of reports and research insights that came out of our 2018 State of Email Survey, you're in luck: We've condensed the key stats, trends, and takeaways from all our research into a single webinar.
In this webinar, I discuss four major themes from this year's research:
Why most email review and approval processes are inefficient (and what you can do to fix them)
How performance visibility impacts the subscriber experience
The use of third-party tools to supplement email service provider (ESP) functionality
How the under-measurement of email marketing ROI is hurting budgets
Did you miss the live webinar? Don't worry. Watch the recording above, and download the slides and read the Q&A below:
Q&A
We didn't have time to get to all of the questions during the live webinar, but we've answered them here on our blog. Have any additional questions? Please leave them in the comments.
How are you defining a "successful" email marketing program in your research?
We don't force a definition of success on email marketers. Instead, we simply asked all of the respondents to our State of Email Survey: "How successful is your company's email marketing program?" They then told us if their company's program is very successful, successful, average, unsuccessful, or very unsuccessful.
Our research into email marketing KPIs demonstrates that there's not a single definition of success. Companies have different goals for their email programs, whether it's revenue, engagement, or something else. We trust marketers to tell us how they're doing at meeting their own program goals.
Are the hours for reviewing emails across multiple people?
Yes, the number of hours cited is across all people involved in reviewing a typical email campaign. The exact question we asked marketers was: "For each email that your company sends, how much time is typically spent on reviews and approvals?"
What tools are brands using to monitor deliverability?
As we mention in our 2018 State of Email Analytics report, Return Path is the most popular third-party tool for deliverability monitoring, followed by 250ok, MailMonitor, eDataSource, EmailReach, and SendForensics. Homegrown deliverability monitoring tools are also very popular.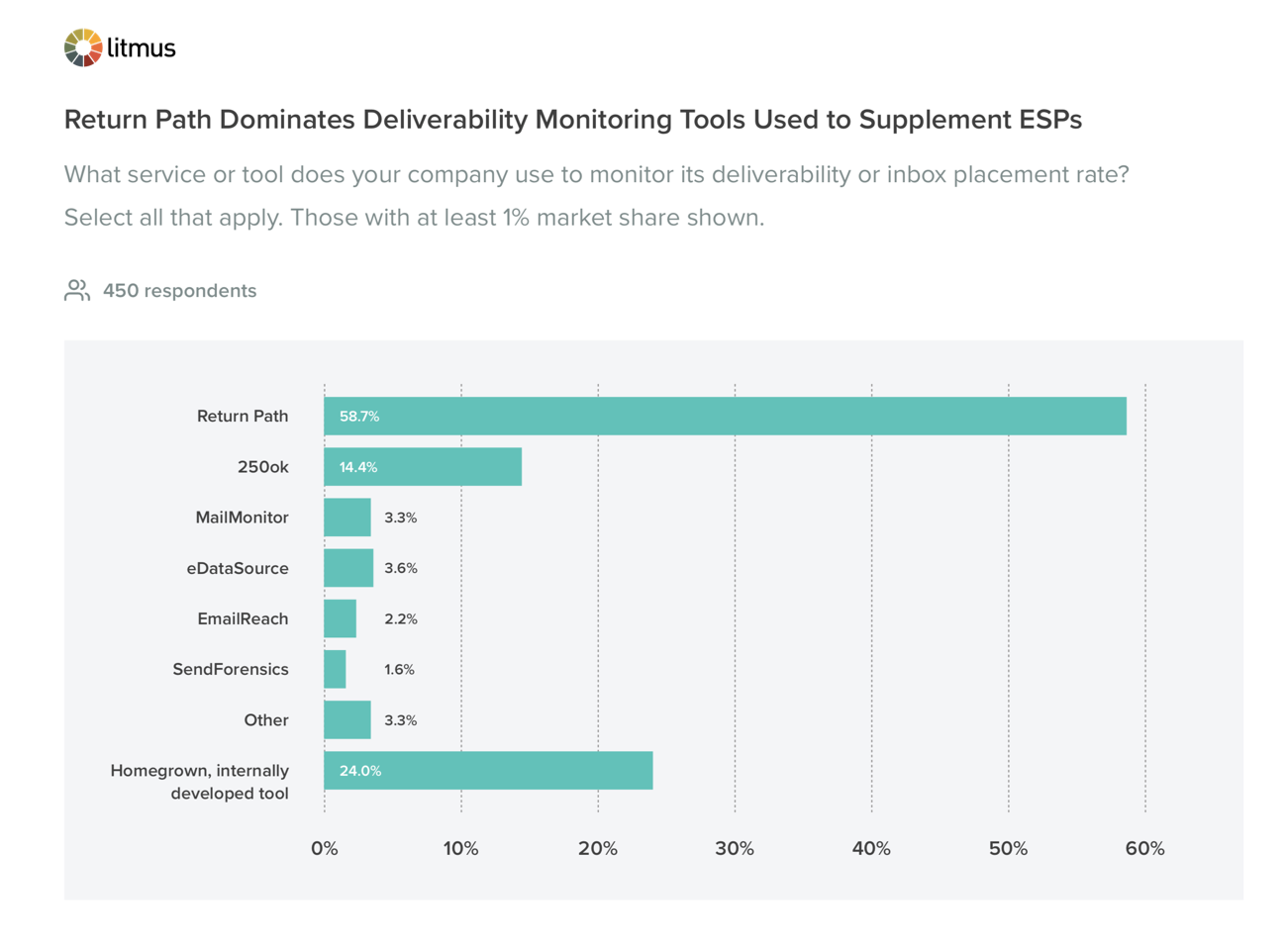 I've noticed "mistake emails" get higher open rates. Do businesses use this type of email occasionally to boost opens and drive sales? What are your thoughts on this tactic?
This is a bit of an urban email myth. Yes, there are some companies that send out faux apology emails. And yes, apology emails do tend to generate higher engagement because people feel better about themselves when they see that someone else has messed up. Schadenfreude!
However, it's a pretty rare phenomenon, especially among large, established brands. It's rare because most companies recognize that mistakes hurt the brand experience and brand trust. Cashing brand trust for a little short-term boost in engagement or sales is bad business. Plus, consumers are smart, and generally punish brands for trying to trick them with underhanded and disrespectful tactics.
Do you have any insights about interactive emails?
Yes, one of the reports that came out of our 2018 State of Email Survey is an Executive Summary about Interactive Emails: Understanding the Hottest Trend in Email Marketing. It explains what interactivity is, discusses which kinds of interactivity are the most popular, shares examples of real-life interactive emails, and talks about the challenges.
We Need Your Help

All of our research is only possible with your support. To help power another year of email research, participate in our 2019 State of Email Survey. Let your voice be heard!
Additional Resources
During the webinar, we referred to a number of reports, blog posts, and other resources. Here's a full list: