February is all about Subscriber Love at Litmus. We'll be sharing stories, blog posts, and more on how you can show your subscribers and customers some love. And we're kicking off the month with a story from our own email marketing team and how we dipped our toes into "thank you" appreciation emails during the 2020 holiday season.
What to do (and what not to do)
First things first: Why do customer and subscriber appreciation emails matter? They're a great way to build and nurture your relationship with your audience by showing how genuinely grateful you are for them.
Just follow a few simple dos and don'ts:
Do: Celebrate and share your customers' experiences with your brand.
Don't: Send appreciation emails without something actionable or actually interesting.
Do: Share milestones that are relevant or meaningful to your customers.
Don't: Recap your product or company's amazing year without mentioning anything about the customer.
Do: Provide special discounts, freebies, or contests for your loyal customers.
But above all, what makes a great appreciation email is making it all about your subscribers—not you.
With this in mind, we set out to create our own emails showering our audience with love and thanks. While we're always grateful for our subscribers and customers, we don't typically send email around specific seasonal periods or holidays. Why? We don't want to add to our subscribers' already busy inbox without knowing that we're bringing something of value to them. As email pros emailing other email pros, we're especially careful about this!
But we felt that 2020 was a bit of a special year. A time when we needed a bit more humanity in the inbox, showing our audience empathy in the weird year we had together.
Want more email marketing tips & tricks?

Stay in the loop on the latest email marketing, design, and development news, strategies, and how-tos.
Our first foray into the appreciation email
Around the time of the U.S. holiday of Thanksgiving, we sent an email highlighting how thankful we were for our customers and subscribers. Believing that the idea of being grateful was a message that resonated across borders.
In the email, we shared a few things the Litmus team was grateful for and asked our subscribers to share what they were thankful for, too:


We didn't try to sell or promote Litmus. That would have taken away from the genuineness of the message we were sending. And we added to the authenticity by including some of the team's friendly faces.
How did the email perform?
The primary goal of the email was to spread the feeling of gratitude to our subscribers and customers. And that's not something you can easily measure.
The email itself had an incredible open rate of 47.8%! That's well above our own benchmarks. How did we hit that? Basic first name personalization to the subject line, with a fallback. And we've done the research: Subject lines that include personalization can result in a 50% higher open rate.
However, the email didn't prove to be very successful. The click-to-open rate was well below our average, and we weren't able to encourage our audience to share what they were grateful for on Twitter.
We had a few guesses on why we weren't able to get people to take action:
Maybe the day and time we sent the email wasn't the right moment for engagement (it was right before a busy holiday, after all!).
Maybe our audience isn't active enough on Twitter.
Maybe the messaging didn't resonate with our subscribers.
These results didn't put us off trying again. After all, this was the first time we'd sent an email with this kind of messaging. We still had so much more to learn!
Our second attempt at showing appreciation
During the winter holiday season, we tried again with a seasonal appreciation message sent on December 23rd: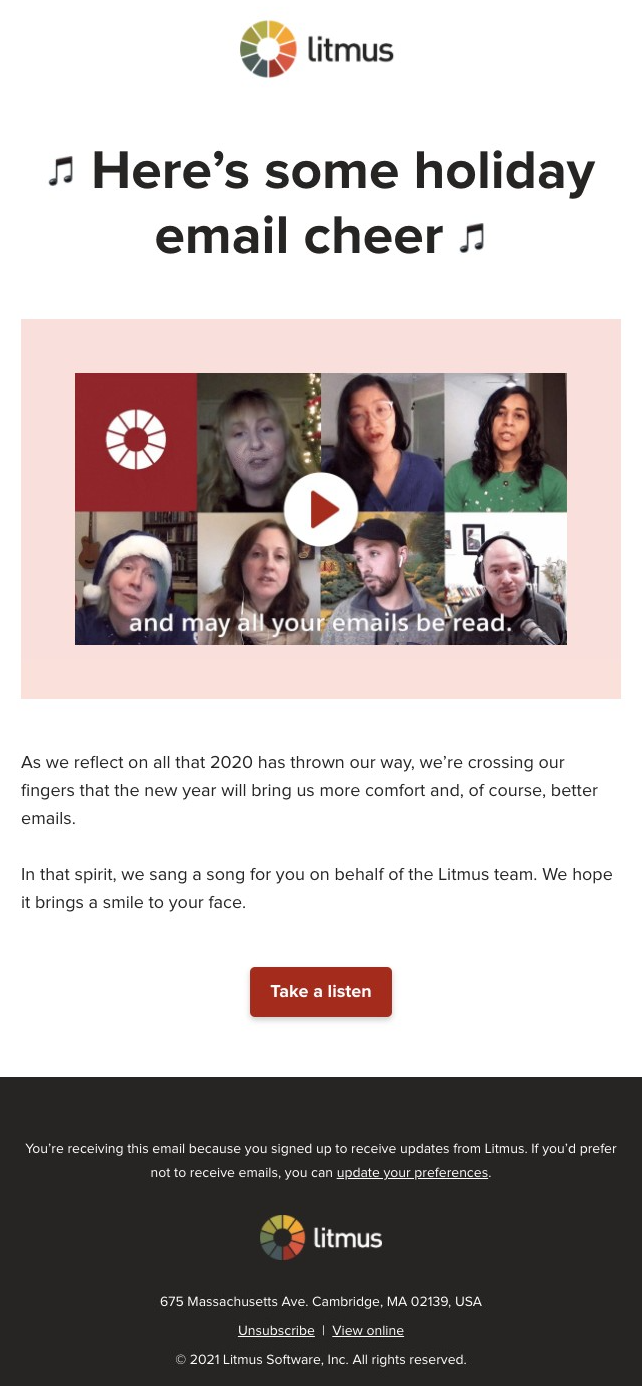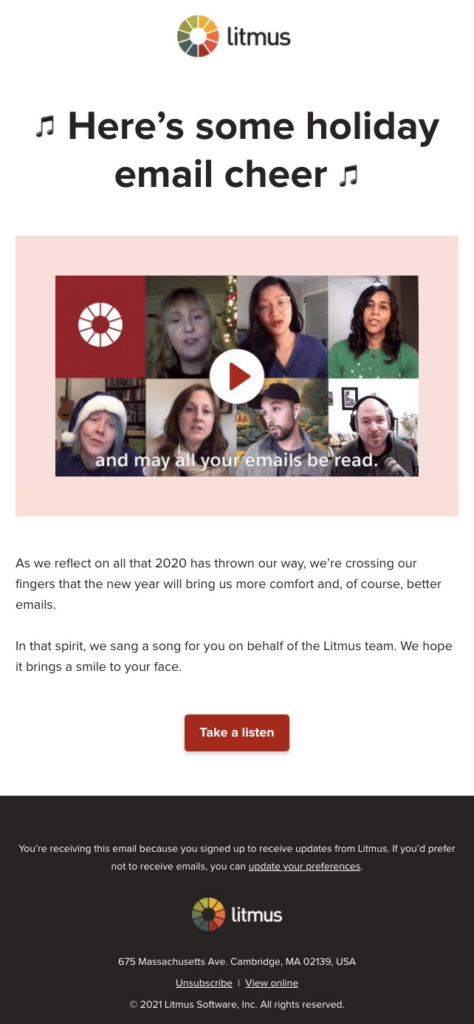 We shifted our approach with this appreciation email based off of what we learned from our first email:
Focused on surprising and delighting the audience. With an emphasis on delight after the subscriber opened and clicked through the email.
Reduced the ask of the audience. To emphasize our message of empathy and joy, the only real ask we had of our audience was to watch a short video.
Introduced some interactivity. Wistia reported that video thumbnails in email can increase clickthrough rate by up to 40%. So we included a thumbnail with some added interactivity using our faux video technique.
If we're being totally honest here, too, we wanted to create something that we could have fun creating. You produce your best work when the whole team is enjoying what they're doing!
How did this email do?
You could say we… hit the right note. 😉  We saw a 440% increase in click-through rate compared to the Thanksgiving themed email we sent the month before! Clearly something in this email struck a chord with our audience.
Beyond the email, the video itself was our 9th most viewed video in 2020. Which is incredible, considering we launched it on December 23rd—right at the end of the year.
Final thoughts: lessons learned
We've learned that customer and subscriber appreciation emails do have a place in our email marketing strategy, as they do yours! Creating great customer appreciation emails come down to really understanding your audience and knowing what will resonate most with them. And a healthy dose of empathy.
For us, it was more than just saying, "Thanks!" By speaking our audience's language—email geek to email geek—we connected with the email community and proved it in a heartfelt and vulnerable way.
It's also important to know that the value of a well-crafted appreciation email can go beyond quantitative feedback (open and click-through rates). The most valuable metric for us has been more qualitative; direct feedback from subscribers and customers really validated our reasoning to send the email in December.
We got a lot of replies to our email with comments such as "very different and a great way to stand out amongst the hundreds of end of year emails" and "I needed to hear that!"
And we received some fantastic comments on Twitter:
Totally goobering over here at this super adorable #emailgeeks digital holiday card from @litmusapp – well done, very creative! pic.twitter.com/jgAlQPuUyG

— Stefani Read (@Stef_Read) December 23, 2020
What a beautiful song to finish the year in pure #emailgeeks style @litmusapp!!! <3. Also great to see @carinslater in the team pic.twitter.com/SEwU6FFYlP

— Rodrigo Santander (@Ro_Santander) December 23, 2020
Have you seen any great examples of customer or subscriber appreciation emails? We'd love to see them!