So, you got your Litmus account up and running and you're ready to get started…but you're not quite sure where to start. Well, you came to the right place for help! I'll cover how to QA and run previews with Litmus Checklist to get accurate checks in just 3 easy steps. Need help or have questions? Let us know in the comments below or drop us a line at hello@litmus.com.
Start your first email.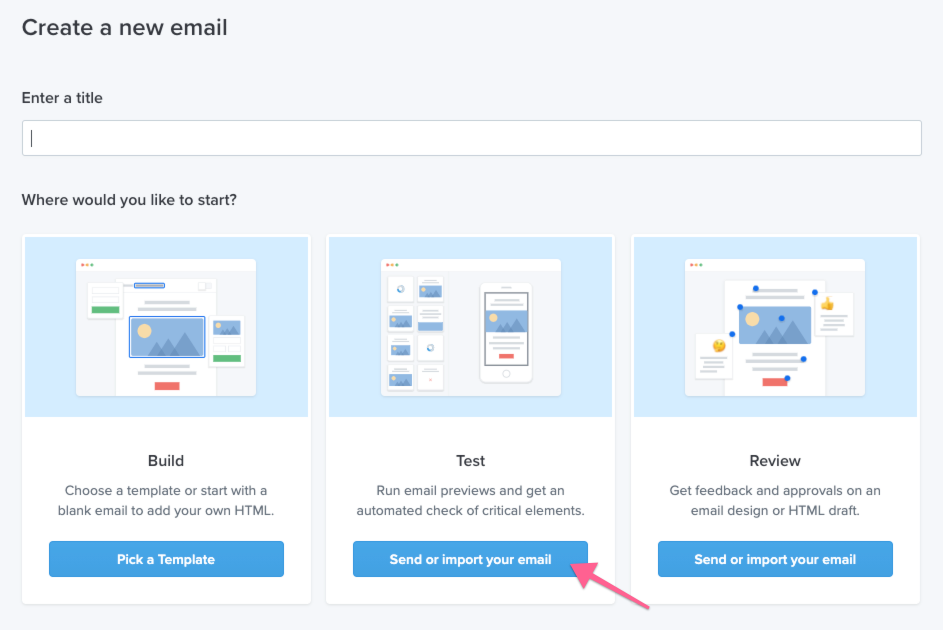 Click "New Email," on the Dashboard and give your email a name. Be sure to pick a title you can easily find again or matches the name in your email service provider or marketing automation platform.
In the 'Test' section, click the 'Send or import your email' button to choose how you'll import your email into Checklist.
2. Import your email.
There are three ways to bring your email into Litmus for testing: your personal Litmus email address, ESP sync, and copy/paste. We'll cover each option below.
Your personal Litmus email address. Use this to send the email you want to preview directly into Litmus from your email platform or Putsmail. This ensures that any extra markup is included if you're sending from an email platform, and prevents any gnarly copy/paste errors. Copy the unique email address with the Litmus domain, then add as a test contact or paste in as a recipient in your ESP.
ESP sync. The best way to import your email? ESP sync. It's an instant connection to your email platform, and continues to update in Litmus and your ESP, even if you make edits after your import. Click 'Manage your ESPs' in the right-hand corner of the ESP dropdown to add a connection. After you're connected, your ESPs will show up in the dropdown.
ESP sync is only available on certain plans, so double-check to make sure you have that capability if you don't see it.
Copy-paste. If you're in a pinch and need to move quickly—copying & pasting is always an option too. In the bottom left-hand corner of the screen, just click 'View more ways to create an email' to paste in your code and to expand your options.
3. Get your results!
After your email arrives or you've pasted in your code, your previews render right before your pre-send checks. Adjust your view to see all previews in full length to QA right here in Checklist. Select the Grid view to see them in thumbnail view and do a deep dive into specific clients.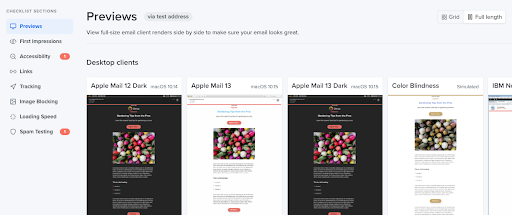 Scroll down to see all of your pre-send checks like email envelope previews, subject line testing, UTM checks, what your email looks like without images, and how long it takes to load. Jump from section to section using the left navigation.
Click 'Share' to send results and previews to your team or keep on hand for your records (and sanity!). You can either generate a public link or download the results in a .zip file. Here's what the Checklist I just ran looks like as a public link: https://litmus.com/pub/b17f309.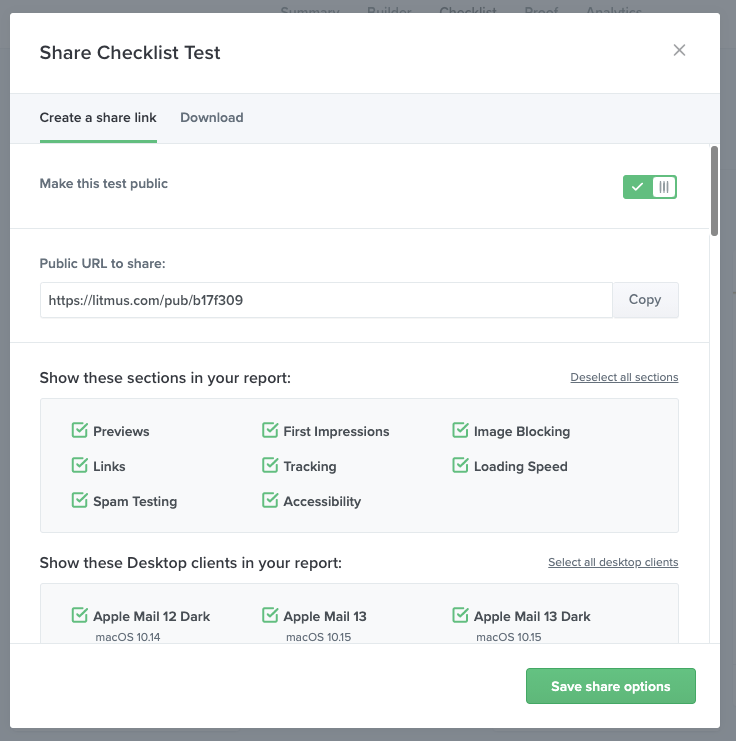 See? Nothing to it. It took us only three steps and a handful of clicks to see our email in dozens of clients to ensure it renders beautifully in your subscribers' inboxes. And that's not all you can do with Litmus. Here's so much more to email than how it looks and Litmus is here to help at every step in the process.
More resources to get going: