We're now just days away from Litmus Live—THE conference for email marketers. No flight or hotel needed… it's all virtual! Get ready for how-tos, tips, and advice from marketing leaders and email marketing experts like Lauren Meyer on October 26th-27th.
Lauren's session will teach you about email deliverability, what impacts inbox placement most, and more.
Let's find out more about Lauren…
How'd you get your start in email marketing?
Like most of my fellow email geeks, email chose me. I was living in NYC, working toward my Series 7 license, and simply could not stay awake while studying. My roommate would wake me every night asking what I wanted for dinner (pizza, duh). Eventually, I realized a life in finance was not for me and started looking for gigs that sounded exciting.
My first role within email was in 2006. I was a Quality Control Specialist, mainly processing suppression files for the hundreds of affiliate marketers we worked with and helping us maintain compliance with the CAN-SPAM Act which went into effect a few years prior.
The job was anything but exciting if I'm being honest, but right away, I knew I had found my people! For the first time in my life, I enjoyed and even looked forward to going to work. I made close friendships that have lasted to this day, and kicked off my 15-year love affair with email (so far…).
What do you love about email?
How much time do you have? No seriously, I could go on for days…
First and foremost, it's the community.
Who knew so many people could be so passionate about something as technical and nerdy and complex as email? Not me, that's for sure. I've made a lot of great friends over the years, and thanks to the various email conferences that occur on a recurring basis (a few of my in-person faves are Litmus Live, M3AAWG, the CSA Summit, and the Email Evolution Conference), we get to see and learn from each other often! In a way, going to conferences has started to feel like coming home to visit old friends. I love my fellow email geeks!
Second, I love all the possibilities that email has to offer.
There are so many micro-niches you can focus on, and languages and methodologies to learn, and technologies and protocols to embrace. Continual learning is not only encouraged but required to excel in this field. For me, creativity and curiosity win the day, even when you're in an incredibly technical role.
But I love the variety of personalities, skill sets, and ideas that come from this community. It leads us to not only succeed at email marketing but also create comic books about email, swag shops to support our never-ending need for email swag, and do things with data that make my jaw drop. It's inspiring, and I feel blessed and honored to be a part of this community.
What's most challenging?
Networking. My knowledge about email marketing grew exponentially once I started growing my network. But it's exhausting… and this is coming from a (mostly) extroverted person!
When I was attending conferences alone on behalf of my company, I often lurked along the walls, trying my best to avoid conversations about technical topics I did not understand and acronyms I had never heard of. Talk about stressful! I found myself wishing and searching for any excuse to dip into a hallway or find some air in a quiet corner.
Thankfully, I always found at least 1 (or 2, or 3!) folks who were in the same boat, and by the end of the night, our cheeks were hurting from smiling and laughing, mainly sharing war stories from our experiences in the email trenches. Meeting new email geeks is still intimidating, but it's become one of my favorite "perks" of the job.
Can you give us a sneak peek into your Litmus Live session?
Sure! My session is all about email deliverability and what tactics you should (and should not) consider on your path to hitting the inbox. Because we live in a world where the answer to just about every question begins with "It depends", and it's hard to make heads or tails of what really matters.
And while new technologies have emerged and a greater emphasis has been placed on improving content and segmentation, all the shiny, new technology in the world won't be able to help if your emails aren't going to the inbox.
In my session, email marketers can expect to walk away with a better understanding of what industry best practices are essential to the success of their email program, what factors have the biggest impacts on inbox placement, and how they can pair technology with a thoughtful approach to deliverability that allows for a truly optimized email program.
Don't miss Lauren's session and more—at Litmus Live

Hear from the best & brightest in the marketing industry, virtually meet other email geeks, and learn strategies & tactics to level up your email program. Join us at Litmus Live via livestream on October 26th-27th, 2021.
How do you expect email marketing to change in the next few years?
GDPR and Apple's Mail Privacy Protection have thrown monkey wrenches at marketers in recent years, but these are just the beginning of a wave of privacy initiatives that will continue trying to keep up with technology.
Have you ever faced the Hammer Bros in Super Mario?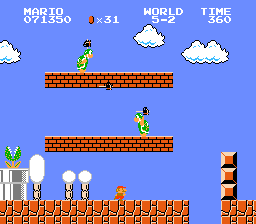 My prediction is that marketers will spend the next several years dodging and adjusting their email programs to comply with new privacy regulations and initiatives (such as GDPR and Apple's Mail Privacy Protection), just like Mario and Luigi trying to defeat those hammer-throwing Koopas.
Marketers would do well to embrace these changes and plan for the privacy of their email audience now: not just because it's required, but because it's the right thing to do for your recipients.
What's your favorite email meme?
Alison Gootee from Braze is an email meme QUEEN! This one about Hotmail support is a little spicy, but I cannot stop laughing when I even think about it. It's spot on.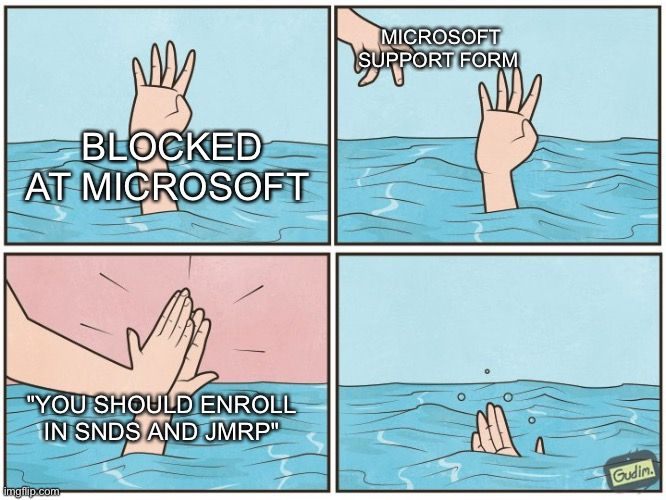 Also had a wonderful giggle at this one about Apple MPP, which Alison released shortly after the June 2021 announcement. To me, it perfectly sums up how a lot of people seemed to be feeling about Apple's impending changes.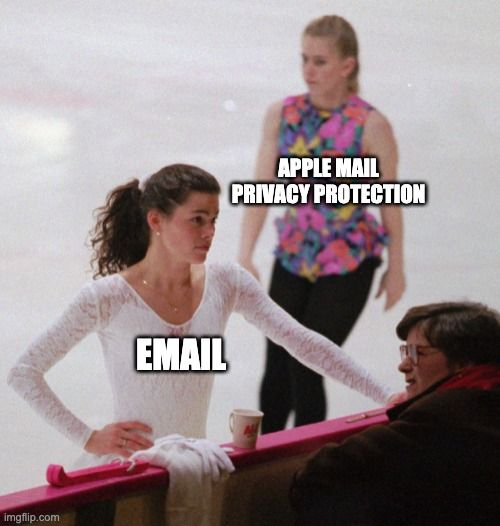 Another fun one: