lIf you've attended our Litmus Live conference before, you know that one of the highlights is gaining practical advice and tips from our insightful speakers that can help optimize your emails immediately. There are over 60 sessions this year across 3 cities, which is a record number for us. But who are the brilliant speakers leading these sessions?
Get to know them better in our Litmus Live Speakers Series, where you'll find out more about who they are, how they got here, and what they care about most.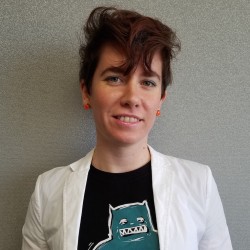 Today, we're meeting Belinda Blakley, Sr. Digital Marketing Specialist at Ross University School of Veterinary Medicine. At this year's Litmus Live Boston, Belinda shared her tips on how to translate your brand into email. Here's how she got into email:
How did you get your start in email?
I started out as a general web and graphic designer out of school and made websites for a while, including for my own clothing business. I realized I needed to actually market to my clothing customers, so I started collecting email addresses at my booth at craft fairs. I started creating email newsletters with MailChimp, but I wanted to go beyond the basic templates, so I used my website coding experience to make my own templates. Later, when I was hired as web designer at my current company, I was tasked with creating all of the emails for our three brands. It was at that point that I really became obsessed with making emails look as good—and work as well— as possible for our customers. I found Litmus for testing my efforts, and the rest is history.
What makes you most excited about email?
I love seeing the creative ways that developers and designers come up with making things work that we take for granted in web design. It's such an interesting challenge and it's always changing. In my own work, I'm also particularly interested right now in how I can make each email relevant to each customer. Before I send any email, I think to myself, "Is this the right segmentation for this message? Do I need to add dynamic content to make it more relevant?" I try to put myself in my customers' shoes and think about what information they're looking for and when.
In your opinion, what are the greatest challenges email marketers face?
The obvious challenge is development—making emails do what websites do—but I actually don't believe that emails need to look the same on every device and client. I think the actual challenge is balancing your sales goals with your customers' goals. Email marketers are often under pressure to do the heavy lifting for lead nurturing, and to prove their ROI, but this can lead down the dark road of spamming (*queue dramatic music*). It's often up to the email marketer to protect their list from spam—and sometimes that means challenging ideas or even people within your team or company.
If you've attended in the past, what do you love most about Litmus Live?
I attended last year, and I just love the community! Email folks are so supportive of each other, and Litmus Live brings everyone together to share their trials, tribulations, and triumphs, not to mention the new knowledge you take away. It's a really fun time, and you leave refreshed and motivated to make email better!
Get your Litmus Live tickets!

Register today to celebrate email with us!
What are some ways brands miss the mark on translating their brand into
email?
There are two big pitfalls that I've seen many brands succumb to. On one hand, I see brands that are so concerned with keeping their brand imagery consistent, that they make their emails entirely out of images (or one big image). I understand the reasoning—they want their emails to look like their website or print work—but an email consisting entirely of images is not only a major accessibility and overall user experience issue, it's also a misunderstanding of what brand consistency is. It's not about looking exactly the same, it's about consistent feeling.
The other, and probably most common mistake I see in translating brands into email, is assuming that a logo and the right colors are all you need to get your brand across. But that's really not a fully branded email. You can't forget the details—your brand should shine through in every element, from your preview text to your photos, down to your footer!
Meet our other speakers
There's more where this came from! Take a look at some of our other speaker features: