If you've attended Litmus Live before, you know that one of the highlights is gaining practical advice and tips from our insightful speakers that can help optimize your emails immediately. There are over 60 sessions this year, which is a record number for us. But who are the brilliant speakers leading these sessions?
Get to know them better in our Litmus Live Speakers Series, where you'll find out more about who they are, how they got here, and what they care about most.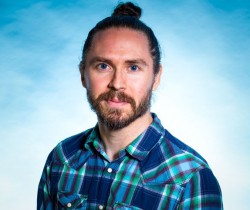 Today, we're meeting Logan Baird, Design Services Lead at Emma. Logan was one of the top-rated speakers of Litmus Live 2016, and we couldn't be more excited to welcome him back this year. Get to know Logan in our Litmus Live Speaker Series, or meet him in person at Litmus Live San Francisco (limited tickets left!).
Get your Litmus Live tickets!

Register today to celebrate email with us!
How did you get your start in email?
I started at Emma back in 2011 with an employment background in design and just enough HTML and CSS knowledge to put together an early-2000s-era website. My initial role was similar to a project manager—scoping, quoting, and scheduling email design work for our talented designers and developers. I eventually worked my way up to leading our Design Services team; in doing so, I became increasingly email-geeky, as I wanted my team to feel up to date on all the developments and breakthroughs in our little corner of the marketing world. I devour email knowledge like a bear fattening up for winter. Similarly, it can also make me very sleepy.
What makes you most excited about email?
There are two main facets of email that excite me. The first is that it's among the most personal and relational marketing channels. As a brand, you're trying to develop a good relationship with your recipients, and being invited into someone's inbox is an act of trust that we try to honor. The second is that designing and developing for email requires working within some fairly constraining parameters, and you're still trying to create something beautiful within those structured limits. I liken it to writing a haiku.
In your opinion, what are the greatest challenges email marketers face?
Much like any relationship, the challenge of email marketing is in knowing your recipient: knowing when to reach out, learning about their interests, offering them relevant content, and knowing when to let them go or when to re-engage. It's in knowing how your subscriber is experiencing your email— their device and client— so you can tailor that experience to them and make the most of what's possible, given those variables.
Since you've attended and spoken in the past, what do you love most about Litmus Live?
What I love most about Litmus Live is easily the community. It's meeting so many people in our industry and seeing that we're all trying to solve the same problems, and helping one another out. That sense of shared struggle, cooperative problem-solving, and encouragement is palpable at Litmus Live—I appreciated that so much last year, which was my first time attending.
Stay Tuned!
There's more where this came from! Stay tuned to meet more of our amazing speakers.
Sign up to hear about ticket and agenda updates
Sign up to be the first to know about all things Litmus Live, including dates, tickets, our agenda, and more.