Litmus Live—THE conference for email marketers is almost here! Next week on October 26th-27th, you'll get how-tos, tips, and advice from marketing leaders and email marketing experts like Shani Nestingen.
Shani, along with Anne Tomlin of Emails Y'all, will have an awesome session with tips on how to advance diversity, equity, and inclusion in your email in a natural way that matches your brand's goals.
Let's find out more about Shani…
What's your email marketing origin story?
My email journey began in a small agency where I was a web designer. I hadn't done anything like it before. We had started offering it to our clients as a new service. After a short time, I found that I really enjoyed the complexity and the merging of my development, design, and data skills.
What do you love about email marketing?
The community is one of my favorite things, the welcoming nature and all the opportunities to geek out over whatever topic or space you work in throughout email marketing. The other thing I love but can also drive me crazy is the limitations for code and design at times. But within those limitations, we have all been driven to some amazing creative design and dev solutions.
What do you find most challenging?
The lack of understanding at times from partners or coworkers, of what creating and building an email or campaign entails. Which can lead to an oversimplification of the process, which then affects the timelines and creates not enough time to develop a good approach to the message that is being sent.
What can folks expect from your Litmus Live session?
Anne Tomlin and I will be speaking on a topic which we are both passionate about: diversity and inclusion in your email. We will be sharing ideas on how to evolve and include DE&I in your emails and different ways to express your brand's inclusive outlook in a natural way that matches your goals through copy, imagery, data, and the messages you should look at or create.
Don't miss Shani's session and more—at Litmus Live

Hear from the best & brightest in the marketing industry, virtually meet other email geeks, and learn strategies & tactics to level up your email program. Join us at Litmus Live via livestream on October 26th-27th, 2021.
How do you think email marketing will change in the near future?
I think a couple things come into play given the changes that have been happening within the past few years and especially recently with Apple's Mail Privacy Protection roll out and the changing landscape of the data we gather. This will definitely affect the reporting we get from a send and how we judge what defines a successful message—which will drive us to create more dynamic messages and have us looking at or finding different types of data to create more personalized and engaging messaging to customers and subscribers.
What's your favorite email meme? And how would you describe yourself in an animated GIF?
This one's a favorite: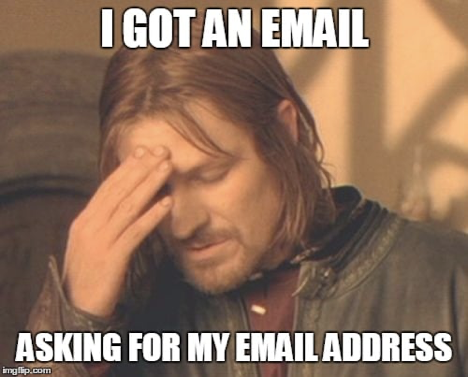 And here's the animated GIF that encompasses my joy for many things, especially with a dash of fantastically oddball-ness
: