Where can you get how-tos, tips, and advice from marketing leaders and email marketing experts? Litmus Live, THE conference for email marketers! Get ready for the livestream this year on October 26th-27th—and learn from pros like Veronica Best.
Veronica's Litmus Live session will teach you five ways to increase email engagement by up to 500% using AMP for Email. 😱
Let's find out more about Veronica…
What's your email marketing story?
I like to tell the story that I joined Dyspatch because I spent many years working at companies that would have benefited so much from having the product!
For years, I worked at companies where marketing was in a different country and time zone than product and engineering, which made the creation and review process for email marketing a real challenge. At SoundCloud, we were a small team doing a lot. The fact that we also localized all our emails to many locales globally was just an extra challenge. If we'd had Dyspatch, we could have moved way faster on emails and maybe even experimented with novel email strategies, like AMP for Email.
So it felt like a natural fit to join Dyspatch and help teams with their email production; everything from creating beautiful emails that are responsive, dynamic, and personalized, to making it way easier for teams to collaborate on the process.
What do you love about email marketing?
What I love most about email marketing is that the industry changes so much. We're constantly finding new ways to better communicate with our customers. From making forms easier to fill with AMP for Email, to the changes taking place with Apple's new Mail Privacy Protection update with iOS 15, there's a ton of innovation and change happening in email right now. It's a thrill to see new email techniques and trends emerge in the space of a few months.
What do you find most challenging?
The puzzling narrative that "email is making us miserable" sometimes makes it hard for people to see just how amazing of a communication tool it really is. I still think there's a ton of room to do more with email, yet a lot of companies are underinvesting in this super-high ROI direct line of communication with their customers.
What can folks learn from your Litmus Live session?
In my Litmus Live talk, "5 Ways to Increase Email Engagement & Conversions", I share some actionable suggestions and best practices that almost anyone working in email today can try out. In particular, for those who are curious about how to get started with AMP for Email, I offer some really easy solutions to get started. Come join me to hear more!
Don't miss Veronica's session and more—at Litmus Live

Hear from the best & brightest in the marketing industry, virtually meet other email geeks, and learn strategies & tactics to level up your email program. Join us at Litmus Live via livestream on October 26th-27th, 2021.
What're you looking forward to most at Litmus Live?
The best thing about Litmus Live is that it brings together folks from so many parts of the email industry, from design to testing to development to sending. Through Litmus Live, I've met experts in the field with whom I've brainstormed new ideas, forged new partnerships, and figured out new ways to amaze our customers. I'm looking forward to more of the same this year!
How do you expect email marketing to change in the next 1-5 years?
In the next year, I'm expecting to see an explosion in the number of companies sending their customers interactive AMP emails. The conversion rate on forms embedded in an email (versus having to open up a browser tab and log in) is so high that it's a no brainer.
In the next five years, I'm hoping to see email marketing become focused on partnerships and customers. For instance, I can't wait to see live weather reports from The Weather Channel in an email from a hotel where I'm staying in Tofino in my check-in reminder. This requires partnerships between these services, and the benefits to customers are huge!
Some other examples: I can't wait to see my airline update my boarding pass email with the new gate number, without them having to send me a new email each time the gate changes. I'm hoping to see dentist appointment bookings happen directly in an email, with live traffic updates from Google Maps to help me plan my trip there. You know, the obvious and convenient things.
(Hint: Some of these experiences are already feasible today, with a tool like Dyspatch, and I'm just waiting to see them become ubiquitous in email!)
What's an email you enjoyed in your own inbox recently?
McDonald's emails always succeed in making me hungry… at least setting some kind of mood. I can't wait to try out their PSL (pumpkin spice latte). Also, that subject line? Ahhhhh.
Subject line: Fall is the tastiest season of all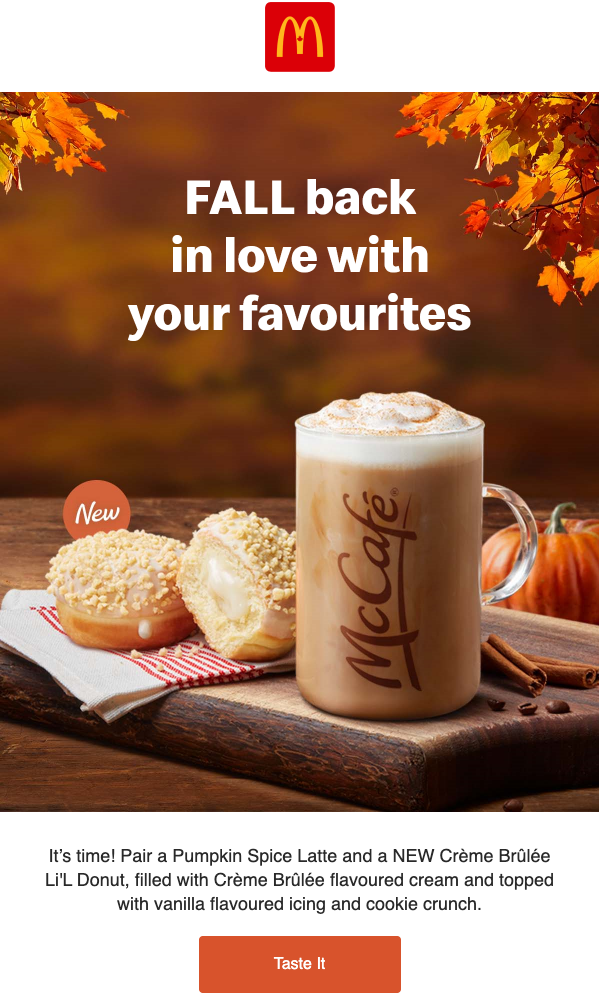 What's your favorite email joke or pun?
How email works is pretty murky for a lot of people (even in tech). I think about this tweet way too much:
me explaining to my family what i do at my job all day pic.twitter.com/ynysXTvHYZ

— Ed Dead Redemption (@edzitron) May 20, 2020