Litmus published more than 130 blog posts in 2018—that's a lot of tips and resources!
Not sure where to get started? We asked some members of the Litmus marketing team to share their favorite blog resources of the year. Here's what they said…
---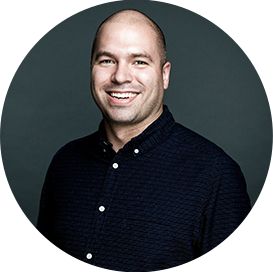 Jason Rodriguez' Pick
I spent a lot of time working with speakers this year for Litmus Live. It's no surprise then that my favorite post of the year was our round up of tips for anyone looking to get into the speaking game. In Lessons Learned from Giving 100+ Talks and Webinars, Chad, Justine, and I pool together our collective wisdom around speaking—most of it earned through some terrible experiences of our own.
The thing that really speaks to me (pun intended) about the post is just how powerful speaking at meetups and industry events can be. I know from my own past that public speaking, as scary as it sometimes is, was one of the most transformative investments of my career. And I've heard the same from speakers at our own conferences.
Sharing your knowledge with others in the industry exposes you to new relationships and opportunities, and gives you the confidence and skills necessary to further your own work and career. It may not be for everyone, but if you're even remotely thinking about public speaking, I encourage you to dive in. You'll make new friends, open up some new doors, and learn a lot in the process.
---

Jaina Mistry's Pick
Marketers can be quick to point to Gmail's Promotions Tab as the reason for falling open rates without investigating other possible causes. I've lost count of how many tweets, slack chats, and Litmus Community discussions I've seen where email marketers are trying understand how they can force their emails to be delivered to Gmail's Primary tab using manipulative tactics.
The inbox is the subscribers' domain and we should respect that—it's not up to us to decide where OUR emails are delivered in THEIR inboxes. It's up to us to send timely emails with relevant content that the subscriber wants to open. This post is packed full of reasons why getting delivered to the Promotions tab may actually be a good thing.
In light of Gmail's latest update, it may actually now be more important to make sure your brand's promotional emails are delivered to the Promotions tab. The updates give marketers the chance to annotate their emails to give them more presence in Gmail's Promotions tab.
---

Chad S. White's Pick
On Jan. 2, 2018, I was settling back in at my desk after the holiday break and came across this provocatively titled post from Mark Schaefer on Twitter: Why Marketing Is Lost: Why marketing technology is sucking the life out of the marketing profession.
"Today, marketing is best known for doing the stuff that people hate," Schaefer says, accusing marketers of replacing their common sense with thoughtless, data-driven analytics. "The problem is just going to get worse—much worse—as 'marketing technology' becomes synonymous with 'creating consumer hate at scale.'"
The post struck a chord with me and made me immediately think about research we'd done into misleading subject lines and consumers' new definition of spam. A week later, we published 6 Manipulative Email Tactics, which draws upon that research and more. And a couple of months after that, we expanded on the blog post with our Email Tactics Customers Hate webinar.
Are some marketers ignoring common sense? Sure. But many are also using short-term, campaign-centric analytics to justify their use of grey-hat and black-hat email marketing tactics. In the webinar, I argue that marketers need to do a much better job of measuring the long-term, cumulative effects of their campaigns on their subscribers and their business. If brands do that, they'll realize just how bad those tactics are for both their subscribers and for their long-term success.
---

Bettina Specht's Pick
In the email world, design elements that seem so simple can be surprisingly hard to implement. But that shouldn't hold you back from using them. Sometimes, even small improvements to your email design can help make your email stand out—and make your campaigns more successful.
Background images are a great example of that. Background images are images that are applied to the background of an element in an email. Instead of being a main focal point of the email, like a hero image, they are more often subtle and complementary to the other content in the campaign. But, like a lot of things in HTML emails, they can be complicated to actually implement.
Jason's post, The Ultimate Guide to Background Images in Email, takes a detailed look at how you can use background images to give your campaigns a little special something. It walks you through the steps you need to take to add background images to your next campaign, provides examples of powerful background imagery, and shares what limitations you have to be aware of. A fantastic read!
---
More Litmus Picks for 2018
Want more resources like this?
Join 300,000 marketers who rely on Litmus for the latest email industry news, advice, and research, like the posts we discussed in this post.
Most Popular
Don't Miss Litmus Live 2022 this Fall!

The Premier Email Event by Email Pros, for Email Pros.
From Anywhere–and Any Budget.

Learn More