Read Time: 3 min
Litmus + Really Good Emails: See How Your Favorite Emails Look Across Email Clients
If you're looking for email inspiration, there's no better place to turn to than Really Good Emails. With 4,000+ handpicked campaigns that present the crème de la crème of the industry, carefully tagged and organized to make them easily searchable, RGE is one of the most popular resources to find email inspiration and keep on top of the hottest email design trends.
Want to see cool cart abandonment emails? Curious which brands use animated GIFs well? Looking for examples of great use of typography in email? RGE has you covered.
We want to be honest: We've got a bit of a professional crush on RGE. (You do, too? You should let the RGE crew know!)
That's why we're thrilled to share that we've teamed up with the team at RGE to bring Litmus' Pre-Send Testing right into RGE—so you can see whether the emails you draw inspiration from look great in different email clients and whether or not they follow key accessibility best practices.
See if the emails you love look great everywhere
Email rendering is complex. An email that looks great in one email client might look broken in another. It's a challenge that every email designer faces—even the ones creating the beautiful emails featured on RGE. Now, you can see how the emails you love display in the most popular email clients so you know what issues to look out for if you're planning to create a similar campaign.
"Unfortunately, when emails are submitted to RGE, we view them as if they were made for the web—meaning that we don't take into account all the issues that may come from the designs appearing in different places. That's why we teamed up with Litmus to grab the inbox previews of some of the most popular clients so that everyone can use this information when they are basing their inspiration off of an email on RGE."

— Mike Nelson, Founder at RGE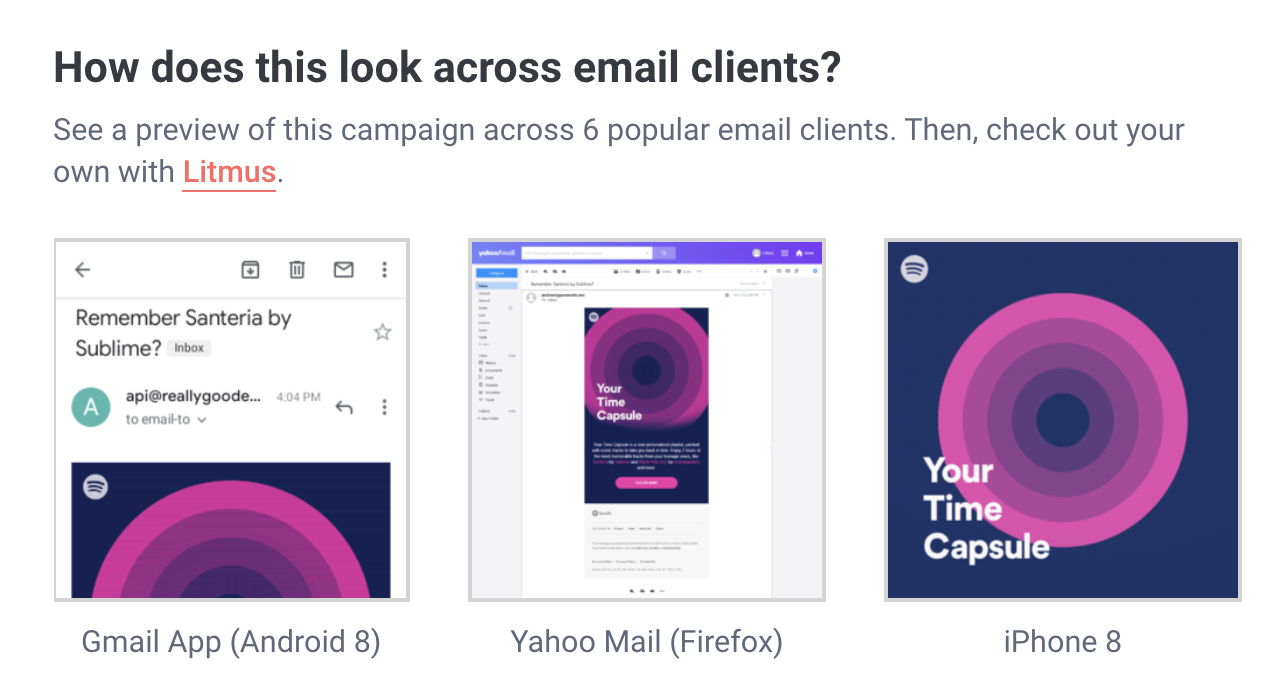 Looks aren't everything: See whether the emails that inspire you follow key accessibility best practices
As email marketers and designers, we care a lot about how our emails look in our subscribers' inboxes. But have you ever asked yourself how your email sounds?
The World Health Organization estimates there are around 1.3 billion people with visual impairments. Many rely on screen readers and the underlying software that translates the interface and content seen on screen into audio, allowing low-vision and blind users to use modern devices.
With Litmus Accessibility Testing integrated in Really Good Emails, you can hear how the emails you admire sound on a screen reader. Plus, we show whether or not the emails follow key accessibility best practices.
Here's how the beautiful email from Spotify stacks up: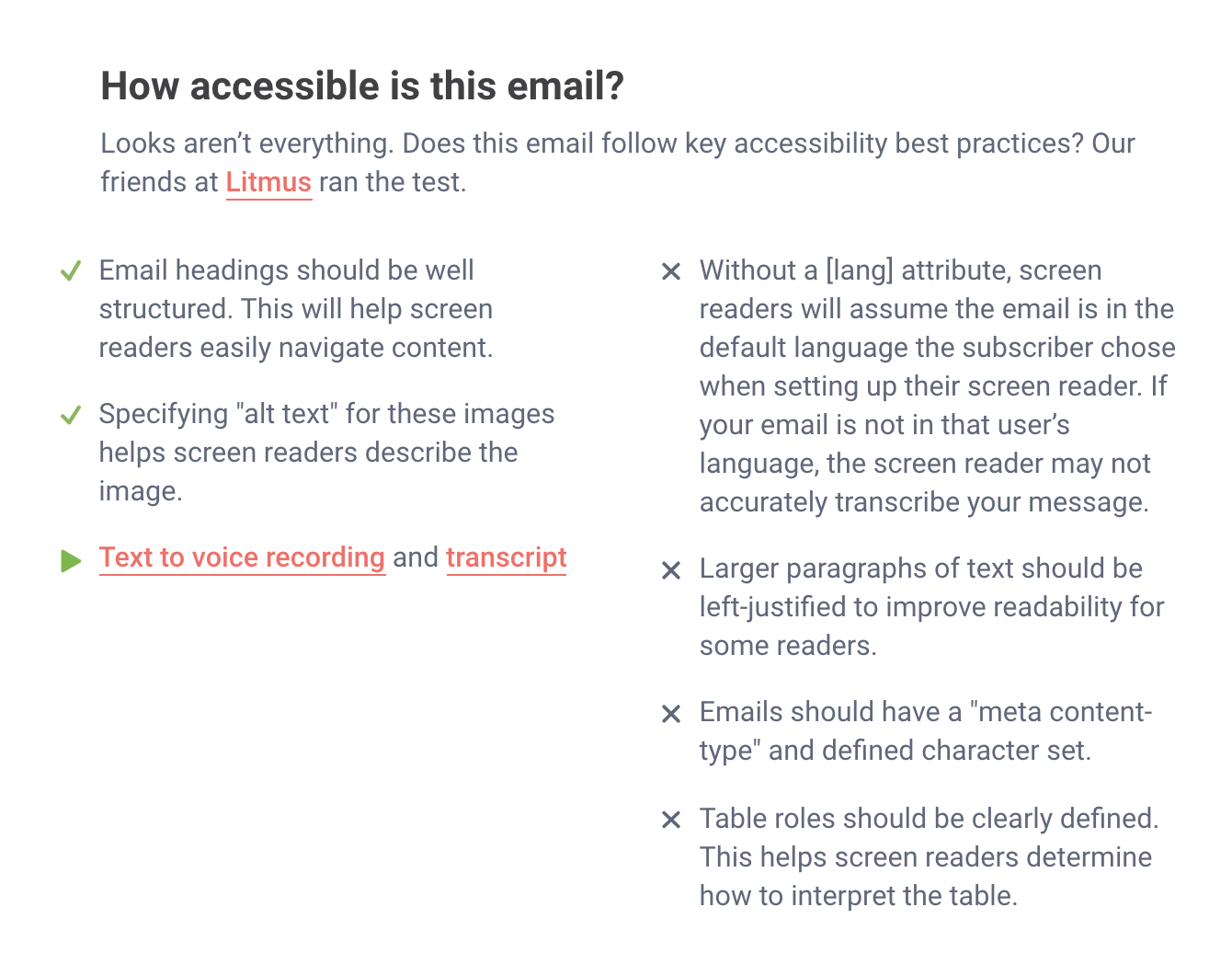 As you can see there are a few simple tweaks, like adding a language attribute and left-aligning copy, that could improve the accessibility of this email. So if you're using this beautiful email as inspiration for an upcoming campaign, make sure you follow these tips—and make this really great email even better.