We at Litmus are committed to our customers and the email community—and there's nothing we love more than to hear we're doing a great job in their eyes. That's why we're excited to announce that we've been recognized by both TrustRadius and G2 Crowd for winter 2023—in multiple categories! 
Litmus receives 35 Winter 2023 G2 badges
The Litmus team loves to hear from our customers, and we rely on G2 Crowd as a valuable source of honest customer feedback based on unbiased user reviews.
Their winter awards are in, and Litmus has been recognized with top achievements—35 to be exact! 
You read that right. Litmus received 35 Winter 2023 G2 badges across multiple categories including: email testing, email marketing, and email deliverability.  
In addition to the "Users Us" badge, which requires having over 20 new reviews with at least a 4.0 average score, we've also been recognized for awards including:
Easiest Doing Business With

Easiest Admin, Meets Requirements

Easiest Setup

Best Estimated ROI

Most Implementable

Best Relationship

Best Usability

Best Results

Fastest Implementation
Litmus is also a leader across the majority of the categories and ranked #1 in Mid-Market Grid® Report for Email Testing (Winter 2023). 
This recognition is based on the substantial Satisfaction, Market Presence scores, and responses of real uses for each of the Usability, Results, Relationship, and Implementation Index reports and theGrid Report related questions featured in the G2 review form. 
Here are some things customers recently shared about their experience with Litmus on G2 Crowd.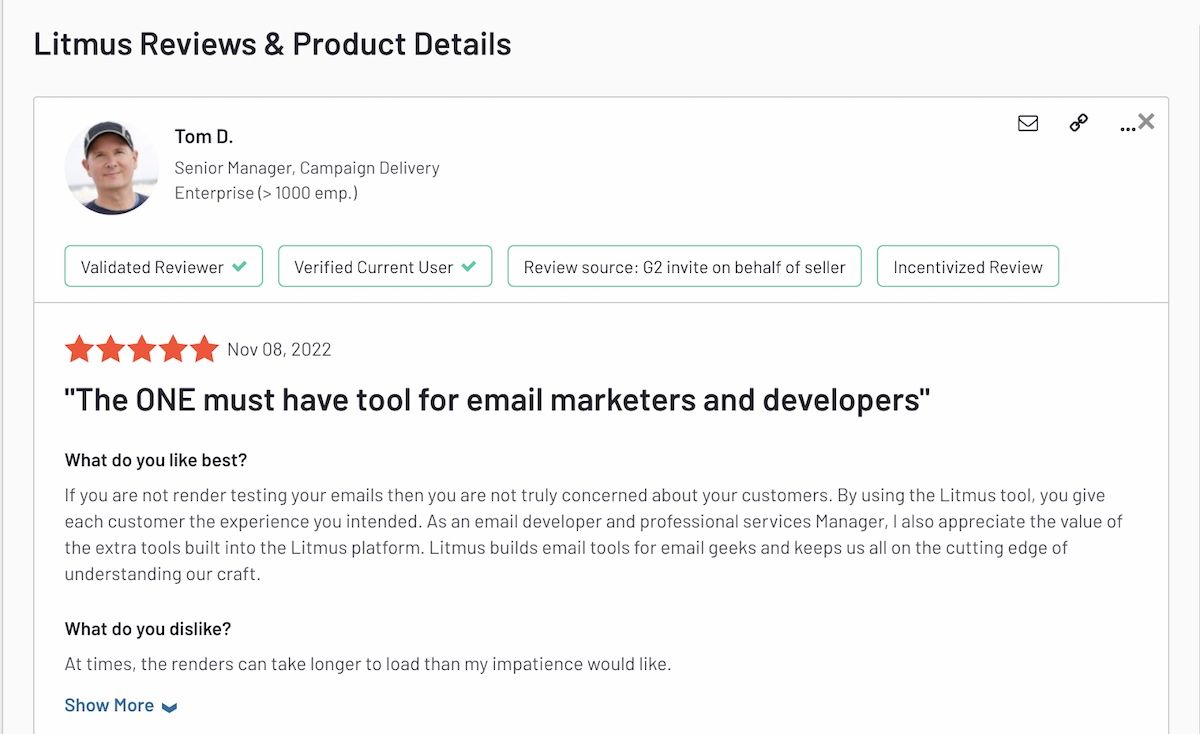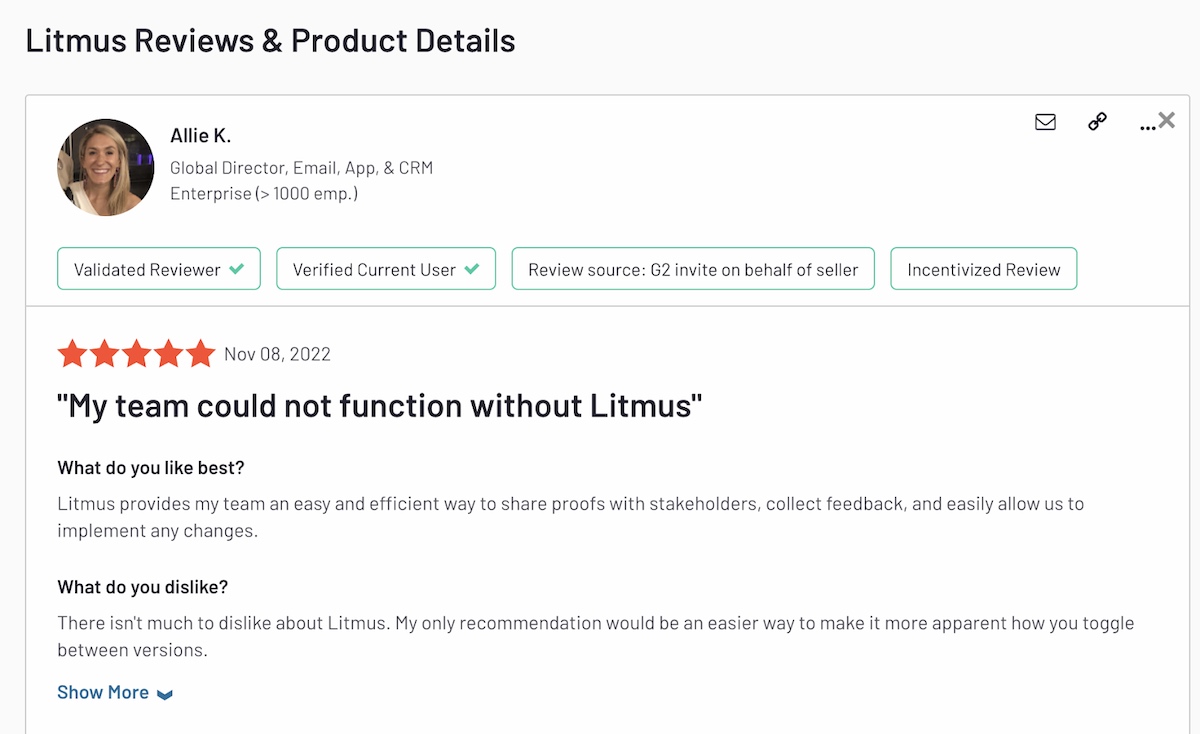 Litmus named on TrustRadius 2022 Best Software List
Since 2016, the TrustRadius Top Rated Awards have recognized B2B technology products in a multitude of industries and vertical categories. To qualify for a Top Rated award, a product must meet TrustRadius' three criteria of recency, rating, and relevance. The software product must have 10 or more reviews from the past year, a trScore of 7.5 or higher, and earn at least 1.5 percent of the site traffic in the category. Weighted, rather than a simple average, the trScore is an algorithm calculating a product's score based entirely on customer feedback, reviews, and ratings. The TrustRadius Top Rated Awards are not influenced by analyst opinions or statuses.
This year, we're excited to announce that we've been recognized on the 2022 TrustRadius Best Software List for three categories, including:
A sincere thank you to everyone who left reviews on both G2 Crowd and TrustRadius. Your voice matters to us, and your input is critical to making sure we're the email marketing partner you want to use, to make every send count. We read them all and consider your suggestions as we continually strive to make Litmus best in class.