We know that it's difficult to share and collaborate on a single email. In fact, most marketers say that reviews and approvals consistently take the most time in their email workflow because of the number of people involved, the number of departments involved, or even the sheer amount of places feedback could be given. It's even harder when you're working with multiple emails—or multiple dynamic content iterations of a single email—at once.
The collaboration process can be complicated, time-consuming, and a downright hassle for everyone involved, and everyone's looking for a better way.
We had that exact fix in mind when we created Folder Sharing in Litmus! Check it out.
Quickly share multi-email campaigns for feedback and approval from your team
Sharing each email individually with your stakeholders can be confusing for both you and them—and lead to costly errors and delays in email production. With Folder Sharing in Litmus, it's easier than ever to collaborate on complex, multi-email campaigns.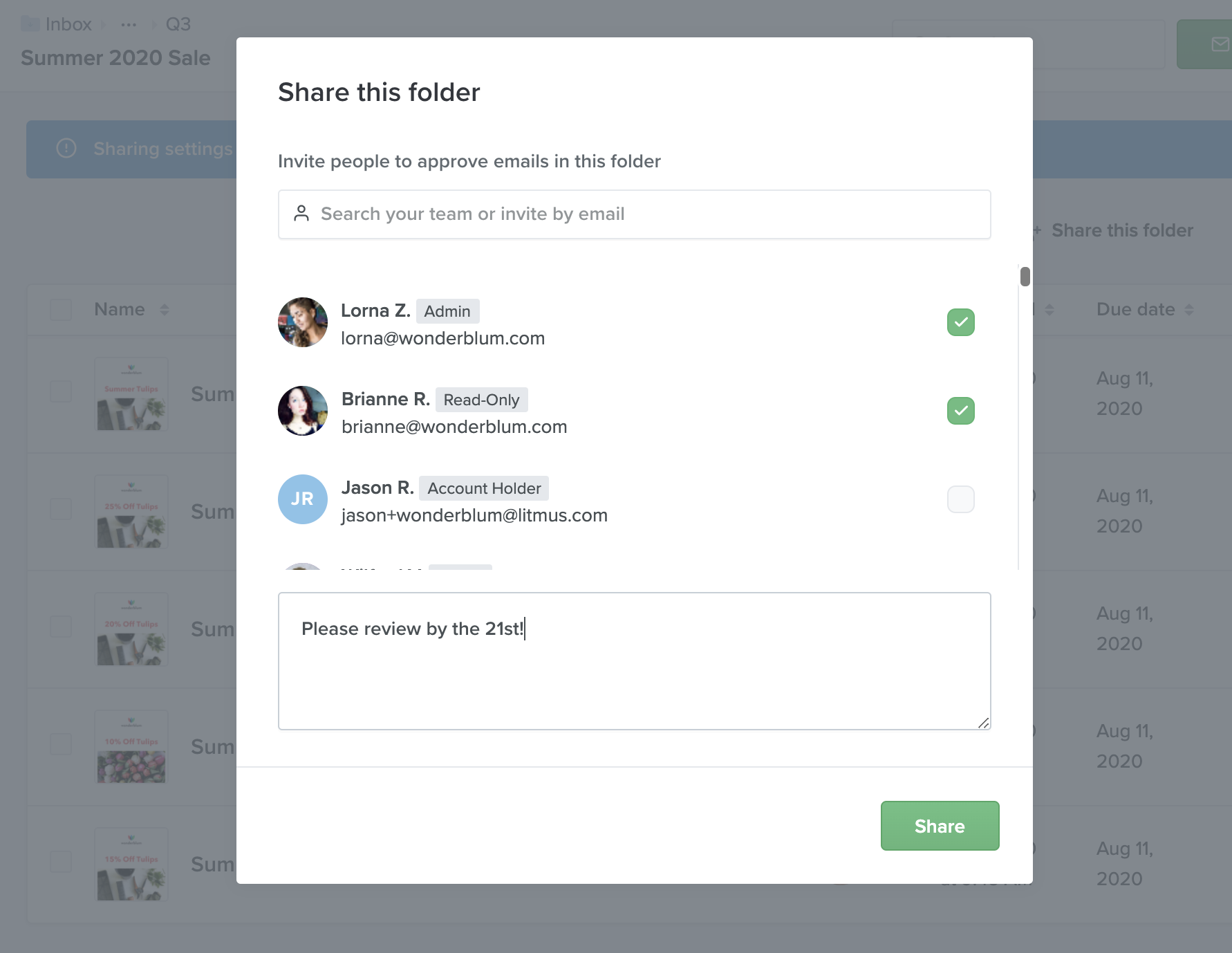 In a single click, you can share a folder of emails with teammates, clients, or other stakeholders to get their feedback faster. Simply click "Share this folder" in the top right corner of the folder view that you would like to share and select the stakeholders you want to share it with (or add new users as Proof Reviewers).
Plus, your folders also provide a convenient high-level overview of the campaigns included—specifically highlighting any emails you haven't reviewed yet. You can also see important information, like when an email was last edited and by whom it was created, as well as its due date. It's never been easier to get the information you need, fast.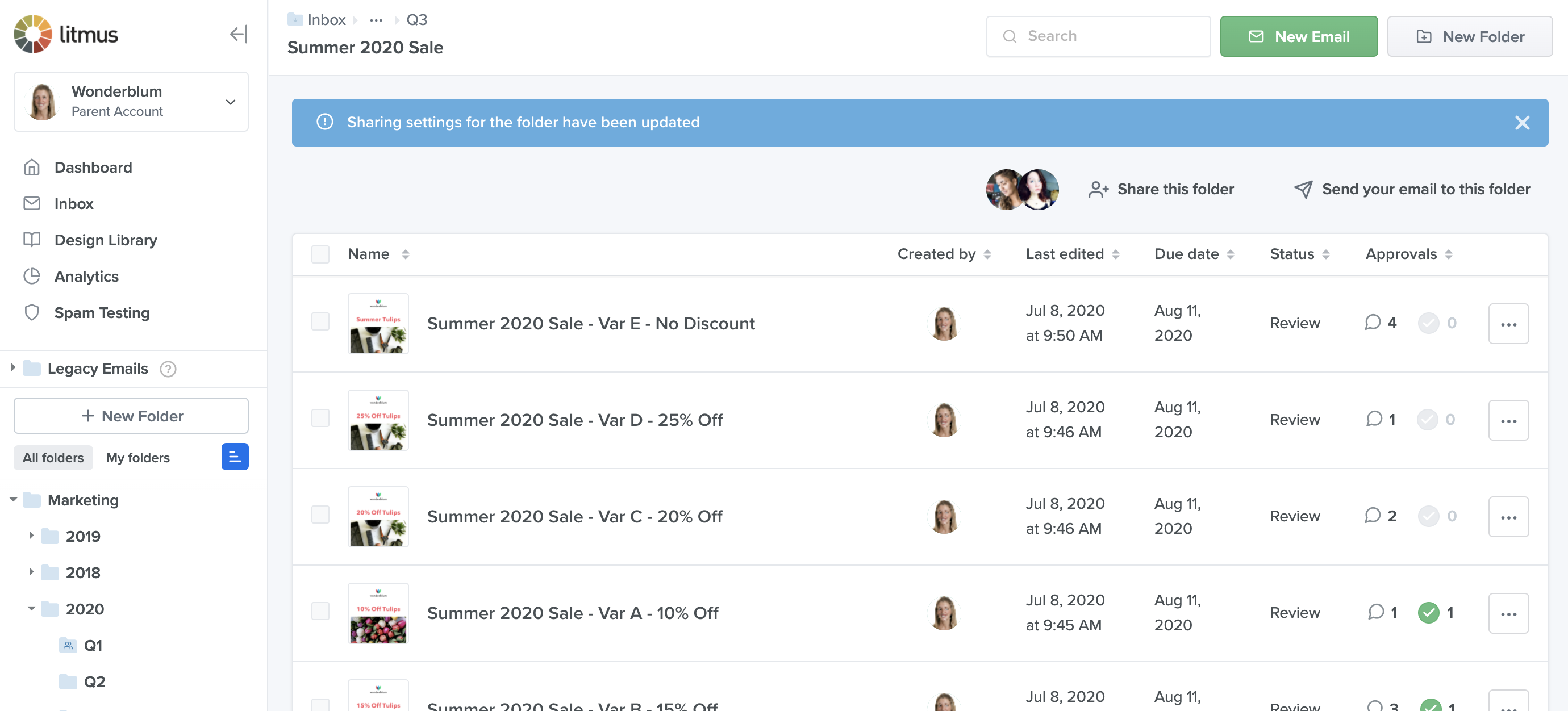 Maintain full control over the email review and approval process with Groups
You can also share folders with an entire pre-set group of team members, making the process even easier.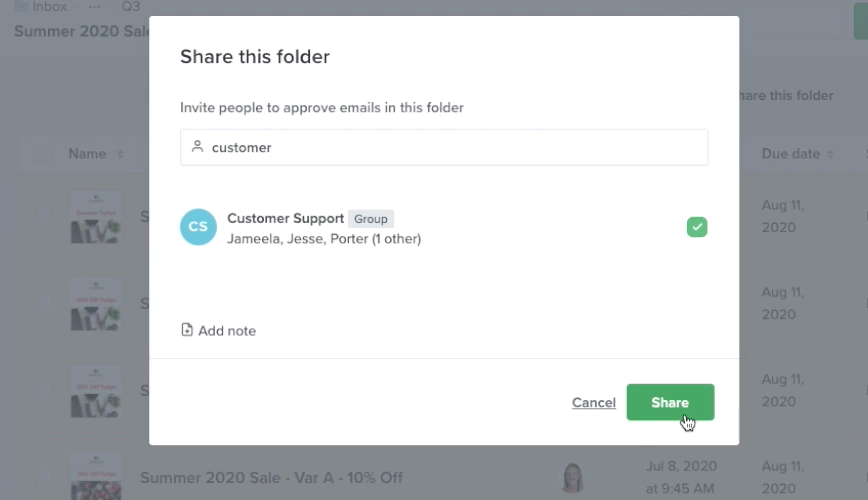 If you're a full user in your Litmus account, you'll be able to see all folders—but ones directly shared with you will be easy to find with the "My Folders" view. Users that are Proof Reviewers can only see the folders shared with them.
Notify stakeholders with automated email notifications
When a folder is shared, users are notified by email to keep your review and approvals process moving smoothly. That notification will look like this, along with any notes you provide when you share the folder with them: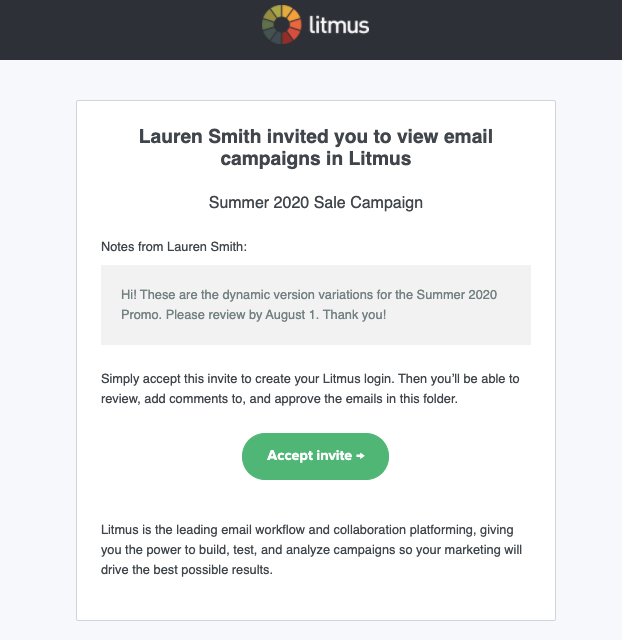 Stakeholders will also be notified when they are mentioned in a comment, so they won't miss a thing!
Ready to start sharing?
Folder sharing is now available for all Enterprise customers in their Litmus accounts.
Don't have a Litmus account yet? Start a free trial or talk to a Litmus expert to get started.