You work hard to craft the right message and perfect design for your email campaigns. But those hours and hours spent optimizing your copy and troubleshooting tricky rendering issues are wasted if those emails don't make it to the inbox.
Understanding what causes an email to land in the junk folder can be difficult. It's not just about spam trigger words anymore. Spam filter algorithms change every day—and keeping up with deliverability best practices can be a daunting task.
That's why we built Litmus Spam Testing: to provide you with the insight and resources you need to identify and fix issues before you hit send—even if you aren't a deliverability expert (yet).
What is Litmus Spam Testing?
Litmus Spam Testing scans your emails against more than 25 different tests, identifies issues that might keep you from the inbox, and provides actionable advice for how to fix them.
With Spam Testing, you'll …
Know if you're blocklisted.
Check your IP addresses and domain names against common blocklists, and get notified if any of them could affect delivery.
Ensure your infrastructure is set up for success.
Validate that your email is being properly authenticated using DKIM and SPF, and ensure your DMARC record is set up correctly.
Pre-screen your messages across major spam filters.
Tests include spam filters from inbox providers and webmail services, as well as score-based filters frequently used for corporate spam filtering.
Get actionable advice to improve your email.
We flag issues that might keep your email from reaching the inbox—but we don't stop there. We also give you actionable advice to help you troubleshoot problems and provide you with best practices and resources to improve your next campaign.
What filters does Litmus Spam Testing test against?
A lot of factors can affect your deliverability. Litmus Spam Testing gives you insight into what might get your email marked as junk. Here are the main filters it tests against.
Authentication
Email authentication looks at the source of an email to see if it's valid. Also called domain authentication or validation, email authentication helps prevent spoofing and phishing scams (think: emails that look like they come from Amazon but don't).
DKIM. At its simplest, DomainKeys Identified Mail (DKIM) shows that your email is associated with your domain.
DMARC. Domain-based message authentication (DMARC) also ensures your email is associated with your domain—and offers a reporting mechanism that allows inbox providers to send reports on every email that appears to be sent from a certain domain back to the domain owner.
List-Unsubscribe. List-unsubscribe is an optional email header that allows for an easy and consistent unsubscribe action.
SPF. Sender policy framework (SPF) is a mechanism that allows a domain owner to indicate multiple IP addresses or domains that can send mail on their behalf via a DNS TXT entry.
TLS. STARTTLS, or Opportunistic TLS, gives senders the ability to encrypt email in transit.
Placement filters
Placement filters evaluate emails against a set of criteria—which changes over time. These filters are looking at a combination of engagement, reputation, authentication, formatting, and content and word triggers. Litmus Spam Testing checks your email against the following placement filters:
AOL Mail
Freenet.de
Gmail
GMX
GoDaddy
G Suite
Mail.com
Mail.ru
Office 365
Outlook
Web.de
Yahoo
Yandex
Score filters
These scores show you the likelihood a spam filter tool will catch your email and put it in someone's spam inbox.
Barracuda. Barracuda Essentials for Email Security is a sophisticated anti-spam and email analysis tool often used by large organizations.
Microsoft Exchange Online Protection. Microsoft Exchange Online Protection uses a built-in malware and spam filter to evaluate and score email.
Broadcom Messaging Security. Formerly under the Symantec brand, Broadcom Messaging Security is an antivirus and spam analysis tool, used by organizations to protect corporate email.
Outlook Desktop. Outlook comes with a built-in junk email filter that learns over time what you think is spam.
SpamAssassin. SpamAssassin is a popular open source spam filter used by organizations. SpamAssassin analyzes email headers and body text by using text analysis, bayesian filtering, DNS blocklists, and collaborative filtering databases.
Blocklist filters
A blocklist is a real-time collection of senders that are thought to be sources of spam or other types of email abuse. Blocklist providers may use a combination of spam traps, spam complaints, and other proprietary data sources as criteria for adding a sender to a blocklist. Inbox providers often maintain their own proprietary blocklists, using them in combination with independent, third-party blocklists.
Domain-based. A domain blocklist (DBL) is a real-time collection of sending domains that could indicate spam or other types of email abuse.
IP-based. An IP-based blocklist is a real-time collection of sending IPs that could indicate spam/other types of email abuse.
How do you interpret the results?
Once your spam test has run, you'll see a high-level summary of your results. From here, you can drill deeper into issues that were uncovered.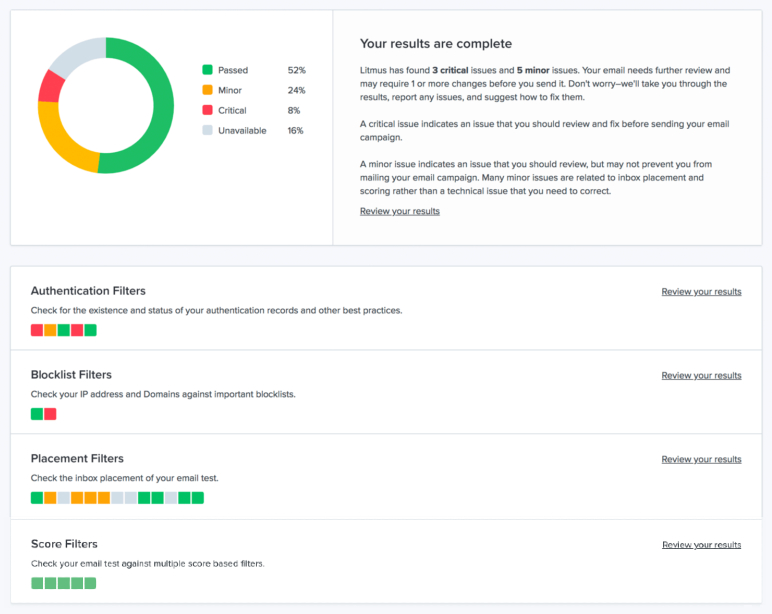 If a filter shows a green square or says "Passed", you're good to go! Nothing to do here.
If a filter shows a yellow square or is marked as a minor issue, you can still move forward with your send. However, it's a good idea to review what the filter flagged so you can monitor the issue. Unaddressed issues can become critical over time. (Think of it like a missing credit card: If you report it lost as soon as you notice, it's usually not a big deal. But if it takes you some time, it's going to be a hassle to straighten everything out.)
If a filter shows a red square or is marked as a critical issue, do not hit send. You do not want to send out this email (and potentially others) until you resolve whatever the issue is. When you click to review the results of that filter, you'll see a sidebar with recommended action steps. It's worth raising this to your developers (or whoever manages your email infrastructure) so they can figure out how to fix the issue before you continue sending emails.
If a filter says "Unavailable", the filter may have been unable to locate your email or the email address may not have worked correctly. Try sending again to see if the filter populates.
How to get started with Litmus Spam Testing
If you already have a Litmus Plus or Enterprise account, log in and navigate to the Test tab. From there, select "View and create spam tests" in the slider menu.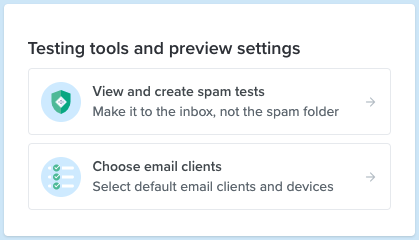 Here, you'll be able to start a new spam test or see the results of a recent one.
Run spam tests regularly
We're not just saying this so you'll use Litmus Spam Testing (although you really should). Email clients update every 1.2 days, on average. We're often not aware of those changes. In the same way, the algorithms for spam filters update regularly. In the same vein, sometimes your IT or dev team changes something (like an IP address) without realizing it impacts email. 🤦🏻‍♀️
Landing in the junk folder is more than just bad for your reputation (e.g., your email being lumped into the same category as Viagra ads). It can cost you a lot of money, too—both in lost revenue and in hiring a company to fix your sender reputation. Regular spam filter testing can help you avoid the junk folder—and keep your email programs alive and well.
Try Spam Testing free for 7 days

New to Litmus? Sign up for a trial of Litmus Plus and try Spam Testing free for 7 days. You'll also get access to Litmus Test for a guided check of all critical elements in your email, Email Previews in all popular clients and devices, data insights with Email Analytics, and more.

On a Basic plan but want to give Spam Testing a try? Reach out to our support team at hello@litmus.com for a free 7-day trial.
Originally published on June 7, 2017, by Bettina Specht. Last updated October 1, 2021.