Every month, we track opens from more than 1 billion emails sent using Litmus' Email Analytics and share the trends we observe in various email clients and environments. In April 2016, mobile opens rose to 56% while desktop opens maintained at 19%. Meanwhile, webmail decreased to 25%. This represents a peak for mobile market share, and the longest sustained growth we've seen after the holiday season.
A Refresher On Market Share Terms + Email Opens
"Mobile" refers to mobile-specific email clients, like iPhone or Android, but also where users are opening their email. If they're using the Yahoo Mail app on their iPhone, for example, that counts as a mobile open for iPhone.
"Desktop" shows any email client opened on a desktop application. That means any email client that required you to install software. If you're using a Mac, for instance, that could mean Apple Mail. On a PC, that might be Outlook.
"Webmail," by contrast, means you're using an email client within a browser. Logging onto your Gmail account or using Outlook.com fall under the "webmail" category.
How do we track opens? Open tracking in Litmus Email Analytics is based on 1×1 invisible pixel image tracking, which is the same technique that your email service provider uses to report your open rate. When a customer opens your email, the image is loaded. This counts as an open.
Let's dig into the data:
Top 10 Email Clients
The positions of the top 10 email clients have remained unchanged since December 2015, with Apple iPhone, Gmail, and Apple iPad continuing to hold the top three spots.
Apple iPhone 34.4%
Gmail 14.8%
Apple iPad 11.4%
Android 10.0%
Apple Mail 7.6%
Outlook 6.8%
Yahoo! Mail 2.9%
Outlook.com 1.9%
Windows Live Mail 1.3%
Windows Mail 0.98%
Discover your top 10

When it comes to email marketing, it's all about your audience. Use Litmus Email Analytics to discover which email clients are most popular with your subscribers. Sign up free!
Mobile Dominates Market Share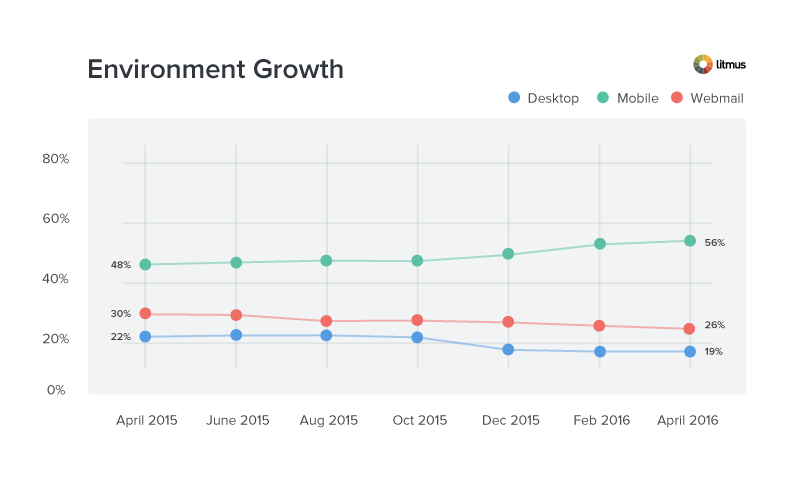 Mobile's sustained growth–now up to 56%– represents an 8% increase in mobile opens in the past year. With no signs of stopping, this makes it more important than ever to optimize your emails for mobile. Increasingly, that's where your subscribers turn to to get their information.
There's several ways to do this, mainly through responsive or hybrid email design. We define responsive design as using fluid tables, fluid images, and media queries to control the layout of an email across different device sizes. Hybrid, or spongy, coding, still uses fluid tables and images, but those tables and images are fluid by default. If all this sounds confusing, we put together this guide on the differences between the two methods and which one might be right for you.
Looking for a starting point, no coding required? We've built a set of pre-tested, responsive templates that can jump-start your campaign from launching your next event to sending the perfect welcome email.
Grab a template and get going →
Apple Dominates Mobile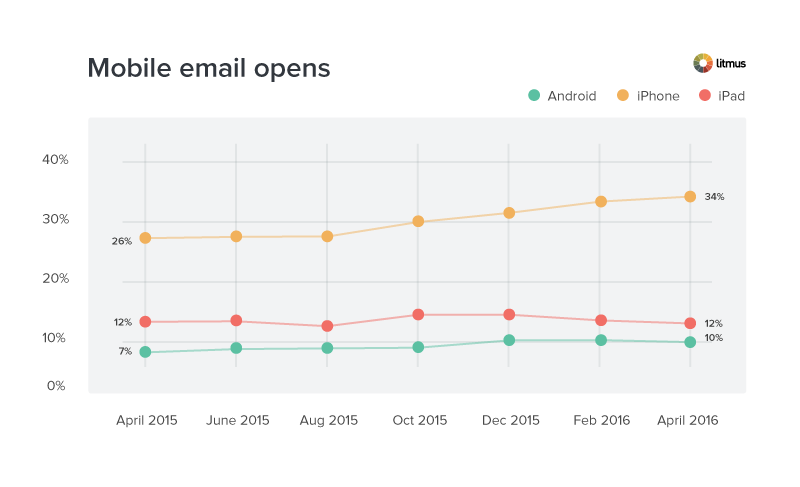 As mobile continues to rise, Apple iPhone and Apple iPad compete with Android for ultimate market share–and Apple is winning. Q1 saw the first drop in Apple's iPhone sales in over a decade, but opens increased almost a full percentage point, up to 34.4% from 33.2%.
Combined with iPad, Apple's share increases to a whopping 45.89%, almost half of all total email opens. Though iPad's share continues to drop, it's by less than .1% each month, holding strong at 11%. Compare this with Android, whose share rose from 8% to 10% since 2015 but is still playing catchup.
The good news about Apple is that it has great support for HTML and CSS.Try using CSS3 animation to see if it increases engagement if you find a lot of your subscribers are using these clients.
Apple Dominates Desktop, Too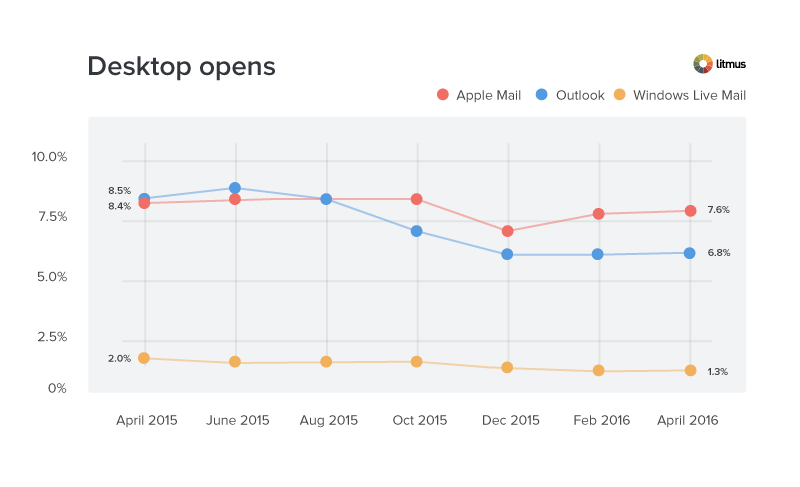 Though desktop opens have dropped in the last year with the rise of mobile, it's remained steady at 19% since December 2015. Apple dominates more than just mobile–it's leading desktop shares, too, and rising. Apple Mail holds at 7.62% of all opens, a jump up from 4.75% from December 2015.
Outlook, however, remains relevant, just behind Apple for desktop share at 6.82%. Though we're constantly frustrated by Outlook, there's a few tricks you can try to make sure your emails look good on the platform. Using table-based designs and conditional CSS can help combat some of Outlook's quirks. If you're still stumped, check out this rendering guide to Outlook, or post a question on our Community.
Gmail Still Popular—And It Keeps Changing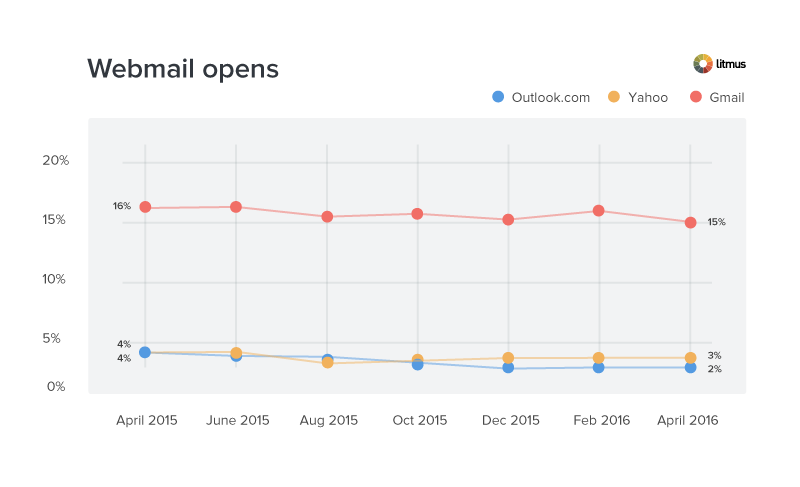 Gmail remains the most popular webmail client with 60% of all webmail opens and 14% of total opens. Across the board, though, webmail opens continued to shrink, with Gmail, Yahoo! Mail, Outlook.com, AOL Mail, GMX, and Web.de either dropping share or maintaining from last month.
Recent changes in Gmail's features may affect open rates in the coming months. Google recently updated its Inbox by Gmail application with new functionality called "glanceable newsletters" that pose a challenge to how email marketers track their emails. This feature shows a preview of the links in a newsletter, as well as links to previous newsletters, without having to click into the email.
How will this affect Gmail opens? An "open" occurs when images are displayed. In the glanceable section, though images are sometimes displayed, it won't be counted as opens, since they're being pulled in from an external source—not the email itself. So, in order for an open to be counted, users would have to open your email under the "Related items" section, rather than just viewing the articles in the glanceable section. If Inbox by Gmail is adopted by a large subscriber base, it could change how you're measuring the success of your email campaigns.
What does this mean for your email marketing campaigns? Read about all the new Inbox by Gmail features.
Some clarification on Gmail opens…
It can be tricky for email marketers to gather accurate data about where Gmail opens occur—on webmail or mobile—due to image caching. When an image is "cached," it's downloaded from its original location and stored in a temporary server. Because Gmail caches their images in the same server, the opens look the same in your analytics data whether your subscribers are reading an email using Gmail.com or in the Gmail app on their iPhone. Both instances are tracked as a webmail open.
To be clear, this only affects opens that occur in Gmail, either in a web browser or in a Gmail mobile app. For instance, device tracking will work for an email sent to a @gmail.com address that is opened in Apple Mail, Outlook, the mail client on iOS, etc.
Image caching can cause mobile opens to decrease and webmail opens to increase because Android and iPhone users opening in the Gmail app are reported as webmail opens. This article can help explain it in more detail, as well as what it means for your tracking.
WHERE DID WE GET ALL THIS DATA?
This data is derived from over 1 billion opens collected worldwide with Litmus Email Analytics between April 1, 2016 and April 30, 2016. It highlights worldwide trends across all industries and verticals. Some email clients may be over- or under-represented due to image blocking. Tracking trends over time is the best way to monitor open data for email!
WHICH EMAIL CLIENTS ARE MOST POPULAR WITH YOUR AUDIENCE?
While general email client open data is great for looking at trends, it's your audience that matters. With the addition of a small tracking code to your campaigns, Litmus Email Analytics generates a report of where your subscribers open your emails. Use that data to focus your testing efforts—and ensure your campaigns look great in inboxes where your subscribers are opening.
Try Litmus free!
Most Popular
Don't Miss Litmus Live 2022 this Fall!

The Premier Email Event by Email Pros, for Email Pros.
From Anywhere–and Any Budget.

Learn More