Read Time: 4 min
Do you need to call in backup? Here Are 5 Use Cases for Outsourcing Email Work
Let's talk about outsourcing email marketing, because even marketing heroes need sidekicks sometimes.
With an average ROI of $42 for every $1 spent, it pays to get email marketing right. For many companies, that means hiring the best people to handle the efforts in-house. After all, having the same team work on all email campaigns brings a level of consistency in tone and style.
What happens when your schedule is just too full or you get in over your head, though? 31% of email marketers use outside agencies or the services arm of their email service provider for some portion of their email marketing.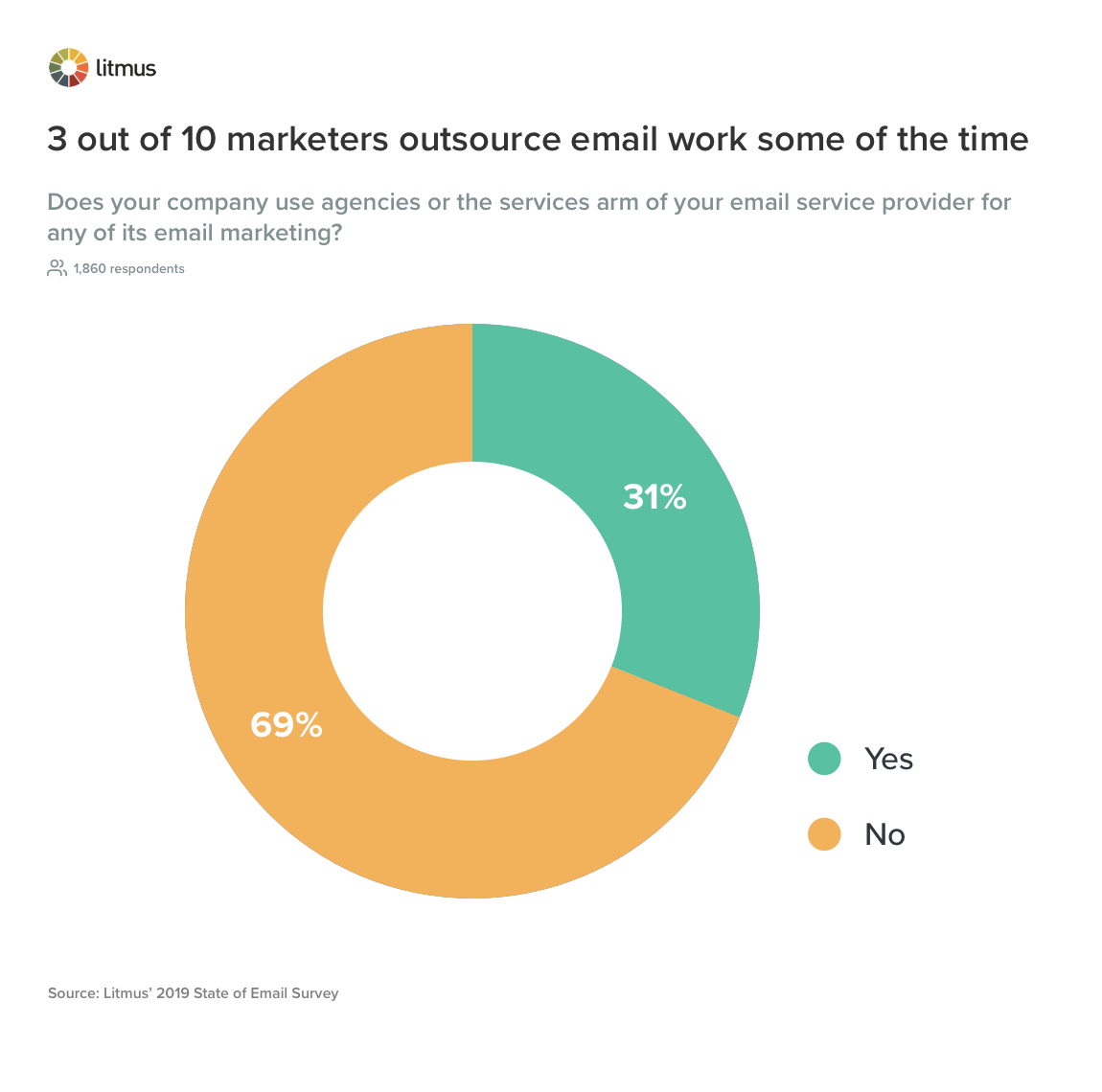 Our 2019 State of Email research of thousand of email marketers shows that only 1% of companies outsource the entirety of their email program. But when do you loop in outside help for email work? The research points to five use cases for hiring an agency.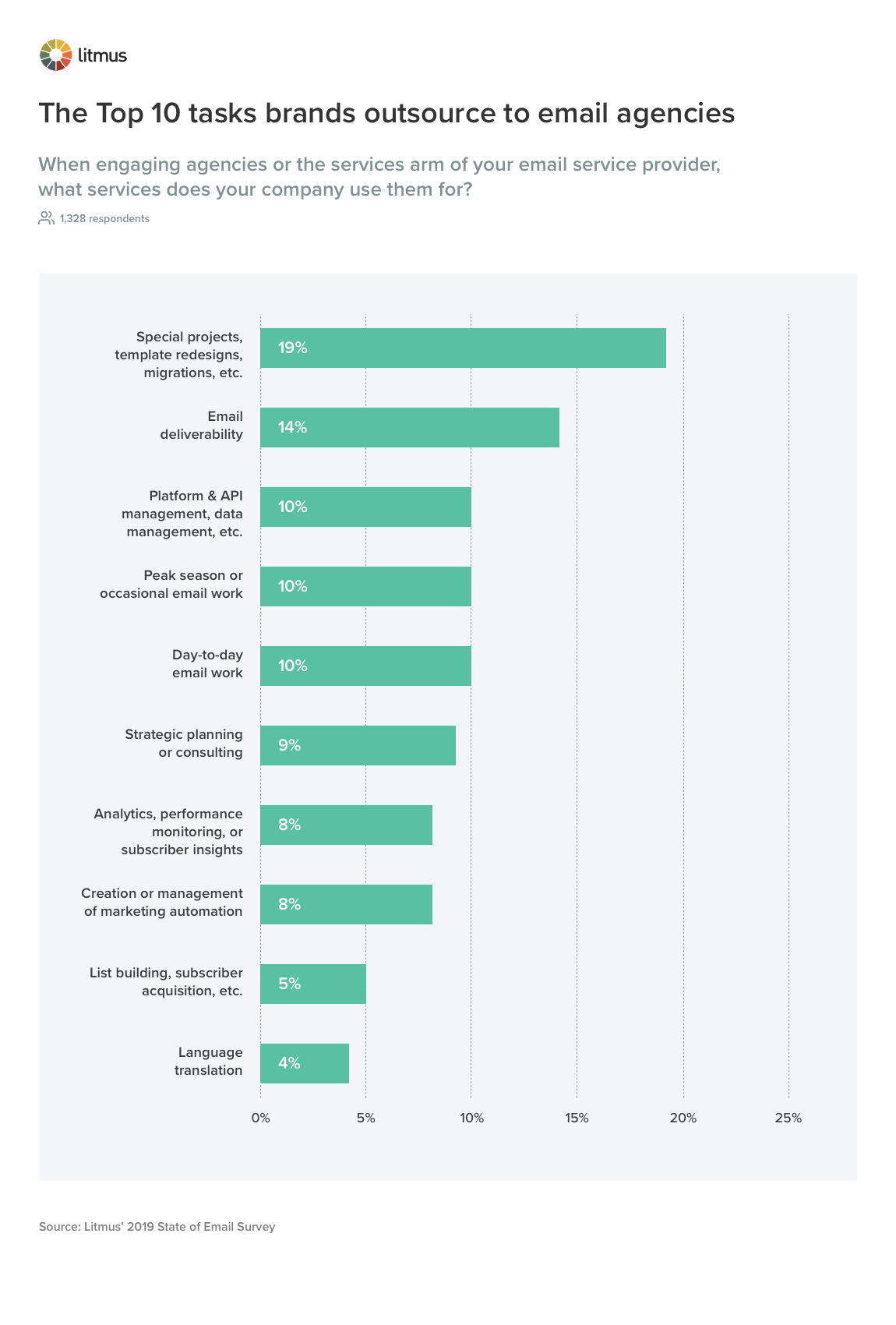 1. One-time redesigns or integrations
When we asked email marketers for the tasks they turn over to external help, the single largest response was around one-off redesigns or maintenance tasks. 19% of teams who outsource do so when they have a special project, email template redesign, integration, or migration to tackle.
These are the tasks that aren't part of a day-to-day routine. Projects, such as significant redesigns or migrations, may happen so infrequently that it doesn't make sense to hire somebody with this specialized skill—and you might not have team members with the required experience on staff. At the same time, messing the task up could have extensive consequences. In this case, hiring someone with specialized experience for one-time assistance makes sense.
2. Making sure emails make it to inboxes
Between delivery rates and email deliverability, the latter is trickier to manage. It's not surprising, then, that 14% of email marketers have another company or agency handle email deliverability. While it's easy to monitor bounce rates with your email service provider, you may not realize there are deliverability issues until email performance has already taken a hit.
Want to take email deliverability into your own hands?

Identify issues that might keep you from the inbox and get actionable help for how to fix them with Litmus Spam Testing. Brands that use Litmus' pre-send spam testing see 22% higher email ROI.
3. Handling customer data
Another important and technical email marketing task is managing APIs and data. 10% of email marketers who outsource get help with platform and API management, as well as data management. An additional 8% also outsource analytics, performance monitoring, and customer data insights.
Email marketers may turn to third-party analytics tools or agencies when their ESP doesn't give them the details they want. 63% of brands use third-party analytics, with 70% of those using Google Analytics and 23% using Litmus Email Analytics. The portion of companies who outsource data management and analytics may trust someone else to implement and analyze these types of apps.
4. Spreading out work during the busiest seasons
Sometimes outsourcing is less about subject-matter expertise and more about a lack of time. One in ten email marketers bring in outside help during peak seasons or for occasional email copywriting, production, design, coding, QA, or deployment.
If you're going to outsource email work, it helps to have email brand guidelines. These outline alt text approaches, preferred image types, dynamic content, and more. However, nearly 38% of companies don't have email-specific guidelines.
5. Optimizing the email marketing machine
The last outsourcing use case our data revealed was optimizing or putting the final touches on email marketing efforts. 10% of teams who outsource at all do so for day-to-day email copywriting, production, design, coding, QA, or deployment.
5% of teams who outsource use agencies or services for list building and subscriber acquisition, which is a complementary skill to tasks such as designing and copywriting. Plus, 9% get help with strategic planning or consulting. Routinely getting outside help for specific elements of email marketing could be useful for small teams who don't have the expertise or bandwidth for a task or two.
---
Part of being a great email marketer is being aware of your limits. Assessing what type of work—and what quantity—your team can handle while maintaining standards is essential. Outsourcing tasks to agencies or service providers can add a level of expertise without needing to hire another full-time team member.
Curious to see how email marketing teams plan to use their budget this year for things such as agencies, tools, and more? Check out our post on Email Marketing Budget Changes in 2019.