Read Time: 3 min
New in Litmus: Optimize Email Accessibility, Integrate With Your Cloud Storage Tools, Easier Tracking Code Handling, And More
Sending great email at scale is no easy task, and it's our mission to help email professionals like you get access to the knowledge and tools you need to make it happen. We're excited to share that Litmus released an update and now comes with new features and enhancements that help you streamline your email production process and expand your testing to ensure that your campaigns are nothing but perfect for everyone.
Here's what's new in Litmus:
1. Make your emails accessible to everyone with Accessibility Checks in Litmus Checklist
For the majority of brands, email accessibility is now a priority. But it's also true that many marketers don't know how to get started with making their emails more inclusive. 
The truth is, implementing key best practices isn't all that hard. With the right tools, you can identify areas for improvement and make small changes to your emails that have a big impact and make your emails better for everyone. 
With our new accessibility testing tools in Litmus Checklist, we help you do just that. Instantly see whether your emails follow key accessibility best practices and get actionable advice on how you can make your emails more inclusive.
Are you looking to optimize your emails for screen readers? Only Litmus lets you listen to an audio recording of your email before you send, so you can be sure subscribers using screen readers will have a great experience.
2. Create and customize Email Analytics tracking codes easier than ever before
No matter your coding knowledge, it's now easy for anyone to create and customize tracking codes in Litmus Email Analytics. Our new tracking code generator lets you set appropriate start and end dates and add custom parameters in just seconds.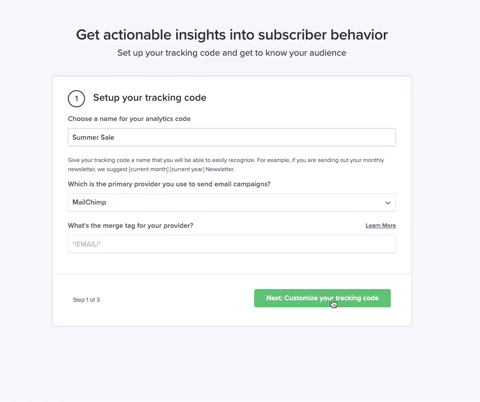 Your security and privacy guidelines don't allow you to collect and retain personally identifiable information (PII)? That's a great best practice and, with Litmus, it's now easier than ever to eliminate PII from your Email Analytics tracking. Protect your customer's data while still getting the insights you need to evolve and improve your email marketing strategy.
3. Integrate Litmus with Google Drive, Dropbox, or OneDrive
If your team relies on cloud storage solutions to save and organize your email's code, you'll love our newest integrations with Google Drive, Dropbox, and OneDrive.
Connect Litmus to your favorite cloud storage tool and import your HTML files into Litmus Builder, Checklist, or Proof with the click of a button. Say goodbye to tedious copy and pasting (and the errors that come with that) and get your emails out the door, faster.
4. New and updated clients in Litmus Email Previews
The landscape of email clients and reading devices is constantly evolving, and we're here to help you make sure that your emails look great and perform everywhere. Over the past months, we've added the following email clients to Litmus Email Previews:
AMP for Email in Gmail

Outlook 2019 120 DPI

Lotus Notes 10