If you're sending email to subscribers in France, you'll be excited to hear about our most recent additions to Litmus Email Previews: Orange and SFR.
While Gmail holds the top spot in the list of most popular email clients in France, many French subscribers still rely on local inbox providers to read their email. Orange and SFR are among the five most popular email clients in France, with market shares of 26.6% and 9.3%, respectively.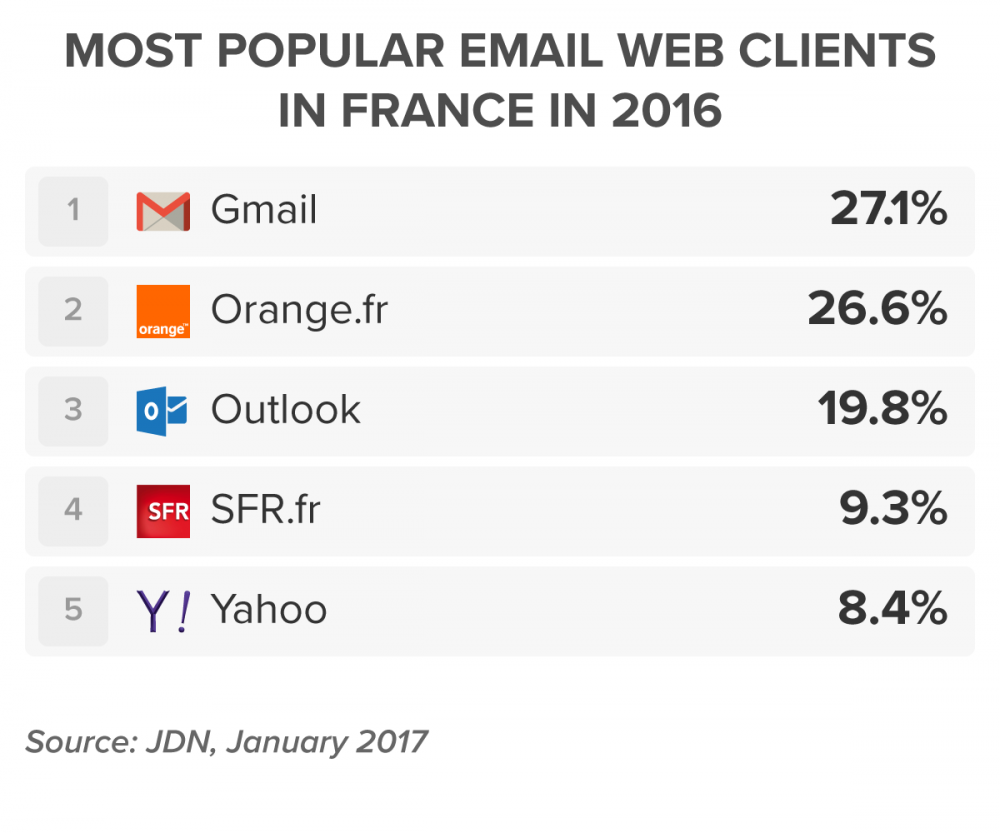 Even though both Orange and SFR are popular clients in the French market, the way they render email couldn't be more different. While Orange offers great HTML and CSS support, including media queries, web fonts, and keyframe animations, SFR's rendering engine lacks support for most of these advanced techniques—a nightmare for any marketer who's aiming for a consistent brand experience across clients.
With Litmus Email Previews, you can now see how your email will display in Orange and SFR inboxes. This makes it easier to spot and fix errors before you send, ensuring that your emails look great and perform correctly, no matter where your subscribers open.
Optimize your email for International inboxes

Test your email in popular international webmail clients, including Orange and SFR, with Litmus Email Previews—and catch rendering errors before you send.
We've taken a detailed look at both email clients, how they render email, and the unique quirks that come with each inbox. Here's what you need to know.
Message View
| | | |
| --- | --- | --- |
| | Orange | SFR |
| Visible subject line length | 40 | depends on window width |
| Emoji support in subject line | | |
| Preview text support | | |
| Visible preview text length | N/A | N/A |
| Visible from name length | At least 30 characters | 25 characters |
| Auto sorting (folders or tabs) | | |
Message View
| | | |
| --- | --- | --- |
| | Orange | SFR |
| Preview pane support | | |
| Width of window for email | Max width 1000px | Max width 1000px |
| Length of email (Is it clipped?) | | |
HTML and CSS Support
The Basics

Orange

SFR

Style support in head

Inline style support

Media query support

CSS attribute selector support

Classes

Ids

Images and Visuals

Images enabled by default?

Animated GIF support

ALT text support

Styled ALT text support

Background images support

HTML5 video support

Spacing

Padding

Margin

max-width

Typography

Headers

Paragraphs

Web fonts

Progressive Enhancement

Border radius

Interactivity — checkbox/ radio button support

Animation — transitions/keyframe animation support
Default header styles in SFR (and how they can break your email)
Like many webmail email clients, SFR has a default set of styles attached to header elements (<h1>, <h2>, etc). If you don't specify styles in your email, SFR's rendering engine will render your elements according to these default styles, and that will likely break your email design.
Here's an example of how an email with no styles specified will render in SFR: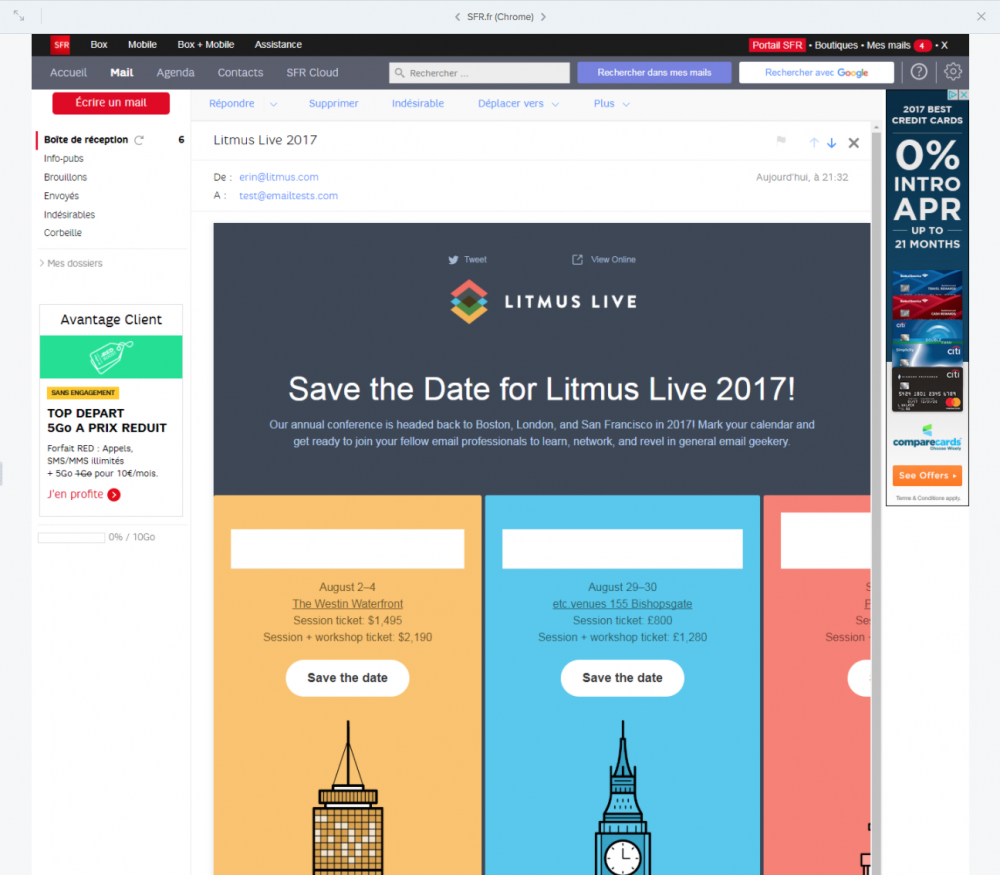 Unlike most web clients, SFR also sets default styles for background colors and borders in addition to font colors and font faces. SFR default styles for <h3> headers—that's what we used for the headers in our colored boxes—are set to a white background and also have a bottom border defined. If you don't set your header styles to border:none; and background:none;, SFR will display its default styles—and the result are unwanted white boxes, like in the example above.
SFR headers will default to:
<h1> tags default to the text color white and a white background

<h2> tags default to the text color blue, a faint grey bottom border, and a white background

<h3> tags default to the text color grey with a bottom border, a white background, and extra padding to the left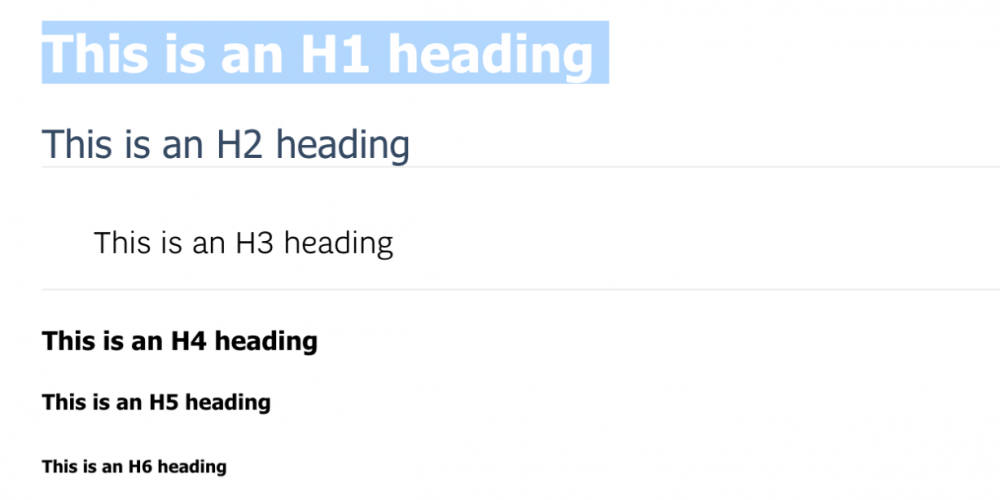 We encourage the use of semantic elements in your emails, which can aid accessibility, but don't forget to set styles on all elements to overwrite SFR's default styling. As SFR supports <style> in the head, styling header elements can either be done inline or using embedded styles.
Enabling Orange and SFR Email Previews in Litmus
Orange and SFR are just two of the more than 70 popular email clients that you can preview your email in with Litmus. To help streamline your testing efforts, you can enable those clients that are most important to you (or disable clients that aren't relevant to your audience) when testing your email rendering. To add Orange and SFR to your default clients for testing, head over to the account settings in your Litmus account and choose "configure clients".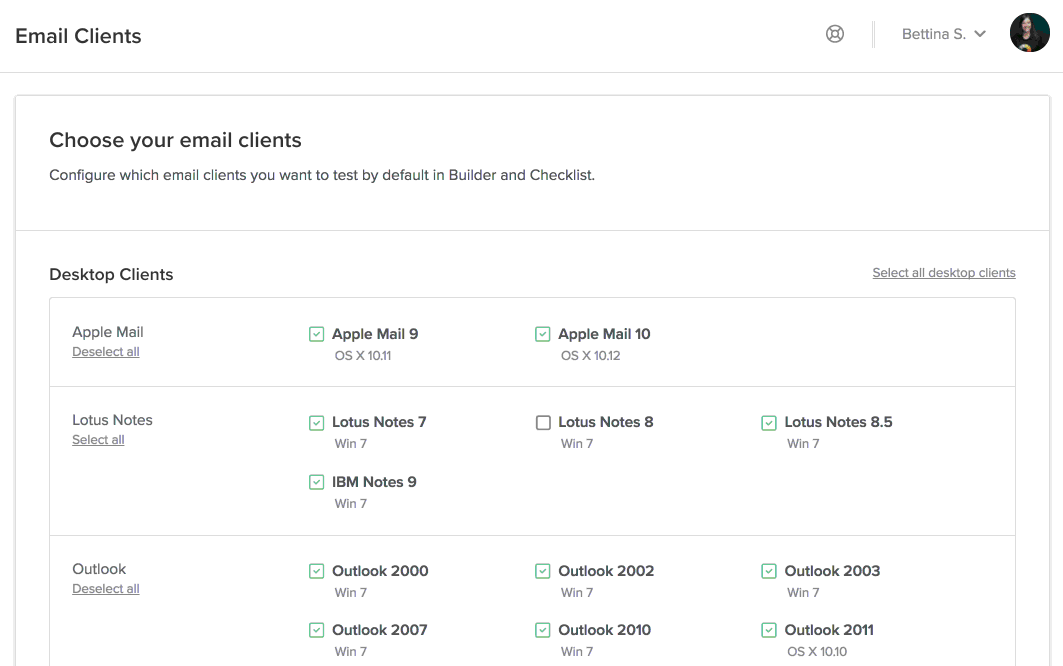 Check the boxes next to Orange and SFR (and any other client you'd like to add to your default settings) and click save. Your selected email clients are now the default for all Email Previews in Litmus Checklist and Builder.
WE'D LOVE TO HEAR FROM YOU
Did you discover a rendering quirk in Orange or SFR that we missed? Struggling with a code question specific to either of these email clients? Let us know in the Community!