Before the European Union's General Data Protection Regulation went into effect in May 2018, we heard dire predictions that the new, stricter laws would shrink email lists, throttle new opt-ins, and damage marketers' use of email to achieve their business goals.
Now, four months into the new post-GDPR reality, we have evidence that a clear majority of email marketers have not suffered the major list damage the doomsayers predicted.
Few Brands Saw Major Cuts in List Size
Our research shows that 60% of brands who are complying in full or in part with GDPR saw either no effect on list size or a loss of less than 10%.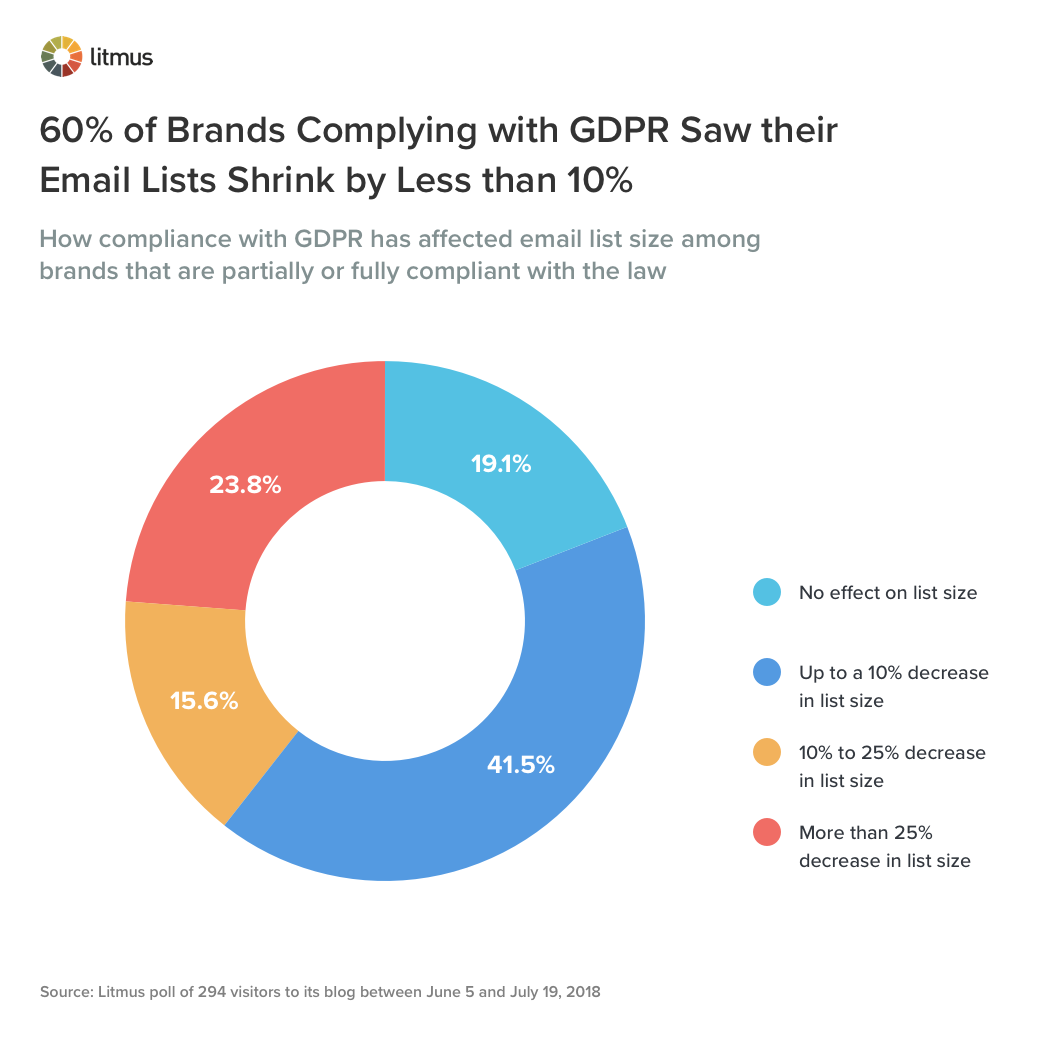 Some marketers would consider even the loss of less than 10% of an email list to be a catastrophe. But remember that not all email addresses in your database are equally valuable.
Some belong to loyal customers. Others represent customers who bought once or twice and then moved on to other brands, who no longer need your products, or who opted in and never engaged with your emails.
Another significant chunk of email addresses are inactive, having been abandoned by owners who changed addresses without unsubscribing but whose bottomless inboxes keep accepting messages. Chronically inactive subscribers aren't of any value to your campaigns and some of these addresses are at risk of being converted into dead address spam traps.
Unengaged and inactive subscribers have little to no value to your email program, and GDPR has forced many brands to remove these email addresses from their mailing lists. While no email marketer likes to see their list shrink, removing unengaged subscribers improves list quality. And higher list quality:
Improves subscriber engagement, including your open and click rates
Improves deliverability and inbox placement rates, since inbox providers factor engagement into their filtering algorithms
Makes it easier to see the effects of A/B tests, since more of your subscribers are active and engaged
Helps to focus your strategy on serving your high-value engaged subscribers who truly want your emails rather than on low-value subscriber who aren't very interested in your emails
Tighter Regulations Don't Adversely Affect Email ROI
We'd like to bust another myth: "Tighter regulations wreck email ROI."
Whenever there are conversations around tightening anti-spam regulations, industry voices claim that stricter regulations will limit the effectiveness of the email channel, hurting businesses. It's just not so, according to Litmus' research on Email ROI: The Factors that Lead to Better Returns.
Brands in the U.S. and brands in Europe and the U.K. generated very similar returns on their investments in email marketing, with EU countries' average ROI of 39:1 edging out America's 38:1, even though local anti-spam laws are much tighter.
"Strong anti-spam laws don't diminish email ROI for legitimate senders."
Tweet this →
Based on that, it would appear that strong anti-spam laws don't diminish email ROI for legitimate senders and business fears around tougher email and privacy regulations are overblown.
We believe that lax regulations—like America's CAN-SPAM—ultimately hurt businesses because they're woefully out of step with consumer needs and set wrong expectations for how email marketers should behave. Tighter rules appear to have a neutral to slightly positive effect on the returns seen by legitimate marketers, while improving the overall email environment by reducing spam and giving consumers more control.
Don't Fear Tighter Regulations
Email marketers who didn't follow basic industry best practices for acquisition, list management, and data protection had the most to lose before GDPR went into effect. Maintaining good email habits reduces your risk, not just from GDPR but also from other proposed legislation, such as the California Consumer Privacy Act.
Learn more about anti-spam regulations and email marketing ROI