Read Time: 2 min
[Slide Template] Your Email Year in Review: Program Performance Reporting Made Easy
How did your email program do this year?
The most crucial step to successful marketing planning for the year ahead is understanding how your email channel performed over the past months. But what are the key questions you should ask when evaluating your program—and how do you effectively communicate your learnings to all stakeholders? With this free presentation template, putting together your annual email program performance recap just got a whole lot easier.
Review, reflect, and communicate: Why sharing email marketing learnings with your team is crucial
The best email marketers don't just send great campaigns and evaluate what's working. They also communicate the power of the email channel across the marketing organization and beyond. Leveraging email insights can help you make better decisions in other channels (and vice versa) and improve the effectiveness of your marketing mix overall. The end-of-year period—that time where everyone wraps up the year and starts planning for the year to come—is a fantastic opportunity to do just that. Learn more about Litmus' "Pre, Post, Perform" Methodology.
With our free email reporting template, you can recap email channel performance, identify your biggest wins and opportunities for growth, and lay the groundwork for marketing success in 2020. It provides a framework to help you:
Recap key email program goals

and how your team performed against them

Highlight the

biggest program successes

Identify the

biggest opportunities for improvement
Set priorities for the year ahead

and make the case for the resources you need to tackle them head-on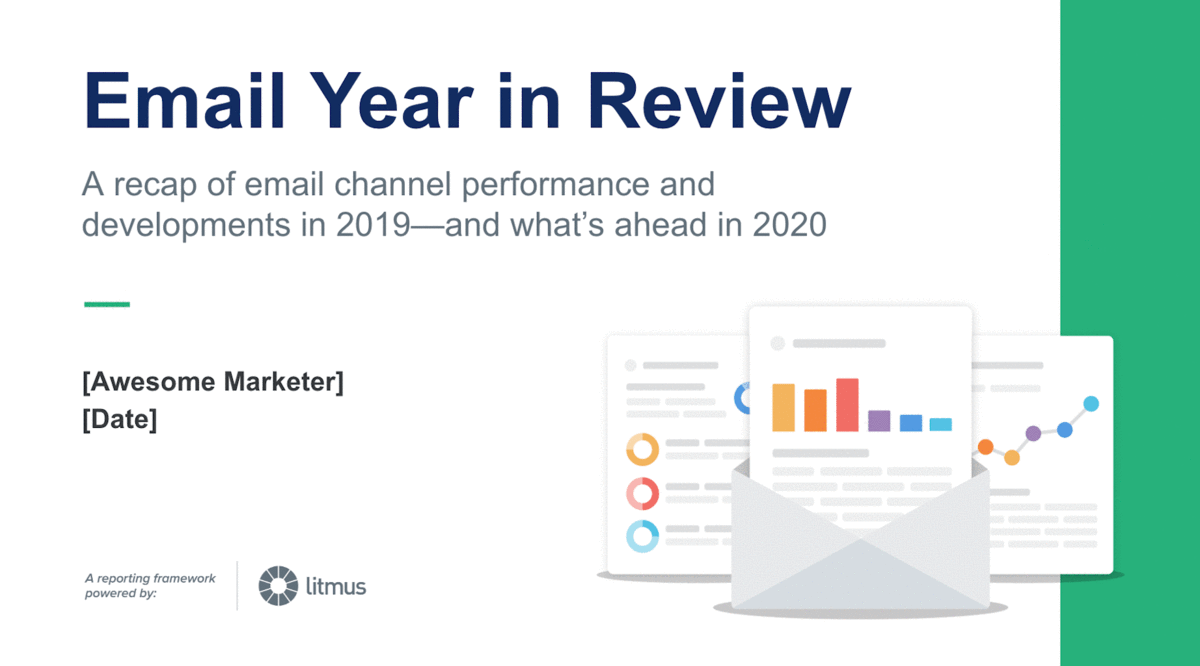 Download the free presentation template, create your annual email performance recap in no time, and take the first step towards email marketing success in 2020.
For marketing leaders: Get an overview of email program performance
If you're a marketing director or VP, this template will guide you through the most important questions you should ask your email team to understand email channel performance—and help you identify the biggest opportunities for marketing success in 2020.
Understand your most successful marketing channel →
For email marketing specialists: Communicate your biggest achievements to your boss
If you're the one sending email campaigns day in and day out, this template will help you present your work and the importance of the email channel to your boss—or your boss' boss—so your team can get credit for their hard work.