Email marketing comes with a lot of moving parts and sometimes, it's hard to stay organized. During a recent webinar about scaling your email program, the topic of managing email content planning came up.
The discussion touched on data uncovered in the 2019 State of Email survey, but there's still so much to explore.
What are email content planning tools?
First things first, what is an email content planning tool? When you think of content planners, you may think of scheduling social media campaigns or organizing content marketing efforts. However, they're just as useful for email marketing.
Email content planning tools are documents, communication channels, or project management systems that help email marketing departments stay on task, on time, and on budget.
If you don't use a planning tool, then you're missing out on:
Starting work on special campaigns well in advance, and never getting surprised by how quickly holidays are approaching again

Identifying gaps in email strategy or engagement throughout the month, quarter, and year

Being able to more easily hand off work or bring new team members up to speed

Easily delivering a clear list of all your team's efforts to your boss at the end of the year

Having a single, organized place to keep ideas (that

isn't

your inbox)
Which planning tools are best?
Instead of creating just another list of popular planning tools, we've asked real email marketers about what tools they use day in and day out. Here's what they said: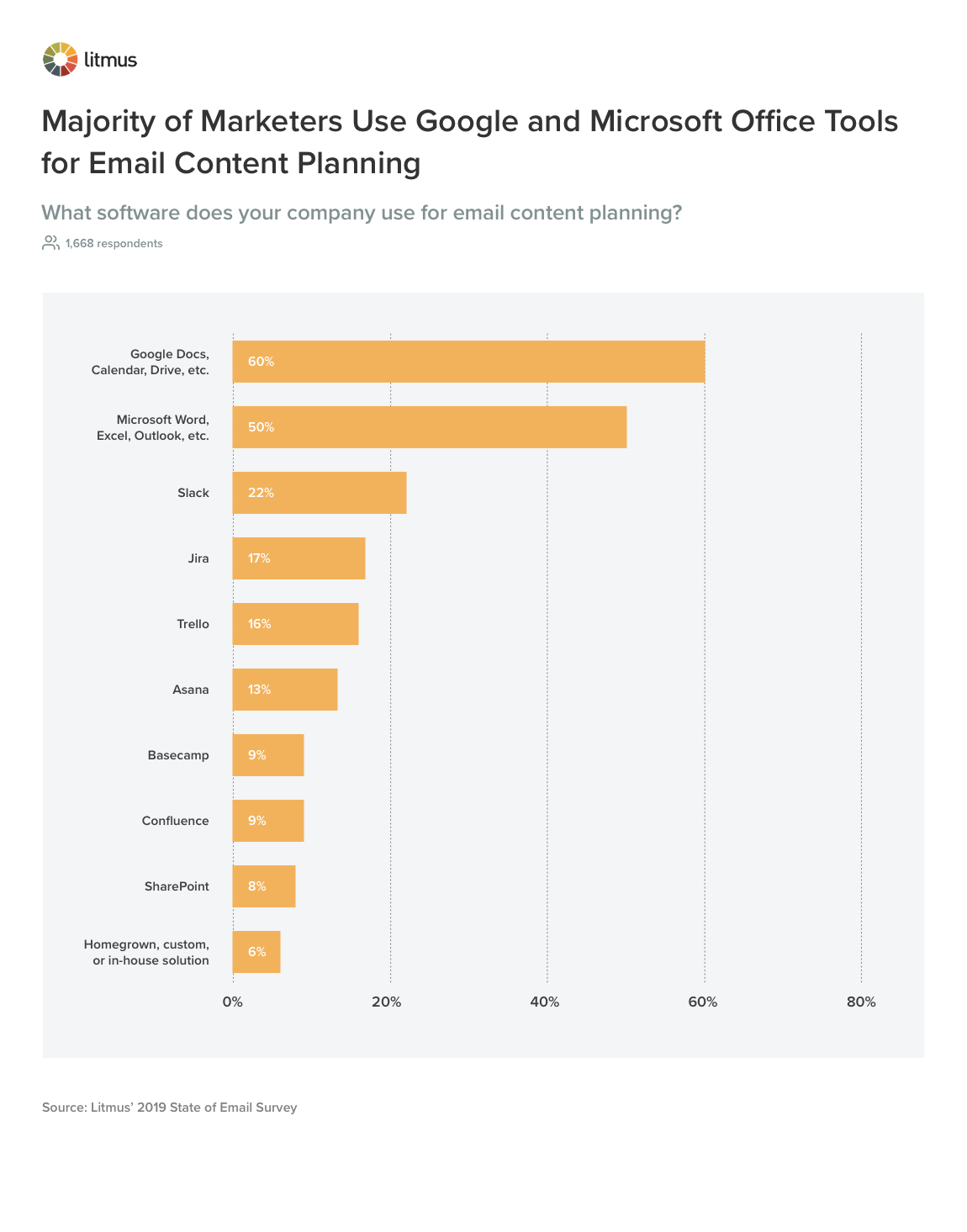 Email marketers use a mix of tools
The first thing we noticed—that you'll see if you start to add up the percentages above—is that it's common to use more than one tool. Email marketers may use different tools to organize various aspects of a project, store ideas across different phases of a task, or collaborate between different teams. In total, 16 different tools were used by at least 1% of respondents.
Keep it simple: Google Docs is most popular
Sometimes the simplest solutions are the best. The single most popular email content planning tool among marketers is the Google Suite. 60% of brands use Google Docs and Google Calendar, and Google's tools are even more popular with large email teams. 70% of teams with more than 11 full-time email marketers rely on Google Docs and Google Calendar to plan email content.
On top of being simple and widely known, using Google Docs offers flexibility. By starting with a blank canvas, email marketers can collaborate on ideas or create templates for sharing project briefs.
Microsoft products are popular, too
Just because Google products are the most popular doesn't mean that Microsoft products have gone out of style. 50% of brands rely on them for email planning. When looking at large email teams, 61% use Microsoft Word, Excel, and Outlook. Just like Google products, these standard tools are flexible to fit the needs and processes of different email marketing teams.
Large teams use different project management software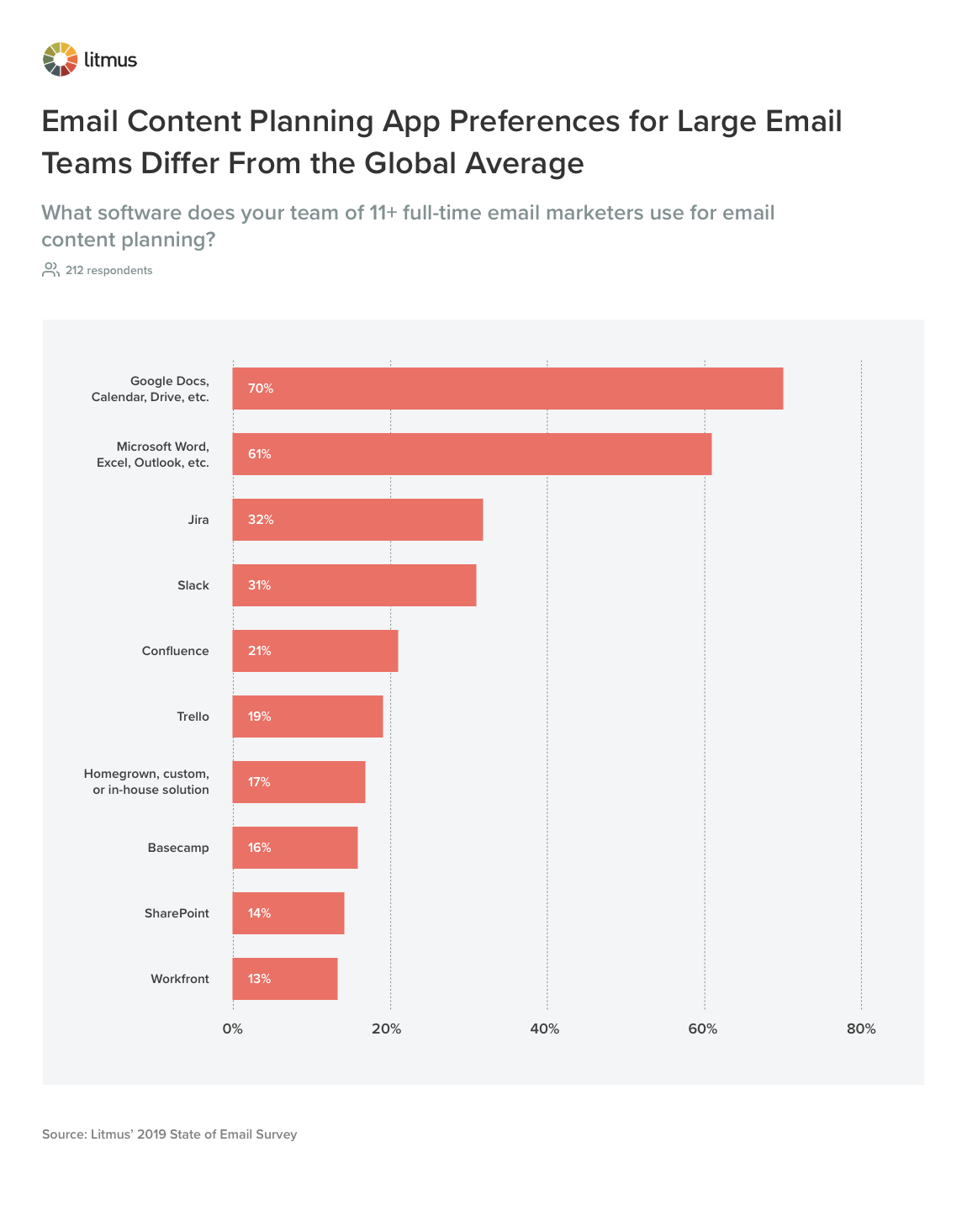 One of the most interesting insights from the data was how tool preferences differ between large teams and the global averages. Teams with 11 or more people working full-time on email face additional considerations based on the size of their organization. While the two most popular apps are the same across the board, large teams do have some unique preferences.
For example, on average, 9% of teams use Basecamp, while in large teams, 16% choose the software. Similarly, 21% of large teams use Confluence, compared to only 9% in the global average. One of the most significant differences appeared in the results for in-house solutions: While the global average of using a "homegrown" planning tool is only 6%, nearly three times as many large teams work with their own solution.
Robust project management tools may be better equipped to handle many different departments, clients, or projects that are typical of a bigger email marketing team or company.
How to choose the right tool for your team
The list of content planning tools other email marketers love most is a great starting point for your research. But each team's needs and preferences are unique, so chances are the stack of email content planning tools will be, too. So how do you choose the right tool for your crew? First, think about how many people will use it. Are you a team of three that can easily manage between a Google Doc and a Slack channel? Or do you need to pass information between a decentralized marketing team?
In addition to considering how many people you'll need to collaborate with, think about how you work with teammates. What's the creation and approval process like, and what information does each team need to complete their task? Take stock of the tools you already have at your disposal and get creative about how to use them to get organized.
Want to know what other trends are shaping email marketing? Get your copy of the 2019 State of Email Report here.