You pull out your credit card, hit submit, and then the waiting starts. Admit it: Amazon Prime has spoiled you, and you have to remind yourself that shipment tracking isn't available instantaneously.
The availability of fast shipping and hyper-detailed order tracking has made us all a bit, well, impatient. Most companies don't have the scale or infrastructure for next-day delivery, so customers are going to have to wait.
You have a secret weapon at your disposal, though. Your order, shipping, and delivery confirmation emails are your customer's peek behind the scenes. If customers have to wait, you may as well make it worthwhile.
Why these emails matter
Transactional emails are the revenue powerhouse of your email marketing program. Our 2019 State of Email research uncovered that a third of companies attribute 25% of their email revenue to transactional and triggered emails. One of the most important series of transactional emails you'll send are around transactions themselves.
Nobody wants to submit an order online only to be met with radio silence or the bare minimum communication at best. Order, shipping, and delivery confirmation emails allow you to make the most of each sale. Here's what they can and should do:
Keep customers updated and build trust. Order confirmation emails are all about transparency and keeping customers in the loop. 86% of Americans think transparency from a company is more important than ever, and 53% think clarity is transparency. Use these emails to let them know what to expect in the coming days.
Get customers excited about their purchase. Celebrate your customers! Let them know they made a great choice and join their excitement and anticipation. This way, you create a positive experience around each purchase.
Make waiting easier. Even the fastest shipping comes with a wait time, so give people something to do while they wait. How can they prepare? Is there a way they can share their excitement?
Best Examples of Order, Shipping, and Delivery Confirmation Emails
If you thought all order confirmation emails had to be cut and dry, think again. Here are six great examples of confirmation emails along the order and shipping journey.
Fitbit
Remember how I talked about celebrating with your customers? Fitbit embodies this idea in their shipping confirmation email below. It only takes a quick glance to get the gist of the message. There's a bright blue background with Fitbit products floating around the headline "Your Fitbit order has shipped."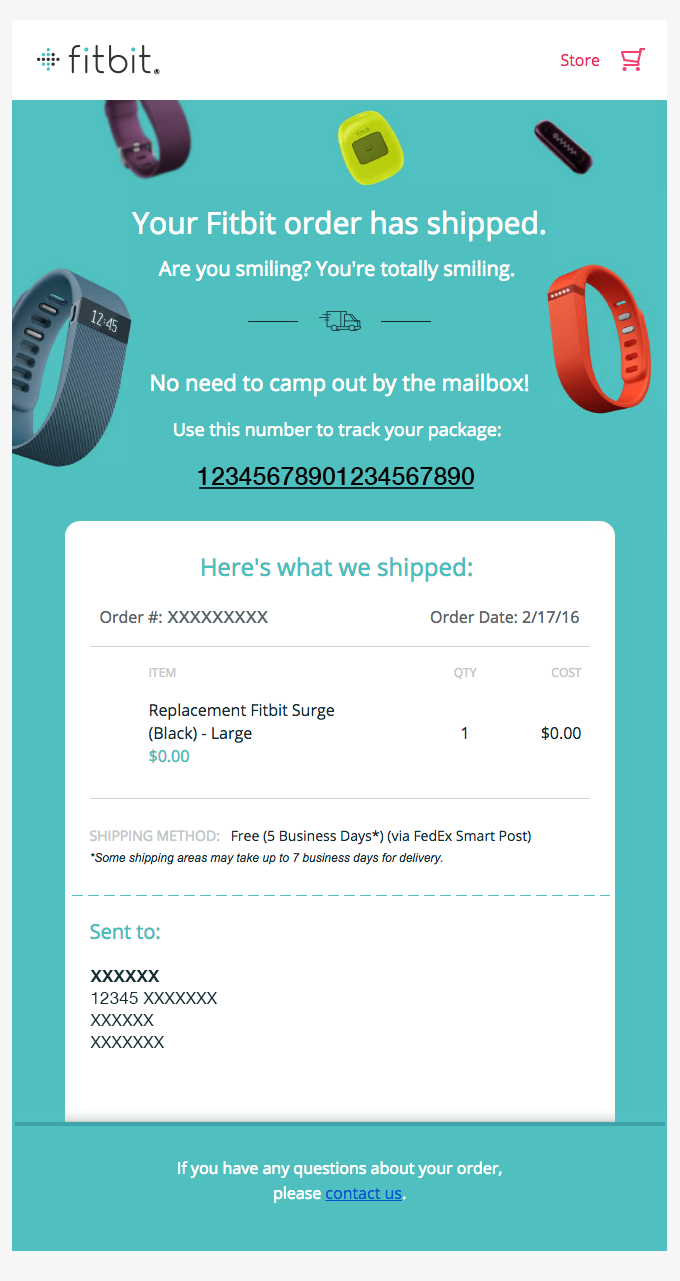 If you dig a little deeper, though, there are some copywriting gems. They celebrate the customer's choice by writing, "Are you smiling? You're totally smiling." Fitbit also shows that they understand waiting can be hard and accompany the tracking link with "No need to camp out by the mailbox! Use this number to track your package."
Beyond the fun nature of the writing, this shipping confirmation email also has the essential info. Fitbit tells the customer what they ordered, what it cost, when it shipped, what level of shipping they chose, and where it's headed.
DoorDash
DoorDash also chose to put all of the critical details at the top of the email. In the order confirmation email below, the giant "your order is on the way" text paired with big red letters spelling out wait time gives readers what they need to know at first glance.

In addition to the standard order confirmation fare of address and order details, DoorDash uses this opportunity to introduce their referral program. It's interesting to present the "earn $10 when your friends try DoorDash" proposition right after a customer has ordered. Free money is really enticing after just having to fork out cash for lunch.
Burst
Ordering and shipping a product is a journey, and the confirmation emails from Burst display this evolution. First up is the order confirmation email below. The emotion at the top of this email is gratitude, with the company thanking the customer for their order.

This order confirmation email also has a lot of details about the purchase. They list the order number and date, each product, and when the package is expected to ship. Another way they keep customers updated is the addition of "we'll e-mail you again to let you know when your order ships." This sets an expectation for the customer and they know to keep an eye out for another message.
When the shipping confirmation email arrives, the mood switches from gratitude to excitement. Burst builds anticipation with the headline, "Your order is on its way! We hope you are excited as we are."

There are still some product details, but this email is more focused on tracking the package. Of course, Burst maintained its branding with bright blue and purple throughout.
Polaroid
Our final stop on this exploration of order confirmation emails is Polaroid, who is great at explaining the process in detail. First up is the order confirmation email below. I'll be honest, I don't understand why the illustration has a person holding a glass of milk on their head. Graphics aside, Polaroid uses the email to explain the order processing procedure in detail.

By reading the email, customers know how long processing will take and that another email with tracking info is forthcoming.
Next in the series is the shipment confirmation email. It has standard information, but the second paragraph is my favorite. Polaroid says that "refreshing the tracking over and over won't make your package move any faster, so in the meantime, why not head over to our FAQs for instant photography tips and tricks?"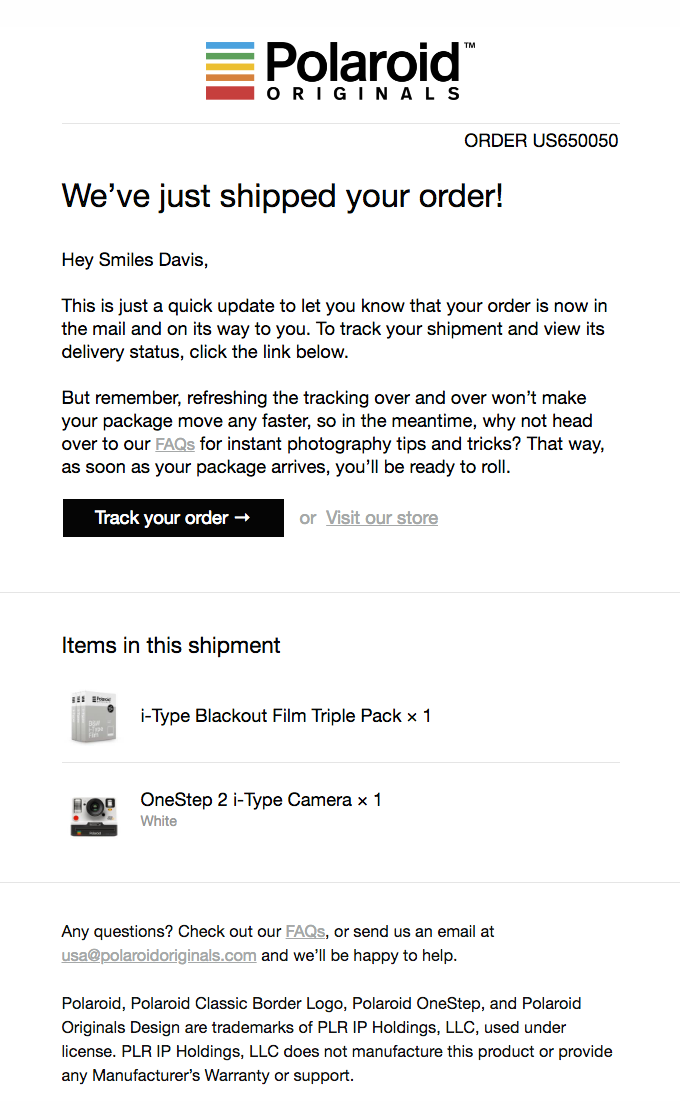 In one section, Polaroid both throws in a little relatable humor and lets customers know what they can do in the meantime. Content and resources are great to share during shipping.
Finally, Polaroid sends a delivery confirmation email. It lets the person know the order was delivered so they can look for it. Once again, Polaroid is excellent at keeping customers informed. They list where to find notes on the package's location and who to contact if there's an issue.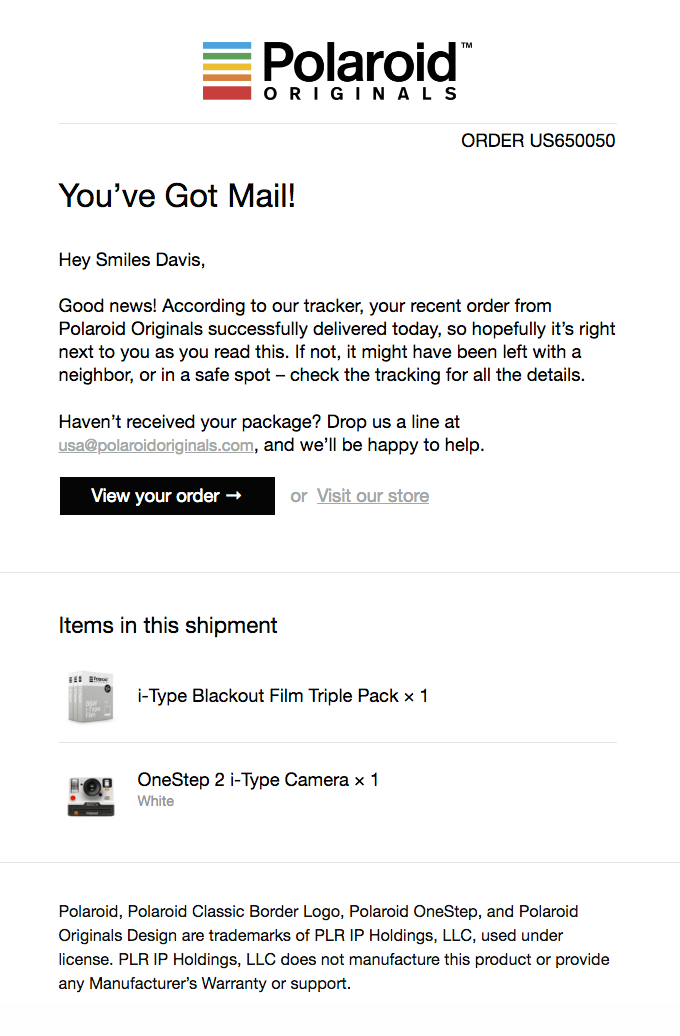 Order and shipping confirmation best practices
While emails are just one component of your order and shipping process, they can have a major impact on a customer's experience. Here's what you can learn from the examples we reviewed:
Set expectations about the order and shipping process. Customers shouldn't be left wondering what their status is.

Thank and celebrate your customers to leave a favorable impression.

Give customers something to do while they wait. Share relevant content or tell them about referral programs.

Test your emails regularly

to ensure they render well and don't get caught in the spam folder.

Include all order details in the confirmation email, from products and prices to expected shipping and delivery dates.

Include contact information in delivery notification emails, just in case the package is missing.
Want to learn more about creating beautiful emails this year? Check out 10 Email Design Trends Hitting Your Inbox in 2020.