October 1, 2018 Update
Gmail has started the process of retiring its old UI and no longer allows users to toggle back to its old interface. The new interface now is the default for all Gmail users.
It's been a while since Gmail has gotten a major facelift, so it's no surprise that the leaked previews of Gmail's new interface have triggered quite a bit of chatter in the email world.
Today, Gmail flipped the switch and is now gradually rolling out its new interface to Gmail users. Plus, they provided an overview of the the Gmail remake on the official Google blog, breaking down the details of what's going to change in Gmail and G-Suite over the coming weeks.
The new Gmail will come with a whole set of brand new features, including a snooze function, smart reply integrations, nudging reminders, a side panel for Gmail add-ons, and more features that will help users better manage their inboxes.
But are there any changes that will impact email marketers? We've got the rundown.
Unsubscribe suggestions are coming to Gmail
Inbox by Gmail, Gmail's productivity-focused counterpart, has always been Google's playground to test new features before rolling them out to the wider Gmail audience. With unsubscribe suggestions—a feature that suggests users unsubscribe from emails they don't read—another Inbox by Gmail feature now makes it into Gmail's mainstream email tools.
First spotted in Inbox by Gmail in December 2017, unsubscribe suggestions come in the shape of an "Inbox Tip" card that appears at the top of the inbox. It provides users with the option to unsubscribe from emails they haven't opened recently.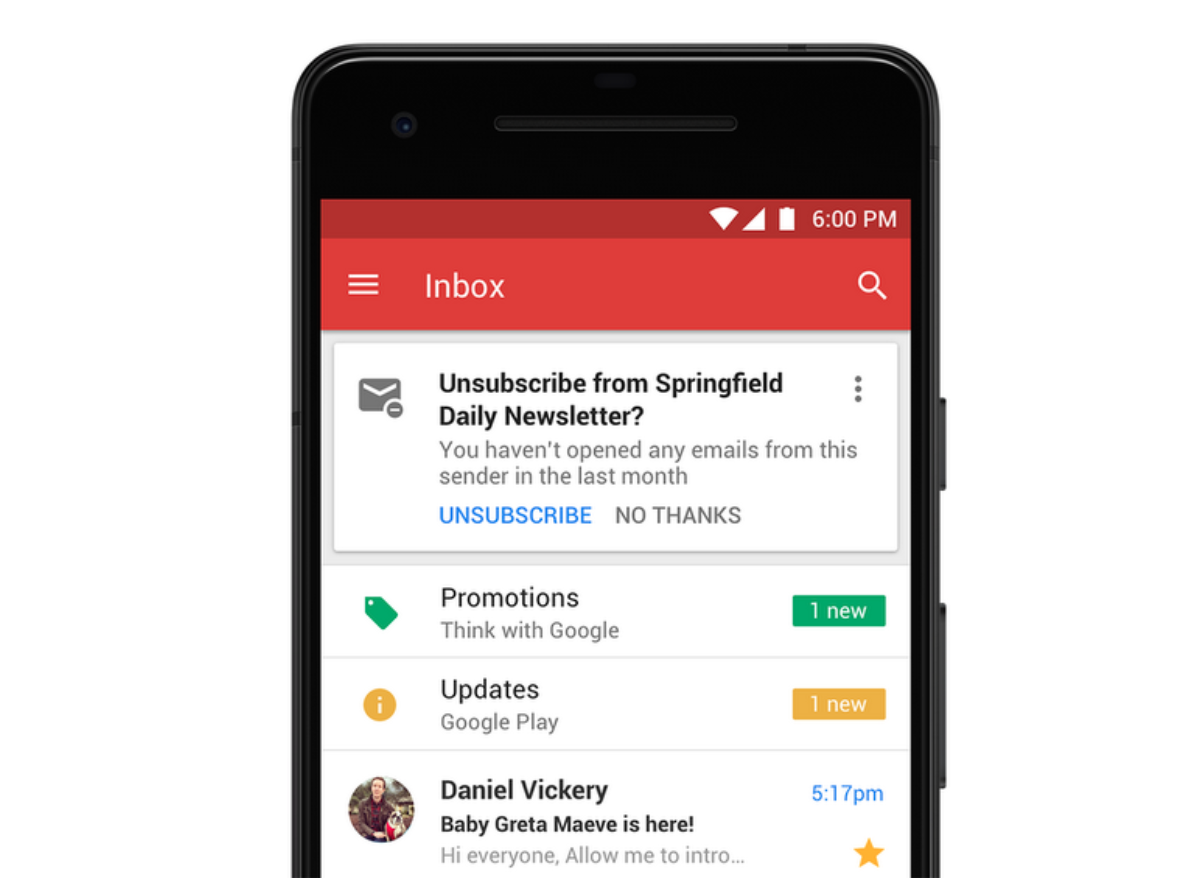 When this feature first came to Inbox by Gmail, it left many marketers worried. Does Google really provide unsubscribe suggestions for every email that the subscriber hasn't engaged with in four weeks? What if you only send on a monthly basis? Do you really only have one shot? That approach seems extreme and out of sync with how consumers use email.
With the announcement of the new Gmail came the first official note on Gmail's unsubscribe suggestions—and it might cause marketers to breathe a sigh of relief. Gmail won't only use a four-week inactivity window when suggesting which brands to unsubscribe from, but will also consider other factors, including sending frequency:
"Gmail can also recommend when to unsubscribe from mailing lists. Using intelligence, unsubscribe suggestions appear based on cues like how many emails you get from a sender and how many of them you actually read. "
—David Thacker, VP Product Management at G Suite
Gmail says goodbye to Goomojis—partially
Marketers who love to use emojis to add a little special something to their subject lines and email body know that Gmail has always relied on its own set of emojis—Goomojis.

With the redesign, the Goomojis are gone from Gmail—almost.
Emojis in subject lines in the inbox view no longer show as Goomojis, but are showing as the default emojis of the subscriber's operating system. Subscribers opening on iOS now see Apple's standard emojis appearing in subject lines in Gmail, for example.
Does that mean more consistent emoji support for marketers who didn't love Gmail's wobbly Goomojis? Not quite. While emojis in the subject line now consistently display in the operating system's default emoji style, emojis in the email body still show as—you might have seen this coming—Goomojis.
The result is a rather awkward mix of emoji styles:

Interactive email support is taking a hit
Gmail previously supported roll-over and hover effects, allowing email designers to add simple but powerful interactive elements to their emails. These elements are no longer supported.
With Gmail accounting for 26% of all email opens, this is a major step back for marketers who leverage the power of interactive email experiences for their brands. In a time when interactive email is becoming more and more popular, cutting support for some of the most basic interactive elements seems counterintuitive.
What seems like a step back might play into Gmail's long-term plans, though. In February 2018, Gmail announced that native support for dynamic and interactive email powered by AMP will be coming to Gmail. With more brands itching to create interactive email experiences, limited support for traditional interactivity in Gmail could mean that more marketers start working with AMP once it becomes available.
Update May 28: Email geeks, rejoice! Support for :hover on elements has returned to Gmail.
Bug that broke styles when activating images is now fixed
In December 2016, email developer Remí Parmentier reported a bug that broke email designs when images were manually enabled in Gmail. When a user had set up Gmail to "Ask before displaying external images", a banner with "Images are not displayed" appears on top of an email, asking the user to activate images for the email.

When a user clicked the "Display images below" link, the HTML of that email would be reparsed—but with a different prefix than the one originally used in the CSS. As a result, CSS rules were no longer matching the HTML, and emails appeared broken.
This bug is now fixed.
Limited Web Font support for Roboto and Google Sans
Gmail traditionally hasn't supported web fonts in Gmail, and this technically hasn't changed with the new interface. There is, however, a small exception.
Gmail's new interface uses two popular web fonts: Google Sans and Roboto—and that means you can now utilize these two fonts in your emails, too. Simply add the fonts to your font-family CSS attribute if you want to use them in your email. So while font choices for email design in Gmail remain limited, the addition of Google Sans and Roboto allow email designers at least a little more flexibility with their email typography.
How can you access the new Gmail?
Gmail is rolling out the updates gradually. To access the new Gmail, refresh your browser, and open the settings on the top right corner. Once the update got rolled out to your account, you can activate the new Gmail (and switch back to the classic view) from here.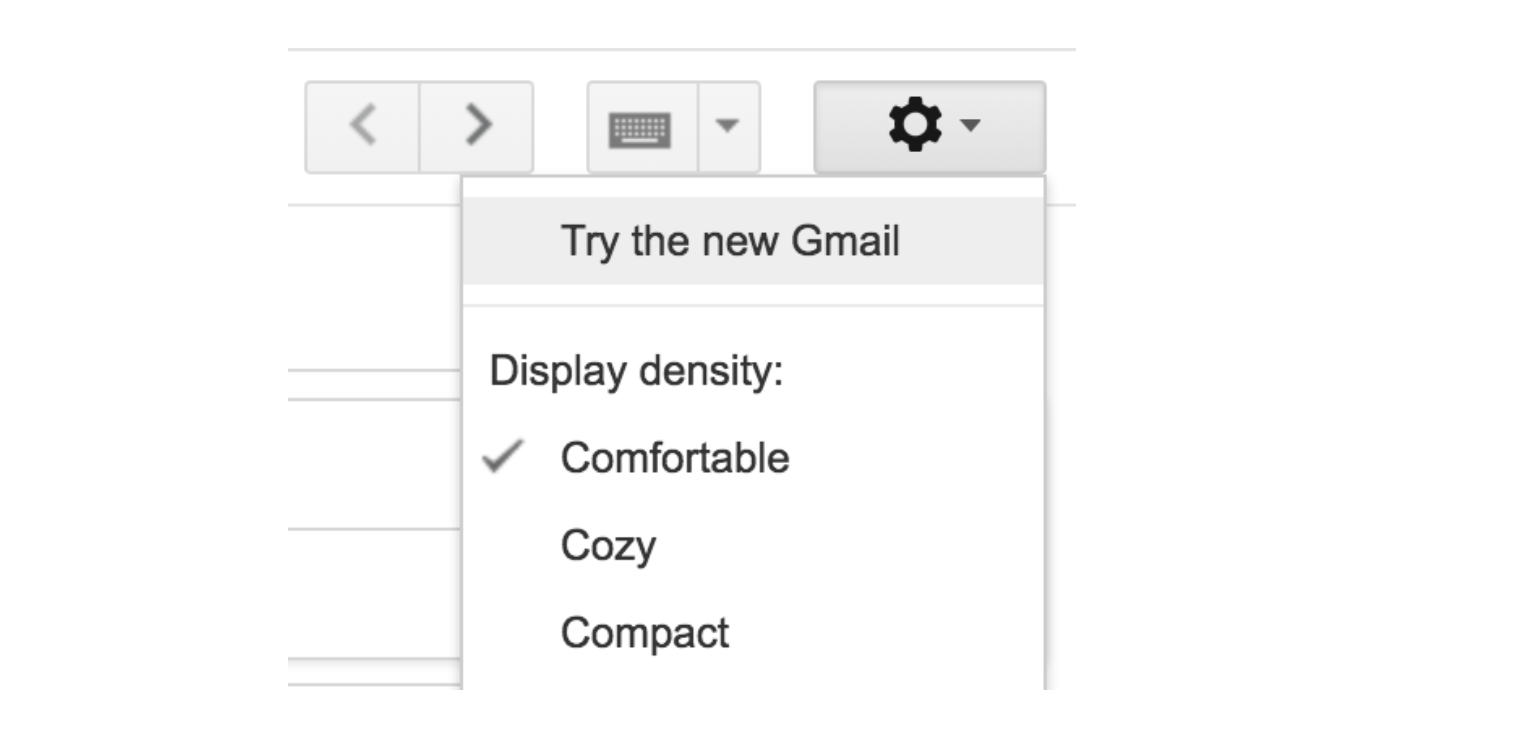 Preview your emails in Gmail's new UI
Email Previews for Gmail's new interface are available in Litmus. If you have a Litmus account, your can preview your emails in the New Gmail today.
Not a Litmus customer yet? Learn more about Litmus Email Previews and sign up today.