Think about your own shopping experiences for a moment. Are there any brands or companies you absolutely love? Ones you're basically a walking advertisement for? Personally, I've got a special place in my heart for Asana, Book of the Month Club, and my locally-owned coffee shop. I'm a bit of a nerd.
Part of the reason I love each of these brands is that they know how valuable their customers are. After all, they simply wouldn't have a business without them. They go out of their way to provide helpful resources, empower customers from all walks of life, and (with some exceptions, of course) share content valuable to the customer, not purely self-serving for the product. This sentiment goes across all marketing channels, but especially email. Companies should send emails relevant to their subscribers, not just messages that come out of their own echo chamber. After all, you wouldn't be sending emails without your customers. And sometimes, you want to send your customers a little something in their inbox that says, "Thank you for being amazing."
The art of a valuable customer appreciation email is simple. Campaign Monitor says they "nurture emotional connection between your brand and customers" and compares these emails to handwritten notes from someone, and that couldn't be more spot on. Our research shows customers and subscribers are looking for hyper-personalized experiences in their inbox, and that includes companies they shop at or give their business to.
If you're looking to get started with customer appreciation emails—or improve the ones you already have—keep these dos and don'ts in mind.
Do: Celebrate and share your customers' experiences with your brand.
Your customers are your biggest supporters and fans. Why not celebrate what they're putting out in the world about you? It's free publicity, and makes them feel connected to your brand and will likely grow their loyalty.
One of the best ways to do this is by using social proof in the form of imagery or quotes. Sustainable luggage maker Paravel does a fabulous job in this email celebrating their product through customers' Instagram posts.

With the subject line "Postcards From Your Adventurous Lives" and appropriate credit given on each of the images, it's clear these are pictures from customers' travels with Paravel luggage. It's a smart way to both celebrate your customers and provide action shots to show off the versatility of their products.
Don't: Send appreciation emails without something actionable or actually interesting.
This might be an unpopular opinion, but here we go: If you're just sending me an email thanking me for being a customer, or wishing me Happy Holidays or a Happy Birthday, I don't want you in my inbox.
The only thing these kinds of emails do is provide unnecessary mental and digital clutter that I then have to sift through. Those kinds of emails should be social posts instead. I'm talking about this:
"Hi, Whitney! Happy Birthday. Love, The Team at (Company Name)"
"Thank you for being a great customer, Whitney."
"You've been with us for 5 years! Thanks, Whitney!"
If this is the only thing your email says to me, I'm typically annoyed that you've wasted my time. I equate these kinds of emails to corporate "greeting cards" that feel like snail mail spam.
I've talked to a lot of email marketers about this and most of them have told me that these emails are sent out because of pressure from other stakeholders or leadership. And to that, I ask: What value are these emails providing, to you or to your customers? How are your open and click-through rates (if there's anything to click) affected with these kinds of emails? And finally, how can you still send these kinds of emails out and provide some kind of value? Let's try the emails from above again:
"Hi, Whitney! Happy Birthday. We hope you have a wonderful one—and to make it even more special, we'd love for you to come in some time the week of your birthday for a free item. Just show this email at the register. Love, The Team at (Company Name)"
"Thank you for being a great customer, Whitney. Because you're one of our favorites, here's a discount code for your next purchase."
"You've been with us for 5 years, and this means the world to us, Whitney! We wouldn't exist without you. We'd love for you to share the news on Twitter or Instagram and hear your favorite memory of using our tool."
Much better.
Do: Share milestones that are relevant or meaningful to your customers.
There are plenty of milestones for a company and a customer to celebrate together, so why not make a point to celebrate them together in a valuable way?
Online software developer community DEV celebrates their users with a One Year Club badge: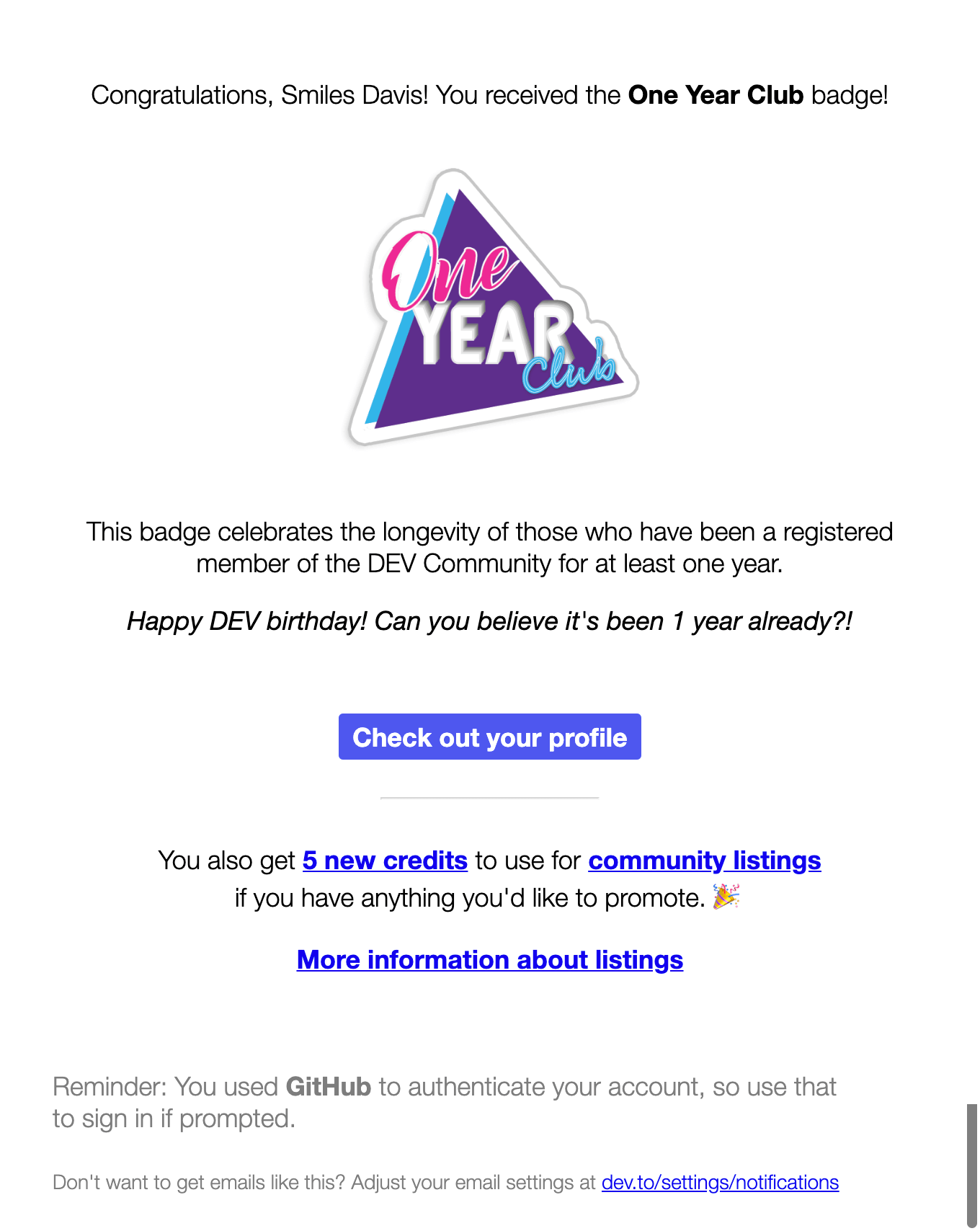 Not only do you get that super cool badge, but to celebrate your one year anniversary with the DEV community, you get 5 new credits for community listings. That's a pretty sweet deal and makes me want to stick around to see what I get for year two.
If you do want to celebrate a company milestone instead, like a number of users or years in business, do it like Trello does in this email. Who doesn't love a fun giveaway?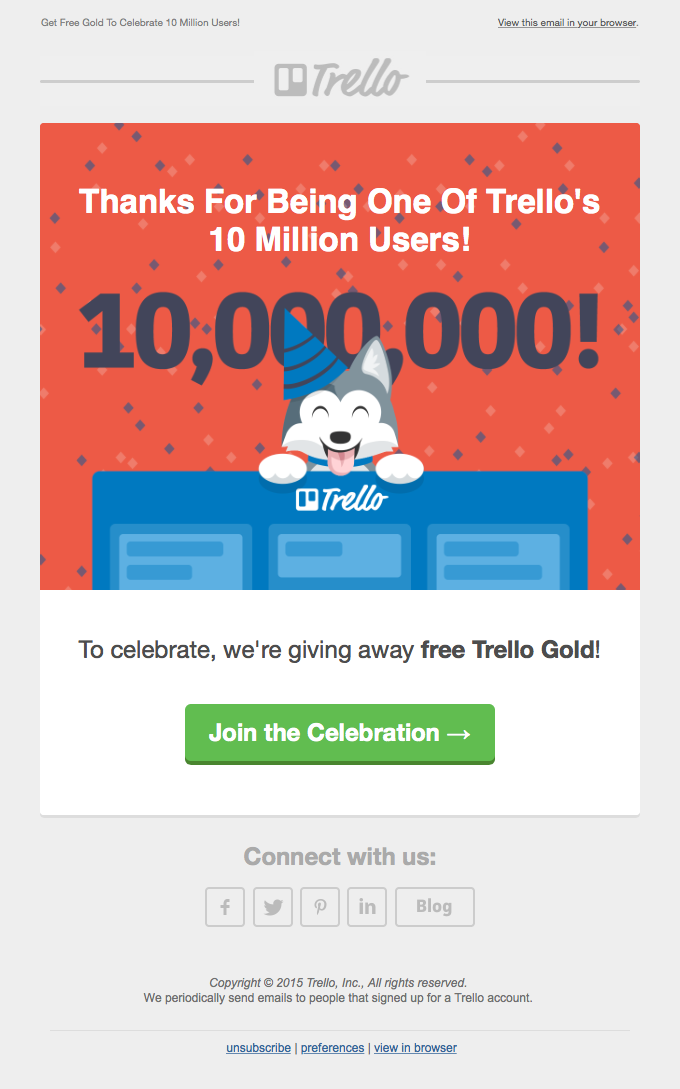 Don't: Recap your product or company's amazing year without mentioning anything about the customer.
Ah, the "Year in Review" email. These are typically pretty polarizing: You either love them or you hate them. I've heard passionate arguments for both sides. Personally, I see the value and interest in "Year in Review" emails—but only if I get to see my recap for the year, not the company's.
I think this is the biggest sticking point for those in the "never send a Year in Review email" camp. Often, these kinds of emails are a business recap for the company in question: how many products did you sell, how many times was your app used, how many new social media followers you have. All of those details are neat, but they aren't really actionable or interesting to me. What would be interesting is a recap of how much time I saved using your tool this year, how many people I referred to your product, how many sales I've made, and so on.
Shipt does an amazing job with this in their Year in Review email:

By providing stats that show the value of Shipt, like orders delivered, number of 5-star orders, and number of member compliments, I get to reflect on how Shipt helped me throughout the year and start to get excited about the year to come.
Shipt does take a moment at the bottom of the email to shift the lens on its community, as well, to share the number of volunteers or this adorable metric: "0 days since we haven't cried over an inspiring shopper story."
Do: Provide special discounts, freebies, or contests for your loyal customers.
There's nothing that says "thanks for being a customer" quite like a discount or sale, freebie, or fun contest or giveaway.
In their 5th birthday email, newsletter theSkimm sent out this recap email to subscribers:

After showing appreciation for you and how long you've been receiving theSkimm newsletter, there's an incentive at the end for referring the newsletter to more friends. I Iove this email because it screams, "It's our birthday, and we're getting you a present because you've given us so much already." Plus, that animated GIF around the CTA button to refer? Love it.
Online mattress retailer Leesa takes the opportunity to thank customers in a Thanksgiving-themed email. But they aren't only wishing everyone a good holiday.

In this holiday email, Leesa accomplishes two things: They provide details about a Black Friday sale and remind customers how their purchases and loyalty affect their communities. Leesa donates one mattress for every ten that they sell, and by being a loyal Leesa customer, you've contributed to giving back. This appreciation email makes me love the brand, look at the details of the upcoming sale, and feel good about where my money is going.
Don't: Make your appreciation emails all about you.
As a final note, a reminder: Your customer appreciation emails should be about your customers, not about you. If you're sending your customers an email all about how many times your app was downloaded or how much money you earned in a certain campaign, then you're only scratching your own back.
A customer's loyalty deserves to be rewarded with something other than bragging.
---
I'd love to know: What are your thoughts on customer appreciation emails? Do you love a good holiday card in your inbox, or do they make you run to the unsubscribe button? Let me know in the comments or on Twitter @litmusapp.