At first glance, unsubscribes seem negative. More unsubscribes means less people in your database, less people that receive your emails—and less return on investment for your email program. Right?
Wrong. Unsubscribes can actually be a good thing for your brand. As an email marketer, it's crucial to make the unsubscribe process painless and positive. The reality is, someone is always going to want to stop getting emails from you. It's unavoidable. So instead of making it difficult for subscribers to stop receiving email from your brand—and increasing the likelihood that you get marked as spam—making unsubscribing easy will benefit your brand in the long run.
There are plenty of unsubscribe methods out there, and not all of them are ideal. Some of them make subscribers feel ignored, lack empathy, and are overly complicated. The best methods make unsubscribes easy, honor them promptly, and provide other ways for those ex-subscribers to follow your brand.
If you're looking to improve your unsubscribe process, keep these dos and don'ts in mind.
Do
: Promptly honor unsubscribes
If someone's looking to unsubscribe from your brand, they want to do it right when they click that link. They don't want to see that you'll "honor the request within 10 days" and they might receive email from you in the interim. If you promptly honor unsubscribes, that makes everyone happy—quick results for your ex-subscribers, and less spam complaints for your brand!
If you need to keep a message similar to "we'll honor the request within 10 days" for legal reasons, keep it in—but ensure that the unsubscribe is prompt and that person won't receive any more emails after they've unsubscribed.
Don't
: Send an unsubscribe confirmation email
Again, people that unsubscribe from you don't want any more email from you. So the last thing they want is a confirmation email that the unsubscribe went through. Don't send an email to say you're going to stop sending email! Instead, provide immediate confirmation on the unsubscribe landing page.
Similarly, don't email people that have unsubscribed from you in an effort to get them to resubscribe. They don't want email from you, so honor that! If you need to run a resubscribe campaign, consider other outlets like paid social media ads.
Do
: Allow subscribers to opt-down or temporarily pause email subscriptions
Maybe someone just wants to receive less email from your brand—or wants to take a short break—without completely unsubscribing. If your emails only have an all-or-nothing option for unsubscribes, you might be losing people that otherwise want to stick around. By providing an email preference center with options for an opt-down instead of an opt-out (like unsubscribing from events but staying subscribed for product updates, or decreasing email frequency to once a week instead of twice), you may be able to reduce the number of unsubscribes you receive while allowing your subscribers to choose when and what kind of emails they receive.

Don't
: Ask people to log in to unsubscribe
This is a big no-no: don't ask people to log in to their account to unsubscribe from your emails. Unsubscribing should be an easy process. If someone clicks the unsubscribe link in your email, they want that to happen fairly immediately. Being required to take multiple steps like logging in—what if someone forgot their password and has to reset it?—can leave a bad taste in subscribers' mouths. Plus, depending on where you're based, requiring someone to log in to unsubscribe is actually against the law, so it's really the best idea to not involve a log in at all.
Do
: Provide the opportunity to resubscribe
Sometimes people accidentally click links as they scroll through their inbox, and that link could have been the unsubscribe link. If you provide an opportunity to resubscribe right when that accident is made, those that accidentally unsubscribed will promptly rejoin your mailing lists. Without that resubscribe link, you might send those people on a goose chase to find a way to resubscribe, and if it takes too long, they might give up and stay unsubscribed.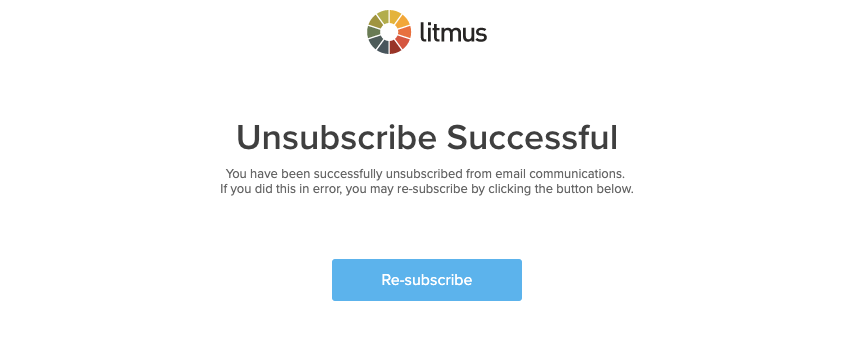 Don't
: Make people fill out a survey
before
they've unsubscribed
Surveys can be a valuable way to figure out why someone unsubscribed from your list. Maybe you weren't sending them the right content, maybe you were emailing them too much—you can use that feedback to strengthen your email program.
But what you don't want to do is require someone to fill out that survey before they can successfully unsubscribe from your emails. Your first priority is to let someone unsubscribe easily, and then you can provide an optional survey for someone to fill out.
Do
: Provide options for your ex-subscribers to follow your brand on other channels
Your subscribers might not want to hear from you in their inbox anymore, but that doesn't mean they don't want to hear from you at all. They may be interested in following your behind-the-scenes shots on Instagram or your live updates from events on Twitter. On your unsubscribe confirmation page, be sure to include links to your social networks and encourage people to follow you where you are.
Don't
: Bury the unsubscribe link in your email or override the link styling
It's natural to want to reduce the amount of unsubscribes you get with each email, but hiding your unsubscribe link is not the way to do it. Burying the unsubscribe link far down in your email or overriding link styling so "unsubscribe" hides in plain sight with the rest of the email copy is deceptive. Like we've said, unsubscribes are going to happen no matter what, so making it easier for your subscribers to find the unsubscribe link is the best way to reduce potential spam complaints.
---
Ensure your designs come across right


Broken emails lead to less conversions. Preview your emails across 100+ email clients, apps, and devices to ensure an on-brand, error-free subscriber experience. Every time.