When I joined Litmus nearly 7 years ago, Litmus was known best for Email Previews, the feature that automates the process of testing how your emails display in different email clients. At my prior job, I'd worked with our IT department to set up a (literal) closet full of virtual machines running all the email clients my team needed to test on. It was an awful experience for everyone. When I discovered Litmus, it changed the way my team created email by transforming email testing from a painful necessity to a critical step that added value to our process—and to our relationships with our clients.
Fast forward to today. Litmus still offers a comprehensive virtual email testing lab, filled with dozens of popular clients and devices, including Gmail, iPhone, and key international web clients—all available to you whenever you need them.
And while email testing is an important part of the email creation process, successful teams know that it's just one of many steps that it takes to get an email out the door. In reality, the email creation process is rather complex.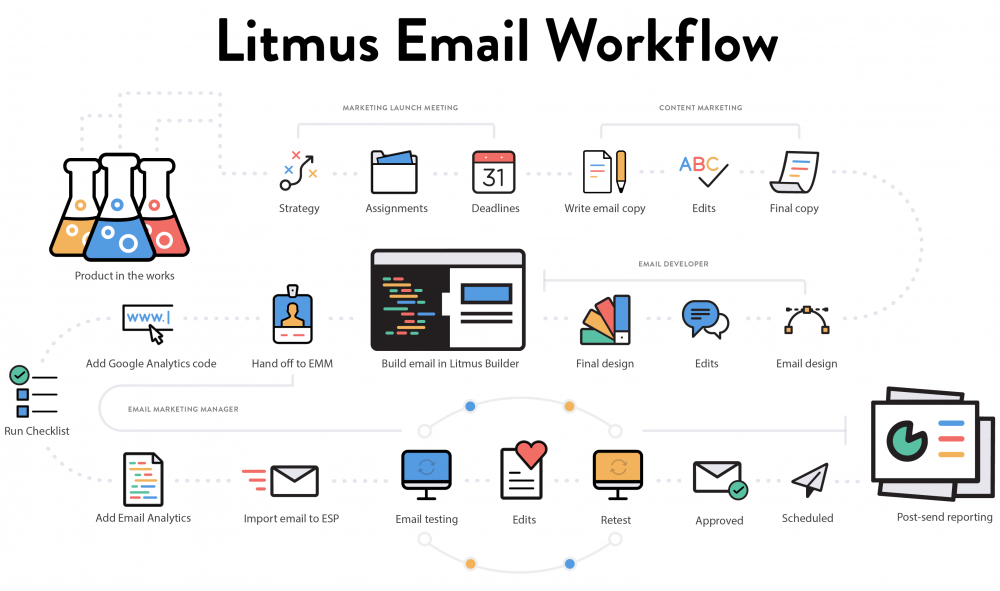 This is the email creation process at Litmus—our team moves through a workflow that includes conception & strategy, copywriting, design & development, testing, approvals, and analysis. Your workflow may not look exactly the same, but I suspect it has just as many (if not more!) steps. Getting an optimized, error-free, and on-brand email out the door on time is only possible when every aspect of your team's workflow is working together. Email marketing has a reputation for being a low-effort, high-ROI channel, while in reality "just sending an email" is a complex challenge that requires collaboration and a well-oiled, well-documented process.
As Litmus has grown, our team, our email creative process, and our product has grown as well. Email Previews is no longer a standalone feature. Email Previews are now deeply integrated into products like Builder (which makes email development a breeze) and Checklist (which eliminates the need to manually check links, images, tracking, and other critical elements that impact email performance). Spam Testing provides peace of mind, knowing that emails will land in the inbox after pressing send. And Email Analytics provides the insights needed to truly optimize every campaign for your audience.
Over time, our commitment to creating the world's best email testing tools has evolved into the Litmus Email Creative Platform, seamlessly integrating time-saving features like Builder and Checklist into every aspect of your workflow and making everyday email tasks faster and easier. The advanced email tools in the Litmus Email Creative Platform enable you and your team to create incredible high-performing email experiences.
This summer, we've made even more exciting updates to our platform. Here's what's new.
Build, test, and troubleshoot your emails faster than ever before
Builder might look the same on the surface, but under the hood there is a brand new, supercharged engine that makes Builder faster and more reliable than ever before—allowing you to speed up your email development process.
Hate copy and pasting? We do, too. That's why we've made it easier to seamlessly integrate Litmus with your email tools:
Test with Litmus wherever you build
Whether you're using a local editor or prefer your email service provider's (ESP) email editor to create your emails, you can say goodbye to switching back and forth between your email building tool and Litmus. We've put the power of Litmus Checklist and Email Previews into a Chrome extension, so you can preview, troubleshoot, and optimize your email right where you build.
Explore the power of Litmus Extension →
Integrate Builder with your email service provider
Getting your email from your code editor into your ESP has always been a hassle. It's time to say goodbye to your manual copy and paste process. With ESP Syncing, you can automatically sync your code from Builder to your ESP with a single click. Once connected, whenever you make any changes to you code in Builder, it automatically updates in your ESP, too.
Make it to the inbox, not the spam folder
Litmus Spam Testing has a new look and expanded functionality to make troubleshooting and fixing spam issues easier than ever before, helping you catch issues that might trigger spam filters before you send. Scan your emails against 25+ different tests, identify issues that might keep you from the inbox, and get actionable advice for how to fix them.
Learn more about Spam Testing →
Customize Litmus for your team
If you're working with a large team, manage different divisions, or build emails for different departments or clients, we've made it easier for you to keep things organized and customize Litmus to fit your team's needs:
Maintain full control over your Litmus account
Create private Litmus teams so you can manage access and monitor usage across clients, customers, or departments. Plus, utilize custom controls, including testing requirements and Custom Checklists, to ensure every email is on-brand and error-free.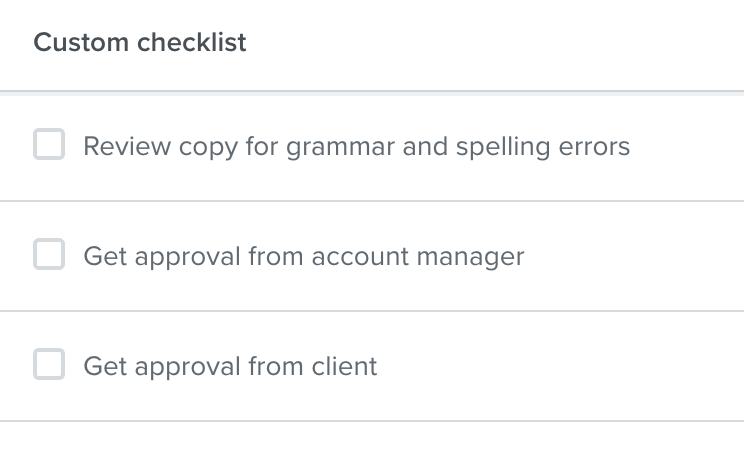 Protect your account with Enterprise-grade security
Protect your sensitive data from unauthorized access with more advanced and customizable security rules, including two-step verification and password requirements.
Learn how you can keep your data safe →
Stay in the loop
We're constantly enhancing the Litmus Email Creative Platform to help the world send better email, faster. Subscribe to our newsletter and stay in the know for what's next!