What's something that half of all internet users do four times a year? Forget their password. Not everyone fares so well, though. A little over 25% of people forget their password at least ten times a year, and 7% have to reset one of their passwords more than 16 times a year.
We've all been there, too. You don't know if you're on a website that requires a special character or if the company doesn't allow them in their passwords. So you hit the "reset password" button. Then your hero, the password reset email, swoops in to save the day.
Seriously, password reset emails? Yes.
I get it. Password reset emails are probably so far down your priority list you haven't even written it down. This is an easy-to-overlook email, but it's more important than you might think. Here's what a great password reset email can (and should) do:
Arrive in the inbox immediately.

Have you tested your password reset emails lately? These routine and borderline mundane emails still need to be tested, because they can't do their job if they go straight to spam.

Make it as simple as possible for your users to get back on track.

You're ready to complete an order or want to log into a tool—and then get stuck because you forgot your password. A forgotten password keeps your users from getting things done and your email has the power to bring them back on track, quickly. Make the process as easy and fast as possible.

Reflect your brand personality. Just because password reset emails aren't flashy campaigns doesn't mean they shouldn't live up to brand personality. Simple doesn't equal boring.
Simply Beautiful Email Examples
Wondering how to spruce up your password reset emails? Here are five great examples of simple yet beautiful emails.
Jet
The example from Jet below is a perfect example of carrying branding through password reset emails. There's plenty of white space in the email to focus attention on the "reset my password" call-to-action (CTA) button. Still, a geometric header and footer in Jet's brand colors frame the message.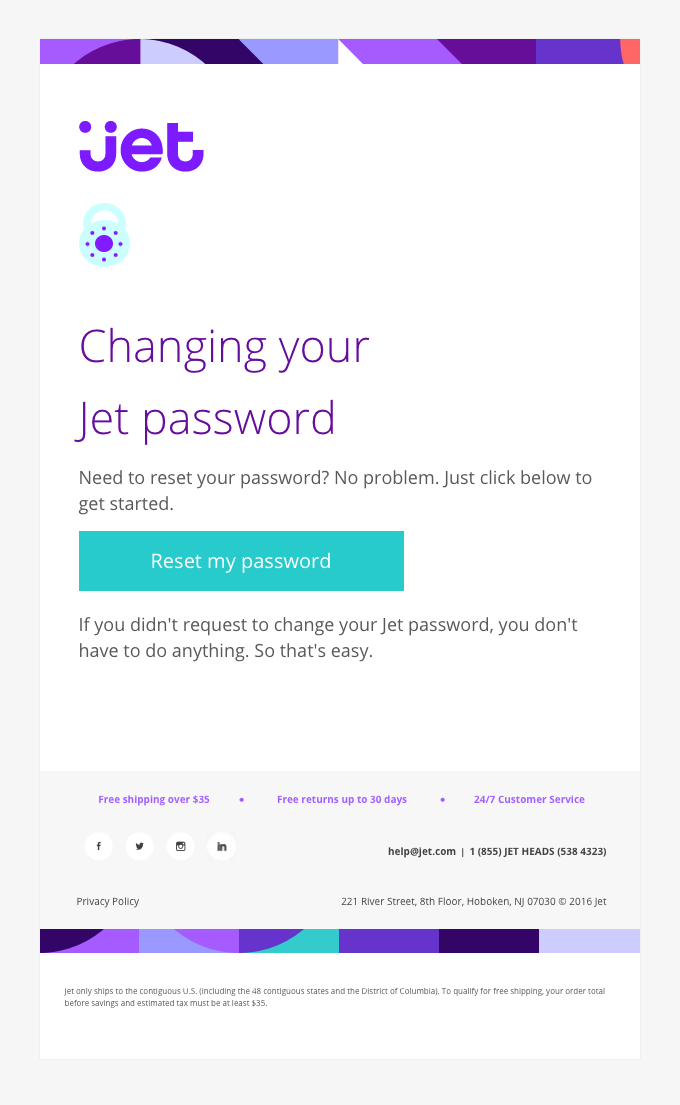 Jet also had a bit of fun with the copy, too. They could have left the last line as a note to ignore the email if the user didn't request it, but instead they added: "So that's easy." Those three words make the email feel more relaxed and less like a stuffy copy-and-paste template. 
But wait, there's more! Jet also sends an email after a user resets their password. This message is crucial because it shows Jet considered the entire password reset journey. There are multiple steps, so they've created different emails.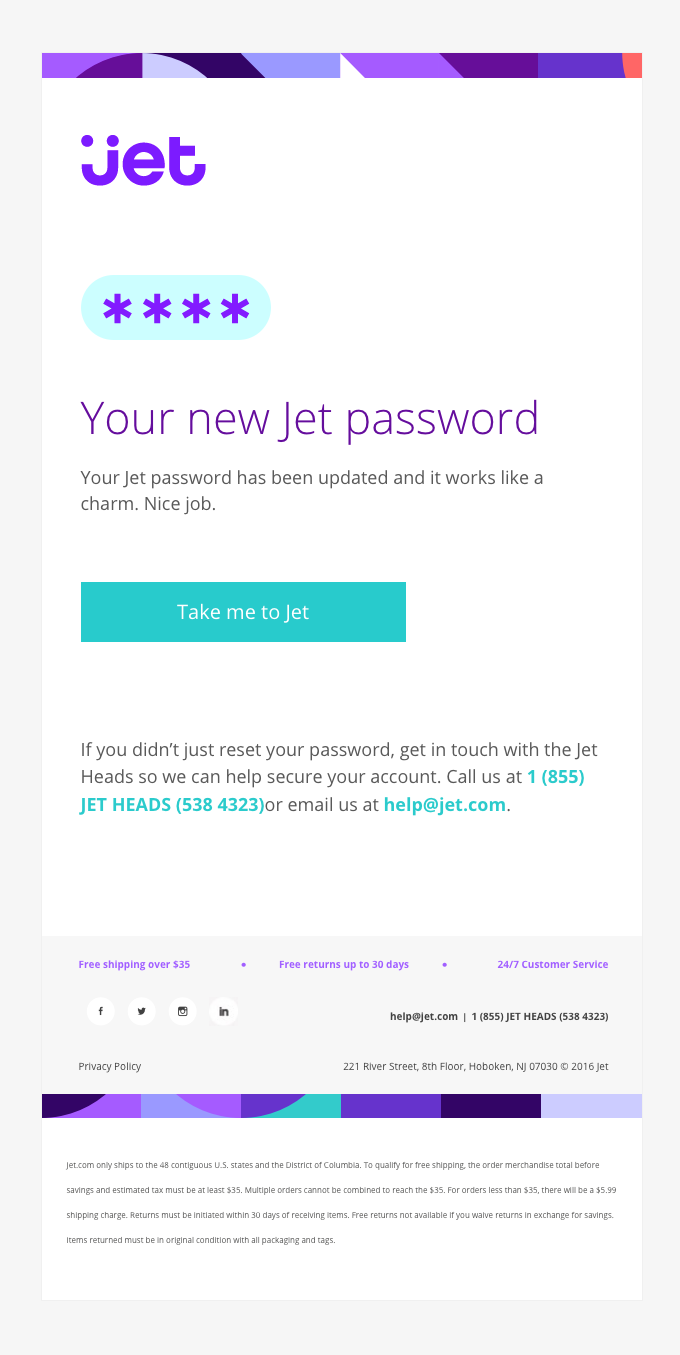 There's also a security aspect to sending a second password reset email. A person accidentally entering your email during a reset password is one thing, but it'd be a bigger problem if a stranger accessed your account and changed details. The graphics changed slightly between the emails, from a lock to a starred out password. However, the best elements, such as clear headers and CTA buttons, remained the same.
Jakprints
Resetting your password can be frustrating, and Jakprints takes the opportunity to be as service-forward as possible. Their password reset email below highlights their customer support outlets and happiness guarantee.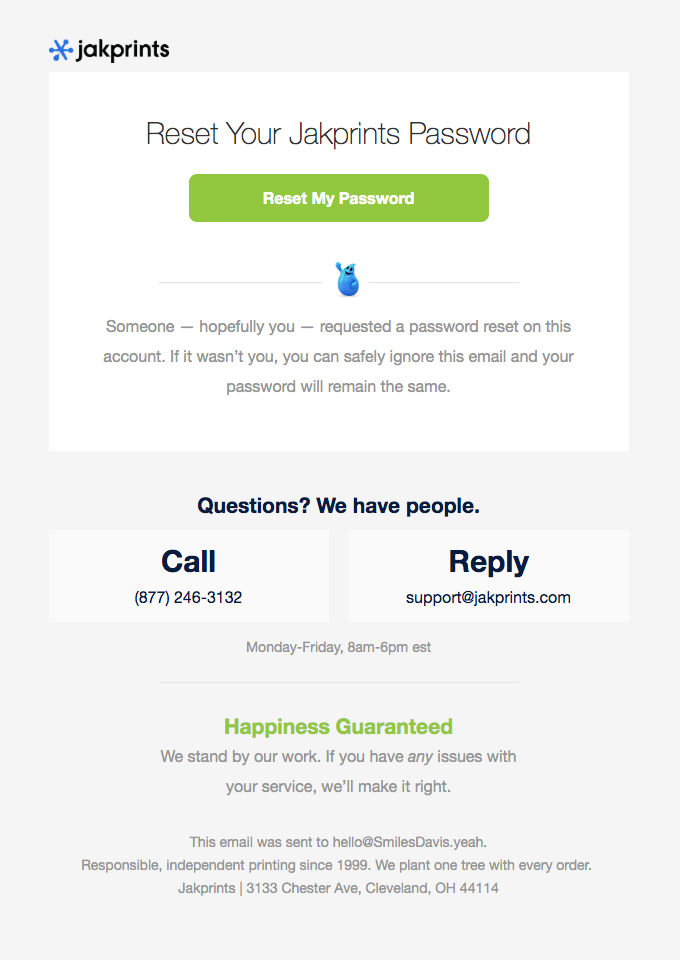 If somebody wanted to reset their password quickly, the essential information and bright green button are at the top of the email. The language they use in the copy lets the recipient know their account is still safe and secure. However, if there's a more significant problem at hand, a user can scroll down to see the customer support phone number and email. If you're looking to use this method in your own emails, just make sure that you're setting expectations about when support is available, like Jakprints does here.
Lingo
Fun and bold likely aren't the first words that come to mind when you think of password reset emails, but it's the route Lingo has taken. Sunny yellow outlines their password reset email, drawing attention to the contrasting red CTA button.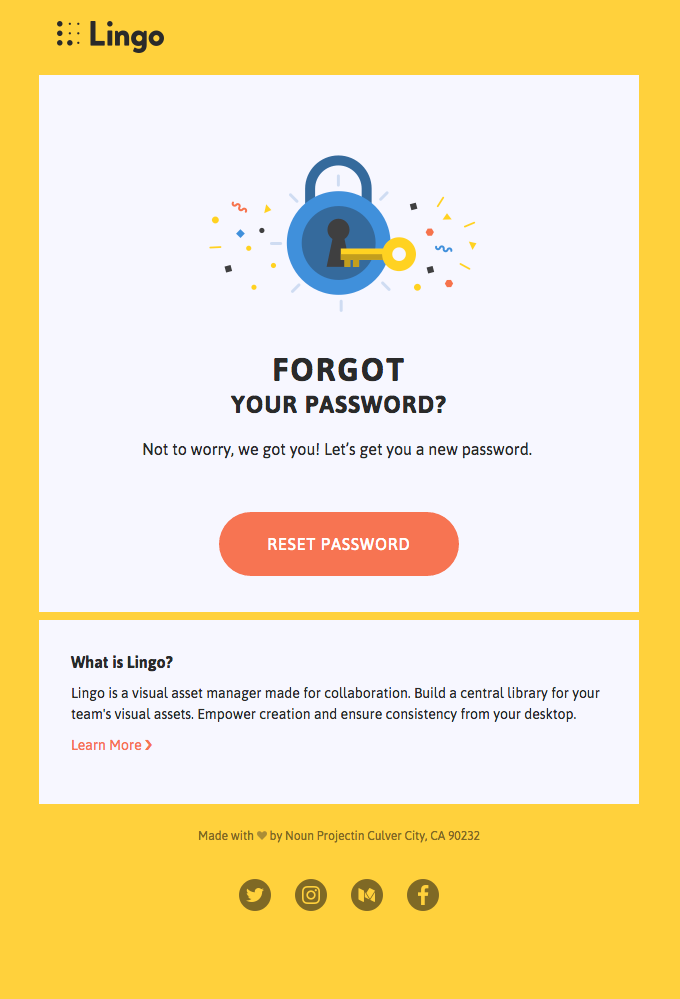 They've also included an illustration to add some brand personality to what would be a plain, text-only email. Finally, Lingo opted for short and sweet copy, telling users, "not to worry, we got you!"
Square
Sometimes, the password reset process includes an authentication code. Square kept the focus on the code in their email below. A light grey box surrounds the contents of the email, and the all-important code jumps out in lime green.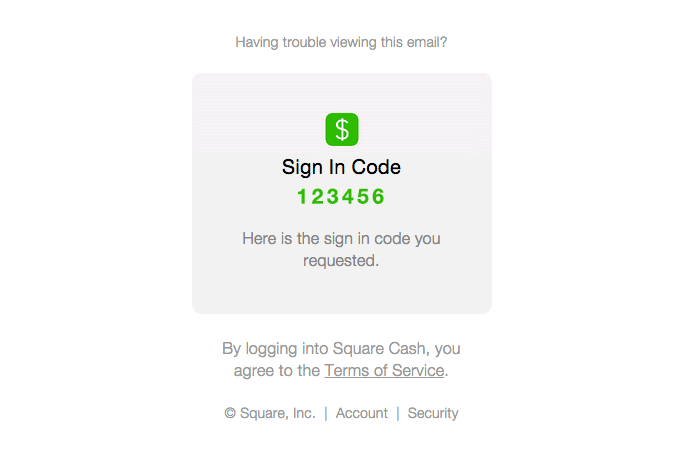 The sign-in code numbers could stand to be a little larger, though. It also may be helpful to include a link to jump back into the app or site where the user needs to enter the code.
Password Reset Email Best Practices
No, password reset emails aren't as exciting or revenue-driving as other transactional emails. However, they're an opportunity to provide a seamless experience in the middle of a frustrating moment. Here's what you can learn from the examples we reviewed:
Make sure your subject line is clear, not clever. "Reset your password" or "[company] password reset" is perfect. 

Keep designs simple with the main focus on a big and bold "reset password" CTA button.

Switch up the standard copy to match your brand personality.

Test your emails regularly

to ensure they render well and don't get caught in the spam folder.

Keep security in mind. Customers can ignore accidental password reset requests, but let them know when a password change has occurred.

Think about how the email fits into the reset process. Do users need to go back and forth between email and site? Once they reset their password, do you automatically log them back in?
Want to learn more about creating beautiful emails this year? Check out 10 Email Design Trends Hitting Your Inbox in 2020.