Want better ROI from your email marketing? Email offers the highest returns for marketers year after year, coming in at 42:1 on average—up from 38:1 last year—and continues to blow away the returns seen with traditional media channels like TV, radio, and direct mail, according to Litmus' 2019 State of Email survey.
For every $1 spent on email marketing, marketing teams see a $42 return.
But our research also shows that email marketing returns aren't equal for everyone. For example, ROI fluctuates based on industry. The travel, tourism, and hospitality industry reported substantially higher ROI (53:1) than software and technology companies (40:1).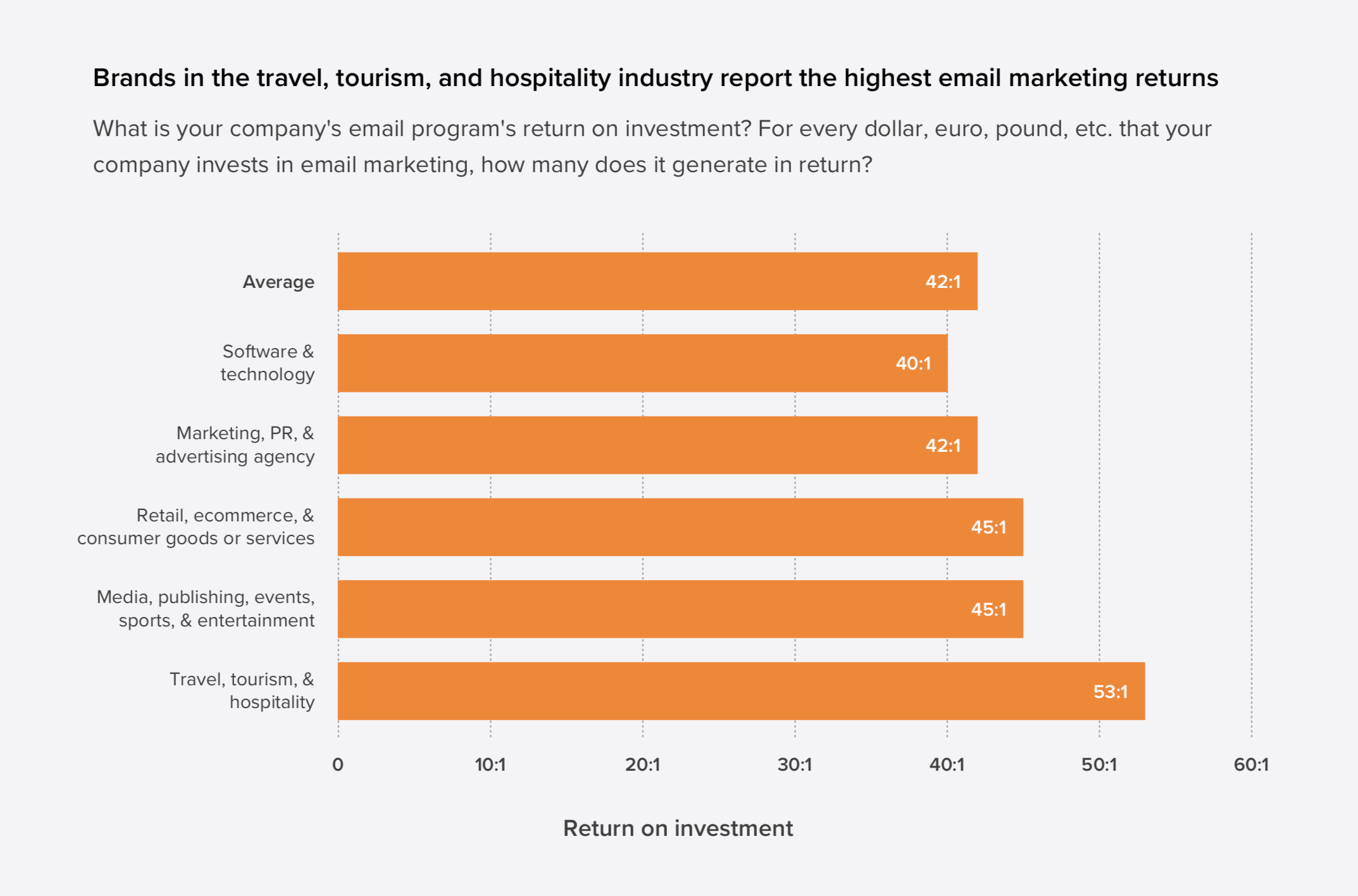 All marketing teams want to get the highest returns they can. As a leader in your marketing organization, it's your job to empower your team and help iterate and improve on your email marketing programs—and ultimately point your email marketing team towards the right path to maximize returns.
The factors, tools, and tactics that lead to higher email marketing ROI
In our CMO's Guide to Email Marketing ROI, we analyze email programs and ROI figures from hundreds of brands to examine which factors correlate with high email marketing returns—and which don't—and provide actionable advice on how you can help your team see measurable ROI improvements, faster.
Key findings include:
Strong anti-spam laws don't diminish email ROI for legit senders.

Brands in the European Union show very similar ROIs to US brands—even though local anti-spam laws are much tighter.

A/B testing drives high ROIs

. Brands that always include an A/B test in their emails generate an ROI of 48:1.

Permission matters.

Brands that rely on double opt-in see an ROI that's 13% higher

than that of brands that primarily use single opt-in.
Read more about these findings and learn how other factors, including email team size, the use of dynamic content, and the utilization of testing and analytics tools impact email marketing ROI. Then, use the insights to implement the tactics and tools that increase returns and help your team get a higher return on your email marketing investments.