As another year wraps up, email is still reminding us that nothing in this industry is boring, despite what some naysayers would like to have us think! We took a look at the most popular email clients for 2015.
We tracked nearly 1 billion emails every month throughout 2015, measuring where and how your messages are opened around the world. While some things remained the same—the top three email clients in January were still the top three in November—there was some drama along the way.
iPhone, Gmail, and iPad remained the top 3 email clients all year
Android started off at #6 but rose to #4
Outlook dropped from #4 to #5
Mobile, webmail, and desktop trends
In the second half of 2015, opens made on mobile devices surged, going from 49% in June to 54% in November—a 10% increase. This matches trends we've seen in prior years where consumers are more likely to rely on portable devices going into the holiday season.
Webmail and desktop opens have also steadily declined throughout 2015, each dropping 13% since January.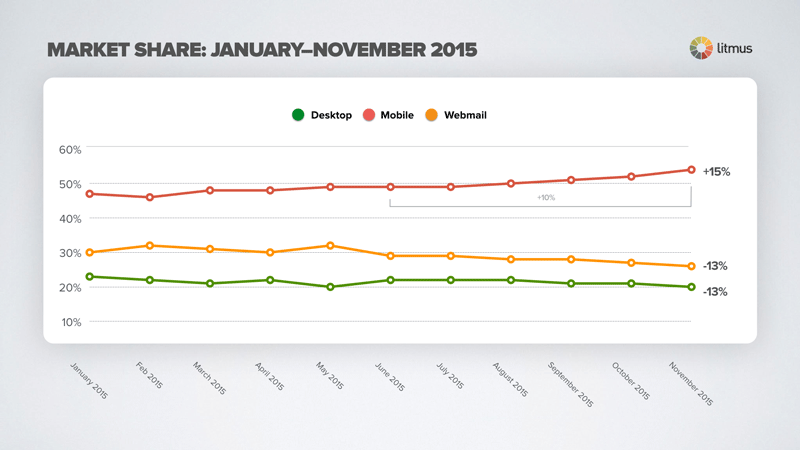 Top ten: January vs. November
Comparing the top ten from January to November's top ten, we'll see the biggest changes in iPhone, Gmail, Android and Outlook: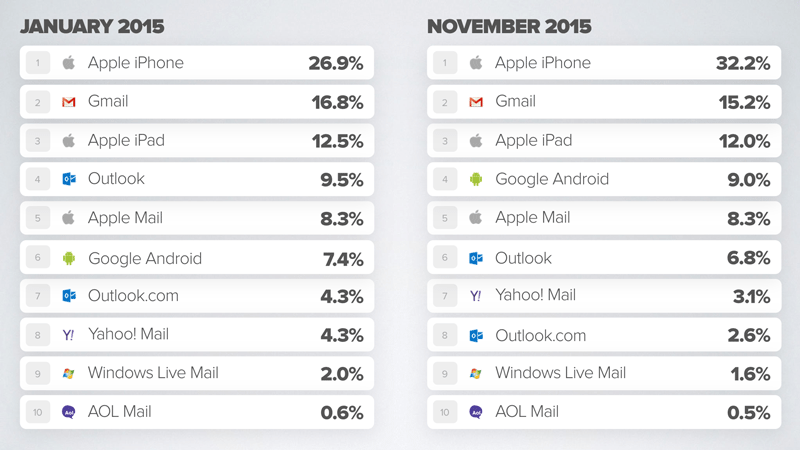 iPhone continues to be popular, growing nearly 20% over the course of the year, whereas Gmail took a bit of a dive, dropping 9%. Remember, ever since Gmail began caching images in 2013, you can't tell the difference between web-based and mobile opens on the Gmail app. That's why it's all the more surprising to see Gmail opens take such a hit.
While we can't break down those Gmail opens to see if the fall is coming from web or mobile, another data point to note is the massive increase in Android opens over the year—a total rise of 31% in 2015.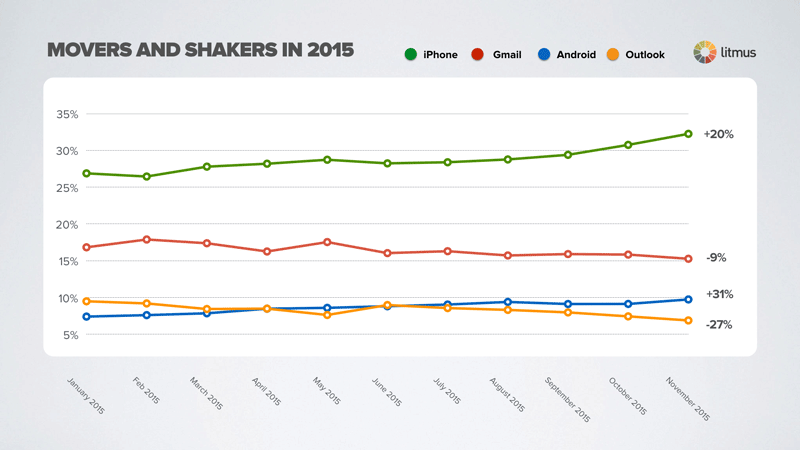 Gmail users may be frustrated with mobile experience
The fall in Gmail opens and subsequent rise of iPhone and Android opens may suggest users of the Gmail app are switching back to the native email apps on these phones. The Gmail app for iOS and Android each have notoriously poor support for responsive design, which can lead to a frustrating experience for users.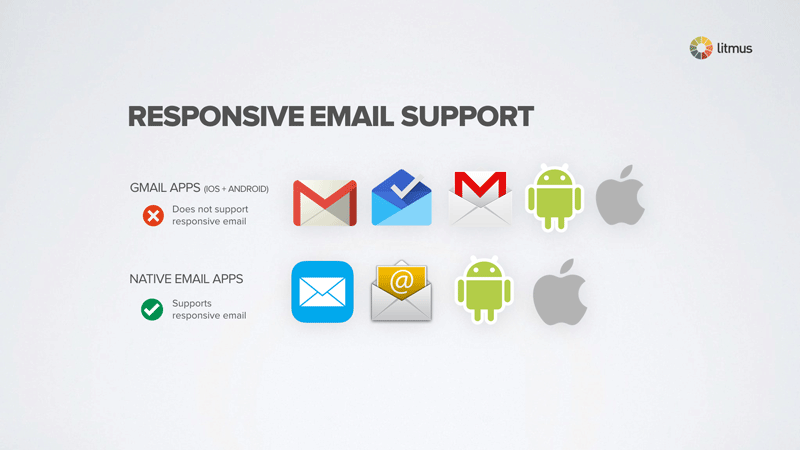 Gmail users may just prefer a better email reading experience. Android users also steadily adopted newer versions of the platform over the year. Version 5.x (Lollipop) grew in popularity while variations on Android 4.x (such as Ice Cream Sandwich and KitKat) declined.
Outlook gradually falls from grace
Outlook for the desktop has shown signs of decline since early in 2015, and opens are down 27% overall this year.
While the popularity of Outlook overall is on the decline, older versions of the desktop client—which also happen to have better HTML and CSS support—are being phased out in favor of newer versions. Outlook 2016 for Windows was released in September and has already seen some adoption, picking up almost 3% of Outlook opens. Outlook 2013 also saw a 56% gain over the year, whereas Outlook 2003 dropped 37%.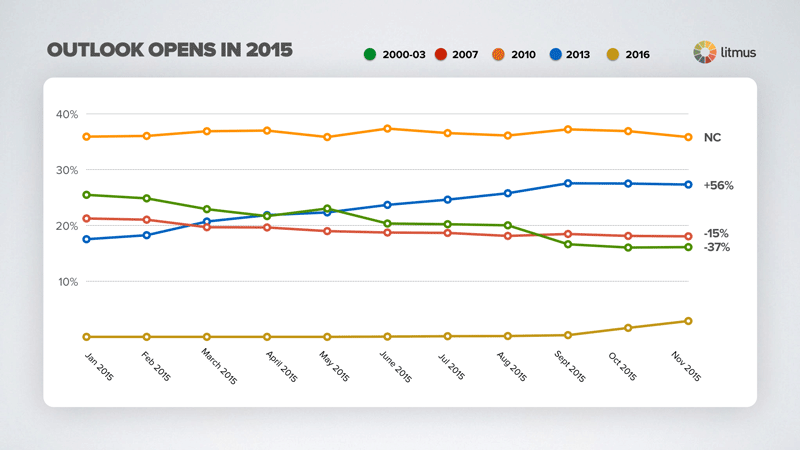 Poor support for HTML and CSS in Outlook and Gmail have made these clients a frequent pain point for email designers and developers. Despite some promising signs early in 2015 that change might be coming, the email community remains pessimistic about standards for email, with 61% saying they didn't think we'd ever have a set of accepted standards across the industry.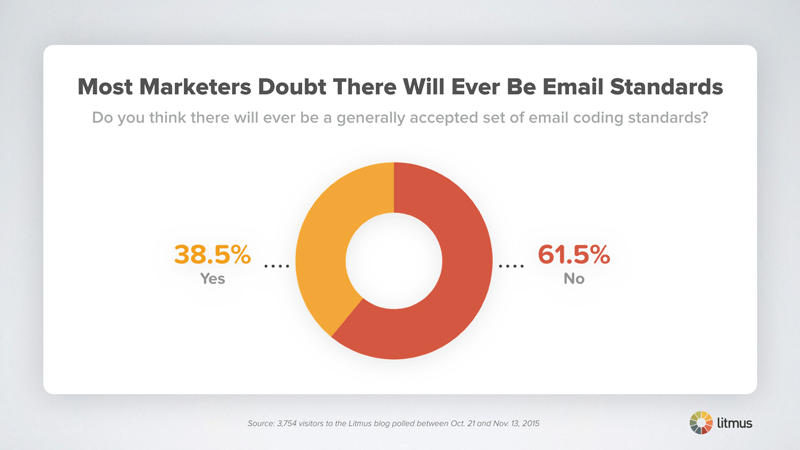 Despite those challenges, 2015 saw some incredible innovations from the email community, pushing the boundaries of what we thought might ever be possible with email.
Check Out Our Other Top 10 Lists for 2015
Where do your subscribers open?

When it comes to email marketing, it's all about your audience. Use Litmus Email Analytics to discover which email clients are most popular with your subscribers. Sign up free!