Yesterday, Apple released iOS 14. And, today it's available for testing in Litmus.
While on the surface, it doesn't look like there's much for email marketers to be aware of,  we did some digging and unearthed 3 key things we think you need to know.
Adoption rates are fast
Unlike Android, adoption rates for new iOS versions are incredibly fast. When iOS 13 was released, 50% of all Apple users were already using it within 2 months. We anticipate the same thing for iOS 14, too.
Last month, Apple iPhone had the highest email client market share, taking over the top spot from Gmail, with 35% of the market. Combine that with the fact that new iOS adoption rates are lightning quick, you can bet that within a couple of months most of those Apple iPhone opens will be on iOS 14.
If you have a large iPhone audience, that means you need to react to any rendering changes in this new iOS—and you need to do it quickly. A poor subscriber experience means loss of revenue and brand trust.
New margins on Dark Mode in iOS 14
While squinting at our previews and comparing with Dark Mode previews on iOS 14 we noticed something new—Dark Mode on iOS 14 has added margins to the left and right of the screen. What does this do? It's changed the zoom level of the email ever so slightly so you see slightly more of the email.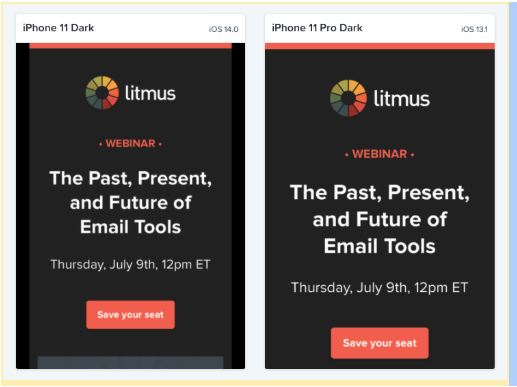 While this may not seem like a big deal, it's just another reason why email marketers need to make sure their emails aren't just mobile responsive, but fluid, too. By using a fluid design, you won't have to make changes to all of your email templates when email clients make changes like this.
Don't think Dark Mode is important to your audience? Spoiler alert: We've observed a higher proportion of our audience using Dark Mode on an iPhone vs. Apple Mail in our recent tests of a new update to Email Analytics coming soon!
New Dark Mode margins = Different background color
The eagle-eyed among you may have also noticed that in the screenshot of iOS 14 above, not only does it add margins to your email, but the background in those margins is a different color to the background color of our email.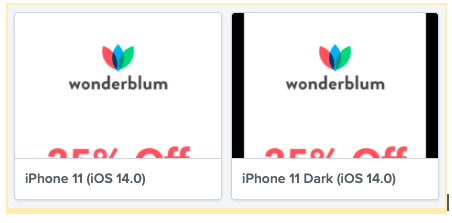 Keep this in mind when previewing your emails in Dark Mode on iOS 14—it's not your email code introducing these margins but the email client itself! Make sure this works with your design, not against it.
More iOS 14 tips and tricks coming soon
We're knee-deep in iOS 14 and everything email marketers need to know. Keep your eye out for more in-depth details coming soon!
Start testing your emails in iOS 14 today
Litmus Email Previews for iOS 14 on the iPhone 11 in Dark and Light More are available in your Litmus account, so you can start testing right away. Not a Litmus customer yet? Get started with Litmus today.