In our "Trending in Email Design" series, we look at the hottest digital design trends and dive into how they translate into email marketing. In this edition, we'll explore some really cool 3D techniques that make your images pop.
---
The perpetual challenge of setting your emails apart from other brands in the inbox is one that never goes away. Engaging the recipient as soon as they open is paramount. If something doesn't hold their attention, they're gone!
Getting creative with visual content is a great way to draw people into your campaign. You can trigger emotion, generate intrigue, and create dynamic experiences that make your product or service jump from the screen, demanding attention.
Recently, we've seen an increase in brands using 3D techniques such as photorealism, 3D and isometric illustration, and clever shadow applications that simply can't be ignored.
As well as 3D features within popular design programs, such as Adobe Photoshop and Illustrator, designers are starting to leverage more complex 3D tools. Open source software Blender and Adobe Creative Suite's Dimension are two examples that bring realism and an overall feeling of depth to their compositions.
Let's take a look at how brands are bringing new perspectives to email design.
Apple
It's hard to talk about 3D without highlighting one of the masters of this technique. Apple has made their products leap from web pages and marketing collateral for some time, giving their content a tangible appeal that offers a glimpse into life as an owner of one of their tantalizing gizmos.
Making one of their smallest products dominate the hero area, followed by a journey of image-led product features, gives this promotional email a seamless and informative experience that is quick to digest and easy to take action from.

Adobe
As the creators of Dimension, it's no surprise that Adobe is bringing 3D to their emails. The ready-to-use 3D models and materials found within Dimension make quick work of impactful imagery.
These emails promoting Creative Suite are beautiful examples of how abstract 3D imagery can generate intrigue, beckoning you to explore and interpret them.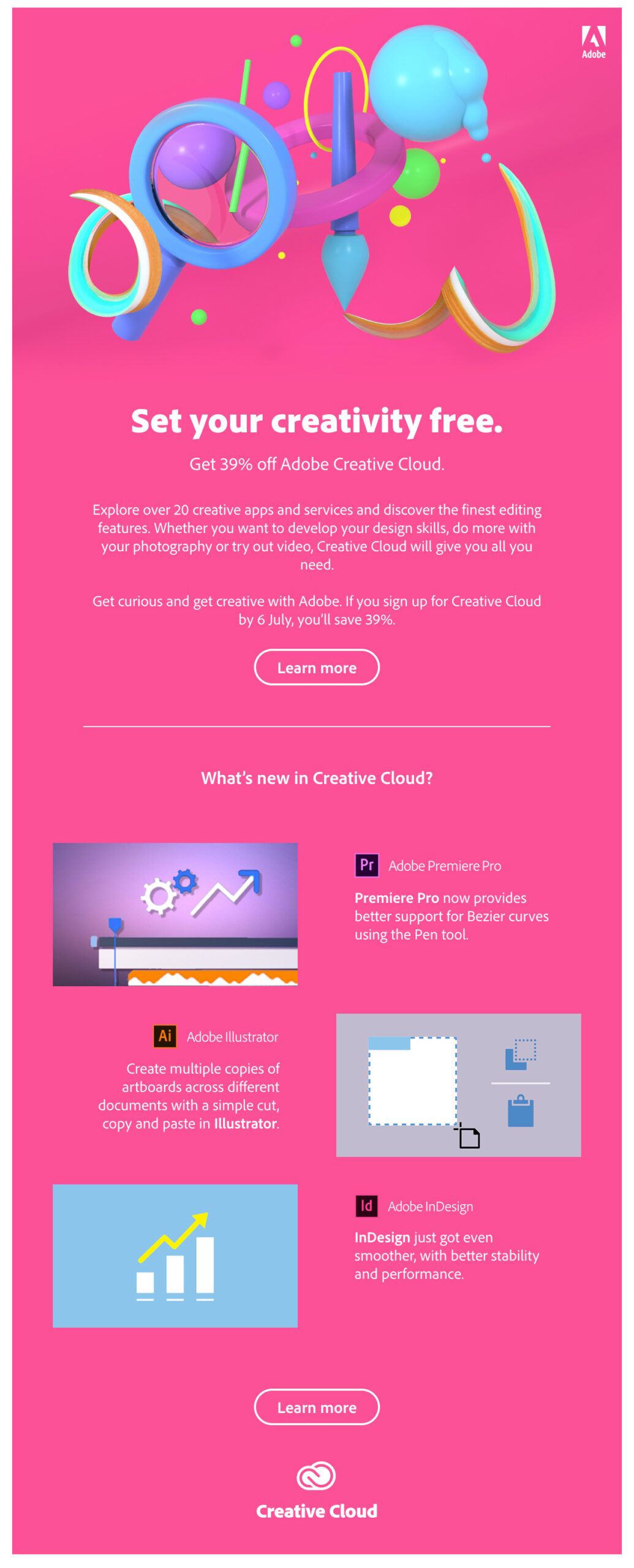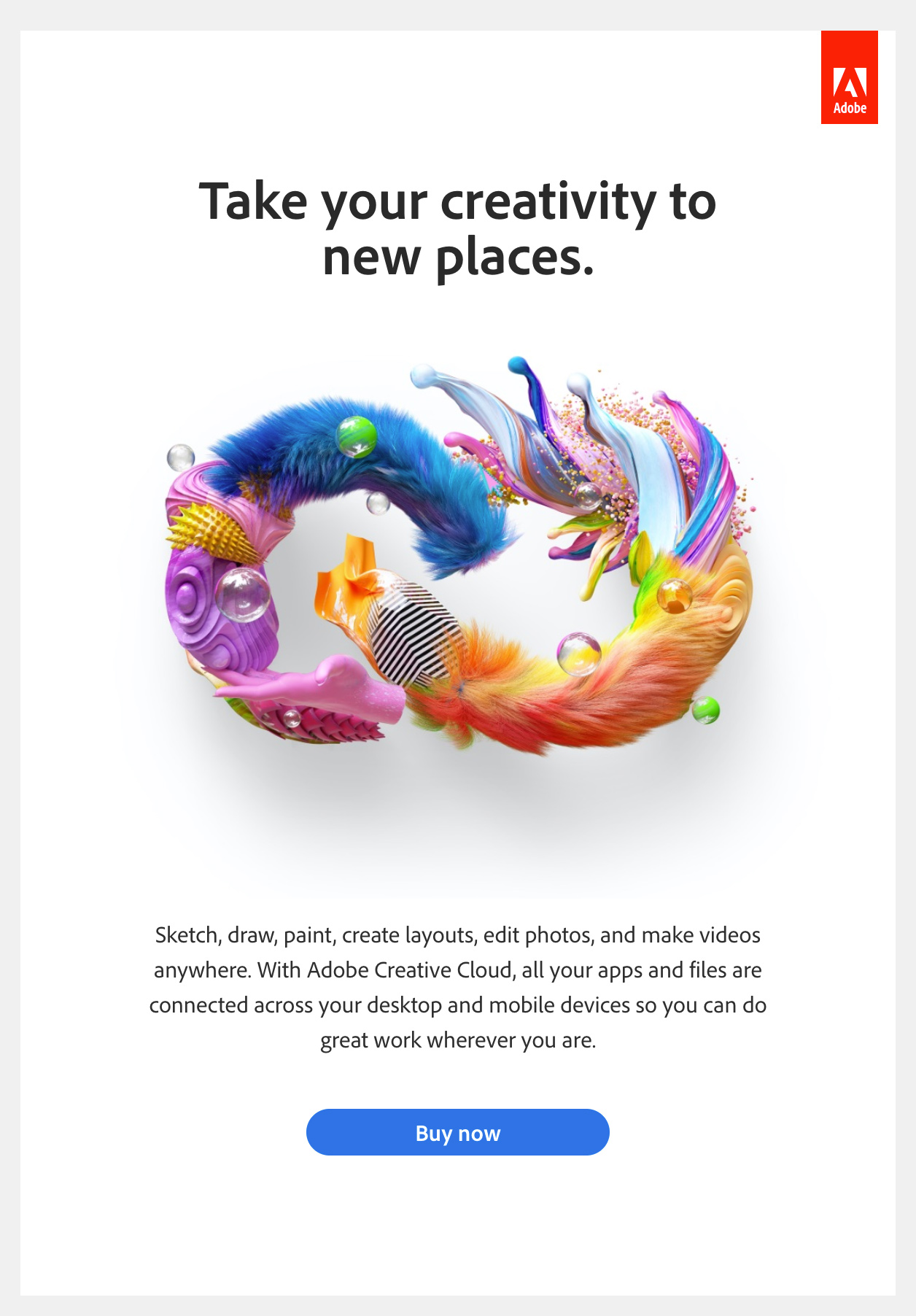 Thumbtack
Small business directory Thumbtack shows their crafty side with paper sculpture styled 3D imagery. This unique and colorful approach gives an instant focal point that deserves to be studied.

Designmodo
A brand that is no stranger to impactful design trends and how to apply them to email is Designmodo. With mindful use of highlights and shadows, they bring 3D elements to the hero illustration of this product launch email.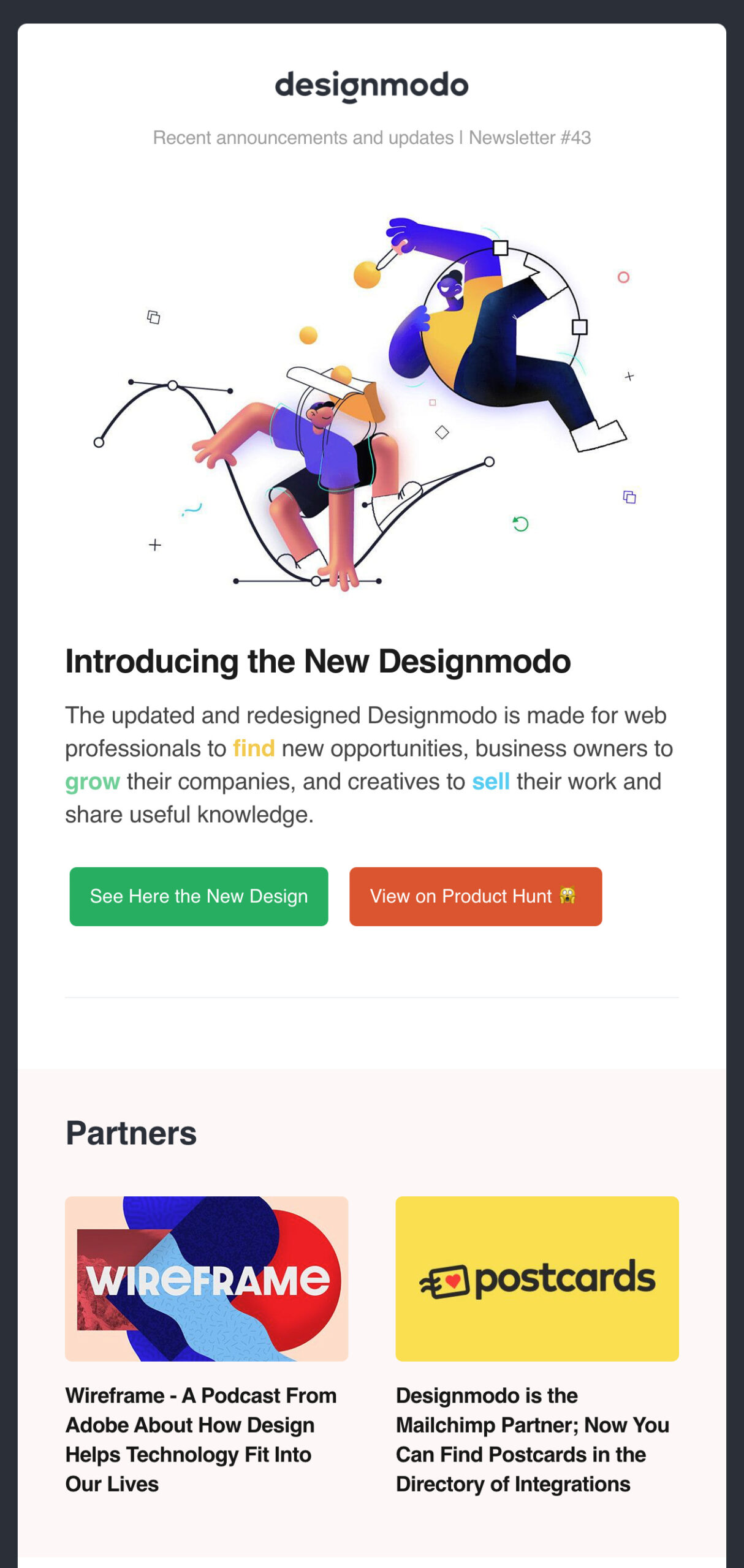 Uplers Email
Another dynamic image trend proving popular in the quest for engaging imagery is isometric illustration. This technique uses a grid made up of equal 30-degree angles and can be achieved in most design software, the reason for its popularity is the combination of a 3D aesthetic with the simplicity of flat design.
This example from Uplers Email uses isometric design to create a journey through the process of getting your email template coded by their team. The off-grid graphic elements and use of bold color help lead you down the email to the all important call-to-action.

Detour
Coffee roasters Detour achieve a 3D effect in this welcome email with isolated product photography that has been shot in well considered angles. They then apply shadows that help lift the imagery. The off-grid placement also contributes to the illusion of the product popping out of its 2D surroundings.

MailNinja
Marketing agency and Mailchimp expert MailNinja shows that you don't need to wrap your head around 3D software to add more depth to your imagery. Clever use of shadows and layers can give the illusion of 3D, lifting elements off of the screen and drawing the eye.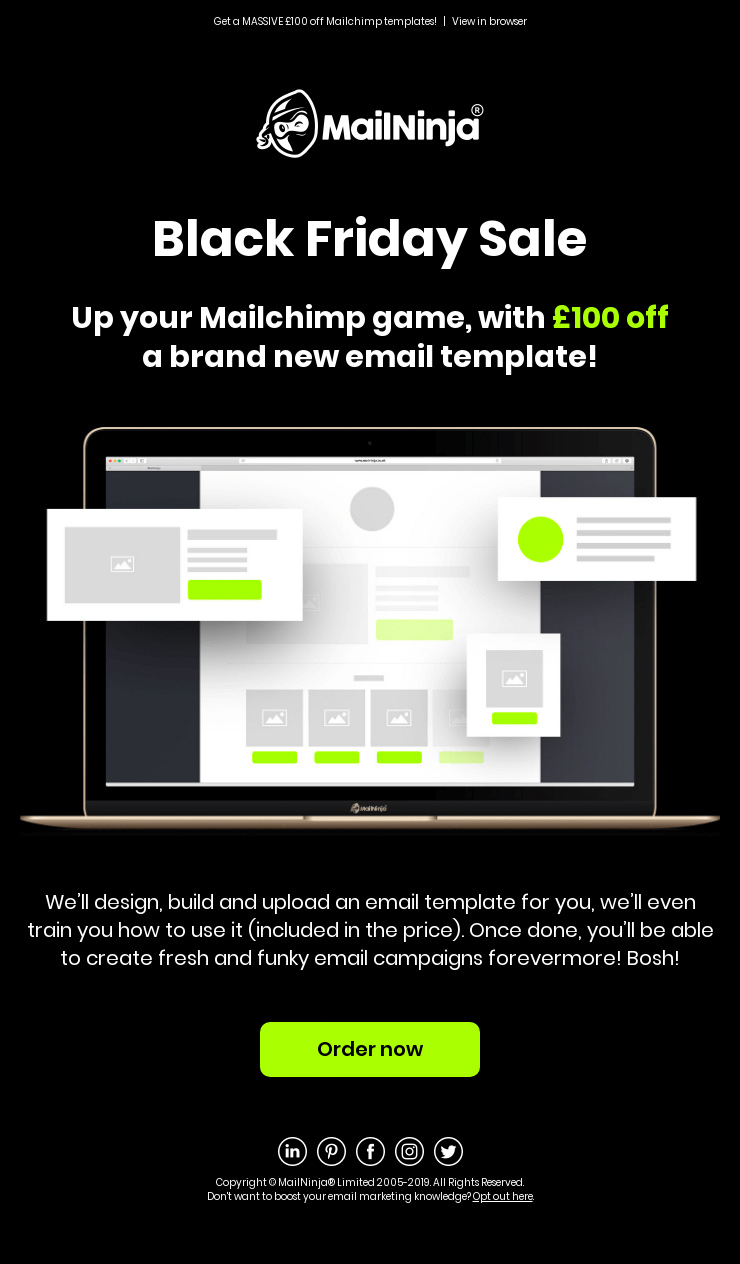 What other brands make great use of 3D imagery in email?
Do you have more great examples of 3D imagery in your inbox? We'd love to see them. Just let us know in the comments below.