Each year, we see new design trends shaping digital marketing—from the use of color and imagery to typography trends, interactivity, and more. In our "Trending in Email Design" series, we look at the hottest digital design trends—and dive into how they translate into email marketing.
Custom made illustrations: The digital design trend of the year
So far in 2019, we have seen a number of design trends hit our inboxes, and none more so than custom made illustrations. Voted the design trend of the year by Behance, custom made illustrations are dominating all areas of marketing design—from print design to digital branding and packaging design.
In 2018, a survey by Venngage showed that the use of visual content across marketing channels was on the rise, with custom graphics—such as infographics and illustrations—outperforming other formats and driving the highest engagement: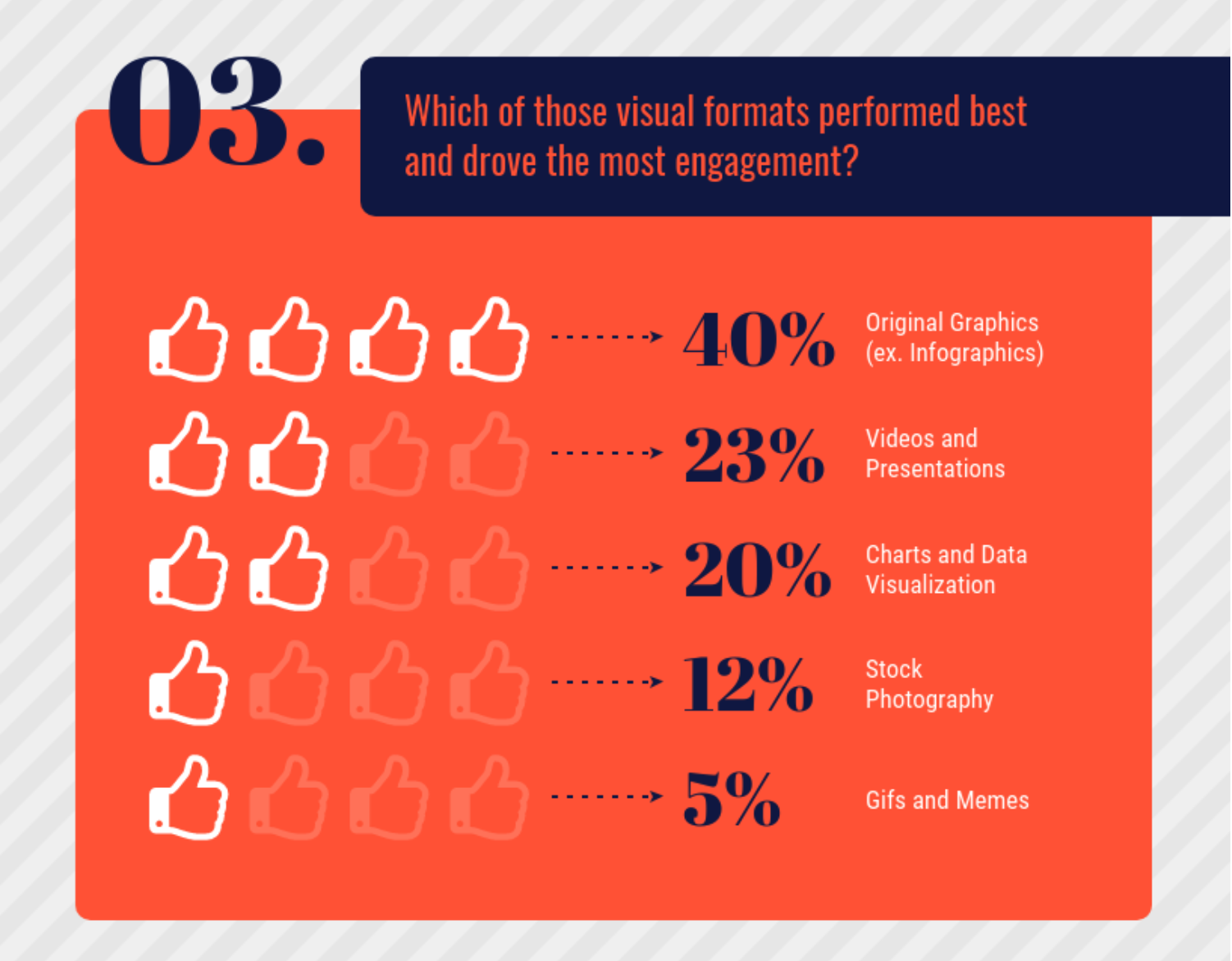 Why are custom illustrations a trend?
Customers are seeking authenticity in their relationships with brands, and custom illustrations can catch your audience's attention by showing a more playful, human side, bringing your brand's unique personality to life.
Eye tracking studies suggest that readers can spend a considerable amount of time looking at images when they are relevant, whereas generic imagery can be completely ignored. A reliance on stock imagery can run the risk of a competing company using the same images as you, which could negatively impact trust in your product or service—and harm the unique quality of your brand.
Custom illustrations in email marketing
As a channel designed to build relationships and personal connections with your audience, it's no surprise that email marketers are utilizing the power of custom illustrations to enhance their messaging.
Here are a few brands that use custom illustrations in their email campaigns:
Bulb
Since 2015 UK energy supplier Bulb has offered a renewable energy solution which aims to help its members reduce their bills and carbon impact. Bulb's bold brand identity was developed by agency Ragged Edge, who created a brand that would talk directly to millennials. Since they were born into a digital world, the attention of a young target audience is not easy to grab, but Bulb's cohesive and quirky illustrative style has resonated with its customers.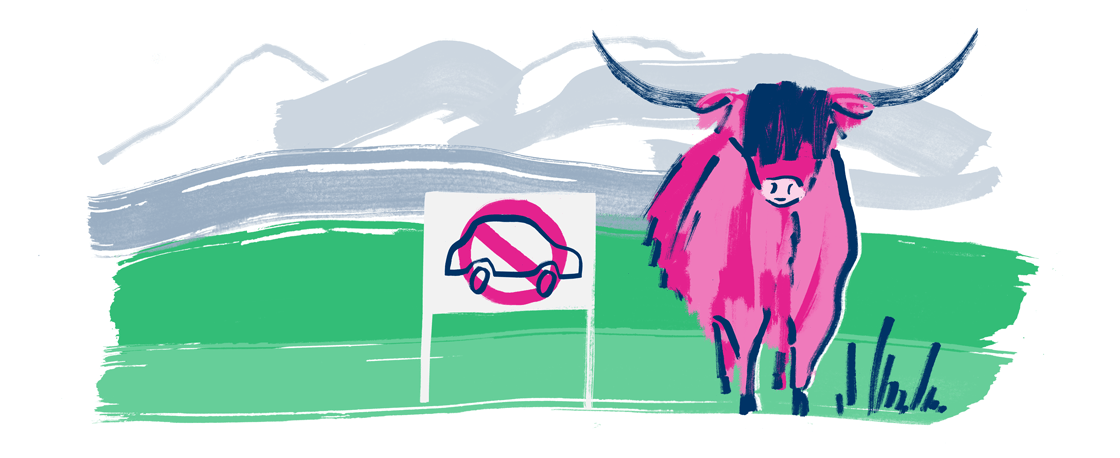 To create their unique imagery, Bulb employed an in-house illustrator to capture the spirit of their brand. Aurelia Lange creates each image with pen and ink, digitizing and editing within Photoshop. Each Bulb email includes an illustrated and animated hero image which often supports key messaging. As a Bulb customer (aka a Bulberino), I always look forward to receiving the next email to see how they brought their content to life.
Bulberinos have proven to be big fans of the illustrations—they often share them on social media—especially imagery found in Bulb's annual Green Impact Report. This highly personalized email shows how you, the customer, have made a positive impact via renewable energy. By combining statistics with the characteristic illustrations, Bulb has created a highly engaging email that celebrates its customers and the difference they have made. Let's face it, who doesn't want to be a climate change hero!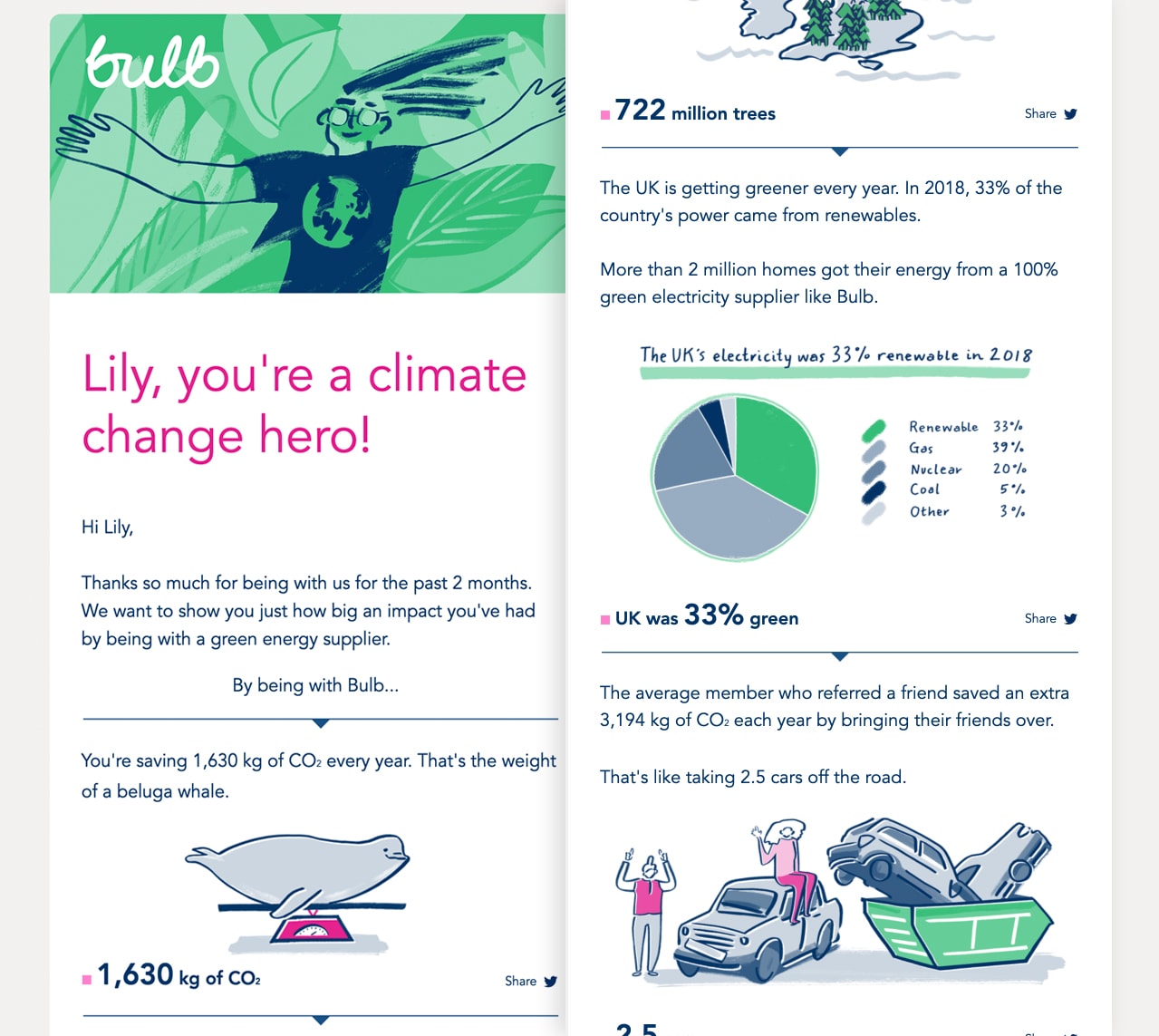 You can see more examples of Bulb's illustrative work on Dribbble.
Mailchimp
In 2017, Mailchimp launched a new brand identity and design system—and with it came a more playful approach to imagery. Already known for their use of illustration, Mailchimp decided to adopt a fluid and somewhat abstract style with which they hope to inspire their customers to be bold and creative with their own brands.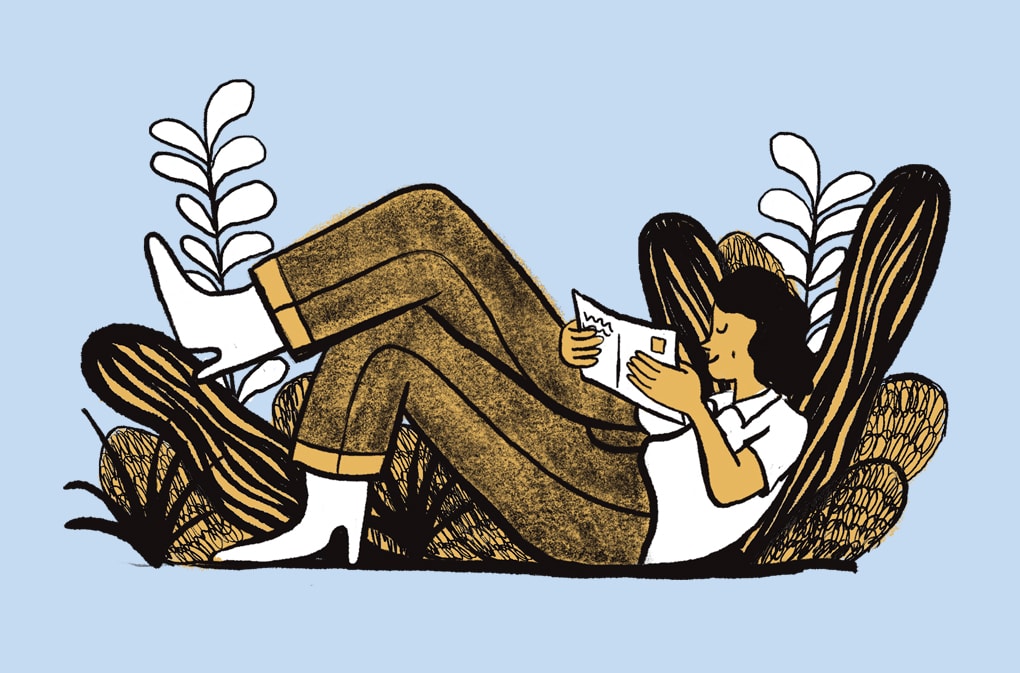 Simple pictures for complex things: Our new illustration style allows us to communicate about complex tools and marketing practices in a simpler and more human way.
To create their new identity, they worked with a number of different illustrators around the world—as well as their internal design team—to create a framework of expressive elements to use in conjunction with structural elements such as their logo, color palette, and typography, which keep everything consistent and grounded.
And, as email experts, it's no surprise that their playful illustrations translate beautifully into their email designs: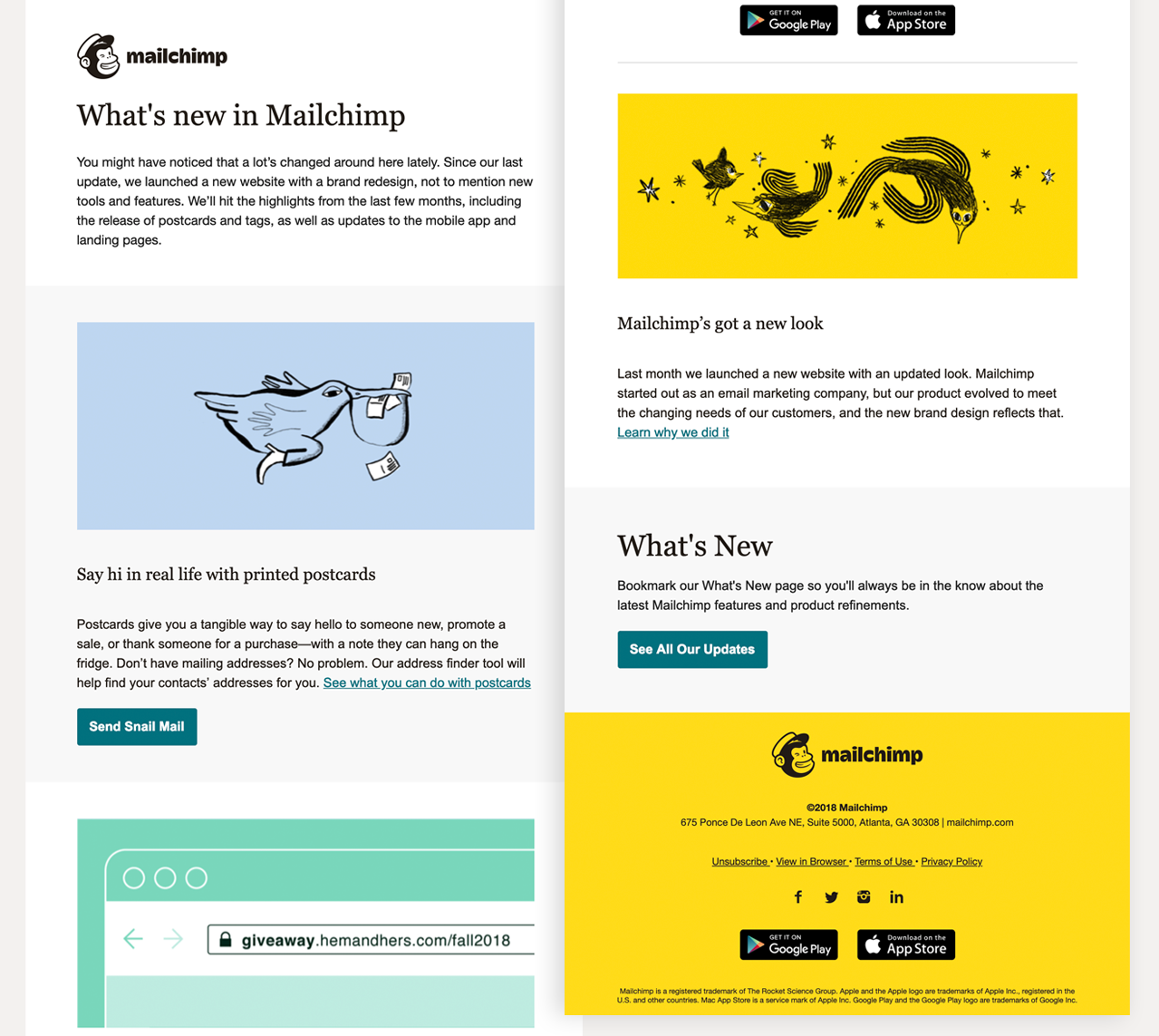 You can see more examples of Mailchimp's illustrative work on Dribbble.
But… there's more!
Allbirds is combining hand-drawn illustrations with photography, making the imagery in their emails truly special:

With the recent revamp of their brand, Help Scout is relying heavily on custom illustrations to give their communications a human, playful touch: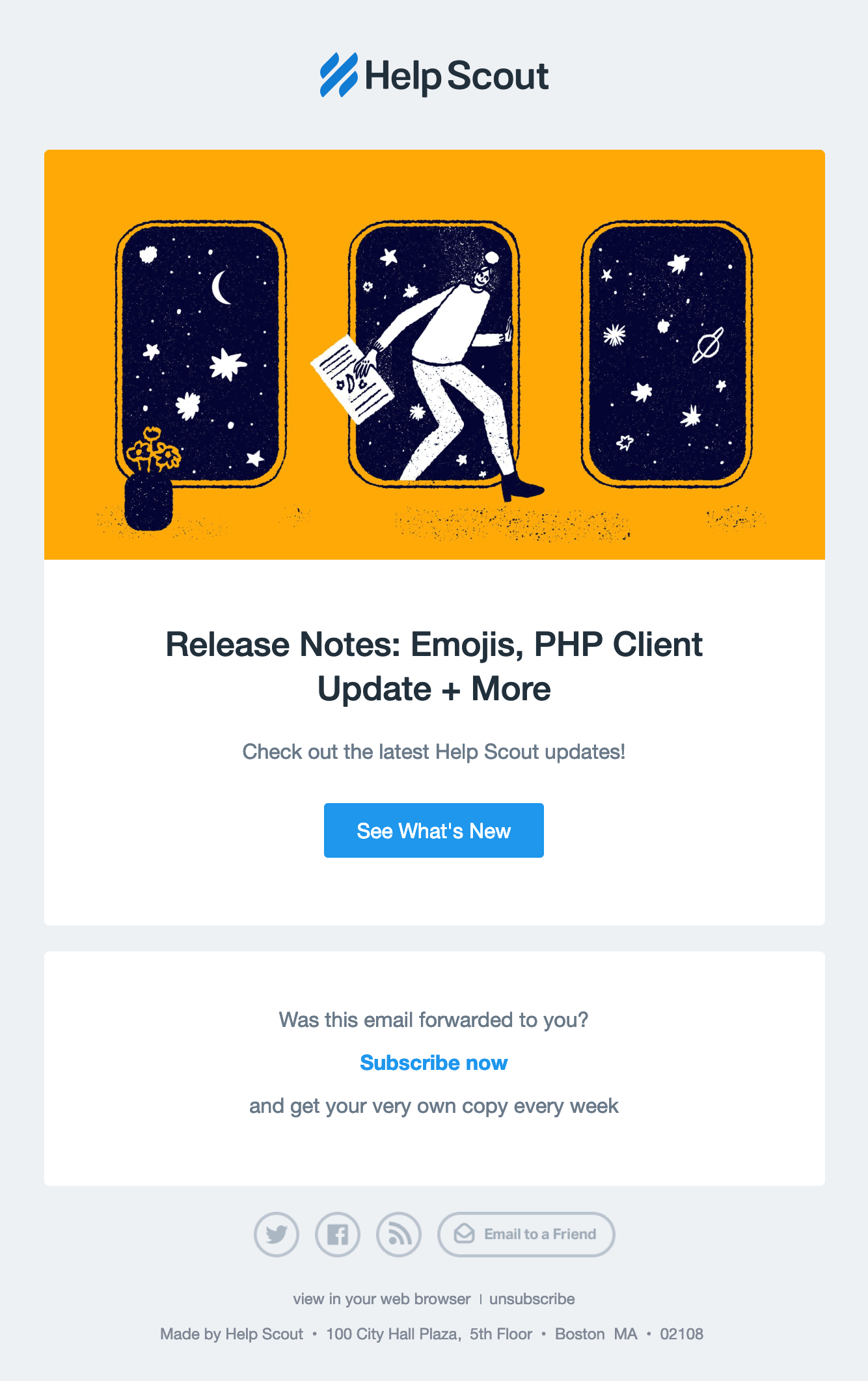 The beautiful illustration in the header of Airbnb's Superhost email caught our eye as well:

We also love this email from Asana, using an animated illustration to catch their subscribers' attention: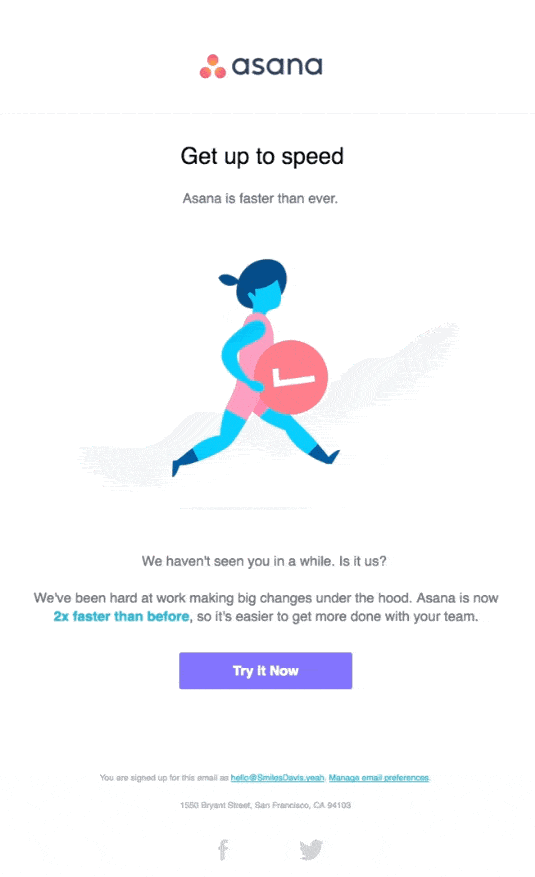 What other brands make great use of custom illustrations in email?
Do you have more great examples of custom illustrations in your inbox? We'd love to see them. Just let us know in the comments below.