It used to be that inbox providers like Gmail or Yahoo! Mail would simply send and receive emails. They have since taken on a much bigger role in managing emails, from organizing and prioritizing to helping consumers declutter their inboxes.
The latest wave of functionality has focused on helping consumers unsubscribe from unwanted emails. Leveraging list-unsubscribe functionality, Google, Apple, and other inbox providers have added native unsubscribe links to supplement those provided by senders.
Why? There are two major reasons:
First, senders are making it more difficult for their subscribers to unsubscribe. They're burying unsubscribe links in large blocks of text, using "here" as the call-to-action for their opt-out links, and other tactics to hide unsubscribe paths.
And second, consumers' inboxes are simply becoming too cluttered. About 67% of people unsubscribe because they receive too many emails, and 66% do so because they're no longer interested in the brand's content, according to joint research from Litmus and Fluent.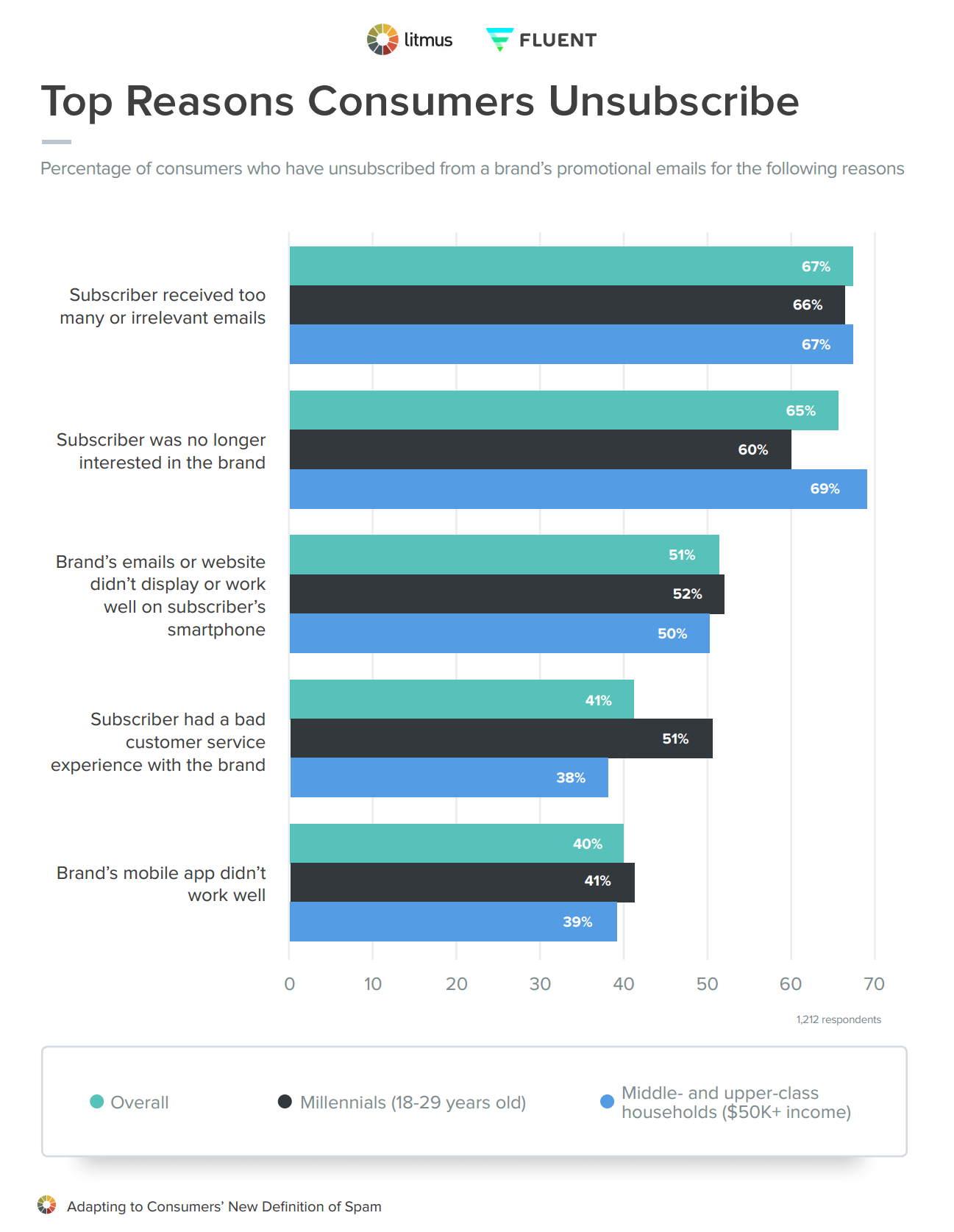 Consumers have made it clear that they want easy ways to unsubscribe from unwanted emails. Rather than rely on senders to improve the unsubscribe process, inbox providers are offering their own solutions.
Unsubscribe Suggestions in Inbox by Gmail and Yahoo! Mail
First spotted by Android Police in December 2017, Inbox by Gmail appears to be rolling out a feature to help users to keep their inboxes clean by providing unsubscribe suggestions. The new feature comes in the shape of an "Inbox Tip" card that appears at the top of the inbox. It provides users with the option to unsubscribe from emails they haven't opened recently.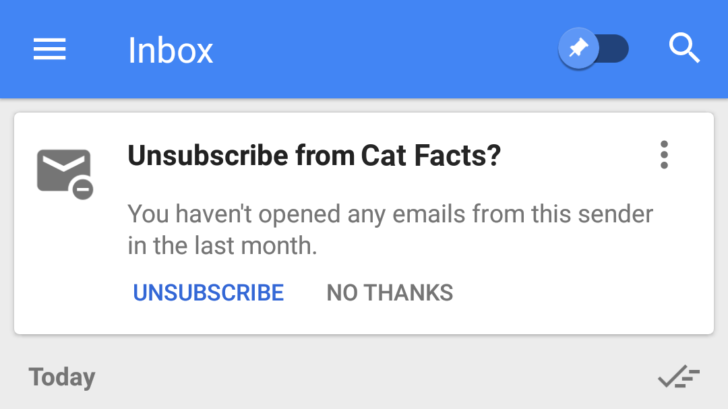 That's right. People don't even have to open emails to unsubscribe. The feature appears to only apply to promotional emails, according to Android Police.
Inbox by Gmail isn't the only inbox provider exploring unsubscribe suggestions. Yahoo! Mail is experimenting with something similar. Users on a deleting spree could trigger a pop-up that recommends mailing lists to unsubscribe from.

Rather than suggesting brands based on inactivity, Yahoo! Mail provides unsubscribe suggestions based on user action—in this case, deleting emails in bulk. Plus, in addition to unsubscribing, Yahoo! Mail gives consumers the option to auto-archive emails instead. The auto-archive option offered by Yahoo! Mail feels like a softer approach than the unsubscribe suggestions provided by Inbox by Gmail.
Discover your audience

Get to know your audience and get visibility into the preferences and behaviors of your list with subscriber-level insights from Litmus Email Analytics.
Even if your email subscriber usage of Inbox by Gmail or Yahoo! Mail is low, you can't ignore this. If unsubscribe suggestions turn out to be a popular feature, it's likely that we'll see more inbox providers following their lead.
This is a great thing for the email industry…
Do all of these things apply to you?
You send truly valuable campaigns.

Your subscriber base is engaged.

You regularly remove inactive subscribers.
Then unsubscribe suggestions won't have too much of an impact on your email program.
Shook your head? This could be the motivation you need to start following best practices around content, segmentation, and list hygiene.
Some might even embrace unsubscribe suggestions as part of their email marketing strategy, allowing inbox providers to do the work of removing inactive subscribers for them while they reap the benefits of higher engagement rates. Think of mom-and-pop shops and small marketing teams who don't have the time and resources to truly dedicate to email marketing.
And if subscribers are taking the time to act on these unsubscribe suggestions, it's likely that they care about their email—and will be able to pay more attention to the ones that make the cut once they de-clutter their inbox.
…but it limits how you can re-engage inactive subscribers.
For one thing, unsubscribe suggestions are all or nothing. There's no opportunity for the subscriber to change specific preferences. And what if you send on a monthly basis? Do you really only have one shot?
It's unclear if Inbox by Gmail provides unsubscribe suggestions for every email that the consumer hasn't engaged with in four weeks. That approach seems extreme and out of sync with how consumers use email.
One month is too short of a window for most brands to try to re-engage inactive subscribers before the unsubscribe suggestion pops up. There are many variables at play in an email re-engagement strategy: Specific consumer needs, send frequency, length of sales cycle, etc. Unsubscribe suggestions that trigger after 4 weeks of inactivity consider none of it.
Unless you send subscribers a daily email, sending a re-engagement campaign within a month to try to circumvent the unsubscribe suggestion could lead to an odd user experience.
Another consequence could be that brands start sending emails much more frequently before their time is up in the hopes of maintaining engagement.
What can email marketers do to minimize the impact to their email program?
Since unsubscribe suggestions are a very recent addition to inbox providers' toolkits, it's hard to gauge the impact this can have on email programs. Brands will need to closely monitor unsubscribe behaviors as more consumers get exposed to these features.
In the meantime, your best course of action is to keep your subscribers engaged. Here are a few steps you can take:
Set expectations with your subscribers during signup and in your

welcome email

. Give them the opportunity—and a clear link—to update their email preferences at any time.

Continuously A/B test to figure out what makes your subscribers open and click. Regularly A/B testing your broadcast promotional emails, automated emails, and transactional emails leads to a significant competitive advantage, according to our

State of Email research findings

.

Dig into your data to discover the kinds of content your subscribers actually want. What have they responded to best in email and other marketing channels? Then use segmentation and personalization to send them more of that content.

Set up automated emails that are triggered based on key customer behaviors. Triggered emails are much more engaging than your average broadcast email.

Re-examine your email send frequency. There is no one-size-fits-all magic number, but emailing once a month or less has just become a little riskier.
None of this is new. It's all best practice. It should be the goal of every marketer to send emails that their subscribers want to receive—and thus open and click. If a subscriber loses interest in a brand's emails, it is also the marketer's job to run re-engagement campaigns and—if those are unsuccessful—remove unengaged subscribers from the brand's mailing list.
Truth is, however, that too often this doesn't happen. As a result, inbox providers have no choice but to step in to help their customers keep their inbox clean and get rid of unwanted emails.
"MARKETERS AREN'T MAKING GOOD DECISIONS ABOUT WHAT TO SEND TO WHOM. WE'VE ABDICATED THAT DECISION TO INBOX PROVIDERS."

—ALEX TIMLIN, HEAD OF CLIENT SUCCESS, EMARSYS
Some might argue that inbox providers are taking unsubscribe suggestions too far. But it's irresponsible email practices that got us here in the first place. Now it's up to us as marketers to do our part to make email marketing subscriber-centric again. We must commit to do good by our subscribers—so that inbox providers don't have to.
---
We'd love to hear from you
What's your take on Inbox by Gmail and Yahoo! Mail's unsubscribe suggestions? We'd love to hear your thoughts!