Sometimes, the most challenging thing about being an email marketer or designer isn't the finicky email clients, lean teams, and the pressure to perform without mistakes. What we've heard from our customers and subscribers is that the real challenge is getting buy-in for new tools, ideas, and techniques.
Advocating for yourself at work can be daunting, especially when you have cutting edge ideas or you want to streamline your workflow with a new tool. The good news? You can use the power of Litmus Email Previews to show, rather than tell, the rest of your team what you need.
Pitching Your "Crazy" Design Idea
One of the best parts of working in email is being able to push the envelope. Whether that's doing a live Twitter feed, an interactive quiz, or coding your entire email with a CSS grid, there are plenty of opportunities to try new and innovative techniques.
But while new and innovative techniques may be exciting to you, your team might be a little harder to convince. Isn't there a chance that advanced techniques break your email? And with varying support across clients, how can you still guarantee a consistent subscriber experience?
"Just because it's popular, doesn't mean it's right." —Mike Nelson, ReallyGoodEmails
Using Email Previews helps you dispel all these doubts. With 70+ different email apps and devices, you'll be able to answer any questions about how the email will render. You can use the sharing setting to show your team previews directly, or share the finished Checklist so they know the email is good to go, even if you're trying something new.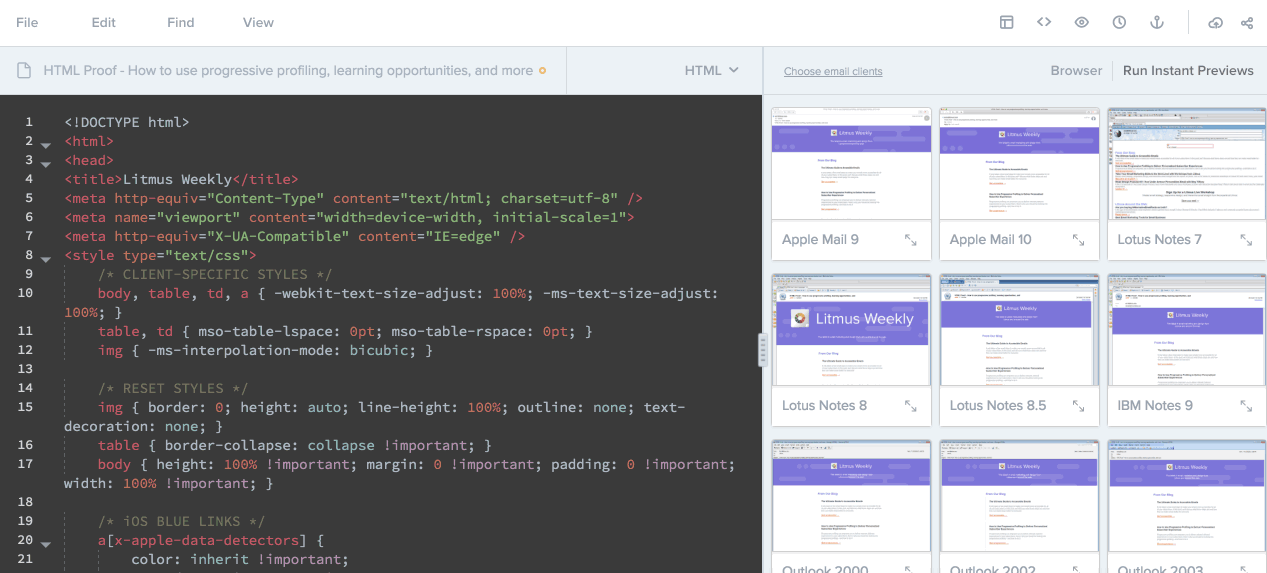 Whether you work in-house or at an agency, you've probably encountered "that" boss or client. The one who wants to see every line of code, the one who argues over turns of phrase in the copy, the one who is breathing down your neck while you're trying to get things done.
Even worse, we've all had that one person say, "Wait, this looks weird in my Blackberry. It needs to look perfect on my machine."
Dealing with demanding clients and bosses is part of the gig, no matter whether you work in email or not. It doesn't really help that email is the kind of medium where mistakes can mean huge lost opportunities and revenue—no wonder they're on edge!
To quell any fears and give you (and your stakeholders) peace of mind, walk them through Email Previews. That way, they can see for themselves exactly how the email will look to your subscribers, and you can explain the difference between email clients as they review your work. It's much faster than emailing them one test at a time, and more environmentally friendly than printing each render out (Yes, it's happened to us before).
"The creative process is all about relationships. Build a strong connection from the people asking to the people creating, and good things will happen." —Matt Caldwell, Yes Lifecycle Marketing
It can be difficult to convince your team and bosses that emails don't need to look the same in every single email client. We busted that myth and similar ones a while ago, but they still persist. Use Email Previews to show that subscribers can have a consistently great brand experience, even if an email doesn't look identical in every client.
One more tip for that boss that's always asking for their specific client to look perfect: Share with them your Email Analytics results on your subscribers so you can show them exactly why something is or isn't optimized. It helps prove to them that just because they're still using Blackberry, it doesn't mean your audience is. That, paired with Email Previews, can mean the difference between slaving away for Lotus Notes and optimizing for the clients that really matter for your audience.
Getting Buy-In For Streamlining Your Workflow
This one can be the toughest of all. Fighting for marketing budget requires you to justify return on investment, either in new revenue or in lower operating costs.
We loved this framework from Vicky Ge, one of our speakers from last year's Litmus Live. Take a look at her process and try it for yourself:
Research
Try it yourself through a demo or free trial
Experiment and collect results and output
Collect cases where your market competitors are doing a similar thing
Estimate rollout impact and cost
Write up results as if you were your manager or CEO making a decision based on your report
Optional: If you have several leadership layers in your company, it may be a good idea to meet with them individually before a group meeting to get that buy-in.
Doing your research on exactly what your costs and the payoff will be can be a big help—that's one of the reasons we put together the State of Email Workflows report. You'll be able to see exactly how over 3,500 other email marketers manage email production cycles and what tools they use.
Since this is such a thorny issue, we asked our Community how they get buy-in for email marketing tools, and the majority of them advised taking a free trial of a new tool to show the team exactly how much time they'd save—and why it was essential for their team to purchase.
Start Getting Buy-In
Try Litmus for free to show your team exactly what you can do, whether that's an innovative new coding technique or if you're looking to streamline your workflow to be more productive.