Sending great email isn't easy. But sending great email at scale is a whole different challenge. How do you set up your program to handle more—and more complex—campaigns, all while keeping your brand voice and email quality consistent?
In this webinar, experts from Litmus and Salesforce share the secrets to growing your email program the right way and talk through the three pillars that make the foundation of a scalable email program: people, processes, and tools.
Didn't have a chance to watch the webinar live? Don't worry. You can access the full recording at any time and read the Q&A below.
Q&A
A big thank you to everyone who chimed in during the webinar with a question! Here's a recap of our answers to the most popular questions, along with our take on some of the questions we didn't get to during the live webinar. Have any additional questions? Please leave them in the comments.
How do I know when my team is ready to scale our email program?
Jason Rodriguez: Like Veda mentioned in the webinar, one of the best things you can do is to run a health check on your email program. Take a look at your campaigns, your platform, your process, and your team to see if you feel like any of those are stressed. Ask questions like:
Are we running into limitations with our platform or current tools?

Is our process as efficient as possible?

What are the major bottlenecks in our email program?

Do team members feel overwhelmed with work?

Are there gaps in our skillset that are holding us back?

Are we getting the most out of our campaigns that we can?
If you find you're lacking specific skills, aren't getting as much as you know you can out of your email program, or running into major limitations with your process, tools, or platform, then it's probably time to start thinking about scaling.
When you have multiple business units, do you find that treating email the same across the company is better, or do you think each business unit should function independently?
Veda Kumarjiguda: In terms of process and tools, that should be treated the same across the company. Every business unit should use the same tools and process, so it's easy to measure and understand the success of an email program as a whole. However, strategy should be specific to each business unit.
Jason: Totally agree with Veda. Having foundational tools and processes in place across business units lets you accurately judge the performance and efficiency of business units, and has the added benefit of making it easier for employees and teams to move between those units. But goals, campaign specifics, content, etc. are going to naturally differ across business units and should remain independent.
How do you train other departments to write great emails if you don't have the time or capacity to write copy in your own team?
Veda: Deciding on tone is the first step. What is the voice of your messaging? From there, you can work together to develop brand guidelines. Classes and workshops your team can take together are also a great way to hone your copywriting skills.
Jason: A good example of this is a style guide like Mailchimp's Voice and Tone Guide, which not only dictates how copy should sound for the brand, but provides clear examples of copy that anyone on the team can use and adapt as needed. I think giving examples is one of the best ways to help people write better copy. Even if you can't put together something as fancy as Mailchimp's guide, just having a Google Doc with examples or some example emails with realistic copy can give people enough to work off of.
What are some tools that would be great for managing email content calendars?
Bettina Specht: In our 2019 State of Email survey we asked thousands of email marketers about what content planning tools they rely on when organizing email content. Here's what they said: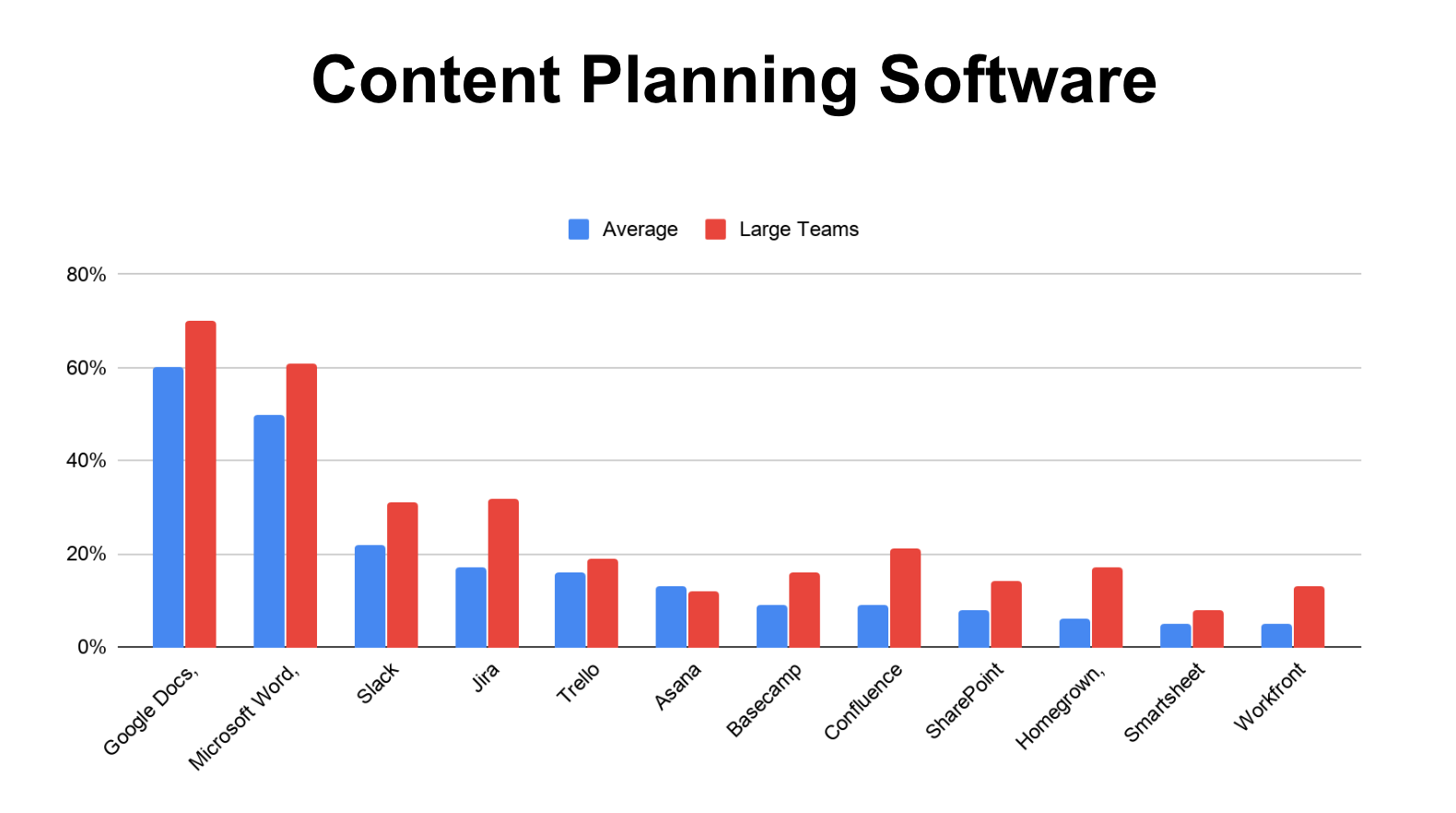 As you can see, large teams (that's teams with an email team size of 11 or more full-time employees or more) are more likely to use content planning software. Plus, they're more likely to use large-scale solutions that are heavily integrated with other parts of the business, like Jira, Confluence, or SharePoint.
What content planning tool is right for you really depends on the unique requirements of your team, so think about what you really need from a tool, see what other tools your organization already uses—you might benefit from using the same tools as other parts of your team. Our marketing team here at Litmus uses Asana to manage tasks and plan content across channels so we definitely recommend checking that out.
You talked about how to organize your team and what skills to look for. But where do you actually *find* good email people?
Bettina: Finding (and retaining) great email professionals is hard! But there are a few email-specific communities that are a great place to spread the word about new openings on your email team:
The Litmus Community Job Board




The Litmus Community Job Board is the best place for email-specific jobs for marketers, designers, developers, and more. Plus, posting a job opening is free!

The #emailgeeks Slack channel




With thousands of members, the #emailgeeks Slack group is one of the largest and most active industry communities out there—and chances are you might find the perfect addition to your team there. Share open positions in the #email-job-postings channel.

The Women of Email Facebook group




This community for women in the email industry is full of passionate email marketers looking to take the next step in their careers.
When scaling up from a "one-person show" would you recommend a second generalist or finding a complementary specialist?
Veda: Unfortunately, the answer is "it depends." It depends on your own strengths and weaknesses. Maybe you're a great coder, but need some assistance around deliverability. In that case, a complementary specialist may be the way to go. However, if you're strong in most areas, but feel overwhelmed with workload, a second generalist—even a less experienced one that you'll be able to train—is the way to go.
What are the best tools, platforms, or add-ons to cut time in email design & development and reviews & approvals?
Bettina: When you're looking at how to save time during the design and development phase, think about where you're spending lots of effort and time on manual, repetitive tasks. That's usually the best way to identify where you have the biggest room for improvement:
You're building each email from scratch?

Utilizing re-usable, flexible templates

rather than building each email from scratch is one of the best ways to save time when designing and building emails.

You're using the same design elements over and over again? Set up

snippets and partials

to code and update them faster.

You're spending a lot of time copy-and-pasting code or jumping back-and-forth between tools? See how you can

integrate your tools

and automate tedious work. Many email tools that are designed for email teams at scale integrate with others so you can get your work done, faster. For example,

Litmus integrates with the most popular ESPs

and other tools your team might rely on. If the tools you're using don't integrate natively, see if you can use

task runners

or tools like

Zapier

to automate time-consuming busy-work that slows your team down.
For reviews and approvals, the #1 thing you can do to cut review and approval times is to cut down the number of people involved in email reviews. Having too many people involved—and having senior leadership involved—is what makes reviews too burdensome and too lengthy, according to our research. So before looking at tools, start there.
Then, look at ways you can streamline how you receive feedback. Juggling feedback from different channels eats up time and leaves room for errors, so we recommend finding one single solution for your team to provide and manage feedback and approvals. If you're a Litmus customer, check out Litmus Proof! As a centralized tool for providing feedback, Litmus Proof makes it easy for stakeholders to mark edits and suggestions directly on an email—that reduces review cycles, speeds up approvals, and makes this part of the email process less of a pain.
Streamline your email review process with Litmus Proof

With Proof as your centralized tool for collecting feedback, you can improve collaboration, get better visibility, and cut review cycles.
Do I need a Litmus subscription to use the Litmus-Salesforce integration?
Bettina: Yes, a Litmus Enterprise subscription is required to utilize Litmus inside Salesforce Marketing Cloud.
The integration allows you to access Litmus right within Email Studio and Content Builder to view real-time previews of your emails in dozens of popular email clients and devices—all without ever leaving Salesforce Marketing Cloud. Plus, you can preview how AMPscript, personalization strings, and dynamic content within your email will render in different reading environments to ensure your emails look great for every subscriber, no matter their unique personalization and data requirements. To learn more about the Litmus-Salesforce integration, check out this blog post.