More than 28% of brands dropped or switched email service providers during 2017, according to a Litmus poll. And more than 16% of brands told Litmus that changing ESPs was a top email marketing priority for 2018.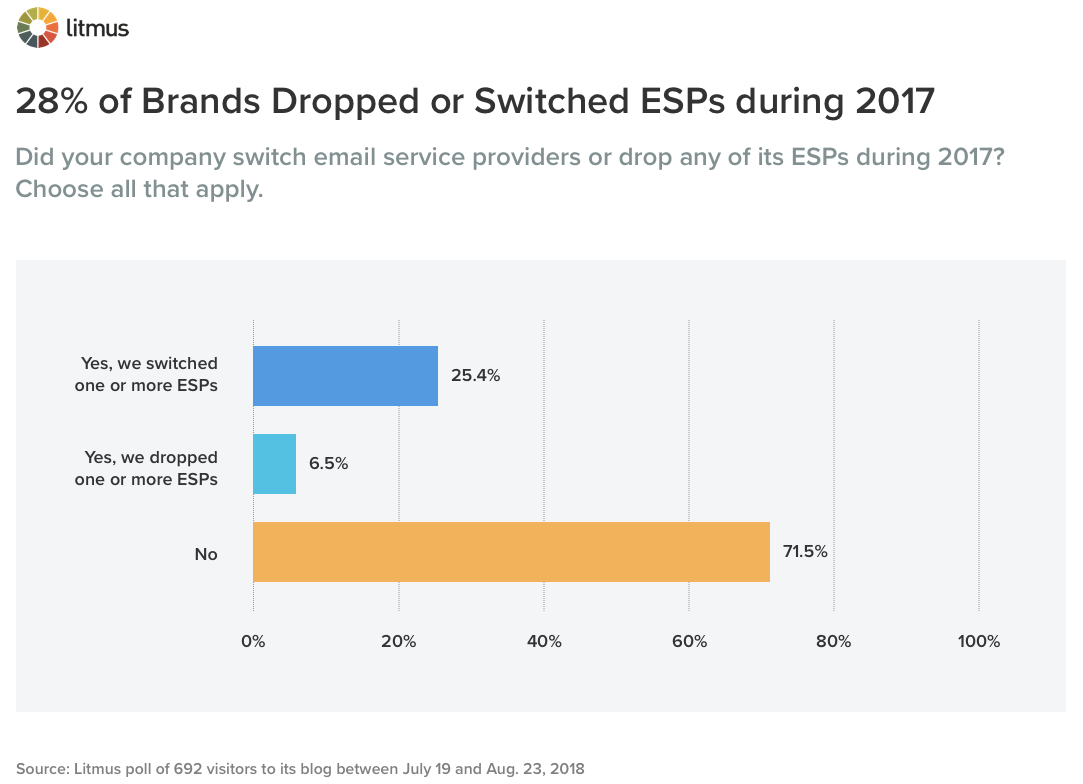 If you're thinking of switching ESPs, first, be sure to create a solid ESP request for proposal (RFP). Second, go into the process fully understanding what's involved.
To help you with that second part, Litmus reached out to email experts at Marketing Democracy, BrightWave, DEG, Trendline Interactive, emailvendorselection.com, Laughlin Constable, and Red Pill Email to get their advice.
The Bigger the Pain
If your email program is small and relatively simple in its sophistication, then switching ESPs isn't incredibly hard. However, the difficulty ramps up quickly if you…
Have a lot of personalization
Have a lot of automated and transactional campaigns
Have a lot of integrations, especially custom ones
Needless to say, all of those things help brands create more relevant emails and high-performing email programs. So if you don't have those capabilities currently, we hope your company is building them out.
"Switching ESPs has gotten exponentially harder in recent years," says Chris Marriott, President & Founder at Marketing Democracy. "That's because the email platform sits in the middle of the martech universe at most brands, and breaking and re-setting those connections is a lot of disruption and work."
Andrew Kordek, Chief Strategist & Co-founder at Trendline Interactive, agrees about the difficulty and how data is at the heart of the issue. "The data is more and more all over the place," he says, "and there is almost never a 'We can migrate you in 30 days' scenario anymore."
However, some of our experts disagreed about the ease of exporting all of the data in an ESP, which likely just means that it's easier to move data out of certain ESPs. Emily Hauptle, Digital Strategist at Laughlin Constable, says, "It has gotten easier to export and import your data, and platforms have gotten better at providing certifications and training."
Jordie van Rijn, Founder of emailvendorselection.com, also thinks it's getting easier. "In general, it has become easier because of middleware and better and broader APIs," he says. "We could see another wave of improvements, if the trend for customer data platforms (CDPs) continues and marketer-facing centralized databases become affordable."
Others are less sure. "There is no automated way to port all your assets, data, automations, triggers and legacy reporting to another ESP," says John A. Caldwell, President of Red Pill Email, "so it's a manual process that hasn't changed a great deal over the years."
And it could get even more difficult in the years ahead. Rich Wilson, Vice President of CX at BrightWave, says, "Many ESPs are developing unique and proprietary ways of storing and staging data for use in data-driven campaigns. Creating parity within another ESP may require a total manual rebuild using that other ESP's own unique tools for campaign planning, data handling, analytics, and even split testing. 'Lift and Shift' is rapidly becoming 'Deconstruct and Reconstruct'—a more forensic exercise than in years past."
Ready for a new ESP?

Switching to a new ESP is no small task. But we've got your back with our step-by-step guide to ESP migration. The bonus? You'll also get ready-to-use planning templates so you can get going now.
The Key Players
Because email systems are increasingly sitting in the middle of a brand's marketing infrastructure and are often integrated with CRMs and other systems, the list of potential people that you may want to involve in switching ESPs is growing.
"IT and Marketing are the primary stakeholders," says Cara Olson, Director of Relationship Marketing at DEG. "However, with many ESPs being much more than just email, if your company is looking at consolidating technology stacks, you will also want to include the media team and social team. You may also even need to include the service and ecommerce teams as well."
Tunde Noibe, Vice President of Platform Technology at BrightWave, agrees that a broad and diverse team is needed. "Switching ESPs requires a dedicated cross-functional team," she says, "that consists of an experienced project manager, business analyst, solution architect, implementation consultant, and QA engineer."
Olson echoes the need for a project manager to oversee the switch. "Migrating is often a big project on top of a full-time job," she says. "Brands should expect an additional workload during this time, unfortunately."
Necessary Prep Work
To make switching ESPs as easy as possible, arm your ESP migration project manager with as much documentation as you can. Our experts advise you to:
Have a library of current campaigns with details on audiences, subject lines, and more.
Take inventory of all the email signup, lead generation, and other forms that feed data into your ESP—whether they're on your website, in your mobile app, on social media pages, in digital ads, or elsewhere.
List all the points of data integration between your ESP and other systems.
Ask your new ESP to send over all API documentation.
Keep a running list of migration to-dos, deadlines, and assignments.
"Pre-work and implementation documentation is critical to have an efficient migration," says Tunde Noibe, Vice President of Platform Technology at BrightWave Marketing.
You don't want to forget anything vital, like your historical data, says Caldwell. "Brands always forget data and don't notice until a couple of months after they've said goodbye to their former platform," he says. "There's a ton of history that should be leveraged into the new platform and most reporting systems won't allow you to import archived reports, so begin that process early. You can't afford to lose historical trends, benchmarks, and key learnings."
While you're at it, be sure to clean that data, says Hauptle. "Cleaning your data is the single most important part to make your next ESP successful. Inaccurate data is going to ruin your insights, campaigns, and can hurt your sender reputation."
Litmus Works Where You Work

Litmus integrates with the email marketing platforms your team uses every day. Maximize your marketing technology investment, simplify processes, and reduce errors with ESP Syncing and the Litmus Extension.
Time Horizon
The consensus among our experts is that brands should allow for the migration to a new ESP to take roughly 3 months, with larger, more complex email programs needing more time. And that's with all of that prep work done well.
"Brands want it done quickly," says Kordek, "and often set unrealistic expectations internally on how quickly it can be done. They also overlook just how much time it takes to coordinate everything if they are doing it themselves."
Switching ESPs simply involves a fair amount of discovery and adaptation, says Olson. "Sometimes brands have no idea where the data is originating and it can take time to investigate that. A new ESP may not handle a program the same as the previous one, so you may need IT to make adjustments to data files."
ESP interfaces vary significantly and getting complex tasks done can also require time for discovery, warns Rich Wilson, Vice President of CX at BrightWave. "Keep in mind that most of the larger ESPs are collections of smaller cloud-based software systems to form a larger cloud—and that bugs exist in even the best technologies. Be patient as your team learns the specific personality of your new ESP and finds creative ways to accomplish complex tasks."
A few of our experts pointed out that many brands forget about IP warming, where inbox providers are exposed to new IP addresses by sending small volumes of email at first, and then sending progressively higher volumes over a period of several weeks. So, unless you're keeping all your sending IP addresses the same, you just can't turn off one ESP and flip your new one on and be sending everything you did before right away.
"IP warming is often a new concept to a brand migrating," say Olson. "Plan for a few evergreen campaigns that can be sent daily over several weeks if possible. Expect to be sending from two platforms for a while, which will require work from the current ESP to process unsubscribes from the new ESP."
Van Rijn agrees that it's wise to plan on having both your old and new ESP available during onboarding. "If something doesn't go right with the new ESP, you still need to be able to send all your crucial messages. The onboarding should be as seamless as possible, but you still want to have a plan B," he says. "Take 30 to 90 days of overlap, then some extra if you have special circumstances."
Justifying All the Pain
All of these considerations add up to two things, says Marriott. "You don't want to leave your current ESP unless another vendor represents a steep improvement in features, functionality, and performance," he says. "And if you do switch, you want to make absolutely sure that you made the right choice in your new vendor so you don't have to switch again for a long time…if ever."
More Resources to Help You Optimize Your Email Marketing Tech Stack
Learn more about the email service provider industry and get hands-on advice on how to make the most out of your email marketing tech stach with these resources:
Want more resources like these? Sign up for Litmus News.