We have received your unsubscribe request. Please allow up to 10 days for this request to be processed.
All of us have probably seen a message like this once or twice in our email lives, but no one wants to see it. Imagine: there's a list you signed up for a while ago (… or maybe you didn't) that you used to enjoy, but now the emails are too frequent and not relevant to you anymore. You click unsubscribe, only to see that it's only going to take even more time to get off the list, and you will probably receive even more emails in the interim. It's a horrible experience.
As an email marketer, seeing unsubscribes can be disheartening, of course. But the reality is, an unsubscribe isn't the end of the world. It can actually be a good thing for your email marketing program. The alternative—being marked as spam—is much worse because spam complaints hurt your deliverability. Unsubscribes don't. They're going to happen no matter what you do, so you might as well make the experience as painless and positive as possible both for you and your subscribers.
The unsubscribe process is a crucial part of your subscriber lifecycle. As an email marketer, it's your job to make it a painless and positive brand experience.
But how can you make the unsubscribing process a great experience for your subscribers while at the same time keeping your email marketing goals in mind? Here are 5 techniques that benefit both subscribers and marketers.
1. Allow an Unsubscribe with Less than Two Clicks
Potentially the most common, this unsubscribe method is exactly like it sounds—you provide a link in your emails that, upon click, either automatically unsubscribes that person or asks for confirmation beforehand, and then provides verification that the process has been fulfilled.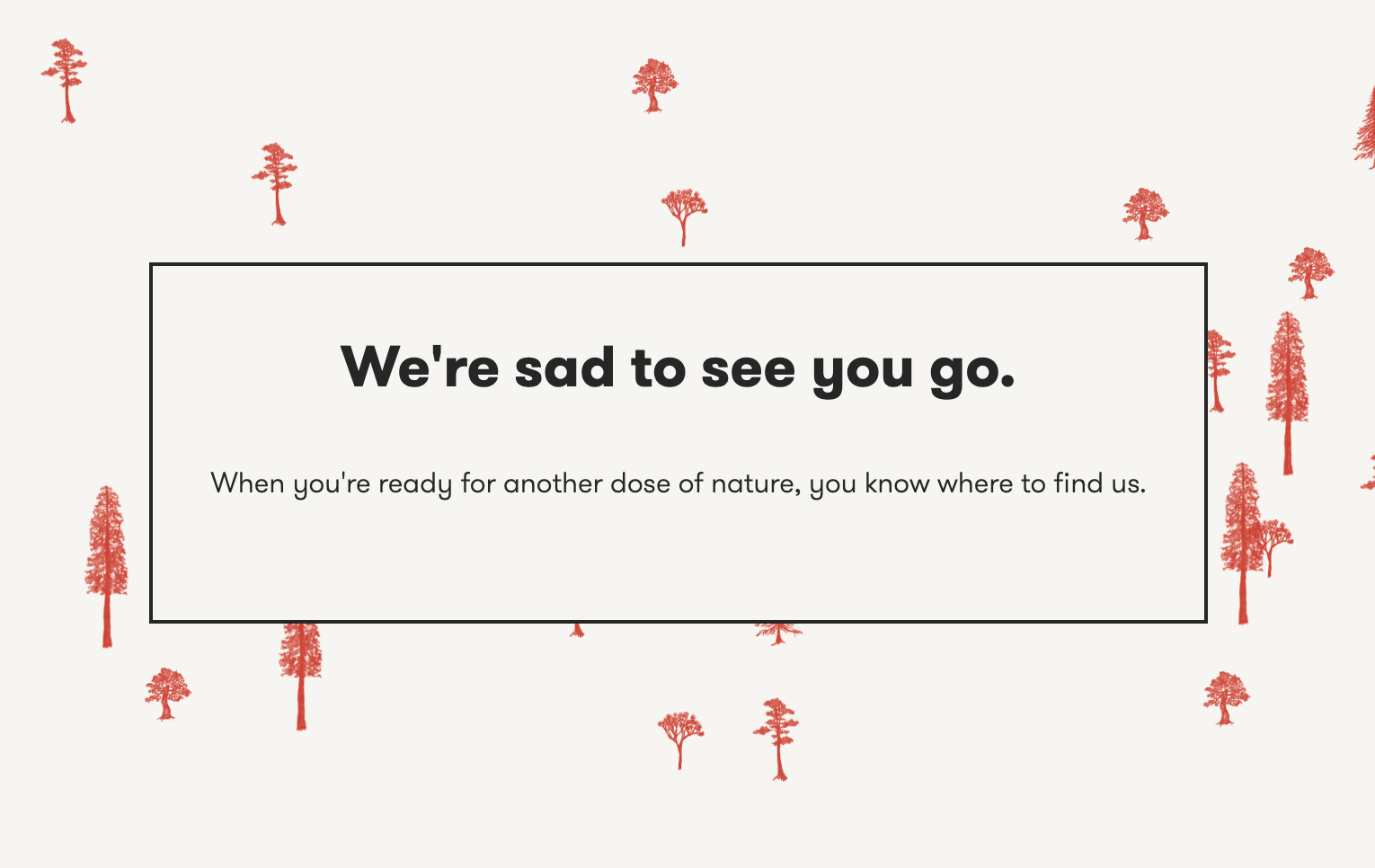 Occasionally, this page will provide a CTA that allows someone to re-subscribe if they clicked the link on accident, though this isn't a requirement.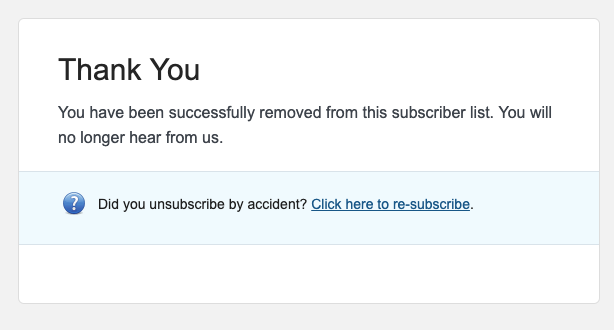 FYI: This method can cause accidental unsubscribes from your lists if there were any spam bot or corporate filter clicks, which your subscribers would be unaware of. Providing a required confirmation on the unsubscribe landing page would circumvent that issue.
2. Include List-Unsubscribe to Power Native Unsubscribe Functionality
Gmail, iOS Mail, Outlook.com, and other email clients offer a native unsubscribe option—list-unsubscribe—to make it as easy as possible for users to keep their inboxes clean and unsubscribe from unwanted emails. With a prominent list-unsubscribe option, inbox providers offer subscribers a convenient alternative to searching for the unsubscribe link within the message itself. How exactly list-unsubscribe displays depends on the inbox provider. Gmail, for example, displays list-unsubscribe as a text link next to the email sender information.

At first sight, list-unsubscribe might look like a negative for email marketers. But in reality, this easily accessible option keeps your lists healthier and improves inbox placement and delivery. Email clients that support this method can only provide it if you include list-unsubscribe instructions in your email's header.

We provide more details into the positives of list-unsubscribe and how to implement it in our Ultimate Guide to List-Unsubscribe.
---
While these two methods are succinct and easy to implement, you may be leaving money on the table. It's possible that your subscribers felt like they were getting too much email, or not the right email, and just wanted to adjust those settings and not stop communication from your brand entirely. With these methods, the options for your subscribers are either Yes or No—there's no in between. There are a few other methods out there to consider if you'd like to give your subscribers more options.
3. Implement an Email Preference Center
Preference centers are a great alternative to the all-or-nothing "unsubscribe from all" because it gives your subscribers the opportunity to tailor their email subscriptions to their needs. Especially for subscribers who are still interested in your communications, but feel like they're receiving too many emails, a preference center can help focus email sends on the kind of content your audience wants to receive—a win for both your subscribers and your brand!
At Litmus, we provide Litmus Weekly, News + Updates, Product Updates, and Litmus Live as options for our subscribers.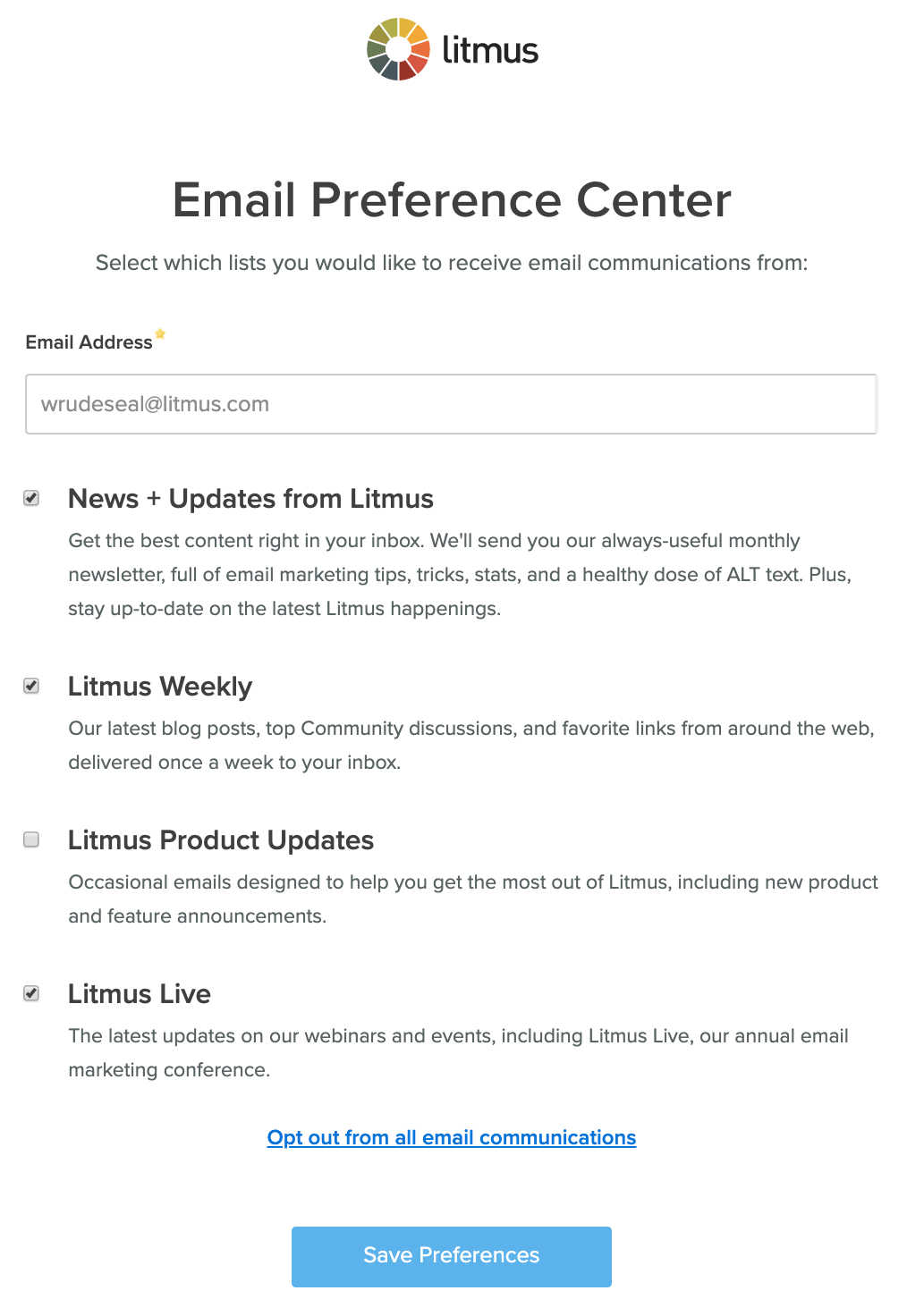 Grammarly also provides its subscribers with a detailed email preference center, with specific callouts for offers and coupons, as well as a specific business preference: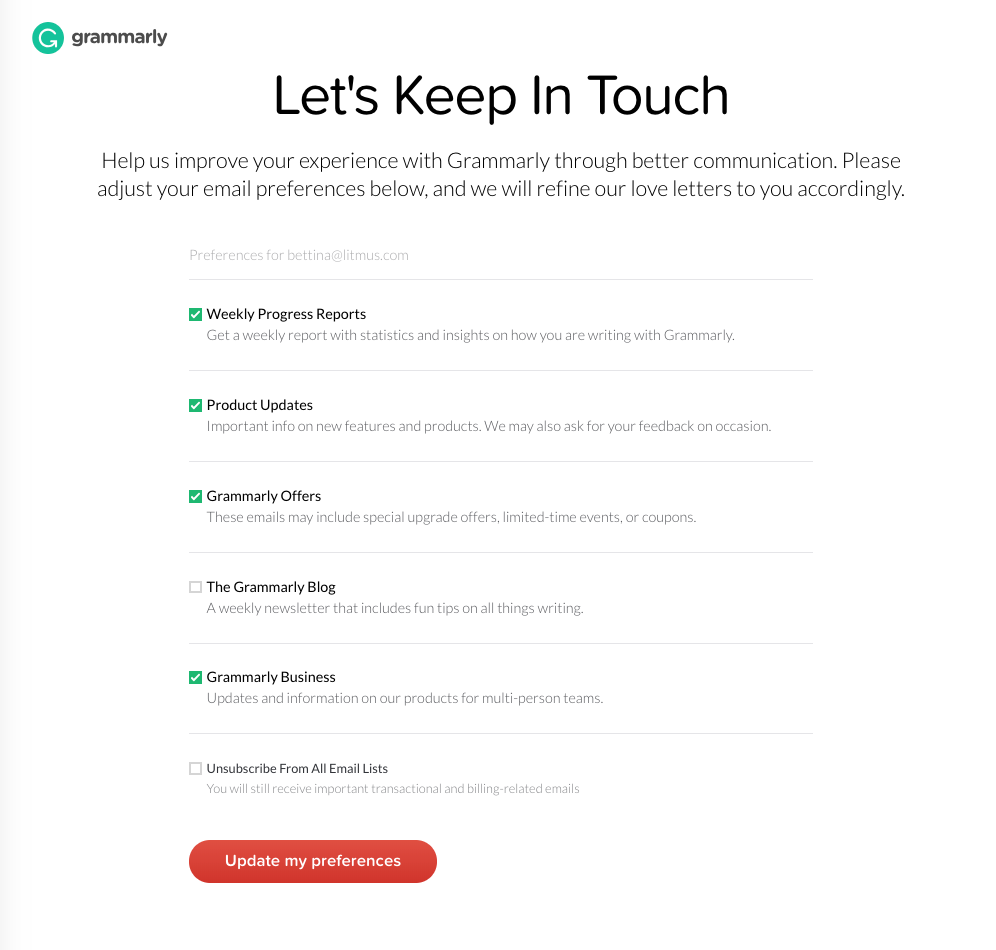 Of course, you still need to provide an option to opt-out of all communications on your email preference center, in case someone doesn't want to hear from your brand at all anymore.
4. Offer an Opt-Down
An increasingly popular option, opt-down methods vary in appearance. Some brands ask their subscribers how many emails they want over a period of time. Others provide an "email vacation" of sorts, where subscribers can unsubscribe for a period of time, just to take a break.
Unsubscribe for a Period of Time
Your subscribers may be feeling email fatigue from your brand or just from their inbox in general. For any number of reasons, they may want to unsubscribe from your emails, but only for a certain period of time, not forever. Providing an option for your subscribers to do just that—unsubscribe for 30 days, 90 days, and so on—will give them that break they need and help you maintain your list size and keep that subscriber interested down the road when they are ready to hear from you again.
West Elm provides a 90-day break option for their subscribers: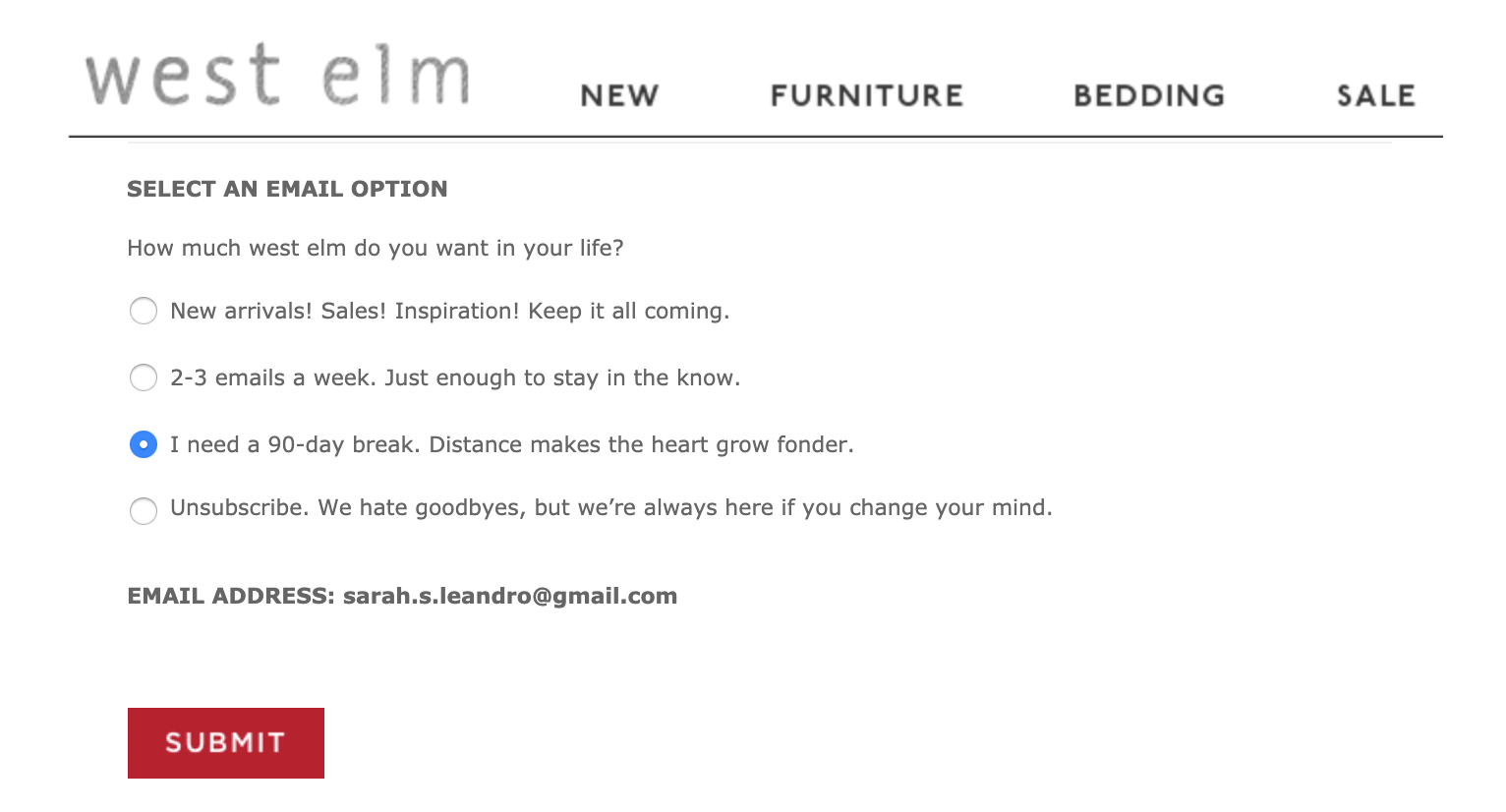 Reduce Email Frequency
Maybe your subscribers are really interested in you and your brand, but they just aren't keen on getting all of the emails you send out. If you're a frequent email sender, you may consider providing your subscribers with an option to only receive a certain amount of emails over a period of time. Patagonia provides their subscribers with an option for all email, once per week, or once per month:

5. Offer a Seasonal Opt-Out
Occasionally, brands will run larger email campaigns based on a holiday or season. Christmas and Black Friday are big ones, of course, but other examples include Back to School campaigns, Summer promotions, or Valentine's Day specials.
Your subscribers may not be interested in receiving a large influx of emails from you during those campaigns, and the best brands recognize and empathize with that. British flower delivery company Bloom & Wild got a lot of positive attention earlier this year when they allowed their subscribers to opt-out of their Mother's Day campaign—knowing that not everyone will react positively to that messaging.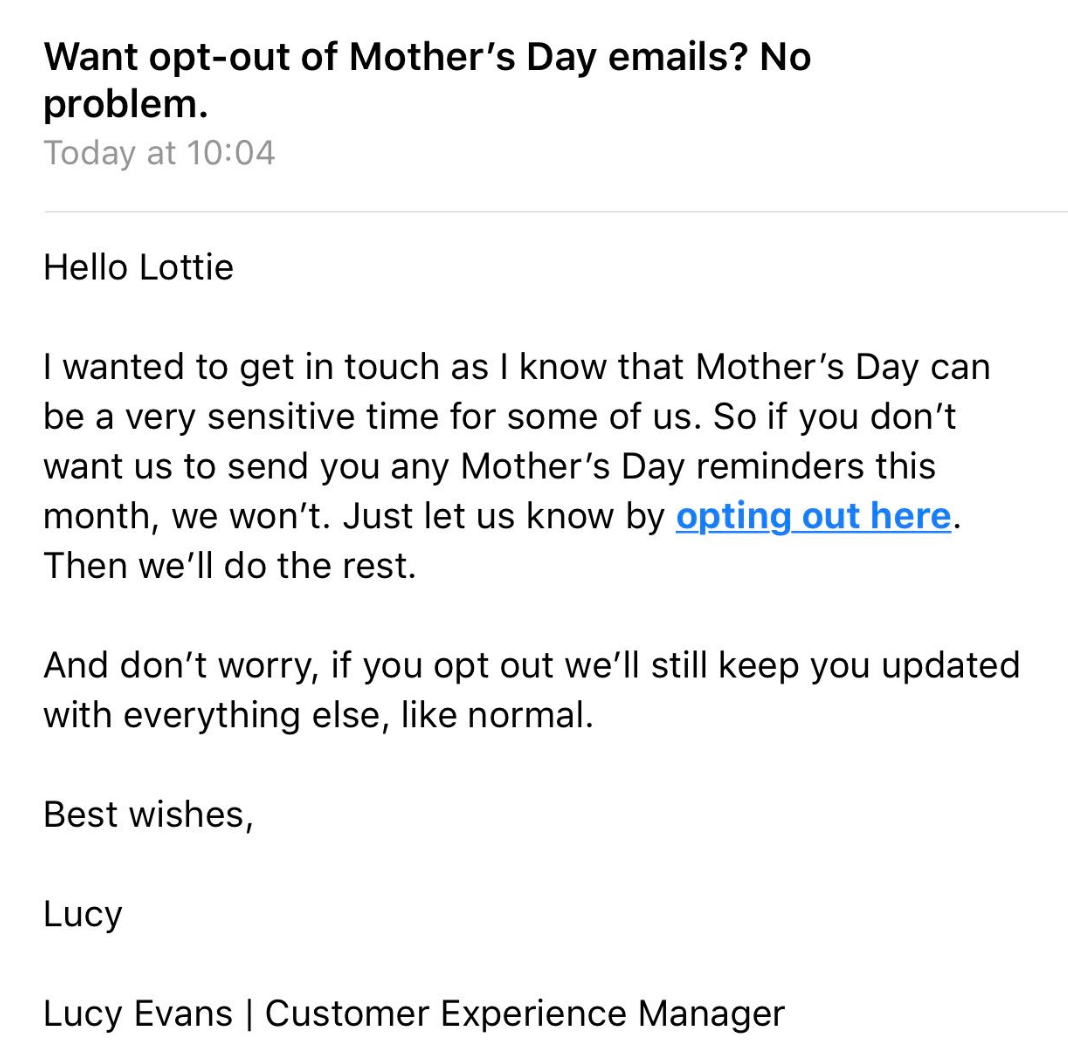 We were able to sit down with the Customer Experience team at Bloom & Wild to talk through their wildly successful, thoughtful campaign.
Do you have more examples of effective unsubscribe methods?
What other brands do a great job making their unsubscribe process a great user experience? We'd love to hear them! Share your favorites in the comments below.