Almost every brand relies on transactional emails like shipping confirmations, payment reminders, or password resets to keep their business running. And, emails that are triggered by certain events or customer behavior—such as birthday promotions or cart abandonment emails—are among the most powerful tools in a marketer's toolkit. Automated emails like these are a crucial component of your subscriber experience—and they often generate a significant share of a brand's email revenue.
33% of brands generate more than 25% of their email revenue through transactional and triggered emails, according to Litmus' 2019 State of Email research. And a staggering 11% of brands attribute more than 50% of their email revenue to automated emails.
Still, many brands focus their email optimization and testing efforts only on one-off marketing campaigns. Transactional and triggered emails—even though they are so crucial to email marketing success—are often set up and then forgotten.
Why "set-it-and-forget-it" is a dangerous approach for transactional email
Automated emails have a reputation for being "set-it-and-forget-it" programs. We've even heard people laud this as one of the main reasons to use triggered emails—once you set them up, they just quietly mint money and you never have to touch them again.
Unfortunately, this couldn't be further from the truth.
Email clients drop or change support for HTML and other key components of email without notice. An email that looked great yesterday might be broken today. Spam filters change their algorithms constantly, and an email that always made it to the inbox can suddenly be marked as spam and never get seen. Landing pages get updated or moved, sending subscribers who click outdated links to broken web pages. There's just a lot that can change—and ultimately kill the effectiveness of your automated emails.
Take this shipping confirmation from a leading online retailer as an example. An error in the code or a change in the mobile email client causes the email to look completely broken—not a great brand experience or way to build excitement for your product.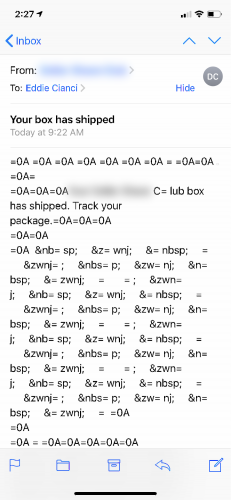 Too often, brands only become aware of issues with their transactional and triggered emails if their subscribers reach out to report them. If they don't, problems go unnoticed, impacting business results.
We've seen cart abandonment emails render so poorly that they fail to drive subscribers back to purchase the product they were so interested in. We've seen emails alerting subscribers of an expired credit card end up in the spam folder—without the sender even being aware—likely causing automatic renewals to drop and increasing churn. That's just two examples of automated emails that could be powerful revenue drivers making no impact at all.
Here's the thing about automated email: When done right, they drive business results like no other channel. But a world of high returns also means that mistakes have an immediate impact on your bottom line. Brands that aren't optimizing and regularly testing their automated emails are leaving money on the table.
How to ensure your transactional emails look great on every send
If you want your automated emails to deliver great subscriber experiences and drive business results, you can't rely on your subscribers to let you know if things go wrong. You'll have to establish a regular testing and review cadence to ensure that your emails look great, perform, and the content is up-to-date.
No email should go without a solid review for more than three months. The risk of delivering a sub-par experience to your subscribers and negatively impacting business results is simply too high. Take stock of all your transactional and automated emails and establish a regular review schedule for them. For those emails that are proven to drive the highest returns—renewal notices, cart abandonment emails, or back-in-stock notifications, for example—we recommend a review at least once a quarter, if not more frequently.
Most brands are missing this opportunity to optimize their transactional emails. 61% of brands say they review their automated emails only once a year or have a review cycle that's even longer, exposing their brand to the risk of delivering broken emails to their valuable customer base.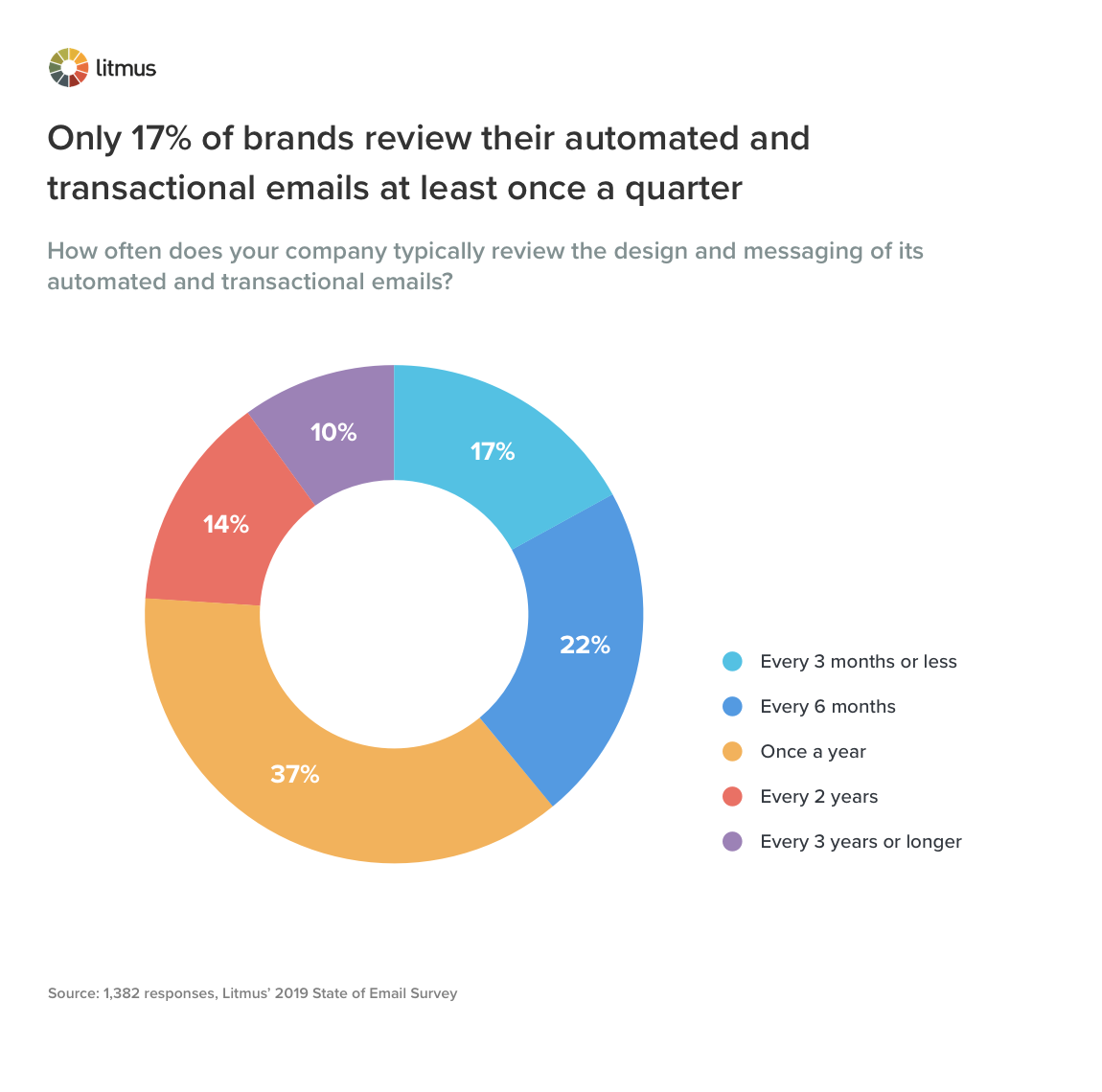 One of the main reasons for the infrequent reviews of automated emails is the effort it can take to do so. Keeping a pulse on your transactional emails and manually testing them can feel like an impossible task, especially for brands that run a high-volume program with many automated emails set up.
Email testing made easy with Litmus
Litmus helps you automate cumbersome, manual testing that can easily take hours. Preview your emails in 90+ popular email clients and devices in just seconds, catch loading issues, broken links, and see if your email might trigger spam filters before you send. Get the most from your automated emails, without straining your internal resources.
Want to learn more about how Litmus can help bring your automated emails to the next level? Learn more about Email Testing with Litmus or reach out to a Litmus expert for more information on how Litmus can help you send better email.
Most Popular
Don't Miss Litmus Live 2022 this Fall!

The Premier Email Event by Email Pros, for Email Pros.
From Anywhere–and Any Budget.

Learn More