Litmus empowers LendingTree to keep their email accuracy rate at 99%, giving them confidence their emails will reach the inbox error-free.
Litmus delivers results
3 hours
saved on each campaign
LendingTree is an online loan marketplace dedicated to helping consumers comparison-shop loan options for their financial borrowing needs. They aim to be an ally for the consumers they serve, simplifying the time-consuming and tedious process of choosing the best financial lender. Given the importance of these financial decisions, LendingTree relies on the power of the email channel to deliver error-free communications that foster trust and relay time-sensitive information.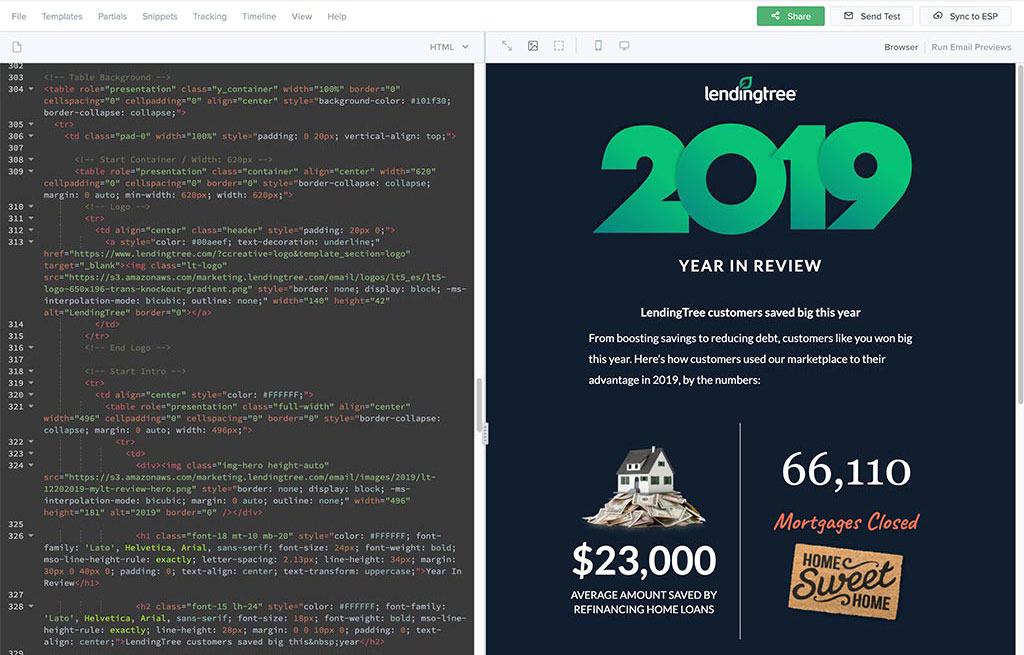 The Challenge
LendingTree needed to ensure every email they sent arrived error-free in subscribers' inboxes. With an average of 6.5 million subscribers and 60 campaigns per month, they knew they needed an efficient, scalable way to build impactful campaigns to allow their email program to flourish.
They knew that broken emails would reflect poorly on their business and shatter customer confidence. Once emails were built, they needed to be thoroughly tested to make sure they not only reached the inbox, but looked great when they got there. They knew that the increasing range of devices and clients meant their emails would display differently for every subscriber, but it wasn't feasible to acquire a plethora of devices and manually test how emails rendered on each one.

It's impossible to have all these different devices on hand so our team can test out all of the thousands of possible ways emails could display for different subscribers. Especially with the volume of emails we send, manual testing wasn't an option.
How Litmus Solved the Challenge
LendingTree partners with Litmus to automate their complete pre-send email workflow. They code their emails in a third party editor before adding it to their CRM platform and ESP. Since passing code between multiple technologies increases the risk of error, LendingTree relies on Litmus to thoroughly test every email and give them peace of mind.
With Litmus, LendingTree easily tests their emails on the latest clients and devices at scale, making sure to check those that matter most for their subscribers. If they encounter an issue, they jump over to Litmus Builder, quickly find the code to update using the grid view option, and fix the problem. Then, with a single click, they push that change to recheck their emails in Litmus Test, without the need to copy and paste or create a new email project.

Litmus Test is a game-changer for us. There are so many elements that need to be tested before you send. In order for our emails to produce great experiences that help us build trust with our subscribers, we depend on the guided, thorough review with pre-send checks to help us send with confidence.
LendingTree knows that testing how emails look is only half the battle; even the most carefully crafted emails can't make a true impact if they don't reach the subscriber's inbox. They rely on Litmus Spam Testing to catch any issues that could prevent their email from being delivered. Litmus Spam Testing provides them with insights on email content and authentication records that might trigger a spam filter and actionable advice on how to fix any issues before they hit send.
The Results
With Litmus at the center of their pre-send workflow, LendingTree creates error-free emails more efficiently than ever. They save an average of 3 hours on each campaign and have boosted their email accuracy rate to 99% so they can send with confidence. They know that every email they test with Litmus has the best chance of reaching the inbox and producing the best experience for their subscribers, regardless of their email client or device, building trust and properly representing their brand.

Litmus has helped us automate and transform our pre-send testing process, saving us 3 hours on every email and boosting our email accuracy rate to 99%.