Back to templates
Free Anniversary Email Template
Celebrate your customers in style with tried-and-tested anniversary email template!
How to use this template
To access the template, click "Get this template" and sign in or register for a Litmus Community account.
The template will open in Litmus Builder.
Customize the template in our code editor or copy and paste it into your ESP.
Update the logos, brand colors, fonts, and content to make it your own!
Start sending anniversary emails today
Whether you're congratulating a long-time customer on their fifth anniversary with your brand, or just greeting a recent subscriber on definitely, totally reading all your beautiful emails for the last six months–there's no better way to help your subscribers feel connected to your brand than by raising your virtual glasses together.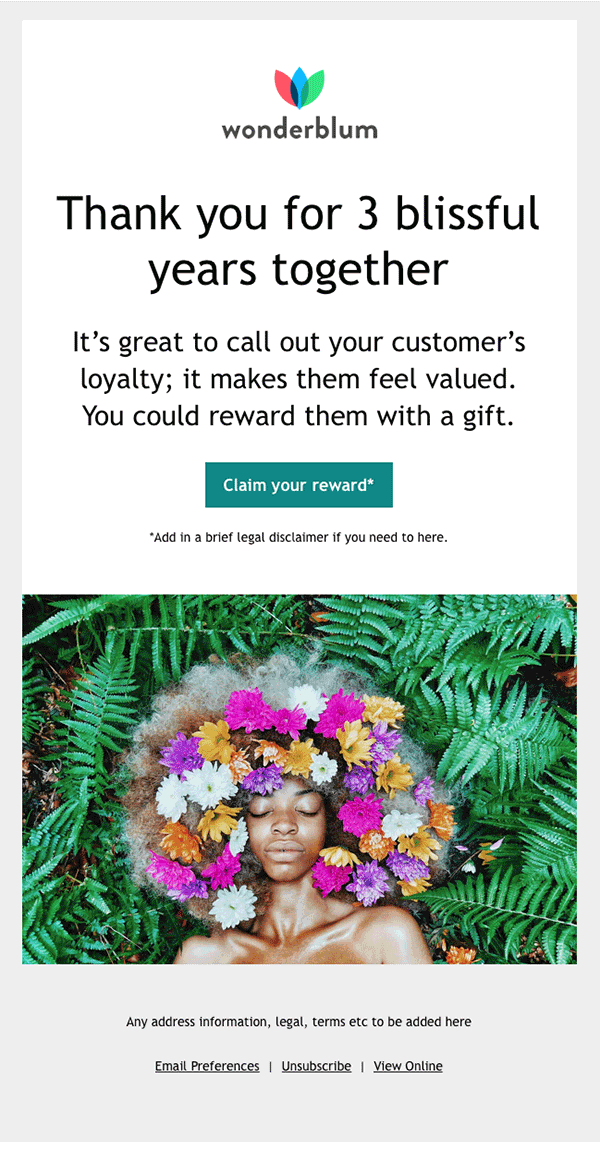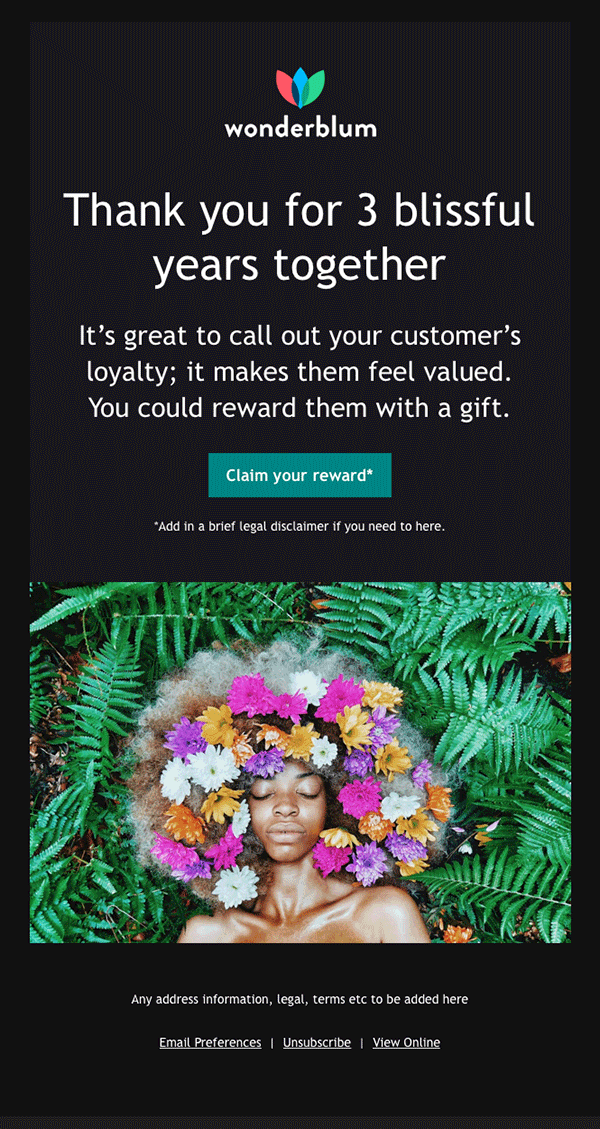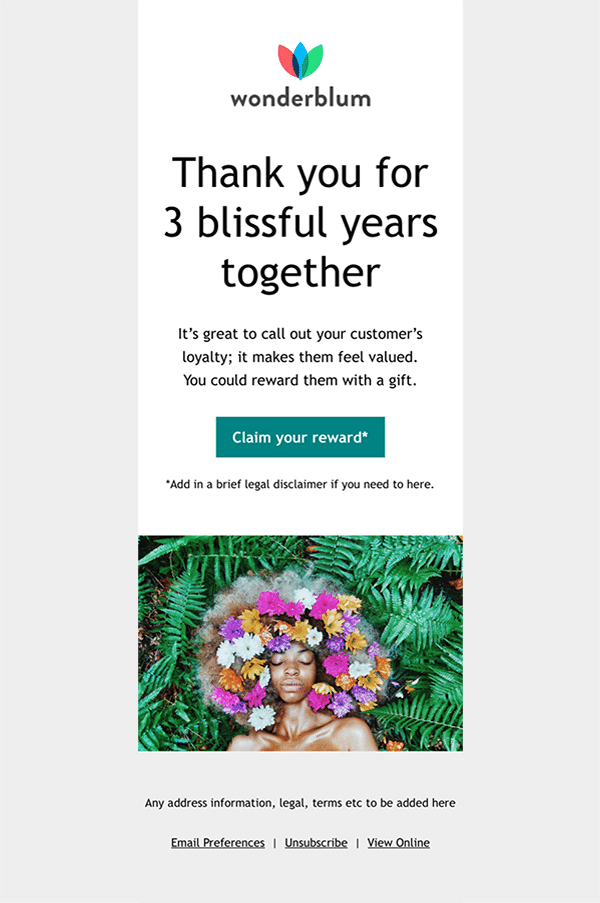 Litmus Previews
Frequently Asked Questions
Have a question about our templates not answered here?
Ask the community
Why use an anniversary email template?
Why not, really? There's no better way to show your customers you appreciate them than an anniversary email that acknowledges their loyalty (and maybe even provides them a free gift)! One of our favorite varieties of customer appreciation, the anniversary email is a great way to build customer loyalty and improve the relationship they have with your brand.
You can also use an anniversary email to build connections with your employees, by calling them out for time with the company. Celebrate the value they bring to your team with just a few simple and appreciative words—it can mean the world to them.
And of course, templating the email building process lets you spend more time on the parts of the email that matter most to the subscriber—like personalization and that aforementioned gift—than on the nitty gritty elements like email design. In general, we're huge fans of email templatization, so be sure to check out our complete gallery for more template options!
When should I send an anniversary email?
Timing is important for the anniversary email! Be sure to send anniversary emails on (or around) the actual anniversary date—and double check you have the correct date. Getting the wrong one? Awkward. And of course, be sure you're considering the customer's time zone in that send, as well as any other communication preferences they've communicated to you.
And of course, if you're sending to employees, all the same holds true as well.
What should I include in my anniversary email?
We like to keep things short and sweet, but it's hard to go wrong with email personalization. (Which of course, an anniversary email will be personalized by nature!) Whether you're sending to customers to celebrate connection with your company, or to employees to celebrate time with your team, these are all great things to include.
Here are a couple of our favorite things to include in an anniversary email:
Genuine warmth
If there was ever a time for the personal touch, an anniversary email is the time. Skip the corporate jargon, the sales offers, and the call-to-actions—this moment is about your customer. Use language that conveys genuine appreciation and warmth to build that human connection.
Less is more
Don't overdo it! These emails are about the personal touch, not necessarily sitting down with your quill pen and writing a beautiful sonnet to each and every customer. (Although if you do that, our hats are off to you.) Instead, just think of this as a quick—but genuine—few sentences of appreciation for your customer. Congratulate them on their loyalty, hard work, or their special day. It doesn't have to be fancy!
Call out loyalty
Be sure to be specific about what sort of relationship you have with your customer, and what you're celebrating them for. Be specific, if you can! Congratulate a customer on two years with your company, a year since their first purchase on your site, or something similar. For employees, you can call out some of their accomplishments over the past year, highlighting key points where their work made a difference. This will make your recognition of their loyalty as meaningful as possible.
Should I include personalization in my anniversary emails?
The anniversary email will always be personalized to some degree, since it's unique to the subscriber's date of birth, renewal, purchase, or other important date. But don't forget to include other personalization elements as well. This is a great time to use the customer's name, feature items the customer has purchased previously, personalize the subject line, or include other personalization best practices.
Should I include special offers?
Offers are another great addition to an anniversary email! Provide a special offer in your message, such as a discount, gift, or exclusive access to new products, to really show your customers and employees that you care about them and want to help them feel celebrated. It doesn't have to be a big gift, but even a small one can make a huge difference in how someone feels about your brand.
Can I reuse this email template?
We are once again recommending using an email template to streamline your process for creating all your anniversary emails. All our templates can be reused so that you can save time. Just create a work anniversary template for all your customers, subscribers, and even employees, and then it's all rinse and repeat from there. Doing this makes it easier to reach out and create that human connection, without the high lift of creating a brand new email each time. (Can you tell we really love email templates?)
Does team Litmus use email templates?
Short answer: yes. This is one of our team's favorite templates—yes, really, we use this one all the time—and we're excited to share it with you. If you're ready to seamlessly incorporate well-tested anniversary email templates into your email workflows, look no further than this one.